Wondering what to see in Portugal's capital city? Check out my Lisbon city guide. 
In this article, I'll take you along some of my favorite highlights from my journey and let you in on the best places to eat, explore, and hang with the locals. I just got back from Lisbon two months ago and I'm already having travel withdrawals. This was my third time in Europe and I can honestly say it's my favorite city I've been to yet. It was only a matter of time before I had to create the ultimate Lisbon city guide.
At the beginning of October, I packed up my Rick Steves carry-on bag to embark on a two and a half week trip around the world with some of my best friends. We kicked off our trip in London, hop skipped our way through Edinburgh, Dublin, and Wicklow before heading off to the sunny country of Portugal. From the history and ruins to cultural attractions, lively art scene, and fantastic food, here is everything you need to know.
Here's a Little Bit of History
Being the history nerd that I am, I can't help you plan your trip to Lisbon without letting you in on a little bit of its history. After all, what good is a Lisbon city guide without the story behind it? While the mosaic street tile, multi-colored buildings, and cobblestone streets are certainly beautiful, there is far more to the City of Seven Hills than simply aesthetics. Did you know that Lisbon is the oldest city in western Europe?
Ancient ruins and white domed cathedrals stand as vestiges of past, waiting for you to explore. Its history is filled with kings and conquests, tragedies and discoveries. The region was first settled by Celts and then founded by the Phoenicians with the settlement of Ulissipo. In 205 BC, the Romans won the Punic War against the Carthaginians, staking their claim and changed the settlement's name to Olissipo.
Ancient Lisbon was incorporated into the province of Lusitania. However, after the collapse of the Roman Empire in 476 C.E., it was invaded by Germanic tribes and controlled by the Kingdom of the Suebi until 585. In 1255 with the end of the Portuguese Reconquista, it was declared the country's capital. The rich history and culture were one of the things I loved most during my explorations.
Here Are the Must-See Places and Must-Do Activities for Your Lisbon City Guide
Look up. Everywhere you turn, you'll see Gothic, Romanesque, and Manueline architecture. A balmy Mediterranean climate makes for the perfect conditions to explore the city. Its trademark seven hills sprawl across the city, topped by a collection of terra-cotta roofs, splashes of color, and wrap-around terraces. All of them offer stunning spots to post up while enjoying your afternoon bica (espresso) and tapas-style small plates of seafood.
While my friend Tiffanne and I were in Lisbon, we decided to take a leisurely approach to the city. We approached our explorations with the mindset that while there are things we wanted to see, we didn't have to see it all in one shot. Saving time to explore, connect with people, and just be present led to the most beautiful memories and adventures. I encourage you to do the same.
This Lisbon city guide is meant to guide you in the right direction. There's nothing worse than traveling to a new city, being overwhelmed with options, and missing the best sights. Feel free to use this list as a guide point for your adventures and make your own.
1. Ride the Yellow 28 Tram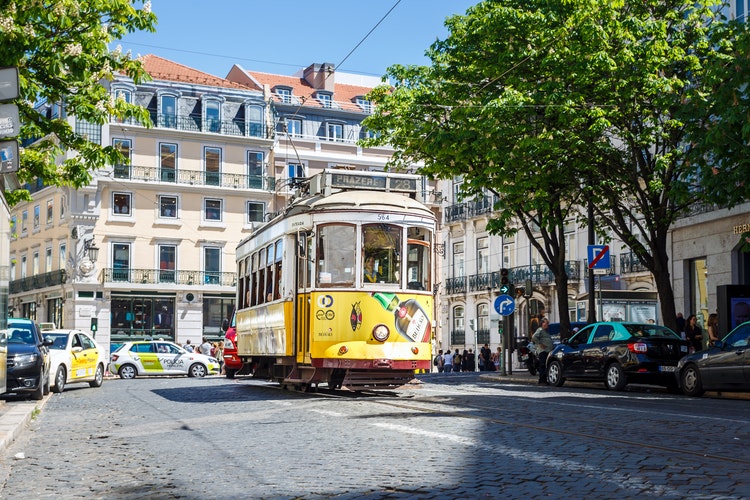 Is this a little touristy? Sure. But it's definitely worth its spot on the Lisbon city guide. Make sure you get up early in the am to do this since a lot of other travelers will have the same idea. These trams aren't like your standard San Francisco ones. These functional antiques have been in operation since 1901 and include six different routes. The classic yellow and wood one (aka the 28 tram) dates back to the 1920s.
If you're going to be spending a few days in the city, consider buying a weekend travel pass. You can find one at the tram at Paca da Figueira; use it to bounce back and forth between Portugal's coolest neighborhoods or when you want an easy ride home after a long day of walking. I can tell you from personal experience – these hills will take your breath away (literally).
Take the 28 tram to pass by all of the major landmarks. And make sure to bring a good travel camera. You're going to want pictures and lots of them. One of my favorite landmarks I saw is the Se Cathedral, Lisbon's oldest church, which dates back to the mid-1100s. Since the ride is less than one hour, it's a good way to start the day and still have plenty of time in the morning to check things off your to-do list.
2. Hike Your Way up to the Castelo de Sao Jorge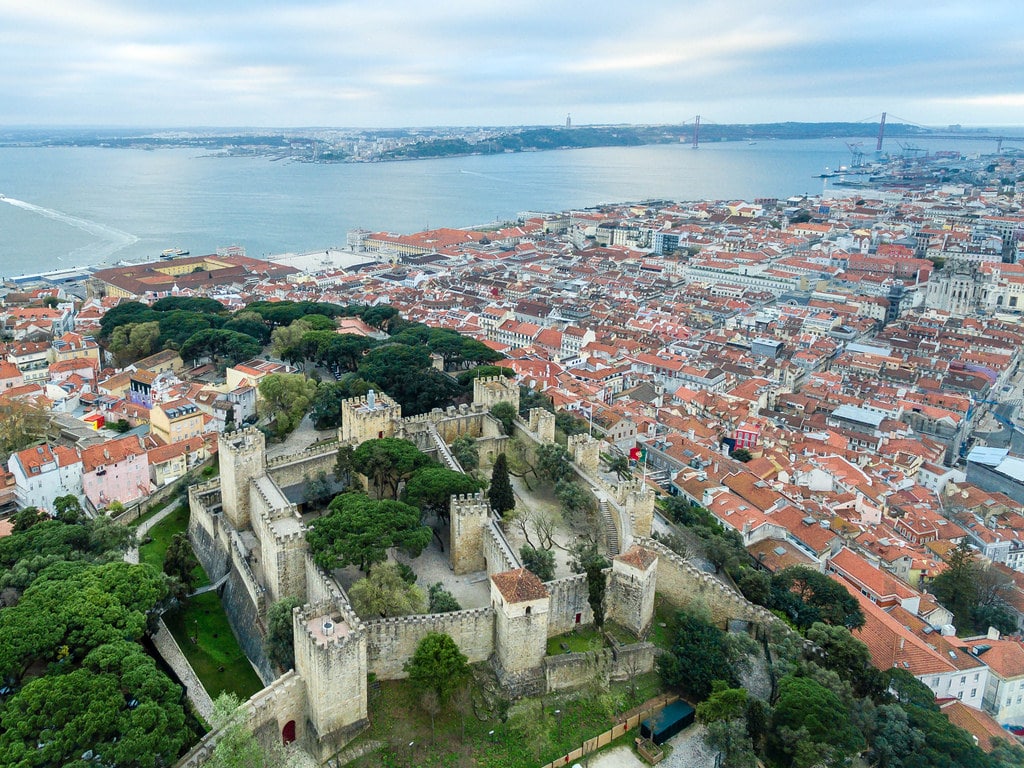 Credit: Flickr
Here is another one of those must-do things for your Lisbon city guide. Ask any local and they'll recommend checking it off your bucket list. The jewel of the city, the Castelo de Sao Jorge was built in the 12th century as a bulwark of defense from invasion. Strategically placed, it sits proudly atop Lisbon's highest hill. Needless to say, walking there can be a bit of a hike. If you've already gotten enough steps in for the day, you can take the bus from Praca da Figueira directly to the castle's entrance.
For adults, the entrance fee runs €8.50 ($7.15/£7.35) and €5 ($5.35/£4.35) for children. The admission price is cheap and it is well worth the visit.  From the castle walls, you will get amazing views of Martim Moniz, the Tagus River, and Baixa. Just make sure you are there in the morning when the gates open. In peak season, the wait line to get inside can range anywhere from 60-90 minutes.
3. Take a Walk Around Lisbon's Oldest Neighborhood, Alfama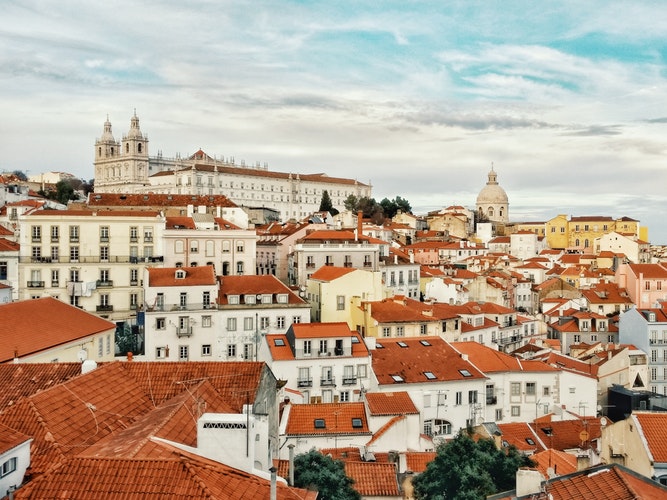 This is the place to be for shopping, dinner, and a show – no pun intended. As Lisbon's oldest city, Alfama offers a rich culture and tradition. This lovely neighborhood is a great place to find authentic souvenirs to bring back home to the family. Anyone who is interested can come and purchase products made from cork, tiles, fabric textiles, and clay dishes.
While I said aesthetics weren't everything, I couldn't help but swoon over Alfama's tiny streets. These picturesque narrow alleyways are the scenes travelers dream of when they picture a quaint European vacation. On each side, charming cafes waft enticing smells of fresh seafood, warm bread, and sweet wine your way. I dare you to not want to stop into each one that you see. Finally, make sure you stop and listen to the street music.
While it's easy to want to pass by, there's something special about taking the time to listen to some sweet tunes. The locals always appreciate a few coins tossed in their bucket too. Add this to your Lisbon city guide to-do list.
4. Peruse These Delightful Cafes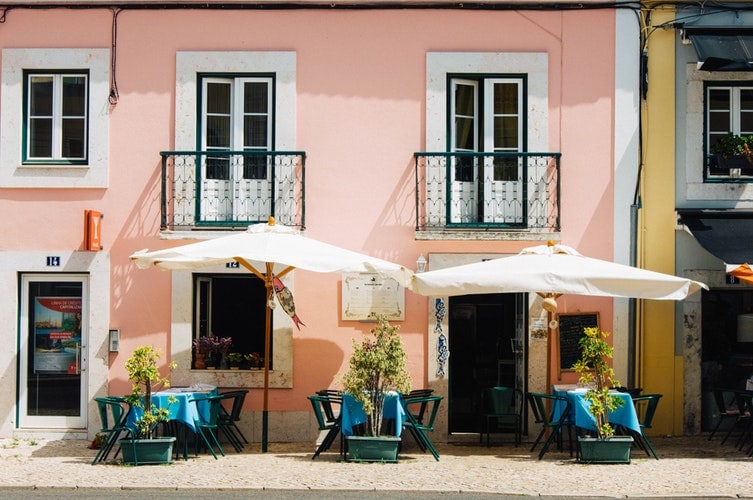 As I said, you can't avoid the enticing cafe scene. Two of my favorite spots to grab a bite and a drink are Cafe Nicola and Confeitaria Cafe. Ever since 1929, Cafe Nicola has been appeasing customers with delicious meals and the perfect setting for coffee and conversation. In fact, some of Lisbon's most notable scholars came here for drinks. Another great recommendation is Padaria Portuguesa, a French-style chain with pastries to die for.
5. Enjoy a Glass of Red Wine at the BA Wine Bar in Bairro Alto
Wine lovers, I've found your nirvana. The BA Wine Bar in Bairro Alto offers more than 200 different blends in a variety of prices and flavors as well as traditional Portuguese appetizers. Needless to say, they make for a delicious pairing. After a long day of walking around the city, this is the best spot to wind down and take in the gorgeous city lights.
6. Watch the Sunset from Praca do Comercio Square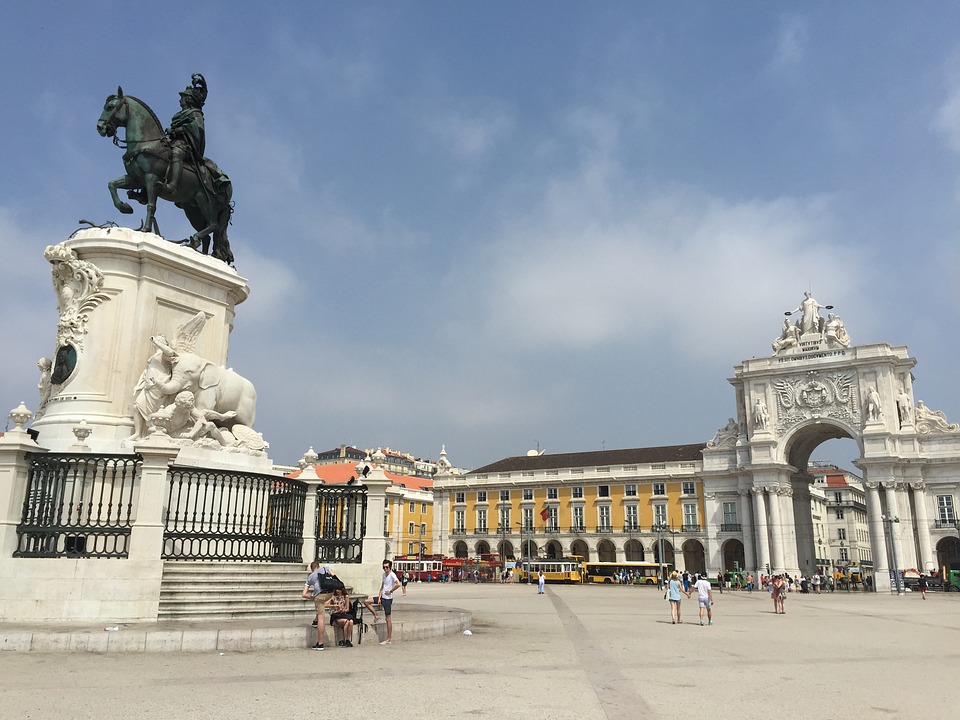 My Lisbon city guide wouldn't be the same without adding in this spot. While it might sound simple, one of my favorite memories is sitting at the center of the Praca do Comercio Square for sunset. Tiffanne and I bought a few bottles of cider, some fruit, and cheese and made ourselves a picnic in the plaza. We spread out our dinner on the steps under the towering statue of King Jose I and Arco da Rua Augusta and watched the world go by. Locals speed by on bikes, skaters practice their kickflips, and cafe-goers come and leave in streams like a timelapse. We had some of our best conversations here for a friendship I know will last a lifetime. Sit and savor it all.
7. Take a Day Trip to Cascais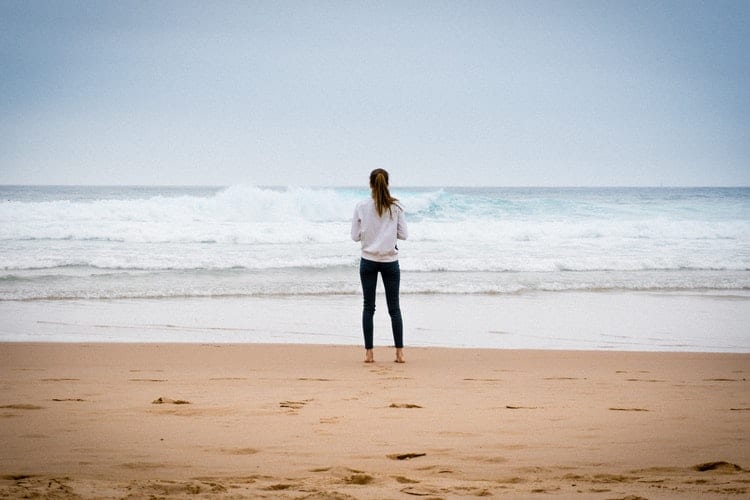 Just a 40-minute drive from Lisbon, you'll come across the scenic coastal town of Cascais. While it's known by Europeans as being a resort town, there are plenty of fun places to poke around that aren't touristy. Home to spectacular cultural preservation and a delightful culinary scene, it was one of my favorite stops along the trip. 
For Lisboetas, it's a popular place to get away from the hustle and bustle of city life for a weekend. What's there to do? In short, everything. Rent rollerblades or bikes and cruise around, visit the cliffs at Boca do Inferno (a great spot for taking photos), walk to Estoril, home to an incredible castle fortress. Walking from Cascais to Boca do Inferno in the rain was absolutely amazing. Take a stop along the nature trails to sit by the ocean and turn on your favorite Pandora playlist. It's the little things in life. It's time to visit Lisbon. Winter is a great time to make the trip.
Related Article: Best Portuguese Islands to Visit: Why You Should Skip the Mainland