Dreaming of a couple's vacation? Check out these romantic getaways in Florida.
Warm waters, pristine white sand beaches, and luxurious resorts line the Atlantic coast. If you're craving a little vitamin D, you'll find nothing but azure skies here. Get ready for the freshest seafood, scenic destinations, and a whole lot of adventure. Our picks for the most romantic getaways in Florida will have you packing your bags in no time. It's time to visit the Sunshine State.
Here Are Our Picks for the Most Romantic Getaways in Florida
Soak Up the Sun in South Beach, Miami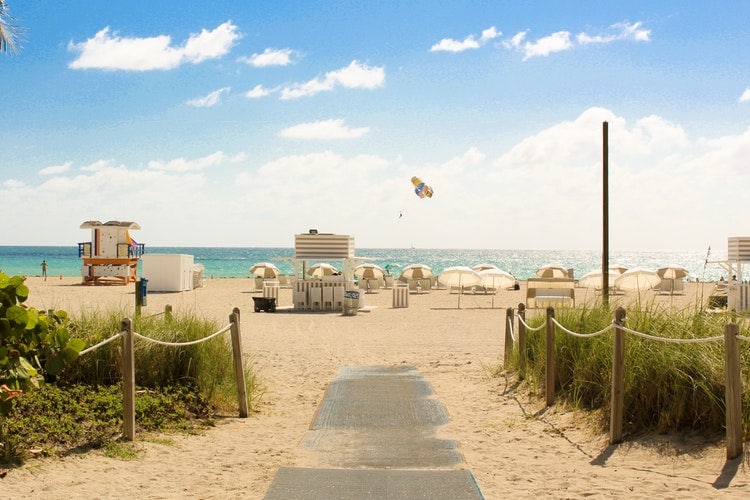 Miami is for lovers. If we didn't have Miami on this list, we would be steering you wrong. If you've never been to the Magic City before, you're in for a special treat. It's in this city that you'll find some of the most beautiful Art Deco hotels, a lively nightlife scene, and plenty of places to post up on the sand. But that's not all. We've got a pro tip for you. While you might be thinking of Miami as a crowded urban scene, the winter offers plenty of opportunities for you to relax with the whole beach to yourself. The best part about southern Florida is that even when the tourists leave, the water's still warm and the beaches are as beautiful as ever.
Take a dip in water that's as warm as a heated outdoor pool. Walk Ocean Drive under dazzling lights and the gentle sway of palm trees. You'll have plenty of places to choose from when you're ready to enjoy a romantic dinner for two. Due to its proximity to Cuba and Haiti, the international culinary scene here is thriving. From 5th all the way to 15th street, there is lively music, enticing restaurants, and an enviable nightlife. And while the dancing and drinks scene is great, somehow the daytime views are even better. There's no doubt thatSouth Beach is one of the most romantic getaways in Florida.
2. Stay at the Beautiful Hotel Ponce de Leon in St. Augustine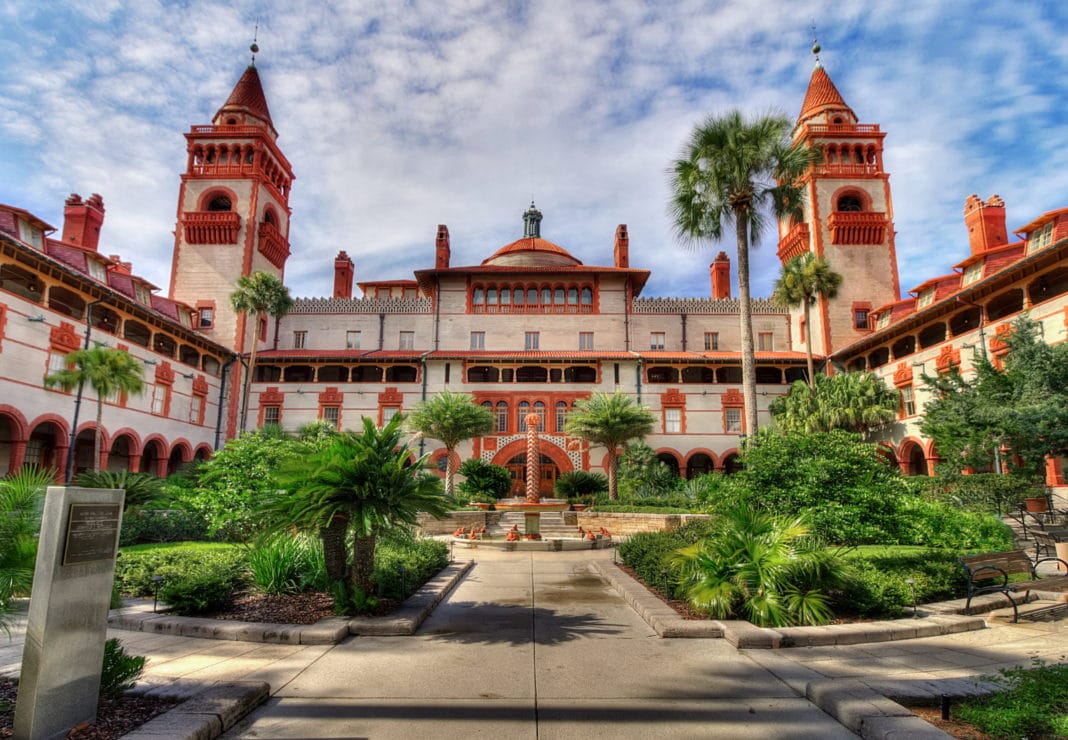 Credit: Wikipedia
Have you heard of the Ponce before? History lovers will fall for this beautiful Spanish-style stay. An exclusive luxury hotel in St. Augustine, the Hotel Ponce de Leon was built by the millionaire Henry Flagler and completed in 1888. At first glance, you can't help but marvel at its architecture. From the moment you arrive, you'll be captivated by the warm ambiance, cheerful colors, and lovely courtyard fountain.
Now take a closer look. The fountain acts as a giant sundial. Carved fish tell the hours and the turtles count the minutes. The rotunda features a wraparound mural with the four elements. Earth, wind, air, and fire stand in representation of four goddesses alongside female figures representing the stages of European colonization. Don't forget to look up. The ceiling is painted in a dazzling array of color thanks to the works of the famous George W. Maynard.
At first glance, this glimmering palace appears to be nothing short of perfection. But to a more keen eye, there are several inherent flaws present within the architecture. Rumor has it that Flagler purposely incorporated several design flaws in order to prevent a perfect structure from being an affront to God. One such example of this flaw in design can be seen on the rotunda's mosaic tile floor. Every triangle except for one has a single white tip.
3. Roam Around the Florida Keys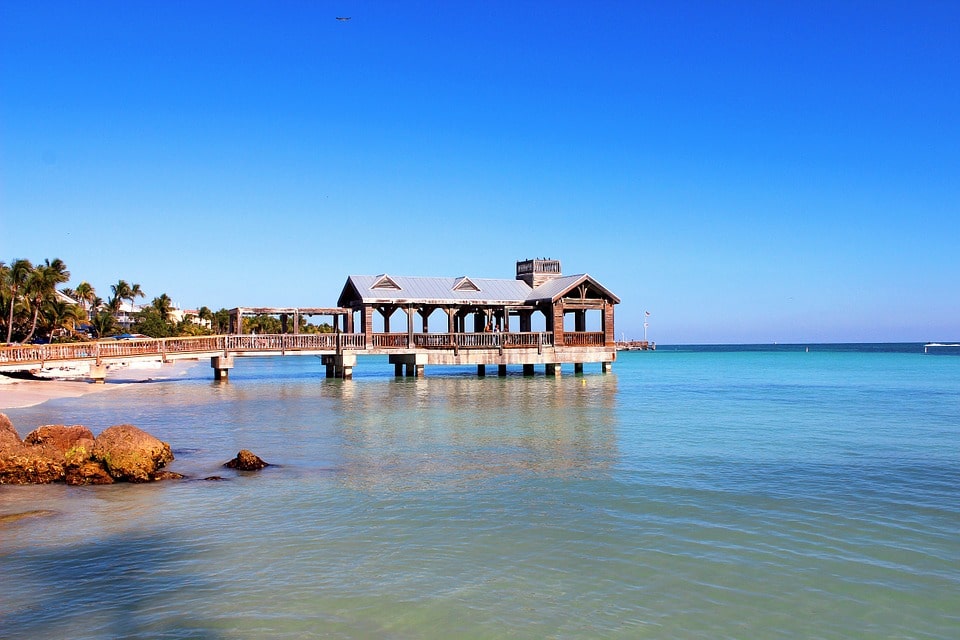 From Miami, make your way down south to the Florida Keys. In just a few hours, you'll be taken from the glitz and glamor of South Beach to kitschy beach culture with some of the most stunning vibrant blue water you've ever laid eyes on. Make sure to put a GoPro on your dash. You're going to want to film every second of the epic Seven Mile Bridge.
Mangrove estuaries line the shores and fishermen stand on the pedestrian sides of the bridge hoping for a good catch. Despite the tourism, the Keys have managed to maintain their quaint, charming authenticity and that's why everyone loves them. Okay, okay. We're getting to the good stuff. Here are our suggestions for things to do in the Florida Keys. Make sure you visit all of them. Here, Mother Nature really did save the best for last.
Wondering where to stay? Each of the Florida Keys offers something unique to travelers. When it comes to romance and adventure, you can't go wrong in any of them. If you're looking to take a fun diving trip for two, we highly recommend visiting Key Largo. One of the most spectacular snorkeling spots we've been to date is John Pennekamp Coral Reef State Park.
Book a snorkeling tour to go see the Christ of the Deep Statue. Some three to eight miles off the shore, you'll approach beautiful coral reefs. Covered in barnacles, this eighteen foot-tall statue sits in twenty-five feet of water. It's nothing short of spectacular. If you're lucky, you can also see some sea turtles and sharks on your tour. As the rays of sunlight pierce the water, take a second to stop and stare. It's definitely worth the trek.
4. Go Camping in Bahia Honda State Park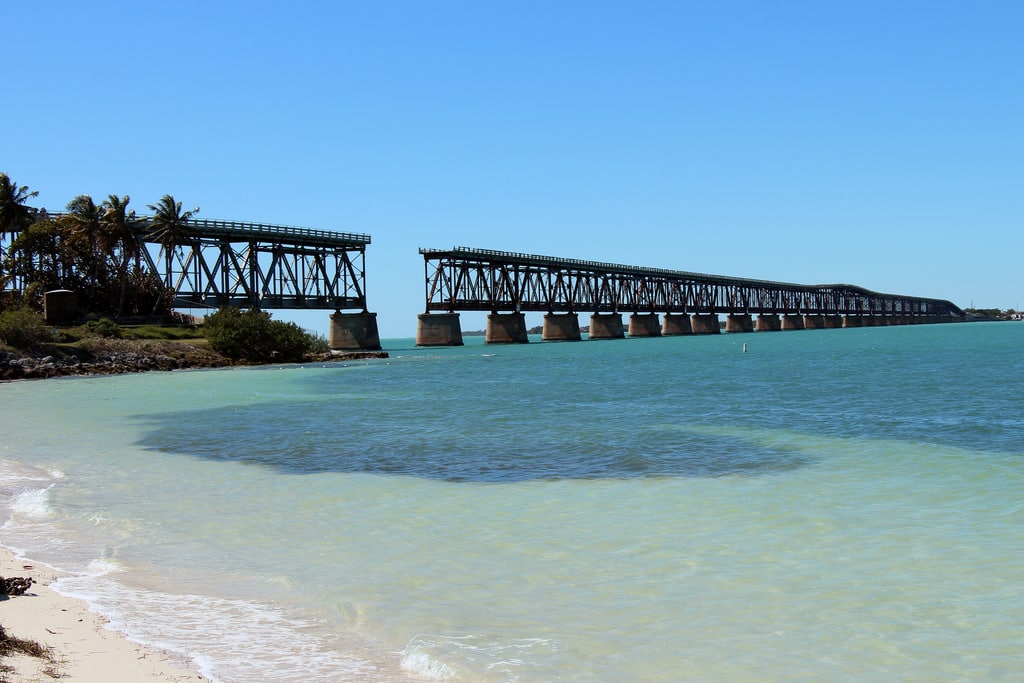 Credit: Karl Noring
When it comes to romantic getaways in Florida, can you think of anything better than camping on the beach under the stars? We can't. At night, the pitch black sky is flooded with stars and all you can hear are the rustle of cattails in the wind and the smooth sound of waves rolling in. Bahia Honda State Park is in a prime location on both the Atlantic and the Gulf of Mexico. Here, smooth sand meets perfectly warm water. It's no wonder that this state park is often-cited as one of the best beaches in southern Florida.
Due to its location, this is a great spot for swimmers, snorkelers, and those hoping to reel in a good catch offshore. Spanning just 500 acres, this tiny offshore sit sits on Mile Marker 37 along the long Overseas Highway. Pitch a tent, park your RV, or rent a cabin. The choice is entirely up to you. The site is home to three cute duplex cabins overlooking the bay.
Each is equipped with kitchen appliances, utensils, and linens. Reservations can be made up to eleven months in advance of your trip through ReserveAmerica. For those who prefer the traditional experience, the campsite offers 80 sites to choose from. Don't tell, but we've heard you can catch the best ocean views from sites 64 to 72. Amenities include bathrooms and hot showers.
5. Pack a Picnic and Spend the Afternoon in Lover's Key
Credit: Wikimedia Commons
You've heard of Key West and Key Largo. But have you heard of Lover's Key? This one literally has your names on it. If nature ever designed a place just for couples, this is it. We've never seen a more perfect coastline. Peaceful and quiet, it's the perfect place to spend the afternoon smooching on the sand. Go for a swim and let the sun work its magic on your salty skin and hair. After you've played around in the water, spread out your blankets and enjoy a picnic with the best view. P.S. We highly recommend sticking around for sunset. The sky turns to fire and the views never fail to disappoint.
6. Have a Little Adventure in the Florida Everglades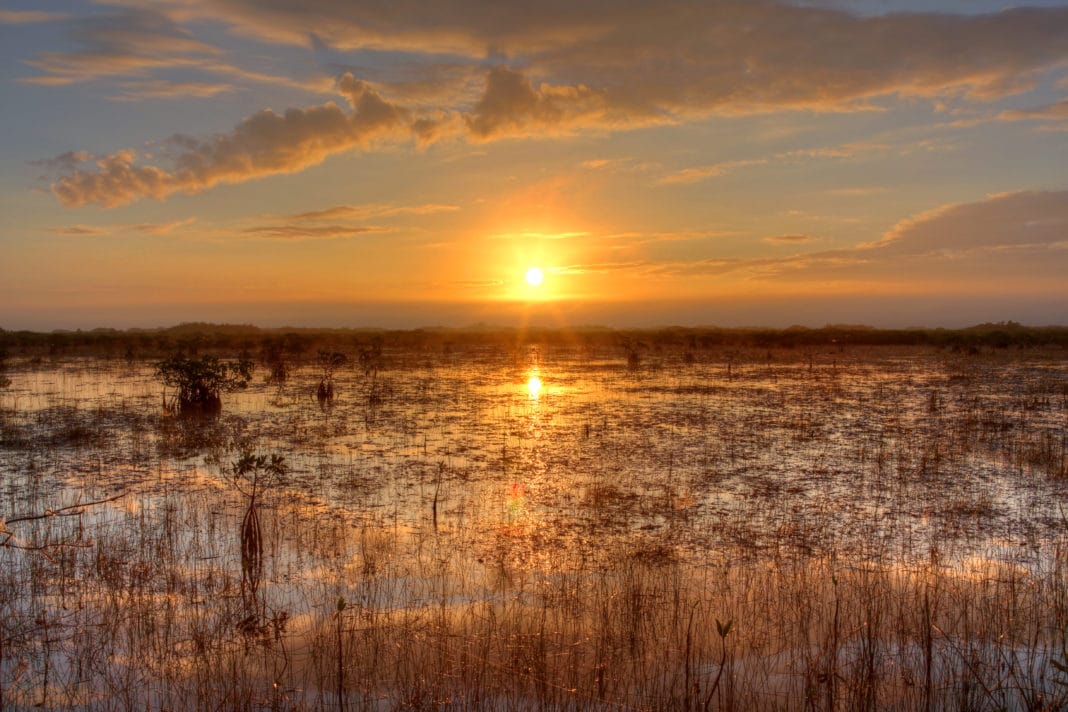 Credit: Wikipedia
What's your ideal version of romantic getaways in Florida? Ours involves connecting with nature. And where's a better place to do just that in Everglades National Park? In all honesty, this deserves a weekend trip in and of itself. Visiting this stunning wonder deserves much more than simply a day. Of course, in the event that you are short on time, there are still plenty of fun things you can pencil in.
You'll find the Everglades just an hour south of Miami. Visiting is a blast. While you're there, we highly recommend getting out on an airboat tour and exploring nature. Conservationists instruct you on how to view, respect, and help preserve wildlife. Get up safe up-close encounters with some of the most unique creatures on the planet. The Everglades is one of our favorite places to visit in Florida.
7. Go for a Day Trip to Dry Tortugas National Park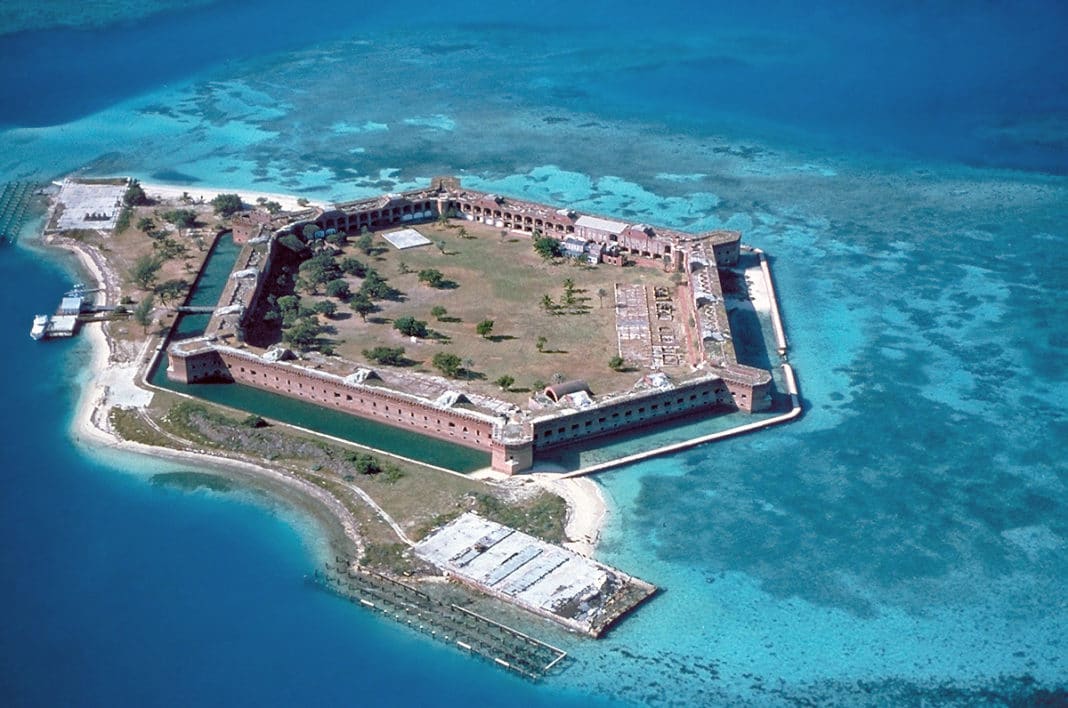 Credit: Wikimedia Commons
Okay, we have a heads up for you. This is America's least accessible national park. But its remote location is what makes it one of the most romantic getaways in Florida. Sure, it might take you a few extra hours to get to the Dry Tortugas from Miami or the Florida Keys, the trek is definitely worth it. You'll find Dry Tortugas National Park some 70 miles off the coast of Key West in the Gulf of Mexico.
Here, vibrant turquoise water and warm soft sand await you. We swear you've never seen anything quite like this 7-island archipelago (especially not in the states). Did we mention that it's reachable only by a boat or seaplane? Once you arrive, the island rewards you with amazing snorkeling reefs and corals teeming with marine life. You can also tour a gorgeous 19th-century brick fort. Here's a heads up though. Only 1% of the island consists of dry land. So prepare to get tan and spend most of your time participating in the park's many water activities.
You can choose to spend the day here or opt to camp. Being nature enthusiasts, we highly recommend the latter. Taking a boat from Key West takes a little over two hours. Why not make the most of your time and explore what the islands have to offer? Make sure to reserve your trip a few months ahead to charter the ferry Yankee Freedom III. Here's another heads up. There are toilets but no showers or drinking water. Pack everything you might need. You can stay up to four nights and enjoy the superb snorkeling and diving opportunities.
8. Ride Horses on Amelia Island
Credit: Flickr
Amelia Island is a beautiful slice of unspoiled nature. Here, you can explore scenic trails and go horseback riding on the lovely golden sand beach. When you've had your fair share of adventure and worked up an appetite, treat your lover to a delicious meal at Salt, a AAA 5-Diamond restaurant. This lovely eatery serves only the freshest and finest foods harvested locally offshore. There are few romantic getaways in Florida that can compete against the raw beauty of this island experience. When you're ready to wind down for the night, the Ritz-Carlton Amelia Island offers the perfect combination of charm and luxury. Enjoy five-star service and all-around memorable experience.
9. Enjoy a Lazy Afternoon at Higgs Beach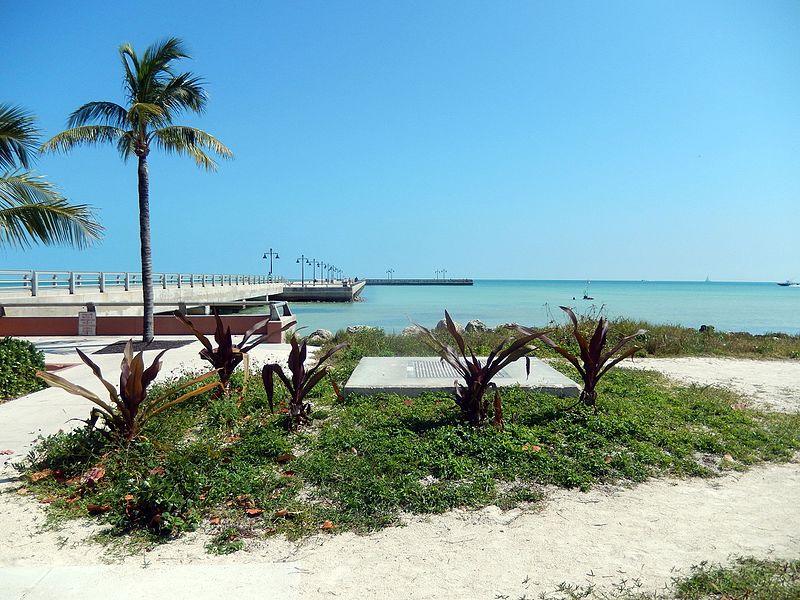 Credit: Credit: Wikimedia Commons
Looking for somewhere quiet and lowkey to cuddle? Head on over to Higgs Beach and claim your spot on the soft, white sand. This is one of our favorite places to come for sunrise and sunset. It's no doubt one of the most romantic getaways in Florida. You won't have to fight the crowds here. Besides the seagulls in the distance and the occasional surfer, this beach is relatively uncrowded come fall and winter. Here's the best part though -it's still warm and perfect. Sit on a palm-lined shore and enjoy the rhythm of the tide and a balmy breeze.
While you're here, why not treat yourselves to a little bit of luxury? Rent out lounge chairs and umbrellas from Tropical Watersports Key West for only $30. Are you looking for some space to enjoy water sports on the ocean? Since Higgs Beach is uncrowded, you can also rent out some paddleboards or snorkeling gear and enjoy the coast all to yourself (especially if you visit during the fall and winter months). Outside restrooms and showers are available here too.
Book Your Trip and Enjoy These Incredibly Romantic Getaways in Florida
We hope you enjoyed reading our article on these incredibly romantic getaways in Florida. You don't have to break the bank to have fun. Some of the favorite memories to be made are the ones that where you immerse yourself among nature. Don't overlook the little things; these spots guarantee a whole lot of fun and sunshine. From the glamour of South Beach to adventures in the Florida Keys and the mellow nature of St. Petersburg, there is something in Florida for every type of traveler. Now, you just need to decide where to go. The options are plentiful. Have you been to any of the places on our list? Let us know your favorite spots in the comment section below.
Related Article: Florida Keys Hotels: A Guide to the Top 10 Accommodations