Weekend Getaway to Philadelphia
Getting away to Philly can be a relaxing and informative experience. There is plenty of history to experience as well as modern sights to see and activities to partake in. Whether you're two lovers searching for a romantic weekend getaway, a family with small children, a solo traveler searching for an adventure, or a group of friends looking for a good time, there is something for everyone to do on a weekend getaway to Philadelphia!
For the Lovers:
Rittenhouse Square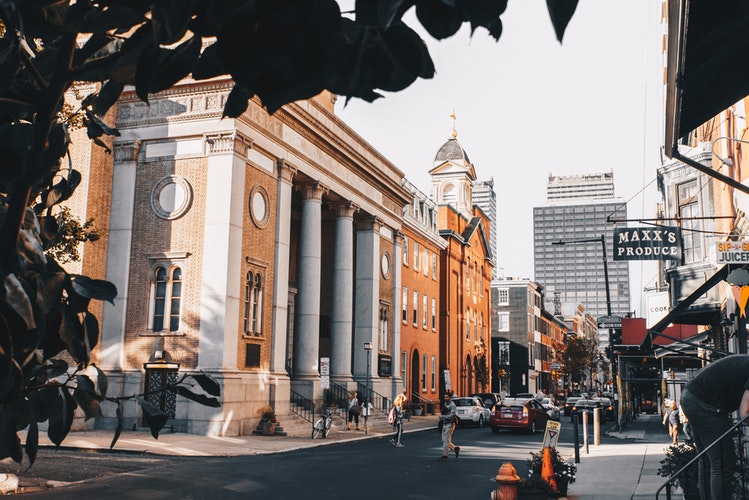 Rittenhouse Square
One of William Penn's five squares is Rittenhouse Square. It is one of the most desirable places to live in the city. In the area around the square lies Mutter Museum, many places to eat, shops galore, a lively nightlife scene, and so much more. This area is great for lovers on a weekend getaway to Philadelphia because it is a great spot to sit and relax, read, have a picnic, paint, or simply enjoy the company of another. This was a fashionable place to live and play in the early 1900's, and this fact has not changed much since. Some nice features here are the beautiful reflecting pool and the Greek figures of various sculptures you will find located around it. One of the most famous and beloved is the Lion Crushing a Serpent sculpture by French sculptor Antonie-Louis Barye.
More on Rittenhouse Square
This park's preservation and protection credits largely to Friends of Rittenhouse Square. They partner with Philly's Parks & Recreation to maintain the park and make it what it is to the community with events, campaigns, funding through membership, projects and programs. They keep up the maintenance by funding and organizing landscaping, maintenance, sweeping, security, holiday décor, and so much more. They welcome and appreciate membership as this is their main mode of funding to keep up the park.
This is the perfect location for an evening scroll. This square and the surrounding areas feel European, which is a refined change of pace if you are in all modern areas and experiencing American attractions all day long. Rittenhouse Square has many events all year long such as the event where fine artists "Circle the Square", or the Rittenhouse Square Christmas Tree Lighting where over 5,000 lights are on display, so be sure to do your research on what's going at and around the square when you take your weekend getaway to PA. This square has rich history and rich beauty and is a must experience.
Dilworth Park and Rothman Ice Rink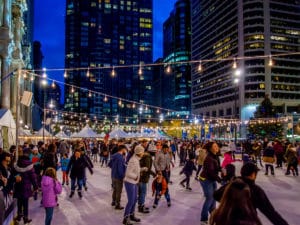 Credit: J. Fusco
While we are talking about city hall, it would be a shame to forget Dilworth Park and Rothman Ice Rink. Right outside of city hall this park came life. From November-February, you can enjoy this park and skating rink. They have special offers such as 30-minute skating lessons taught by professionals as well as the option to sled skate. Sled skating offers children with disabilities to partake in the fun as well! In these cold months, the park offers all types of events such as a College Skate Night, a Cocktails & Cold One's happy hour, karaoke night, an event called Quizzo, which is trivia with drinks. And Center City Fit, which is the free skating works out with trainers on the ice skating rink. There is also Rothman Orthopaedics Cabin where adults over 21 can buy drinks. There is also food available on a small and eloquent menu!
Philadelphia Art Museum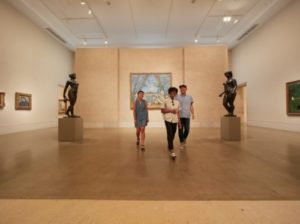 Philadelphia Art Museum
Just like the Franklin Institute, the Philadelphia art museum is known and loved all around the world. The exhibits are from all around the world as well. They extend further than United States talent and into Europe, Latin America, and Asia. They offer an ever-changing variety of tours ranging from collection tours to family programs, to exhibition tours, and even Holiday art shows. Not only do they offer diverse art, but their building is rich in history, dating back to 1876 and the Centennial Exhibition. Walking into this museum is like breathing in other the beauty of cultures and rich American history all at once. The backing purpose by those in older times was that this museum would be "for the improvement and enjoyment of the people of the Commonwealth".
Hours & Deals:
Their hours are Tuesday-Sunday 10a.m.-5p.m., Wednesday and Friday 10am-8:45 pm. They stay open all holidays except for the 4th of July, Thanksgiving, and Christmas. If you are planning your weekend getaway to Philadelphia, this museum may be the place you choose to spend all your time (and we would not judge you for it!). Adults are $20 for a two-day pass, seniors $18, and students and youth are $14. Children under 12 are free!
For the Families:
City Hall Tower & Observation Deck
City Hall Tower & Observation Deck
548 feet off the ground, you can see the skyline and be on the same label with the birds at the largest city hall in the United States. There is also a tour inside of city hall that gives you the history of the décor, and showcases over 250 statues that represent seasons and continents. Reservations for timed visits are required, so make sure to call or take a trip to the visitor center. They open Monday-Friday and certain Saturday's. The cost of this experience is $6 but it is worth so much more. This is a must see for anyone going to Philadelphia, Pennsylvania.
Franklin Institute Science Museum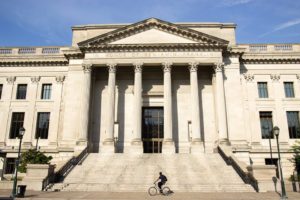 Franklin Institute Science Museum
The Franklin Institute, founded in honor of Benjamin Franklin, whose the United States first scientist. This museum has international standing and respect and they desire to educate and ignite a passion for all who come for science and technology. You could spend an entire weekend at this museum. They have IMAX theatres, escape rooms, special exhibits, augmented and virtual reality games, a train factory, an air shoe, an observatory, environmental/global education, an electricity exhibit, and heart anatomy exhibits, and this is simply scratching the surface.
When it comes to planning the perfect weekend getaways to Philadelphia, make sure to look at the website to find current events and exhibits to check out. Franklin Foodworks is their cafeteria type eatery that is bright and family friendly. It's a safe place for excited little voices and loud laughs. They serve "kid friendly" food such as pizza, fries, and tenders. They also have Franklin Foodworks Express where you can pick up some snacks and drinks to stock up on energy to keep enjoying your day. Their regular hours are 9:30 am through 5:00 pm, and they are closed on major holidays.
For The Hipsters:
Reanimator Coffee Roasters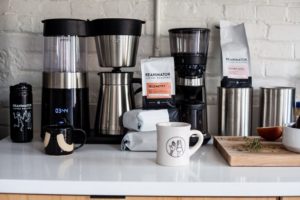 Reanimator Coffee Roasters
Reanimate Coffee Roasters doesn't just serve coffee to quench the people's caffeine thirst. No, they deeply love coffee and seek to gain the best experience possible pit of it. They are constantly learning to support coffee at the root and trying to find the best ways to support growers who are often families dependent on the production of coffee beans. This coffee roaster is the perfect way to spend a portion of your weekend getaway gaining great memories, taking good Instagram shots, and being schooled in the ways of all things coffee. On the way out, stop by the shop and pick up a T-shirt, tote bag, bag of coffee beans, or a gift card to encourage a friend to have the same experience sometime soon. This is a perfect weekend getaway to Philadelphia activity!
Reading Terminal Market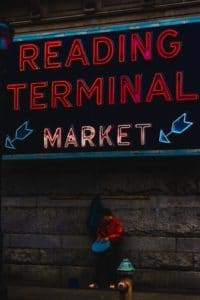 Reading Terminal Market
Reading terminal market is a farmers market and it has a rich history dating back to 1893. This urban farmers market has the goal of preserving history as well as agriculture on their land. They have so much to offer here. There are your typical fresh foods such as dairy products, bakeries, seafood, meats, and poultry. There are also more unique shops than you will find at your average farmers market such as Miscellanea Libra, which is a small bookstore where you can find new and used books. Herbiary, a store where you can stock up on essential oils and medicinal herbs. A place called City Kitchen that offers cooking classes. The Shoe Doctor to shine your shoes. And other ships that sell linen, silverware, trinkets, jewelry, and other gifts.
Pennsylvania Dutch is the cafeteria where you can find many different restaurant options, from bbq and ribs to a deli and Dutch eatery. There is also a fudge candy shop to satisfy your farmers market browsing sweet tooth. Another nice unique feature of the Reading Terminal Market is the Rick Nichols Room that is available for meetings and events. This market is a super fun thing to do on a weekend getaway to Philadelphia because there is something for everyone to enjoy!
For the Learners:
Mütter Museum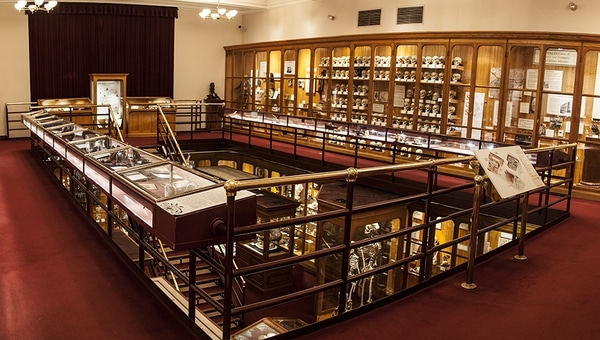 Mütter Museum
The Mütter Museum is a museum of medical history. This is not just any museum, but stands as America's finest. The goal of this museum is to help all those who enter see the human body in a clearer light as well as diseases and treatments over the course of history.
The main and noteworthy permanent exhibitions are:
The Innovations in Spinal Surgery, where you will learn all about spinal medicine through the ages as well as current treatment options and goals for the future of spinal surgery through donated objects.
Another permanent exhibition is the Hyrtl Skull Collection, where there is a collection of 139 human skulls collected by anatomist Joseph Hyrtl all the way back in 1874. Another is the Cast and Livers of Chang and Eng Buckner. They were conjoined twins from Thailand who were born in 1811. They died in 1874 and following has an autopsy conducted and were transferred to the museum. You can now see their plaster cast of their torsos. The museum has a large collection of specimens and artifacts of conjoined twins and other.
Broken Bodies, Suffering Spirits: Injury, Death, and Healing in Civil War Philadelphia. This is an exhibit that shows the history of the wounded and sick soldiers who fought in the civil war and were cared for by hospitals in Philly.
Even More Permanent Exhibitions:
The Benjamin Rush Medicinal Plant Garden where Benjamin Rush, famous for his participation in signing the Declaration of Independence, was a doctor who advocated for his colleagues to keep a medicinal garden as a way to keep medicine. The garden has over 60 various herbs. There is a Garden Brochure where you can see a list of all the plants and their uses as medicine.
Chevalier Jackson Collection, where the Philadelphia otolaryngologist kept records of all objects he removed from patient's airways which contains 2,374 items.
Albert Einstein's Brain lives at The Mütter Museum as well, and it is one of the two only places with parts of his brain. Preserved and on display to check out here. After passing through many different scientists and doctors, they concluded that his brain is not average or usual.
The Soap Lady is another permanent exhibition. She is here because her body had a strange and unique substance come off of it. Her remains are on display.
Hours & Deals
This museum is constantly cycling exhibitions and bringing new ones in, so be sure to check out their current ones before you come to make get a general idea of what you want to check out! The Mütter Museum is open from 10am-5pm every day except for major holidays. You can save $2 on Mondays and Tuesdays if you walk in. If you are looking to spend your weekend getaway to Philadelphia at museums (which I know is always my plan!), you may be interested in the One Ticket, Two Museums option. You can go to the Mütter Museum and the Penn Museum for a sale price, available for purchase at the front desks of these museums.
The Liberty Bell

& Liberty Bell Center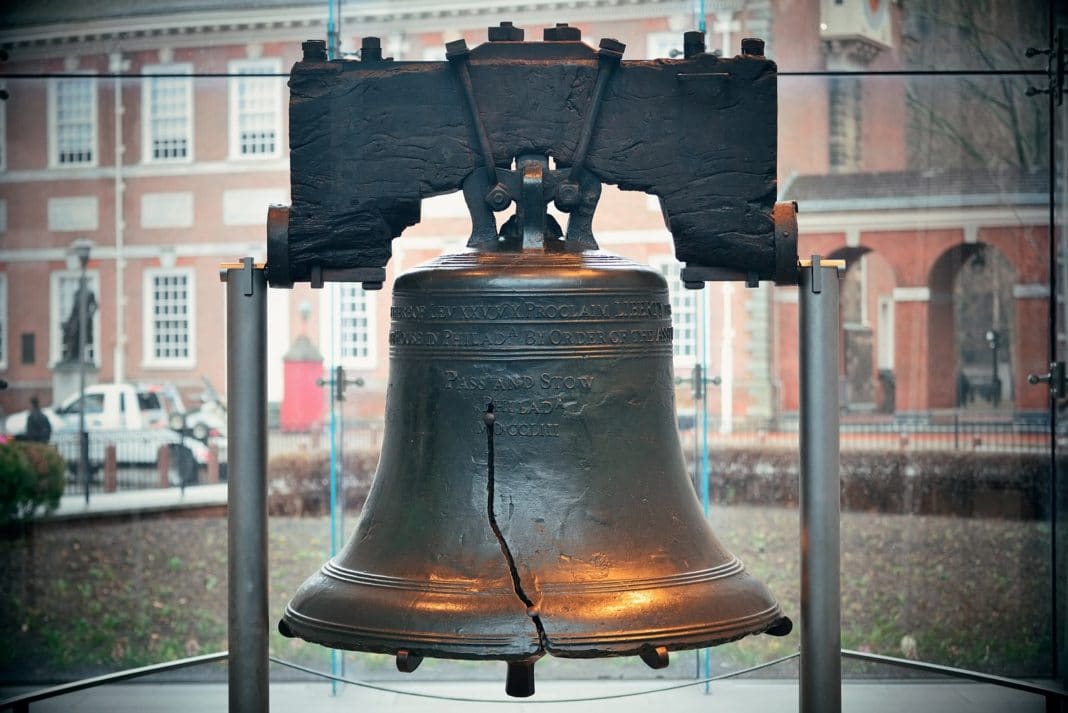 The Liberty Bell
The Liberty Bell stands for exactly what you would expect: liberty. This symbol has the message "Proclaim Liberty Throughout All the Land Unto All the Inhabitants thereof". It is known for its large crack, but the history is so much deeper than what meets the eye. Originally, this bell would ring to get lawmakers to meetings and people who lived in the town together to hear the news read aloud. But the bell would go on to become so much more. The inscription is a quote from the Biblical book of Leviticus and the words engraved on the side served as a beacon of hope and proclamation for those fighting for the rights of the people, such as those in the women's suffrage and Civil Rights movements.
After about 90 years of use, the Liberty Bell ended up with a crack. After a failed attempt at fixing it, the bell stopped ringing. We can only guess what it sounded like. This bell has seen so much history, including a tour across the US. It ignited hope post Civil Rights movement, as this quote was originally said to those coming out of slavery. The Liberty Bell has a museum called The Liberty Bell Center for guests, which is perfect if you are planning a trip to PA for the weekend! Admission is free and you can show up with no planning. The exhibits are on topics such as the founding of the Bell and the history of those encouraged by it in the various movements. The Liberty Bell is a must-see attraction, so be sure to add it to your weekend getaway to Philadelphia itinerary!
Choose This Day Your Getaway
There are endless possibilities when it comes to choosing a weekend getaway to Philadelphia. This place has an amazing scene for millennials looking for the best Instagram photo to capture, or the 30 something-year-old looking to experience the deep roots of American history here, or the parents looking to give their children memories that will last.
Related Article: The Top 10 Hiking Trails with Waterfalls in PA