The collection of museums in Philadelphia are some of its best resources to take in the city's history and art.
Philadelphia, more fondly referred to as "Philly," is a city that was built on monumental events in America's history. Founded during the American Revolution in 1682, Philadelphia was the birthplace of The Liberty Bell and The Declaration of Independence. Given all that Philly has been through, it comes as no surprise that the museums in Philadelphia are some of the best the country has to offer.
The city was a hotspot for folks to move to during the revolution. Given the fact that Philadelphia is the sixth most populated city in the nation, it's safe to say Philly hasn't lost its spark.
Spice up your trip to Philly with history, art, and culture found in the best museums in Philadelphia. Trust us, a Philadelphia museum tour is a Philly activity you do not want to miss!
1. Philadelphia Museum of Art
Credit: Philadelphia Museum of Art | Costumes and Textiles – Phulkari: The Embroidered Textiles of Punjab from the Jill and Sheldon Bonovitz Collection
The Philadelphia Museum of Art (PMA) is known for so much more that its iconic Rocky steps (and the subsequent statue to go with it!) The museum, whose long history began in 1876, is renowned for its world-class collection of late-19th- and early-20th-century paintings and sculptures. PMA holds the largest collection of work by Marcel Duchamp, the greatest collection of sculptures by Constantin Brancusi in the United States, and famous paintings by Vincent Van Gogh, Pierre-Auguste Renoir, Frida Kahlo, and more. PMA's dedication to curating such coveted work is why it has become one of the most popular museums in Philadelphia.
PMA is a treasure trove of art throughout the ages. Certain areas of the museum focus on Pennsylvania and Philadelphia-bred artists and historical events (for example, pieces of Pennsylvanian German furniture and works by Thomas Eakins.) However the museum has managed to go worldwide to bring in art from every pocket of the globe. The South Asian galleries allows guests to walk through temples that have been rebuilt in the museum while the hallway dedicated to work by Claude Monet takes you on a stroll through the streets of France.
PMA is hands down one of the best museums in Philadelphia, if not the best that there is. We highly recommend taking a visit here at some point (or multiple times) in your life.
The museum is open Tuesday-Sunday from 10:00 a.m.–5:00 p.m. The Main building is open until 8:45 p.m. on Wednesday and Friday. The museum is closed on Monday, except for certain holidays. Visit the website for more information.
2. The Franklin Institute Science Museum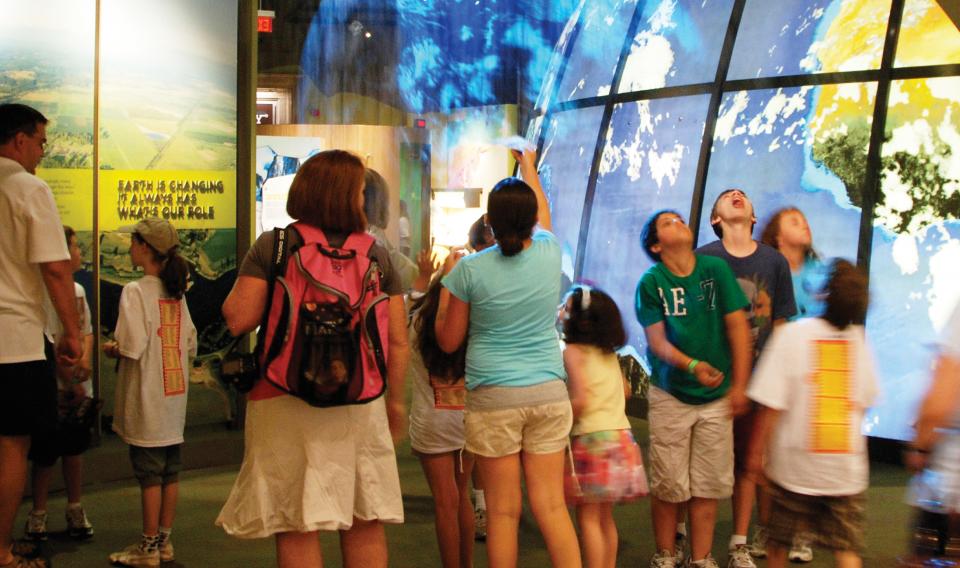 Credit: The Franklin Institute
The Franklin Institute (FI) is one of the best museums in Philadelphia for tech-heads and science fanatics to explore. The museum is centered on science education and research conducted in Philadelphia. The museum was named after a scientist you may have heard of before: the one and only Benjamin Franklin. Though Franklin was Boston-born, he lived and died in Philadelphia and therefore has his own set of Pennsylvanian roots. In honor of its namesake, FI houses the Benjamin Franklin National Memorial.
In line with its goal to further science education, FI is chock-full of interactive exhibits for guests to experience. Visitors can fantasize in the world artificial intelligence in the museums virtual reality wing or be transported across the globe in one of the museums many escape rooms. FI is dedicated to helping its visitors learn something new upon every visit. Therefore, the museum constantly presents new exhibits for guests to explore. Through March 3, 2019, FI guests can visit Vikings: Beyond the Legend. This exhibit "brings people from the Viking period to life" and presents a wide array of objects, multimedia projects, and other interactive elements to reveal the "captivating story of the explorers who set sail from Scandinavia centuries ago."
Like we said, Philadelphia is all about history, even if its not its own! FI is also one of the best museums in Philadelphia for families and children to visit. We promise you will never have a dull moment when you choose to spend at day at FI.
The museum is open daily from 9:30am to 5:00pm and is closed on most major holidays. Visit their website for more information.
3. The Penn Museum
Credit: ​The Penn Museum
Located in West Philadelphia, the University of Pennsylvania Museum of Archaeology and Anthropology is renowned as one of best collection of artifacts among universities in the U.S. This is one of the best museums in Philadelphia in visit if you're looking for a little bit of everything. The wide-ranging collection presents an Egyptian gallery with a 15 ton graphite sphinx, columns inscribed with hieroglyphics, and mummies galore.
Visitors can take a trip around the globe with just one visit to the Penn Museum. Other fascinating exhibits to check out is the Greece Gallery, which holds Etruscan tombs and outposts of the empire of Alexander the Great. Next, pop over to Asia at the China & Japan Galleries. Here you can see the Chinese rotunda, one of the "finest collections of monumental Chinese art in the country" that spans 90 feet in diameter and nearly 100 feet high.
A recently opened, must-see gallery at The Penn in the Middle Eastern galleries, which just opened in April 2018. Here guests can explores 10,000 years of human history through more than 1,200 objects and other artifacts. The Penn's diversity is one of the reasons we consider it one of the best museums in Philadelphia.
The museum is open Tuesday-Sunday from 10:00 a.m. to 5:00 p.m. and is closed on Mondays. Visit their website to learn more.
4. Philadelphia's Magic Gardens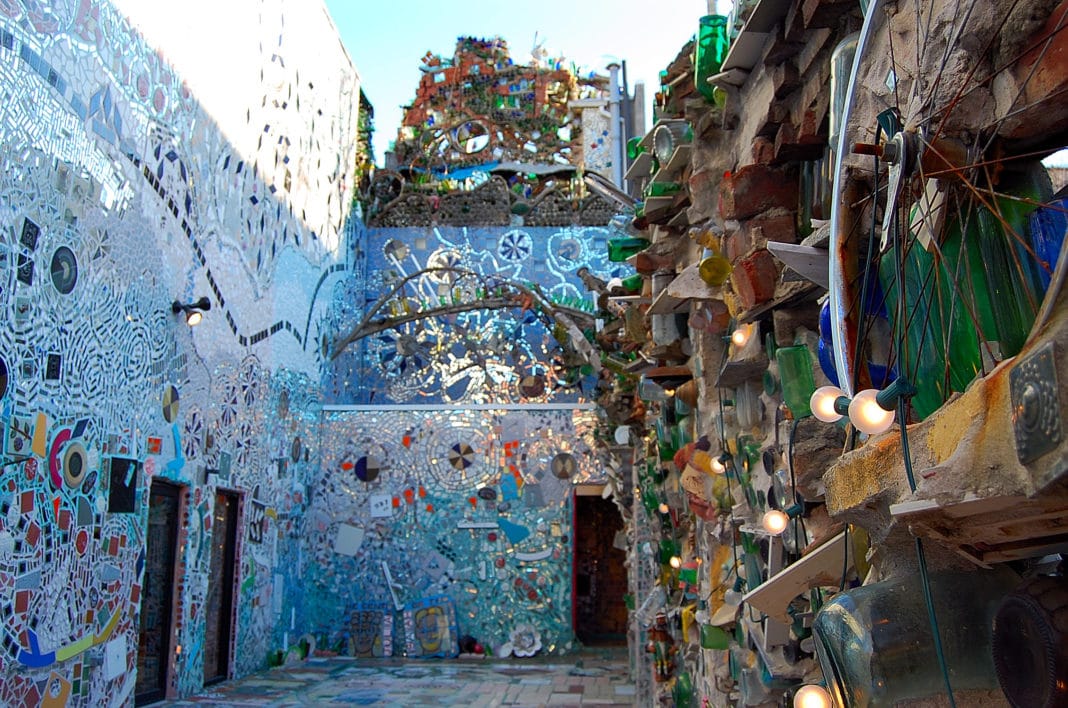 Credit: Philadelphia's Magic Gardens
This is one of the hardest museums in Philadelphia to miss. In fact, you'll know you're almost to the museum the moment you start to shards of colored glass and bits of broken pottery embedded into the the buildings and city streets around you. Founded by artist Isaiah Zagar, Philadelphia's Magic Gardens (PMG) is "an immersive mixed media art environment that is completely covered with mosaics." Zagar, a Philadelphia born mosaic artist, is best known for using seemingly random objects, like bottles, mirrors, and bicycle wheels, to chronicle his life through works of art. It's a unique style that is well portrayed through the exterior of the PMG building alone.
PMG is one of the best museums in Philadelphia for people who aren't generally a fan of art museums. The non-profit museum is dedicated to primarily giving self-taught, mosaic, or folk artists the opportunity to show their work and "demonstrate an unconventional understanding of material" in their nontraditional approaches to art. It's hard not to appreciate the life of an artist after visiting PMG.
PMG offers a wide variety of programs for guests, including Mindfulness & Mosaics, Twilight in the Gardens, and Peco Family Jams. Zagar himself has an upcoming exhibit of his new mosaics that are getting ready to be put on display at PMG. Overall, this is one of the best museums in Philadelphia to visit if you're looking to see truly, uniquely remarkable works of art you're unlikely to see anywhere else.
The museum is open Wednesday-Monday from 11:00 AM – 6:00 PM and is closed on Tuesdays. Visit their website for more information.
5. The Mutter Museum
Credit: The Mutter Museum
Our next step in one of the more unusual and uniques museums in Philadelphia. Located in City Center, The Mutter Museum is noted as America's finest museum of medical history. Mutter holds a unique collection of specimens and objects that are dedicated to telling the story of mankind's history with anatomy and medicine. Their exhibits present artifacts ranging from seventh century BCE to present day. The is easily one of the most eye-opening museums in Philadelphia and is sure to expose you to areas of science you've never dove into before.
One of the museums most popular collections is Wet Specimens, which is a collection of biological samples preserved in fluid. The exhibit holds more than 1,300 wet specimens, some of which date back to the nineteenth century and are still in their original fluid and container. Amongst the museums permanent exhibits is A Stitch in Spine Saves Nine: Innovations in Spinal Surgery, the Hyrtl Skull Collection, and as a nod to the state's history, Broken Bodies, Suffering Spirits: Injury, Death, and Healing in Civil War Philadelphia. 
A visit to The Mutter Museum is one you won't forget. The experience is sure to give you a better understanding on the history of medicine and may even make you better appreciate modern day medicine. All in all, this is one of the museums in Philadelphia that is absolutely worth seeing.
The museum is open Monday-Sunday from 10 a.m. to 5 p.m. Visit their website for more information.
6. Museum of the American Revolution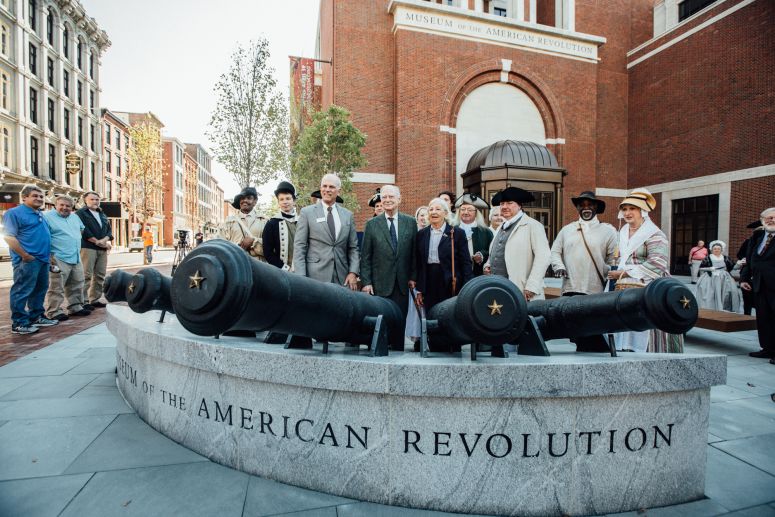 Credit: Museum of the American Revolution
We already told you Philly has a long, impressive history, as it was one of the most significant cities during the American Revolution. Therefore, it's no surprise that one of our favorite museums in Philadelphia is The Museum of the American Revolution. Dedicated to sharing the story of the American revolution, the museum was just opened to the public on April 19, 2017 – the anniversary of the first battle of the Revolutionary Way, Lexington and Concord in 1775.
The museum is renowned for its highly coveted "collection items," which holds many objects that once belonged to our first president. These include  Washington's Headquarters Tent, which was the original sleeping and office tent of President George Washington, and Washington's Headquarters Flag. Legend has it that this flag marked the presence of General Washington during the War of Independence. The flag is much different than ours, as it has just 13 stars sewn into it to represent the first 13 states in America.
The museums most recently opened exhibit is Hamilton Was Here: Rising Up In Revolutionary Philadelphia. 
7. Please Touch Museum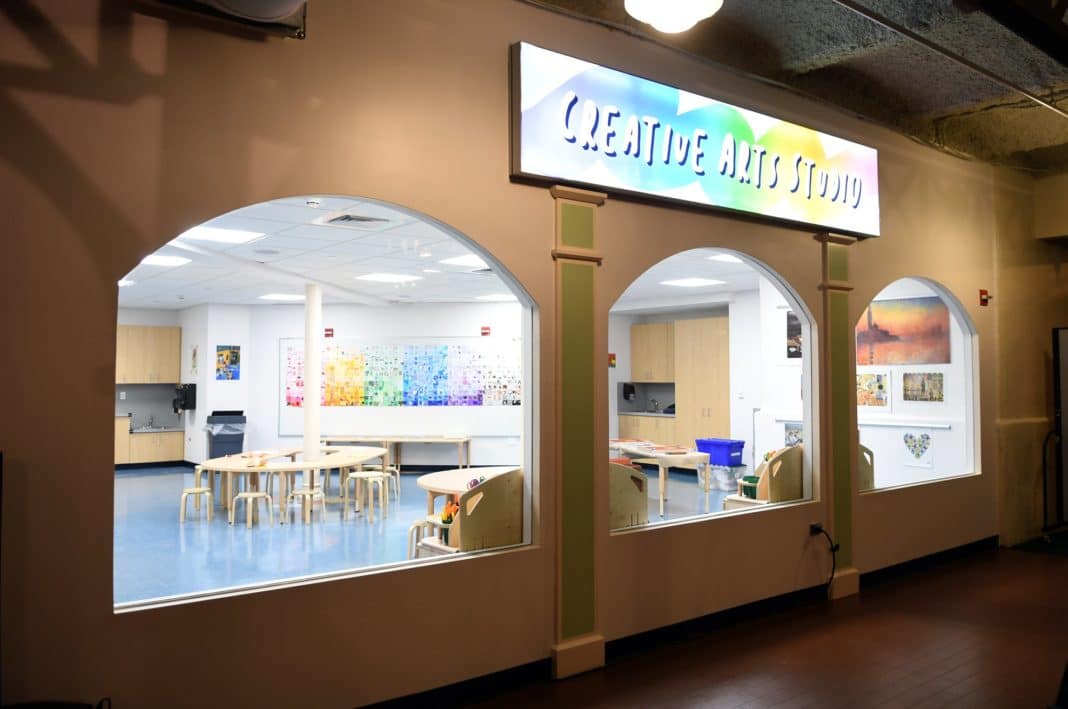 Credit: Please Touch Museum / Facebook
This is without a doubt one of the best museums in Philadelphia for children and families. Since 1976, the Please Touch Museum (PTM) has been the top Children's Museum of Philadelphia. PTM's mission is to "change a child's life as they discover the power of learning through play. With a focus on igniting a child's sense of curiosity, PTM has two floors dedicated to interactive learning.
The museum has a wide-variety of permanent exhibits dedicated to teaching kids – and their parents – something new about the world and their existence. The Healthy Me exhibit puts the kids in charge and challenges them to take on the responsibilities of an adult. Children are asked to select and buy dinner ingredients at a supermarket, scan a doll on an x-ray machine, tend to an urban garden, and more. Another permanent hands-on exhibit the Rocket Room. Here, children are taught about the solar system and properties of flight through and exhibit that puts them in mission command. Kids take on the tasks of launching a rocket and taking "charge at the Mission Control console."
Overall, PLM is a unique and entertaining museum and one of the best museums in Philadelphia for travelers in need of fun for the whole family. Every exhibit will challenge and teach children through the powers of art, imagination, and learning. Why wouldn't you pay to visit a place that gives your child a learning experience like this?
The museum is open Monday-Saturday from 9:00 a.m. to 5:00 p.m. and Sunday from 11:00 a.m. to 5:00 p.m. Visit their website to learn more.
8. The Benjamin Franklin Museum
Credit: The National Park Service
This is one of the best museums in Philadelphia for travelers interested in quick and informed but affordable visits. The Benjamin Franklin Museum allows visitors to explore the life of one the most renowned scientists, inventors, and Founding Fathers in American history. The museum displays a variety of artifacts from Franklin's life as well as animations and interactive displays to get a look inside this great thinker's mind.
The exhibit area of the museum is broken up into five "rooms," each of which are dedicated to particular traits Franklin possessed. These include the ardent and dutiful, ambitious and rebellious, motivated to improve, curious and full of wonder, and the strategic and persuasive rooms. There is also an area called the "Library" where guests can watch a video with excerpts from Franklin's Autobiography.
This is one of the best museums in Philadelphia for people specifically interested in American history. The museum also has many areas that are geared towards children, making the Benjamin Franklin Museum a great activity for families. It's a quick enough visit that you'll still have plenty of time to grab a bite at one of the many great restaurants Philly has to offer.
The museum is open daily from 9:00 a.m. to 5:00 p.m. Visit their website to learn more.
9. Eastern State Penitentiary Historical Site
Credit: Jeremy Powlus for Google+
This historic Philadelphia site is not for the faint of heart. The Eastern State Penitentiary Historic Site (ESP) got its name for once being the most famous and expensive prison in the world. ESP was the world's first true "penitentiary," or "a prison designed to inspire penitence, or true regret, in the hearts of prisoners." The eery penitentiary once held some of notorious American criminals including bank robber "Slick Willie" Sutton.
ESP is dedicated to interpreting "the legacy of American criminal justice reform" and tells a story beginning at the nation's founding up to the present day. A trip to ESP is a very literal hands-on experience as visitors are granted keys to the cellblocks. One of the most popular exhibits is Al Capone's Cell, which once held criminal Alphonse "Scarface" Capone for eight months. Other exhibits include Jewish Life at Eastern State, Murals of the Catholic Chaplain's Office,  and Prison's Today: Questions in the Age of Mass Incarceration. 
What ESP is arguably best known for, however, is Terror Behind the Walls. This annual event during the fall takes visitors inside the penitentiary through six haunted attractions, including Quarantine, Machine Shop, and Lock Down. It's a truly terrifying experience that is sure to get guests into the Halloween spirit.
The museum is open Monday-Sunday from 10 a.m. to 5 p.m. Visit their website to learn more.
The museums in Philadelphia each offer something new and different for guests to see.
Hat's off to Philly for having one of the most diverse collection of museums we've ever seen. As you can see, the museums in Philadelphia cater to people with all types of interests. These nine museums in Philadelphia are just a small collections of all the museums and historical sites this city has to offer.
If you are in search of more art museums, there are plenty more to choose from. If you're specifically interested in learning more about our nation's history, consider taking a tour of significant sites and locations visited during the revolution.
There is something new to see and learn at every corner of this city. Update what you know about history, art, culture, and life at one of the many great museums in Philadelphia.
Related Article: 7 Best Museums Around the World for Art Lovers