Though traveling right now seems pretty risky, many are dreaming of the coming fall with hope for hitting the road. If you're planning any kind of trip this fall, then it's time to start thinking about your fall travel capsule wardrobe. First off, you may wonder what a fall travel capsule is and how to make one.
Once you learn, you'll know that you have all the outfits you need for your fall vacation.
The good news is that a fall travel capsule is a smaller version of your fall wardrobe. Here's the thing, you can use this idea at home, and when it comes to packing, it'll be a breeze.
Building a Capsule Wardrobe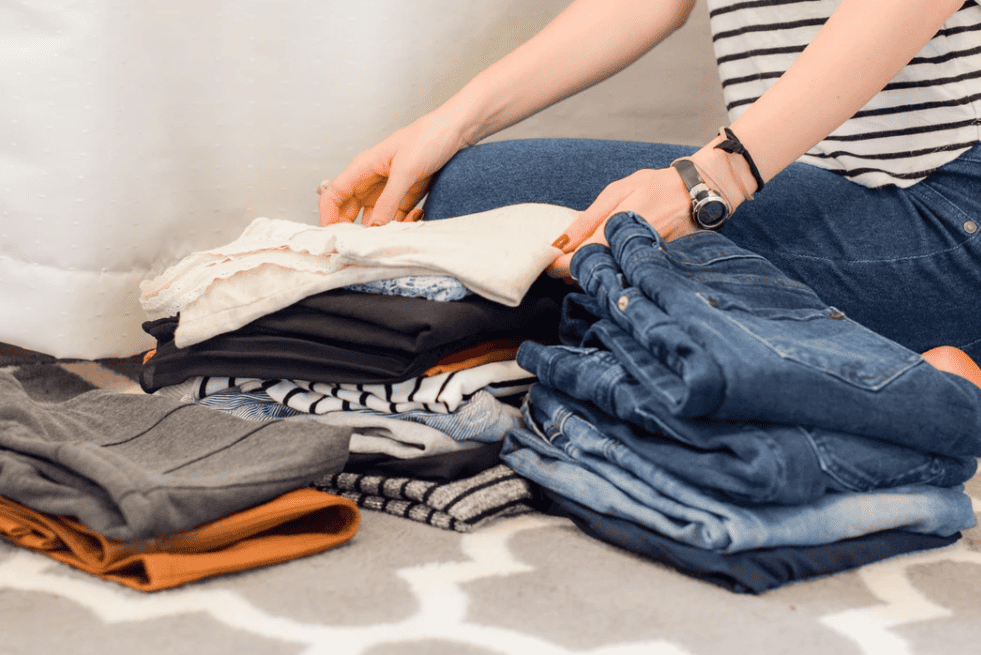 We're all guilty of it, buying that dress we never wear, or that top that doesn't go with anything in our closet. Maybe it's time to put an end to all that waste. Instead, let's think about how each item in our closet can work together.
Basically, a capsule wardrobe is a group of clothes for each season. The whole thing works with a few pieces that you can mix and match. You can see how easily this will translate into a fall travel capsule, right?
The best part is that, in the end, you'll get multiple outfits from a few basic tops, bottoms, jackets, and accessories. And that will make packing enough clothes a simple task.
Here are a few steps from Natasha Gibson to get you started on your fall capsule wardrobe. Then we'll move on to your fall travel capsule.
Clear out your closet
The best way to get started is to take some time and clear out your closet. While this may send chills down your spine, you can have fun while you're decluttering your life. Not to mention, you'll feel amazing and have the perfect wardrobe when you're finished.
To begin cleaning out your closet, pull out your favorite tops, pants, skirts, and dresses. Don't forget, blazers, coats, sweaters, and other outerwear.
Now, take out everything that doesn't work for fall and go ahead and store the other favorites in packing cubes. That way they'll be ready to go through when the seasons change. You can donate or store what's left in your closet; it's up to you.
All your fall favorites should be out so you can take inventory.
Define your style
Next, it's time to define your style. Though it may sound overwhelming to some, you'll soon see that your style is lying in front of you.
For example; take note of the type of material, colors, and cut, of the pieces you chose. Do you prefer knits, flannel, denim, or polyester blends? Are you more likely to wear jeans or slacks? In other words, think about the fabrics you enjoy wearing.
When it comes to pants, skirts, and dresses, there are lots of choices. So it's important to know which brands fit you best. That means, know your brands.
One more thing, consider if you have tastes that lean to a specific era or styles that are more modern.
Boil it down
Now it's time to boil down your style into a few words. It's not as hard as you might imagine. Think about the clothes, fabrics, and eras you've chosen.
Another thing to consider is your lifestyle. Are you a working mom? Do you work from home?
Maybe you're outdoorsy and comfortable in a pair of jeans. Perhaps you enjoy wearing a suit jacket. Think about words or phrases that describe you and your style.
Some ideas are retro, ladylike, frilly, and tomboy. These words, combined with your style preferences, could boil down to 70s inspired preppy tomboy style. Get the idea?
Fill in the gaps
What this means is to think about things like what the weather is like in your area. Temperature is going to define what's in your closet.
The weather is especially important to think about when your traveling. So make sure you are aware of what it's like where you're heading. This may require a shopping trip if it's vastly different from home.
Ultimately, having layers works best.
Your Fall Travel Capsule
You may or may not want to rework your entire wardrobe for your fall vacation. In the long run, the lesson about mix and match and defining your style is the most important take-away.
When it comes to your fall travel capsule, the idea is to get as many outfit variations with as few items as possible. That way you won't need a ton of luggage, and you can pack without wondering if you have enough to wear.
Pack your fall travel capsule like a pro
Whether or not you reorganized your closet, you can dig out your favorite fall choices and pack them for your fall vacation.
Just watch Carly Cristman as she shares her fall travel capsule tips on how to pack and layer like a pro. She should know how since she spends most of her life on a plane.
Here' s the goal
Pack pieces that you can mix, match, and layer. Cristman's list consists of her favorite pair of ripped black straight-legged jeans that she can pair with everything else in her carry-on. To that end, she starts with the bottom layer, a black and white striped shirt, and a neutral tee shirt.
Her layers consist of a long sleeve plaid shirt, a vest, and a poncho. She also suggests accessories to help create different outfits. A hat, scarf, and a statement necklace will do the trick. Plus they don't take up much room.
Don't forget your shoes
It's simple really; pack shoes that go with everything and wear the bulkier pair. You only need two pairs of footwear, one pair of boots and a pair of sneakers.
The right pair of boots will go with everything from casual to more dressy. And you have the sneakers if the weather is warmer.
A Fall Travel Capsule Packed and Ready to Go
The key to all our fall travel capsule ideas is to mix and match. You can get unlimited outfits from a few key choices. One more secret is to wear your bulkiest items on the plane; layers are essential.
Do you have any fall travel capsule tricks? Have you boiled down the phrase that sums up your style? Go ahead and leave us a comment, we'd love to hear your ideas.
Featured Image: Pixabay License by StockSnap via Pixabay