You're heading out for a long weekend and not sure what bag to put all your clothes, shoes, and toiletries in.
Ladies, isn't this an issue we have all faced? Figuring out what to pack for your weekend trip is hard enough. You don't want to have to unpack your work bag and repack it Monday. Also, we are all hoping not to see you with our old-school backpack. Lastly, that rolling luggage is just a little big for your needs this weekend too. Well, this is when a travel duffel steps in. Enter: the Designlovefest Weekender Bag. The blush pink, dark polka dots, and silver accents make this a stellar grab and go bag for your quick weekend excursions. Designed by graphic designer, blogger, and art director Bri Emery, this bag is ready to take you places. So, what are you waiting for? Book that next mini vacation and get ready to head out in style!
A Little Bit About Designlovefest
It began with a girl who had a passion for typeface, pictures, and stunning design. Designlovefest started as a blog in 2009 out of this fervor. Thanks to founder Bri Emery's attention to detail, eye for cute things, and professional flair, Designlovefest, or DFL for short, has become both a brand and a lifestyle. DLF has grown from a blog to a full-fledged graphic design and branding company. Now gracing the world with her own designs, Bri Emery has become a new fashion icon out of Los Angeles. She recently launched her travel luggage line, and we've fallen in love. So, join the movement and grab a Designlovefest Weekender Bag to feel west coast fresh on any trip you take.
Designlovefest Weekender Bag Features & Benefits
Three Straps for Carrying Ease
We need a strap to hang our bag on the hook at the bar or on the back of a stall door. But, we also need a comfy strap to let our shoulders carry some of the weight of our trip! Mix that in with these straps not getting cumbersome and you have a high bar set for a travel duffel or weekend bag. Lucky for you, the Designlovefest Weekender Bag has three straps to help you rock any way you'd like to carry it. With two straps sewn down the sides and meeting atop the bag, you can easily carry this in the crook of your arm. The straps are just thick enough to keep the Designlovefest Weekender Bag from digging into your arm, but thin enough to keep it light and airy.
In addition, the large strap for crossbody carrying hooks into both ends of the duffel. With a moveable, comfortable pad on this strap, you will be able to adjust this to your specific needs. So, enjoy the versatile straps of the Designlovefest Weekender Bag, and get ready to hit the road in comfort.
Shoe Storage Compartment
You have room for everything in your weekend bag, so you zip it shut. Then, you see your stack of shoes sitting on the floor. The heels for the wedding, cute sandals for the afterparty, and sneakers to run off cake the day after. How are you going to fit it all? Thankfully, the Designlovefest Weekender bag has been equipped with the most ingenious pocket yet: a shoe storage compartment. Located at the bottom of the bag, you can store up to six pairs of shoes, or an extra sweatshirt and toiletries bag. Having this separate compartment allows you to keep the dirt and mud separate from all your well thought out outfit. You could also use this as the dirty clothes compartment if you're in need of that. We are so thankful that Bri Emery thought of this addition to this travel duffel. This is our favorite feature!
Cute Design & Part of a Larger Collection
I mentioned, in the beginning, it is difficult to find the perfect bag to fit enough things for the weekend without being too large. Thanks to Bri Emery's eye for design, the Designlovefest Weekender Bag stands beautifully on its own. However, if you're ever heading out for more, the Designlovefest Travel Collection has much more to offer. With three sizes and designs of larger suitcases, you'll be set for a whole month if needed. Also, feel free to add on the backpack as a personal item or the beach bag for your casual strolls on the sand. Whatever type of storage and carrying capacity you need, Designlovefest has put it in an adorable package for you.
Roomy Main Compartment
Some bags look like they should be able to fit so much but always come up short. Others look like a normal size but somehow end up like Mary Poppins' purse. Thankfully, the Designlovefest Weekender Bag has everyone baffling at how roomy it is. The main pocket is complete with a padded laptop sleeve and a small, secure zippered pocket inside. This pairs back to back with the small reach-in pocket on the outside of the bag. With just the right balance of small pockets for your wallet and cell phone and room for everything else, this bag is the happy medium. So, enjoy a bag that can keep holding one more thing and grab the Designlovefest bag today.
Trolley Pass-Through Sleeve
Balancing the Designlovefest Weekender Bag on top of a rolling suitcase is done with ease thanks to the trolley sleeve. This extra piece of fabric allows you to secure the bag on top of a suitcases handle without the fear of it falling off or getting nabbed. So, use this bag as a weekend bag to compliment a month-long trip through Europe, or simply a carry on when you are bringing along plenty else in a suitcase. No matter how much you're bringing, the trolley pass-through sleeve allows your Designlovefest Weekender Bag to work perfectly for a trip that goes for any length of time.
What Travelers Are Saying About the Designlovefest Weekender Bag
With reviews all coming in at five out of five stars, the Designlovefest Weekender Bag knocks expectations out of the park. For a budget-friendly price, you can get a roomy, cute bag that everyone will love. Most reviewers comment on the surprising quality of the bag for the price. The solid construction and the inventive shoe compartment are two of the favorite qualities as well. So, as far as travel duffels and weekend bags go, the Designlovefest Weekender Bag is waiting for you.
Other Weekender Bags You May Like
Madewell's Transport Weekender in Canvas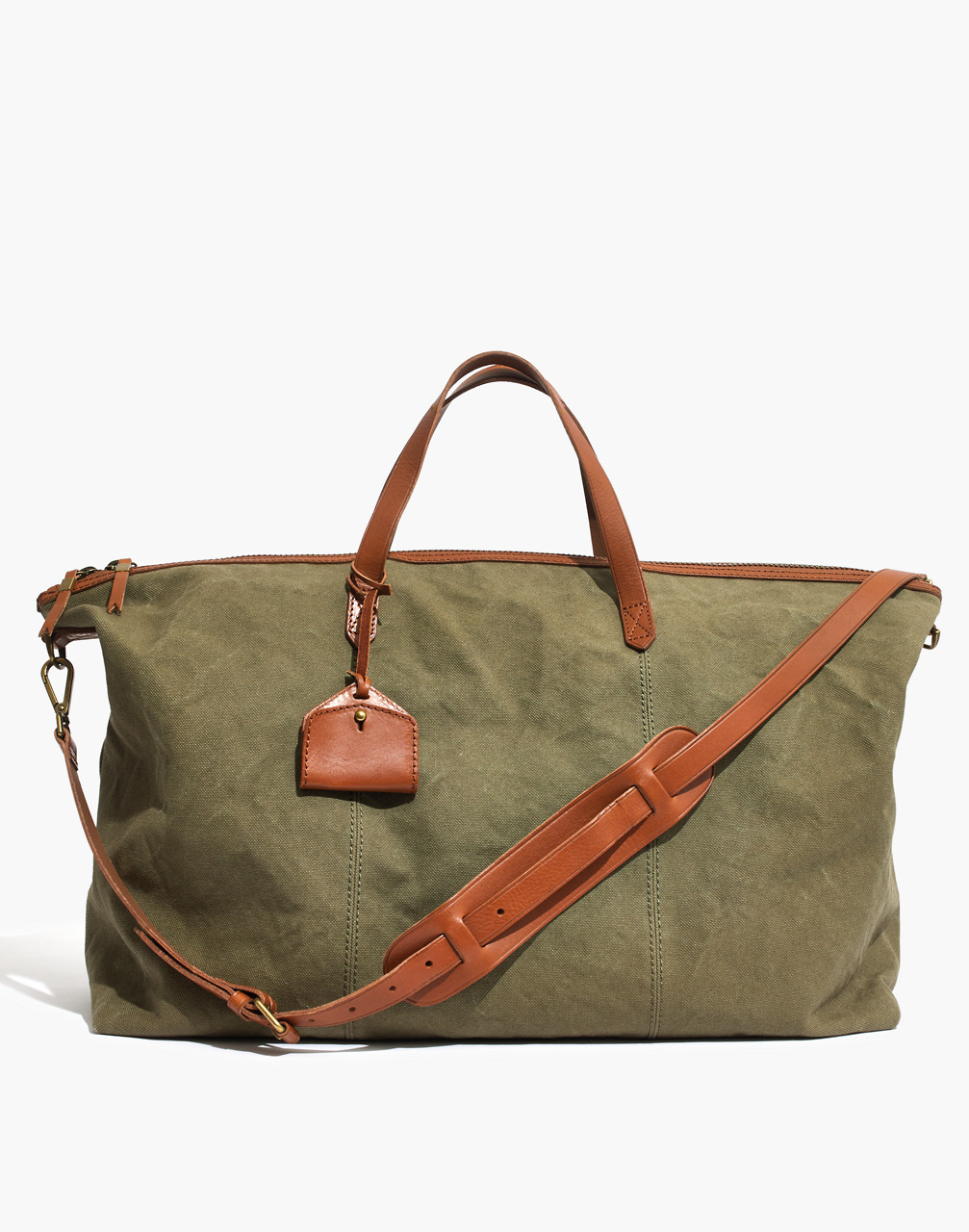 Credit: Madewell
For a more sophisticated look in your weekender bag, check out the Madewell Transport Weekender in Canvas. Made with thick, durable canvas and rich leather trim, this bag only looks better with age. Fitting under the seat in front of you on a place, it is ready for any weekend excursion. The three interior pockets allow the perfect amount of organization while leaving plenty of room in the main compartment for your things. So, while this bag does come in around triple the price of the Designlovefest Weekender Bag, for an everlasting chic look, check it out.
Bluboon's Canvas Weekender Bag
Another durable canvas bag with leather trim, this one comes in incredibly well priced. With six spectacular colors to choose from, you will be taking your weekend in style with this alternative. With one roomy main compartment, you will need to organize your things well. One of the unique elements that set this bag apart is the sleeve for a trolley handle. If you bring this along with a rolling suitcase, you can plop this on top securely with this feature. So, if you need a weekend bag to go with your main suitcase, then this is a phenomenal choice.
Vera Bradley Iconic Weekender Signature
For a softer look with a myriad of color options, the Vera Bradley Iconic Weekender Signature is made for the organizer. With six exterior pockets, you can keep your passport, keys, and boarding pass all in their rightful place. This bag also has a trolley sleeve, making it the perfect addition to a suitcase trip. There are also five interior mesh pockets for you to organize all the little things. While there isn't a shoe compartment like the Designlovefest Weekender Bag, it does have the little spaces. So, if you need something with a few extra pockets and a variety of designs, check out Vera Bradley's Ironic Weekend Bag.
As you head out for the weekend, you want the least of your worries to be the bag that you're putting all your possessions into.
With the Designlovefest Weekender Bag, you have a great combination of style, usability, durability, and a great price point. Creator and designer Bri Emery has created an accessible bag for any lady heading out for the weekend. No longer will you have figure out why you're checking a big suitcase for a a long weekend. Instead, grab your Designlovefest Weekender Bag and hop on with this as your carry on and add a personal item. So, from an exciting weekend trip to an extended few days at the beach, you'll be set for any of your luggage carrying needs.
Related Article: Best Weekender Bags for Travel in 2018