No traveler enjoys the stress of packing. Make life easy with the Acteon Compression Packing Cube.
Acteon has alleviated the problem of every traveler. They have created the ultimate travel accessory that keeps your clothes compact, organized, and folded. The Acteon Compression Packing Cube set works to maximize space through a separate compression zipper that flattens your bulky stack of clothes. Now, you won't have to worry about fitting lumpy clothes into your bag again. Save yourself the time and frustration of last-second, messy packing. These packs will give you the luggage space that you need.
Acteon Compression Packing Cube Features & Benefits
Sometimes when you're traveling, it can be hard to keep your dirty and clean clothes separate. What do you usually do? The last time I traveled, I brought a separate dirty laundry bag for my clothes. But I found that it was difficult to repack and make everything fit in my bag when I was at the hotel. The Acteon Compression Packing Cube set makes it easy to stay clean and tidy.
Dirty and Clean Clothes Compartments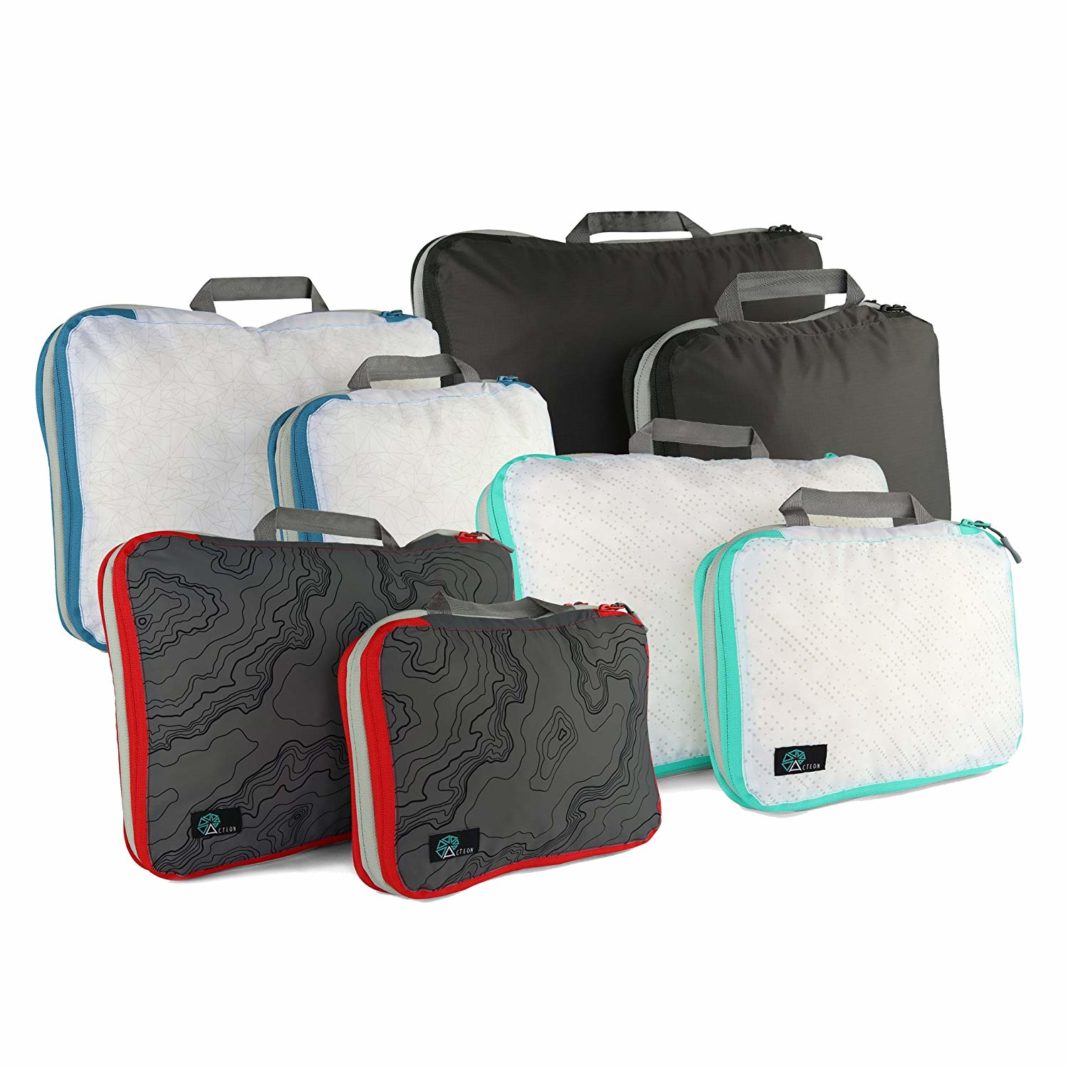 Credit: Amazon
Keep your clean and dirty clothes separated by moving them to the dirty compartment after you use them. These double sided packing cubes offer a space for your clean clothes and your used ones. You don't have to worry about your whole bag smelling like dirty socks either. The built-in barrier takes care of that.
Compression
This is one of the most important features about the Acteon Compression Packing Cube in my book. What does compression mean? Well, you can pack more and carry less. While that might sound confusing at first, when you use these packing cubes, you will see what I mean. For example, a large compression zipper bag allows you to easily fit seven medium t-shirts, a pair of shorts, and a pair of jeans.
Two Sizes
Did I mention that the Acteon Compression Packing Cube set comes in two sizes? That's right. Each set comes with both a large and a small packing cube. The dimensions of the large packing cube measures in at 14.17 inches by 9.84 inches. The smaller packing cube measures in at 9.84 inches by 7.09 inches. So, you can pick and choose which ones to use in your bag or use both. Depending on whether you are going to use a backpack, carry-on, or checked bag, having options for packing cubes makes all of the difference.
Ultra Lightweight and Durable
I really can't say enough good things about the Acteon Compression Packing Cube set. Another great feature about them is that they are ultralightweight. The large cube weighs 4.2 ounces and the small one weighs 3.0 ounces. With such a lightweight construction, it would be easy to think that they are not durable. But I'm happy to report that they are.
The material of this set is made from a durable, ripstop nylon fabric coated in silicone. It is also water resistant. This is super helpful because we all know that toiletries can leak in our bag. Or even if you get caught in the rain or spill coffee on your bag, you won't have to worry about it soiling your clothing inside. Strong YKK zippers make the packing cubes easy to open and reseal. Last but certainly not least, there is also a nylon webbing handle that makes the cubes easy to carry on their own.
Made to Last
It can be hard to know if you're getting a good product when you purchase online. But don't sweat it. That's why I've tested out the Acteon Compression Packing Cube set (among a few others) for you. We all know that cheaply-made liners bend and make it difficult for travelers to pack properly.
It's so frustrating when items shift during your travels and get out of order. At one time or another, we've all opened our bag and found the horror of spilled toiletries inside. It's also easy to get items wet if you spill a coffee on your luggage or get caught in the rain.
Thankfully, the Acteon Compression Packing Cube set is waterproof (except for the mesh, of course). You won't have to worry about disorganization inside the packs either. These cubes are made with sturdy designs. This ensures that the rectangle and square shapes will last for a long time even after you have packed them.
What Travelers Have to Say About the Acteon Compression Packing Cube Set
Travelers are completely in love with the Acteon Compression Packing Cube set and I completely see why. I am too. Forget about regular packing cubes. The compression factor here makes it easy to store your items and your clothes won't wrinkle. Users rave about the difference in space that they see. The best part is that you don't even have to use annoying vacuums or pumps to suck the air out of the bags. They are self contained, easy to use, and even have handles.
Several reviewers noted that they brought these cubes for a 2-week trip with 40L backpacks. While prepping for their trip, they purchased a few different brands for comparison and decided on Acteon after seeing the packs in person. While they traveled, these bags were a huge help in saving space and allowing them to bring more clothing items. Having the dual compartments was also helpful to keep the dirty and clean clothes apart. Travelers (myself included) would absolutely recommend these cubes and plan to use for many more trips in the future!
Alternative Packing Cubes You May Like
Do you want to shop some additional packing cube styles? No worries. I've got you covered. Here are a few of my other favorites from top-quality brands.
American Flyer Greek Key Packing Cube 3 Piece Set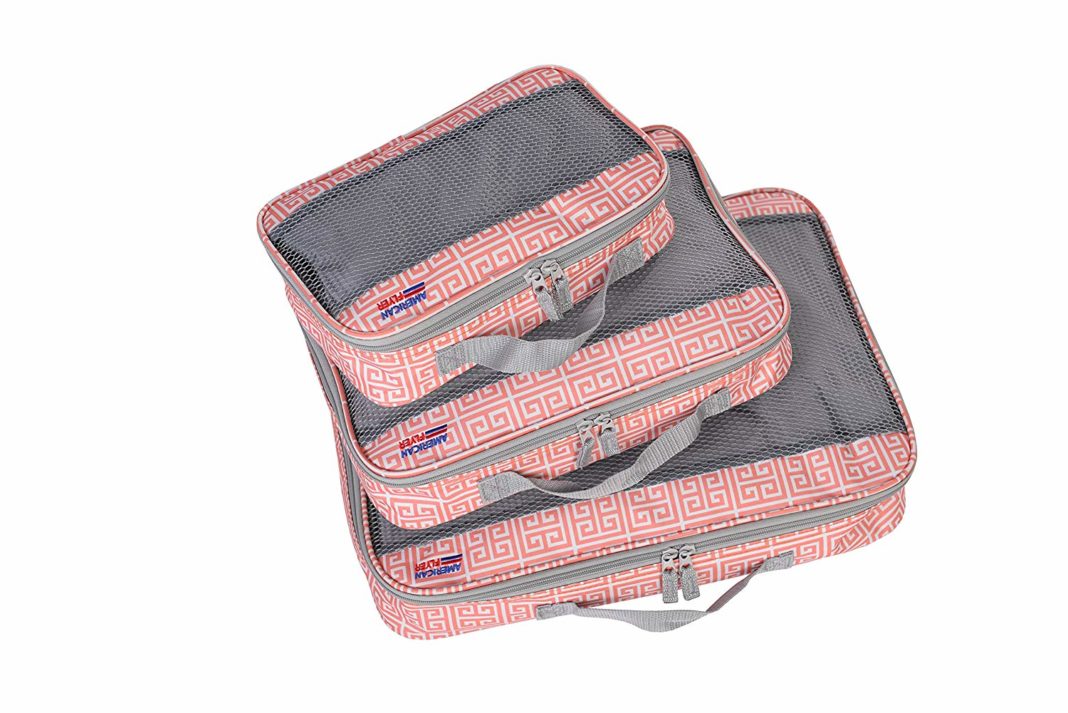 While this is a small name brand, the American Flyer Greek Key Packing Cube 3 Piece Set offers style and function. It will cost you a bit more than your average set of packing cubes. But if you are seeking a long-haul investment, this set is a good one. A mesh ventilation top offers easy access to see which clothes are in what pack. This will save you from rummaging through all of them to find that one cozy sweater you need. In addition, since the set offers different sizes, you can use them according to your need. Strap handles make it easy to carry them even outside of your luggage.
Tech Specs:
Mesh top for ventilation

Varying sizes

Durable handles for easy carrying

check

Strong construction

check

Holds its shape well

check

Two year limited warranty
eBags Ultralight Packing Cubes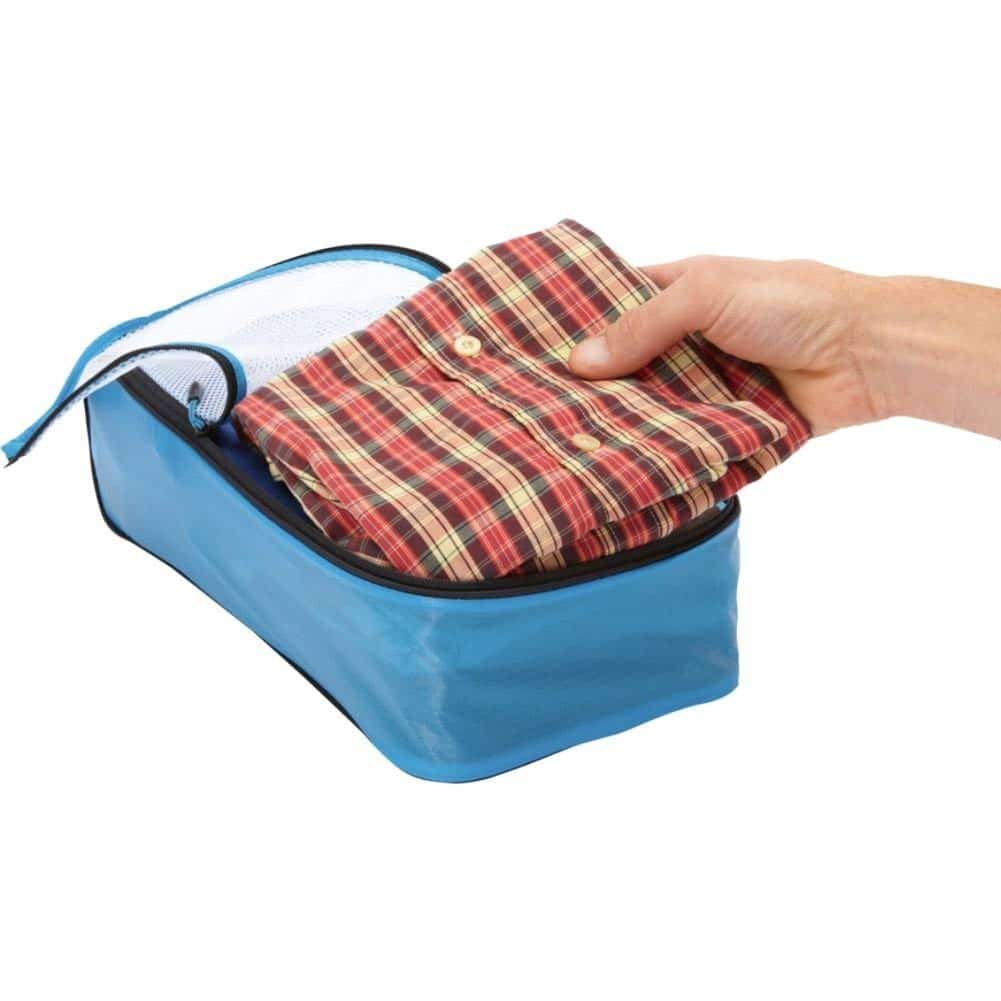 If you're worried about adding extra weight to your bag, consider the eBags Ultralight Packing Cubes. Designed with ultra sturdy materials, they hold up well under pressure. Thanks to silicone cordura-brand nylon, they retain their shape well even after multiple uses. Silicone lining in the interior of the packing cubes keeps them from getting scraped up by zippers or other items on your belongings. Even after you pack your cubes full, you won't have trouble closing them. Self-repairing coil zippers remain sturdy and won't fall off or break easily like standard packing cubes.
Tech Specs:
Ultra lightweight

Sturdy and durable

Material: Silicone cordura-brand nylon

check

Silicone-lined interior to prevent scuffs

check

Self-repairing coil zippers

check

Compact design

check

Varying sizes and colors to choose from
Invest in the Acteon Compression Packing Cube Set for Your Next Trip
All in all, I love the Acteon Compression Packing Cube set. Affordable, stylish, and, practical, it checks all of the necessary boxes. One of my favorite features is that the packing cubes are double-sided. I found it very helpful to be able to separate my dirty and clean clothes while I was on the go. You won't have to worry about keeping your bag and clean clothes smelling fresh anymore. In addition, I was surprised by just how much extra space I got from the compression. When I was trying to make room for souvenirs in my bag, this organizational feature really came in handy.
Before you set out for your next trip, think about how you are going to pack. Packing your luggage is important for organization and reducing stress in travel. Know that while you might not be able to pack every item you think you would need, you can pack the ones that count the most. Skip the frustration of a messy, disorganized bag.
When you purchase the Acteon Compression Packing Cube set, you can travel with ease. This product allows you to fit what you need in your bag in a clean, organized way. Your clothing, accessories, and toiletries will fit inside your carrying cases easily. A waterproof construction prevents unwanted spills and stains. Once you start using these products, you will wonder how you ever traveled without them. I know I will be using them for a long time to come.
Related Article: Top 5: The Best Packing Cubes To Help You Stay Organized