Quality construction, durability, and utility come together in this set from Shacke Pak.
Are packing cubes worth it? In a word, yes. While it's true that Shacke Pak faces some serious competition from brands like eBags and Eagle Creek and their compression set, they still have a lot to offer. There are several things we love about this package deal. First and foremost, we have to credit the design. The x-shaped nylon on the packs helps the cubes to retain their structure. This is helpful when you need to reorganize and pack on the go. In addition, the mesh pockets do not compromise the integrity of the cube.
Shacke Pak Packing Cube 4 Piece Set with Laundry Bag Features & Benefits
Design and Depth
Measuring four inches deep, these cubes are slightly deeper than the standard cubes. So, they have additional room for those extra items you need to squeeze in. When you have a suitcase that is 29 inches or longer, larger packing cubes work the best. The Packing Cube 4 Piece Set from Shacke naturally compresses your clothes. It also comes with a laundry bag that helps to separate your dirty clothes from clean ones.
Material and Durability
Made from nylon, the Shacke Pak cubes are not only wear resistant but also water resistant. Well, at least the area without the mesh is. Double stitching strengthens the top of the pack and prevents the cube from bending upwards. YKK zippers have proven to be strong and long-lasting. In fact, most of the best luggage brands use these zippers since they perform well even with rigorous use. Since the cubes weigh in at a total of 1.2 pounds, durability comes at a price. But if you don't mind adding a little bit of weight to your bag, it's definitely worth the purchase. Last but certainly not least, you also have a wide variety of colors to choose from.
Keeps Clothes Wrinkle Free
As we mentioned earlier, one of the most difficult things to do when packing is to fit your clothing into space saving bags. From here, you can easily store and organize your clothing. With the Shacke Pak Packing Cube 4 Piece Set, things are easy to pack and unpack. Your clothes will be kept neat, folded, and wrinkle free. Shacke has even included a laundry bag so you can separate your used clothes from your clean clothes on the way back home.
How to Care for Your Shacke Pak Packing Cube 4 Piece Set
Are you wondering how to take care of your Shacke Pak Packing Cube 4 Piece Set? After a long time of travel, they will need to be washed. Hand washing these cubes is the best way to ensure that they do not get damaged. Wash them with cold water and a mild detergent and then hang them to dry.
It is important to emphasize that these cubes should not be put in the washing machine, even if it is on a gentle or delicate cycle. You don't want the mesh to get caught and rip. Make sure you do not use fabric softener of any kind either. This could change the rigidity of the lining.
Made to Last
It's common that when you purchase organizational products for travel online, the product arrives and is actually flimsy. Cheaply-made liners bend and make it difficult for travelers to pack properly. It's so frustrating when items shift during your travels and get out of order. At one time or another, we've all opened our bag and found the horror of spilled toiletries inside. It's also easy to get items wet if you spill a coffee on your luggage or get caught in the rain.
Thankfully, the Shacke Pak Packing Cube 4 Piece Set is waterproof (except for the mesh, of course). You won't have to worry about disorganization inside the packs either. These cubes are made with sturdy designs. This ensures that the rectangle and square shapes will last for a long time even after you have packed them.
Tech Specs:
High quality nylon material

Water resistant

Double stitching to create reinforced lid

check

Strong zippers

check

All bags measure 4 inches deep and offer good storage capacity

check

Wide range of colors to choose from

check

Additional dirty laundry bag

check

X design on exterior with breathable mesh

check

Light compression
What Travelers Are Saying About the Shacke Pak Packing Cube 4 Piece Set
We're big believers in packing cubes and have had the opportunity to compare many brands and styles to this set from Shacke Pak. While there are other good brands on the market, we have to say there are a few things that set this style apart from the pack. First and foremost, the material of this four piece set is slightly stretchy. It's also covered with a matte finish and is slightly more premium than the standard bags on the market.
As we mentioned earlier, using the Shacke Pak Packing Cube 4 Piece Set ensures that your clothes remain wrinkle-free instead of balled up in the corner of your backpack or suitcase. Toiletries also stay put, preventing possible leaks and unwanted messes during travel.
Another thing we appreciate is that Shacke Pak gives you four packing cubes for the price of approximately three from eBags. In addition, the Shacke Pak Packing Cube 4 Piece Set includes a dirty laundry bag that is convenient when you are traveling. You seem to get a little more for your money with Shacke Pak than with other leading packing cube brands. The zipper quality is excellent too. You can't go wrong here. While eBags might offer slightly more durable construction, the Shacke Pak design is more attractive and offers more bang for your buck.
In conclusion, if you are looking for a high quality and durable set of packing cubes, you really can't go wrong with the Shacke Pak set. Not only is the price reasonable but you get four packing cubes for the price of what most competitors charge for three. We have not had any issues with quality or durability. Users rave that Shacke Pak demonstrates excellent customer service. We also think that this set presents a stylish alternative to all of the other sets out there.
Alternative Packing Cube Sets You May Like
Acteon Compression Packing Cube
If you're not completely satisfied with the Shacke Pak Packing Cube 4 Piece Set, consider this style from Aceton. If you haven't heard about this company before, it is about time you had. Our favorite feature about this set is its compression technology. This is so helpful for when you
Need to maximize the space inside your bag. Clearly, compression packing cubes are even more effective than regular ones. This product offers ideal compartmentalization for dirty and clean clothes as well as for different types of apparel. Stay organized when you need it the most with the Aceton Compression Packing Cube.
Tech Specs:
Comes in both a large and small size

Compression features

Lightweight and durable

check

Packing cubes keep their shape

check

Corded zipper for easy closure

check

Nylon webbing handle

check

Easy to carry
American Flyer Greek Key Packing Cube 3 Piece Set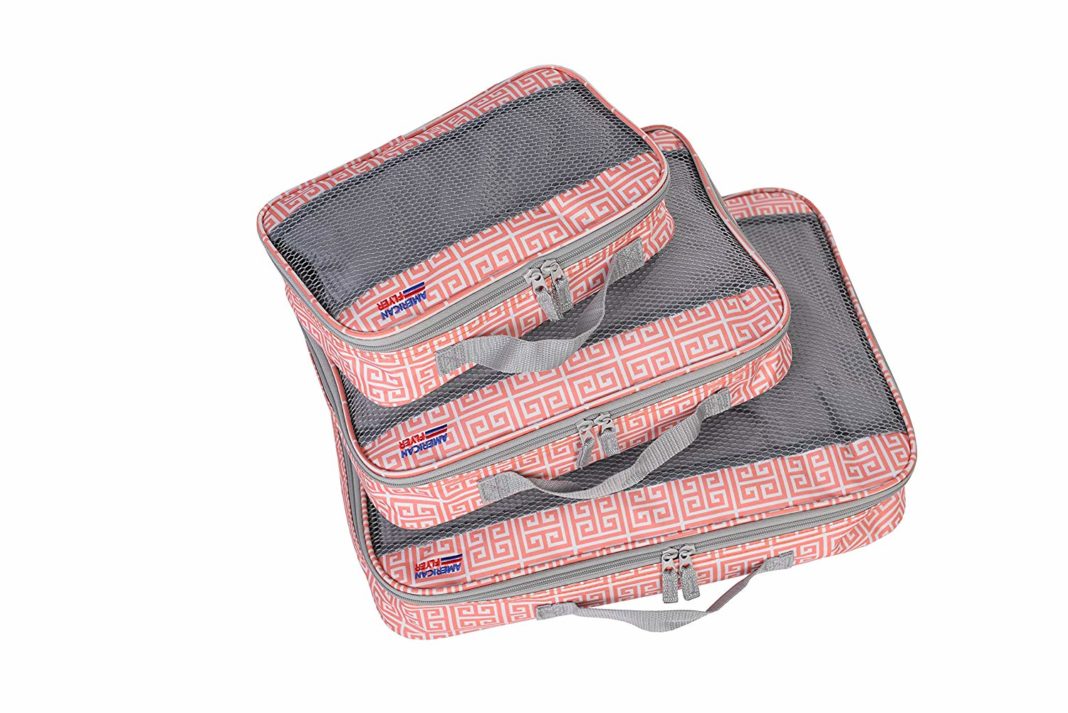 A small name brand, American Flyer offers the style of Shacke Pak coupled with the durability of eBags. With this said, the American Flyer Greek Key Packing Cube 3 Piece Set will cost you a little something extra. But if you are looking to invest in a long-haul purchase, it is worth it. Since they come in different sizes, you can use them all or just the ones you need to fit in your bag. The straightforward organizers make using them easy. In addition, mesh tops provide greater ventilation and allow travelers to look inside the cube for items they need. Strap handles make it easy to carry them even outside of luggage.
Tech Specs:
Mesh top for ventilation

Varying sizes

Durable handles for easy carrying

check

Strong construction

check

Holds its shape well

check

Two year limited warranty
Invest in the Shacke Pak Packing Cube 4 Piece Set for Your Next Trip
Before you set out for your next trip, think about how you are going to pack. Packing your luggage is important for organization and reducing stress in travel. Know that while you might not be able to pack every item you think you would need, you can pack the ones that count the most. Skip the frustration of a messy, disorganized bag.
When you purchase the Shacke Pak Packing Cube 4 Piece Set, you can travel with ease. This product allows you to fit what you need in your bag in a clean, organized way. Your clothing, accessories, and toiletries will fit inside your carrying cases easily. A waterproof construction prevents unwanted spills and stains. Once you start using these products, you will wonder how you ever traveled without them.
Related Article: Top 5: The Best Packing Cubes To Help You Stay Organized