With the Travelpro Crew 11 you no longer have to experience a lack of confidence in your travel bag.
While there are plenty of decent suitcases on the market for purchase, these options consistently leave you questioning, "Will they take my bag this time?" Too many times I have packed my generic carry-on bag dreading the moment of truth: will they accept my carry-on or not? Further, I've packed up my generic carry-on to find that I am shoving and squishing my clothing into one giant mess. And of course there is the occasional "rough" trip that leaves your generic suitcase scratched, banged, and beat up. Bags like these are not dependable, especially for those that use them consistently.
A suitcase, like the Travelpro Crew 11, alleviates the anxieties and struggles we have all experienced with our travel luggage. For those that are traveling weekly, or perhaps several times in a month, you need a more consistent travel bag. Take a look at our review of the Travelpro Crew 11 21 inch Spinner. We think it will be exactly what you didn't even know you were looking for!
​A Little About the Travelpro Crew 11 Line
Credit: Travelpro
For decades Travelpro has been crafting high-quality suitcases, garment bags, briefcases, totes, and duffel bags for worldwide travelers. Originally designed for flight crews, the Travelpro brand knows the in's and out's of travel. Overall, the Travelpro Crew line is a civilian version of the standard flight crew bags the company is famous for. Past Travelpro Crew bags, like the Travelpro Crew 9 and Travelpro Crew 10, offered similar dimensions to the current Crew 11 model. Yet, these lacked the modern smart features that many luggage lines now include.
The Travelpro Crew collection is now making its 11th version of their professional luggage line. The Travelpro Crew 11 line features spinner and rollaboard suitcases, as well as duffel, tote, and garment bags. Notably, Crew 11 bags are up-to-date with modern smart features. You will find lightweight, yet durable bags built to last when it comes to the Travelpro Crew 11 line. Travelpro luggage Crew bags are for those that travel multiple times in a week or in a month. If you're looking for a dependable bag that will keep your items secure, organized, and compact, the Travelpro Crew 11 is a perfect match!
Travelpro Crew 11 21 Inch Expandable Spinner Features & Benefits
Carry-On Size
Credit: Travelpro
The Travelpro Crew 11 has been sizer bin tested to ensure that this bag will fit in major US airline overhead spaces. This carry-on is dependable and consistent. Additionally, the Travelpro Crew 11's main compartment expands up to 2 inches for extra storage space. Say goodbye to the days of standing in line wondering if your bag will be deemed acceptable before flight. Indeed, professional travelers can be sure that no matter the destination, their Travelpro Crew 11 will be accompanying their trip.
Spinner Wheels
Credit: Travelpro
Markedly, the Travelpro Crew 11 features 4 spinning wheels that roll in a complete 360-degree motion. MagnaTrac technology works to self-align wheels, allowing for a straight roll with each use. This Travelpro bag can traverse any surface from airport floors to cobblestone streets.
Smart Features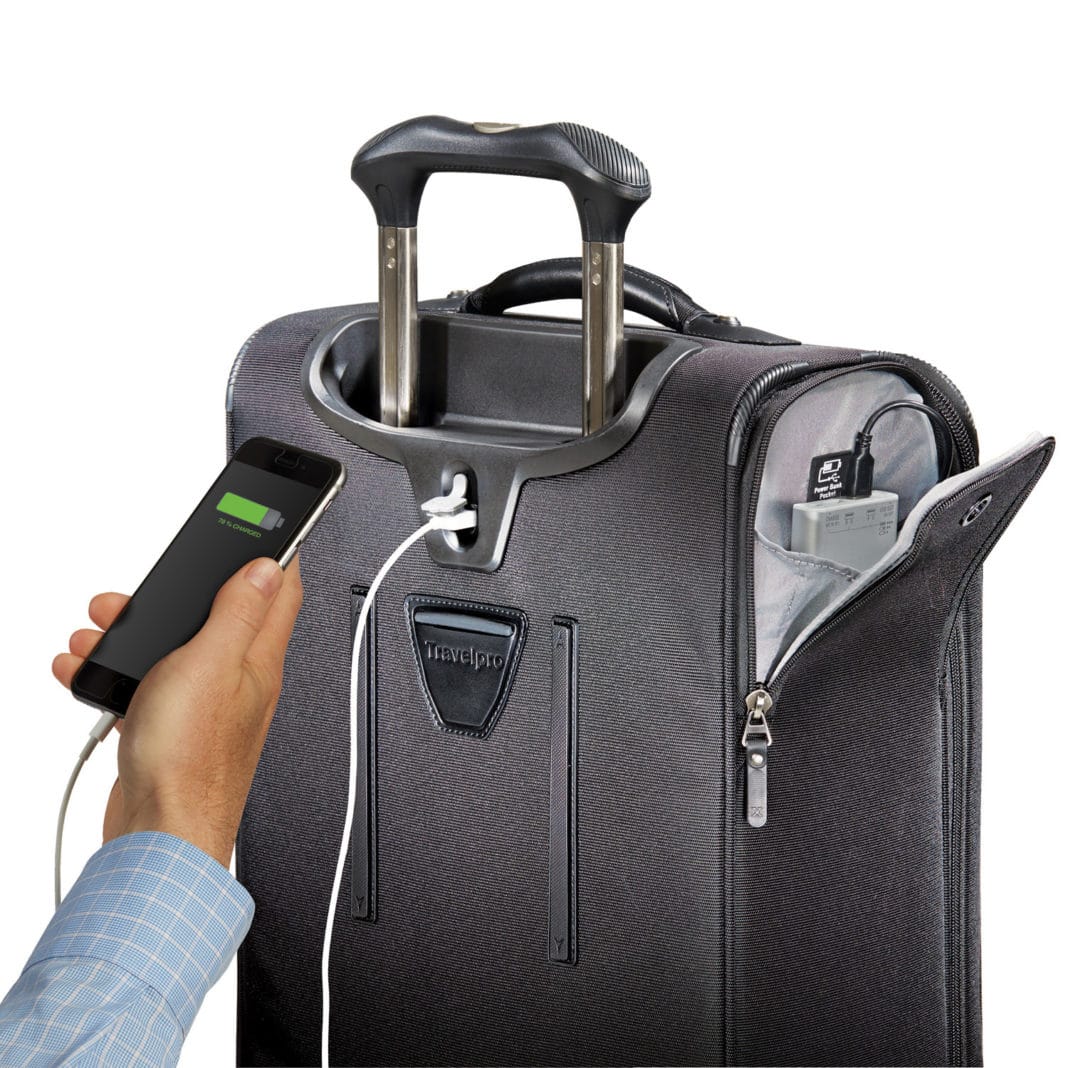 Credit: Travelpro
Truly, the Travelpro Crew 11 functions as more than just a suitcase. Travelpro crew luggage features current smart technology that allows you to use your suitcase to charge your devices on-the-go. The Travelpro Crew 11 includes an external USB port that connects to a power bank inside the interior of the suitcase. An internal pocket stores the power bank for reliable use while traveling. No longer will you scour walls for outlets to charge your devices! In fact, with the Travelpro Crew 11 you can charge while you move!
Built for the Professional Traveler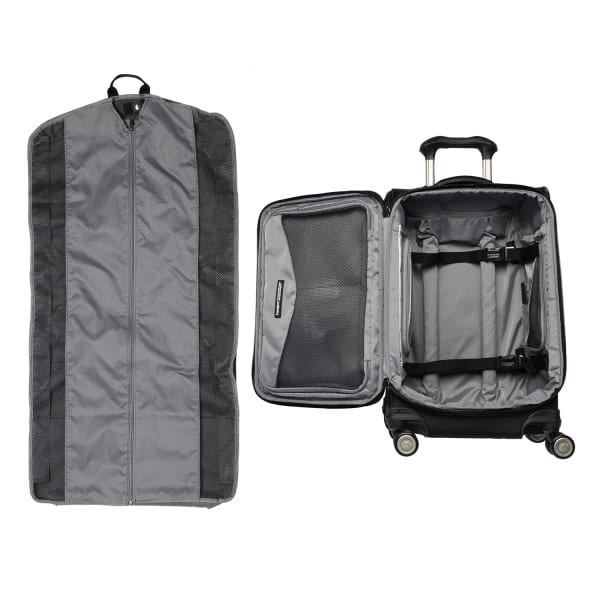 Credit: Travelpro
Altogether, every small aspect of the Travelpro Crew bags is intentional, crafted for the professional traveler. For those routine travelers, functionality is key. First, this Travelpro Crew suitcase features PowerScope Extension Handles with multiple height stops, stabilizing your bag while moving from here to there. Next, high-quality nylon fabric protects your personal items from external elements. DuraGuard coating safeguards against stains and tears. Interior and exterior pockets offer organization as well. Lastly, the Travelpro suiter fits securely in the main compartment keeping clothing free from wrinkles while in transit.
What Travelers Are Saying About the Travelpro Crew 11 21 Inch Expandable Spinner
All in all, the Travelpro Crew 11 21 inch is a professional traveler's favorite suitcase to use for frequent travel. Notably, the carry-on size is a reliable aspect of the bag. Everyone agrees that when traveling you can be sure that your Travelpro Crew bag will fit well in the overhead bin. Users report the functionality of the 360-degree wheels. This bag's wheels can traverse all surfaces and roll in a straight line, according to Travelpro travelers. Frequently, users report their surprise at the durability and the lightweight quality of the bag. In particular, travelers find the USB charger port most helpful while on-the-go.
While the carry-on size is a dependable aspect of the Travelpro Crew 11 21 inch, some travelers feel that there is not enough internal space. The Travelpro suiter consumes some of the internal space as well. Users call for a larger internal space for the suiter bag. Overall, the Travelpro Crew 11 21 inch is a popular choice for those that travel multiple times in a week or a month.
Alternative Smart Luggage Products
Barracuda Smart Collapsible Carry-On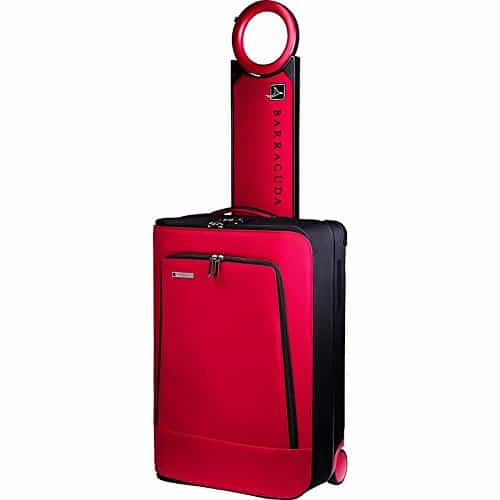 Similar to the Travelpro Crew 11, the Barracuda Smart Carry-On features a built in USB charger. Charging devices on-the-go is possible with the Barracuda! A sleek, slender design with a 360-degree rotating handle is a unique feature of this suitcase. The suitcase itself collapses to fit in narrow spaces when not in use. Additionally, the 360-degree handle allows users to twist the handle not their wrist. Notably, the bag features a one-of-a-kind laptop tray and beverage holder emerging from a retractable slot. Everything about the Barracuda Smart Carry-On is, indeed, smart. Designed for the professional traveler, like the Travelpro Crew 11, the Barracuda keeps you working while on the move.
Bluesmart Black Edition International Luggage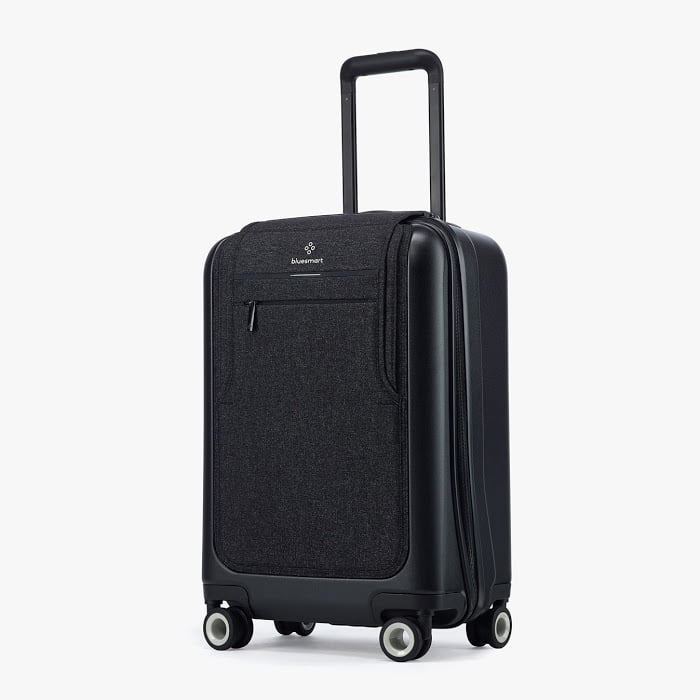 The Bluesmart Black Edition Luggage is similar to the Travelpro Crew 11 in size and style. This smart suitcase has a battery and USB charging port similar to the Crew luggage. Additionally, this smart bag has GPS tracking and remote digital locking capabilities. This technology allows users to keep their bag secure at all times in all places. Lastly, a hardshell body protects your items from the elements as well as the bag's exterior appearance. For those looking to keep tabs on their personal items, give the Bluesmart Black Edition Luggage a look!
Raden A22 Carry-On Luggage
The Raden A22 Carry-On is the most comparable alternative to the Travelpro Crew 11 21 inch Spinner. The Raden features 4 spinning wheels, dependable carry-on dimensions, and a USB port to charge devices. A red hardshell encases this suitcase and deep cavities host all your personal items. The Raden A22 offers 2 deep cavities as opposed to one compartment in the Travelpro Crew 11 21. Users can feel encouraged purchasing the Raden A22, knowing that with every purchase on Amazon, 15% of the retail price will be donated to (PRODUCT)RED efforts to fight AIDS through the Global Fund. Buy a high-quality suitcase that gives back. Take a look at the Raden A22 Carry-On!
A Dependable Choice
Finally, no more pre-flight anxieties! No longer are the days of undependable luggage. The Travelpro Crew 11 offers consistency and dependability. The lightweight, durable material will protect not only your personal items, but the bag itself! Next, the accurate carry-on size ensures that your bag will pass the test! Spinner wheels will have you gliding through airports, arriving at your gate with ease. Markedly, the smart features of the Travelpro Crew will keep you charged while on-the-go. If you are considering buying a piece of luggage you know can depend on, take a look at the Travelpro Crew 11 21 inch Spinner. We know you will like what you see!
Think you could use the Travelpro Crew 11 as your travel bag? Leave a comment below and share why this bag is right for you!
Related Article: ​Top Smart Luggage Products (Plus How To Choose Yours)​​​