Barracuda Luggage offers a great collapsible carry-on with bonus features, too.
Stroll through the airport, and you'll see the wheeling black carry-on luggage pieces. Despite some differences in style and brands, it seems as though they're all the same. Of course, a good carry-on luggage piece can't offer anything too unique; there still has to be a standard for the fit inside an airplane. However, Barracuda Luggage is finally an option that's truly different. Of course, it's still a rolling rectangle for your belongings. However, the difference lies in what you'll "unpack" inside the Barracuda carry-on luggage. First, the Barracuda carry-ons are collapsible luggage. Since it's so compact, your lack of basement or attic storage won't be a problem any longer! Not only does it store nicely, but it also offers some unique features: a laptop tray releases from the handle. And, the handle itself is a signature design from Barracuda: the handle is an easy-to-grab circle!
A Little About Barracuda Luggage
Credit: Barracuda
Barracuda Luggage has pioneered the world of collapsible luggage. They started in California as a Kickstarter initiative. Since then, they've prided themselves on their award-winning carry-on pieces as well as their Barracuda Konzu Backpack. They are different, and they've started this whole business model on the idea of being different. Their "Halo Handle," laptop tray and collapsible design set them apart. Plus, their cool color options, great internal organization, and quality material mean that they can compete with some of the greatest.
Barracuda Smart Collapsible Carry On Features and Benefits
It's Collapsible!
Credit: Barracuda
This carry-on is collapsible, making it super convenient to store. No more piling those luggage pieces in your basement or attic. This one you can actually collapse, and hang in your closet. The luggage will arrive to you in a nifty storage bag. This outer storage bag includes hooks so you could hang it, or just lay it flat to store. Unzip the bag, and you'll access the suitcase itself. The side panels fold out and lock in place. The top flips over and there you have a standard size carry on suitcase that just came from a bag!
The collapsible quality is a huge selling point for the Barracuda. Suitcases potentially take up so much space during all the time while not in use, and Barracuda has brilliantly solved this problem. The video on the Barracuda Luggage site walks you through the assembly and disassembly of your luggage. Break it down to its compact size when you reach the hotel, and you can stash it away under a bed. Or, when your trip is over, disassemble the Barracuda and stash it away. The Barracuda Luggage collapses down to about four inches. Because of this, Barracuda has earned itself the title as "Most Convenient Carry-On."
The Laptop Tray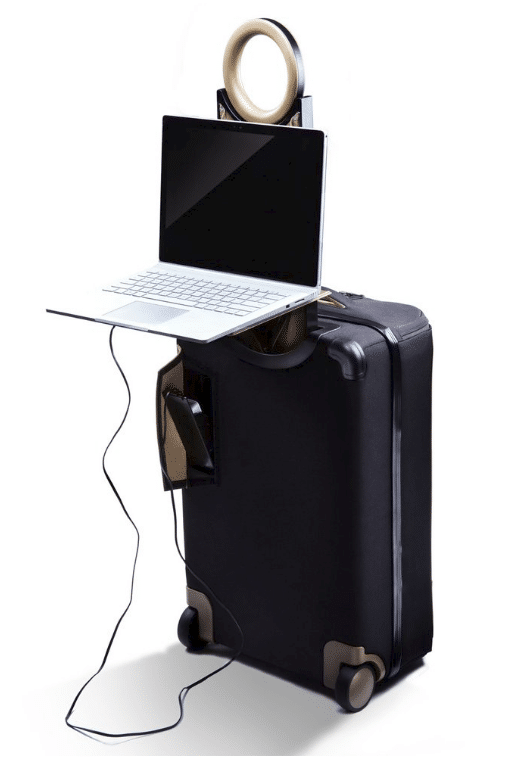 Credit: Barracuda
Spending hours in an airport is inevitable as a frequent traveler. Imagine you're trying to get some work done on your laptop while waiting for your delayed flight. Your laptop rests in your lap, but your neck strains to get your eyes close to the screen. You try to bring your knees closer and together, but it's hard to get comfortable working on a laptop in an airport chair.
Barracuda luggage has added this nifty feature to make your time in the airport a bit less miserable. The wide panel that connects the handle to the body of the luggage unzips. Here, you'll find a release button for a folded tray. The three sections open up to offer a horizontal platform to set your laptop on, or to hold your drink or other belongings. This tray serves as a mini table or platform for when you need to sit with your carry-on in the airport. Then, when your plane arrives, or you're ready to wheel away, simply fold up the tray, click it into place and zip over the cover.
The Halo Handle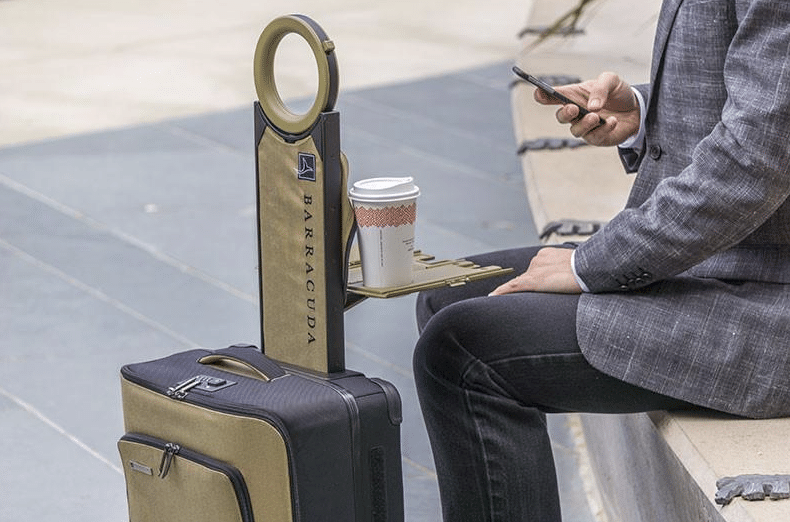 Credit: Barracuda
The Halo Handle makes it easy to spot a piece of Barracuda Luggage. Just look for the distinct circle handle. It swivels in 360 degrees, but you can lock it in any of six different positions. You'll put less strain on your wrist, and you can choose the rotation that works for you. Other carry-on handles don't offer such dexterity!
Compression Straps
Credit: Barracuda
The compression straps on the Barracuda luggage help you to make the best use of that space. You'll find extra wide straps (so it covers your clothes, rather than pinches on just the very middle). Pull the straps tight so that you press the clothes down and leave room for more on top. Plus, this will keep your clothes from moving around. As a result, you'll have fewer wrinkles!
Included Extras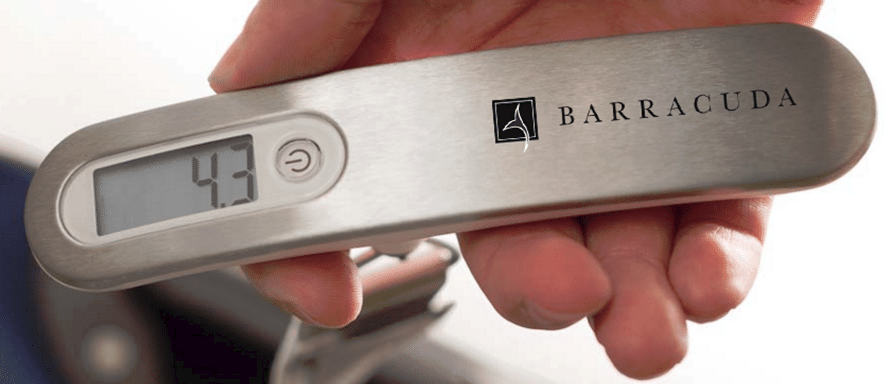 Credit: Barracuda
Barracuda Luggage throws in some nice bonuses when you purchase a suitcase. First, you'll get the storage bag which zips around the collapsed luggage. You can hang the bag on a hanger, or hook. Secondly, you'll get a laundry/shoe bag included with your purchase, so you won't have to pack extra grocery bags to take care of your dirty laundry. Also, you'll get a portable digital scale. Hold the scale in your hand and hook the suitcase to it. Then you won't have to play any guessing games regarding the luggage's weight when you get to the lines at the airport. You can also use this scale to weigh any piece of luggage.
As if this isn't enough, Barracuda also throws in a 10,000 mAh battery pack. The battery pack is housed in its own compartment in the suitcase, and can recharge your phone or another device up to five times! The Barracuda luggage also comes with a TSA lock. Airport security is able to get to your luggage, but you can use the combo code to lock it against anyone else. Additionally, you can choose to purchase the tracking system so you can know where your luggage is at all times.
What Other Travelers are Saying About The Barracuda Smart Collapsible Carry-On
Credit: Barracuda
Travelers love the unique features that set this Barracuda bag apart from other carry-ons. The shelf proves to be very useful for laptop work or holding drinks. Of course, the collapsible quality is one of the largest factors for customers making a final decision to purchase the Barracuda Luggage. Beyond these major details, customers describe an appreciation for the circular handle. Travelers report that the bag rolls smoothly across surfaces. Some enjoy using the laptop tray as a table for eating, noting that often claiming a spot at an airport table is difficult. On the other hand, some travelers had some issues with the Barracuda carry-on. The zipper posed a common problem. Some have reported the zipper breaking, which makes it difficult to continue using the bag. Others wish that the bag had an extra handle to make for an easier time loading and unloading from airplane overhead compartments. Some individual preferences mean the circular handle doesn't suit everyone. The laptop tray within the handle of the luggage means that the handle section is larger. This, in turn, takes away a bit of space from the inside of the bag. Therefore, some customers feel that they'd rather have the extra space rather than the laptop tray with the large handle.
Alternative Smart Luggage Products
Biaggi Zipsak Carry-On Spinner
The Biaggi Zipsak Carry-On is made from durable Crinkle Nylon which means it won't tear. However, it's lightweight and foldable! This luggage is collapsible, and can be easily stored in a drawer, closet, or under a bed. Customers say that it rolls easily, and is relatively inexpensive. It's a great option if you know you might be traveling home with more than you came with. You can bring this extra suitcase folded up in another bag, and then open it up to use for the journey home.
Neit Cabin Bag
Credit: Neit
This collapsible travel suitcase has a firm outer front and back panel. The carry-on collapses down to about three inches. The hardcase means you can't fold this over, but that ensures that the bag offers good protection when in use. You can easily stash this under a bed or against the back wall of a closet. In addition to being extra easy to store, the luggage is waterproof and offers tracking devices and drop protection.
Biaggi Leggero Foldable Spinner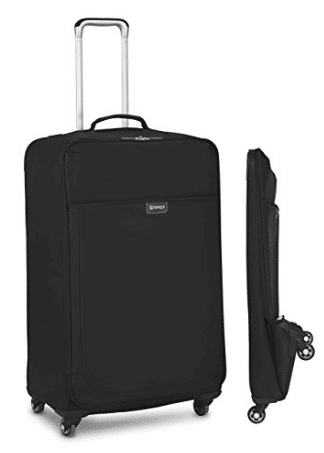 As opposed to the Zipsak Collection, the Leggero Collection comes with a tote bag for each of the three size options. This Biaggi Luggage collapses, but doesn't fold, so it has a slim profile. The easy-glide wheels work well and the bag has a nice handle and front pocket storage. This piece is a little sturdier than the Zipsak collection. This bag is still very lightweight, weighing in at seven pounds.
Barracuda Luggage Saves You Space
The Barracuda Smart Collapsible Carry-On helps you before your trip, on your trip and after your trip! Most suitcases play their important role while you're traveling, but this suitcase makes it easier to arrive at your destination. Plus, once you're there, it continues to help you by packing up neatly and not taking up too much space in your hotel room. Then, when you're home from your trip, collapse it and hang it up in its storage bag. Plus, with the convenient laptop tray, you'll have a little table with you wherever you journey to. The Barracuda Luggage, as advertised, will be your "most convenient carry on."
Related Article: ​IT Luggage Review: Innovative Luggage with a Design for Everyone​​​