With great travel comes great necessity for toiletries.
The words "travel size toiletries" generally conjure images of mini toothpastes and soap bottles, coupled with shower caps and TSA regulations a mile long. However, we've taken it a step further and included all of the toiletries you need to feel like you're at home, even while abroad. The comforts of home won't be far away with these handy items at your disposal!
1. Everlasting Comfort Memory Foam Pillow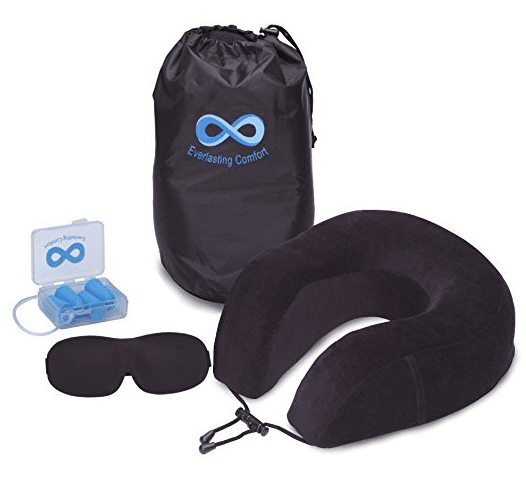 Faced with the prospect of an hours-long flight or car ride? Everlasting Comfort lives up to its namesake. The 100% memory foam neck pillow is ergonomically designed to contour to the nooks and crannies of your head, neck, and shoulders. With its complimentary eye mask and ear plugs, this product is one of many perfect travel size toiletries to ensure you look and feel your best (after helping you catch a few z's that is). The neck pillow's case can easily be attached to other pieces of luggage to offer portability and universal comfort. Not surprisingly, Everlasting Comfort resonates with frequent fliers, riders, and trekkers alike. These travel size toiletries care for your neck and beauty rest while you focus on getting to your destination.
2. Burt's Bees Mini Travel Set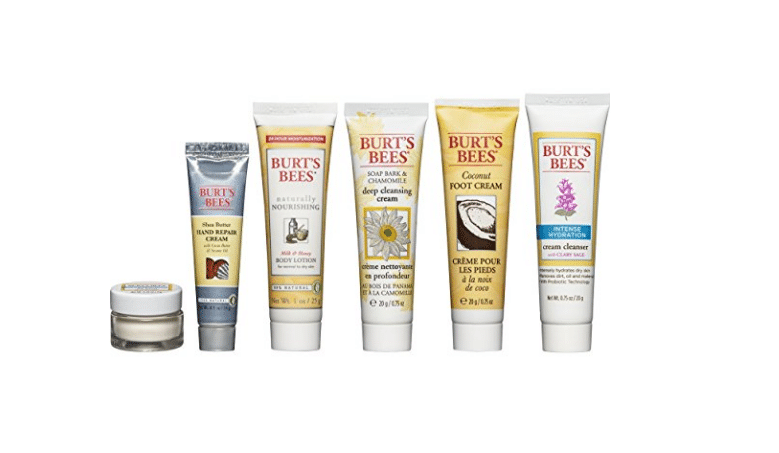 Love to travel but hate dry skin? Variations in climate, altitude, and location can wreak havoc on your exterior layer. For this reason, Burt's Bees designed their travel size toiletries with wanderers in mind. This kit includes a hand repair cream, body lotion, deep cleansing cream, coconut foot cream, and a day lotion. Each component maintains a volume of less than one ounce, thereby meeting TSA regulations. Natural ingredients and a compact size combine to clean, moisturize, renew, and tone your outer shell. No longer will your skiing trip to the Alps be ruined by cracked and irritated skin.
3. KeHome Sewing Kit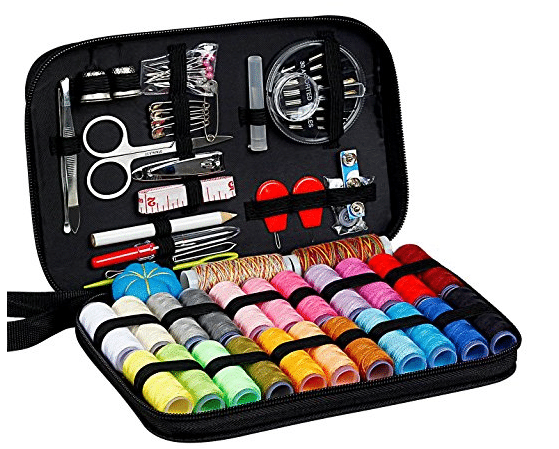 Nothing is quite as frustrating as a wardrobe malfunction. Adjust the setting to a business trip, vacation, or any destination to which you must travel, and a stressful situation is born. This 99 accessory kit offers a practical solution for quick and easy clothing repairs. Thread in a myriad of colors, needles, and threaders fit nicely within the black zippered bag. Hopefully you never have to use the sewing kit, but in the event that your swim trunks need to be sewn back together, travel size toiletries save the day. 
4. Cottonelle Flushable Wipes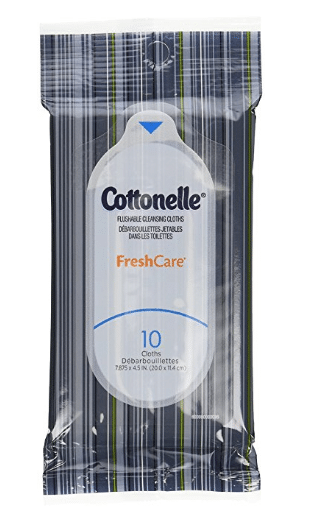 Messes can strike any time and any where. Perhaps no demographic knows this better than mothers. When traveling with kids (and messy adults) the need for a quick, easy clean-up solution arises. With this in mind, Cottonelle's Flushable Wipes act as one of the perfect travel size toiletries and a good judgement call among the packing gods. Despite the inability to control the amount of germs or mess everywhere one goes, these wipes offer peace of mind and hassle-free utility to moms on the go.
5. Babyganics Foaming Sanitizer
Much like the scenario above, sometimes traveling abroad presents the considerations that every restroom may not have soap or running water. Babyganics makes their product alcohol and fragrance free, resulting in a soft, moisturizing formula that is still tough on germs. Whether you have a case of sticky fingers, a sick travel companion, or are in any other travel hygiene bind, Babyganics' foaming sanitizer rushes to your rescue as one of your go-to travel size toiletries.
6. Travelsox Compression Socks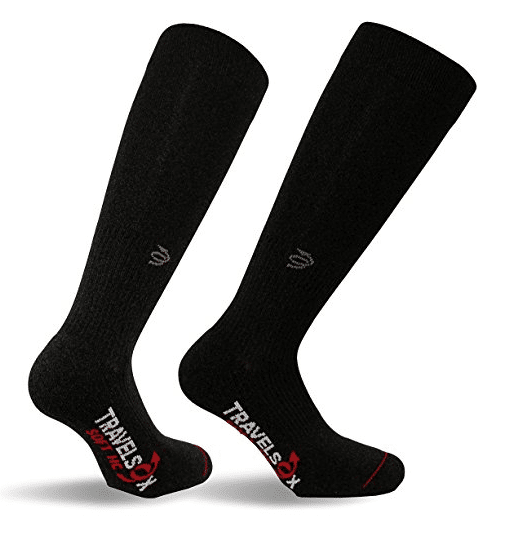 Changes in barometric pressure, altitude, and foreign eating habits cause trouble for those with sensitive blood circulation. Compression socks counteract this by putting pressure on legs, ankles, and feet to compress surface veins, arteries, and muscles. This makes the circulating blood force itself through even more narrow circulatory patterns. This increases arterial pressure, causing more blood to return to the heart rather than pooling in the feet.
Travelsox made one of the best travel size toiletries to combat swelling and improve circulation from the feet to the heart. Its toe to heel looped padding system absorbs shock and keeps blood pumping. With these on your feet, you can worry less about physiological responses to travel stress and more about enjoying your vacation.
7. Convenience Kits 
Convenience Kits appeal to travelers who want an all-inclusive toiletry experience without having to remember each component. Available for both men and women, the kits eliminate the guess work and cover all of your bases.
The typical women's kit comes complete with shampoo, conditioner, deodorant, toothpaste, mouthwash, body wash, face lotion, cotton swabs and balls, face wipes, a razor, tampons, a nail file, an eye mask, and shower poof. The contents sit within the custom quart size bag and are TSA complaint. With popular brand items and ample grooming and oral essentials, convenience kits remove the guess work from travel size toiletries.
8. Conair All-in-One Adapter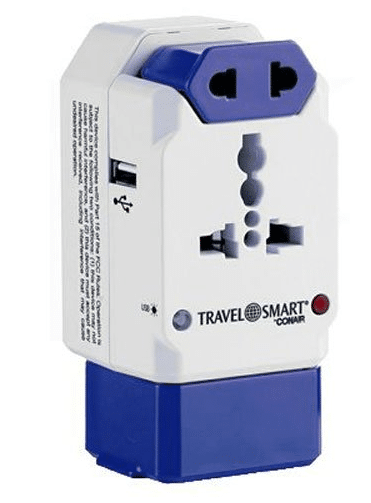 You and your friends are overseas on vacation preparing for a night out on the town. You are all dressed and have your make-up done. Finishing your hair-do is the last step in your repertoire. As you go to plug the hair dryer in, you realize the standard American plug will not fit in the outlet. You are forced to leave for the night with bed-head. 
Don't walk around abroad with bed-head. Conair prevents such situations with its all-in-one adapter. Four various plug types ensure that your appliances will function on different circuits. Given its universal applications and built-in USB port, the adapter is one of the greatest travel size toiletries to combat missing the comforts of home.
9. 6th Sense 2-in-1 Hair Straightener and Curling Iron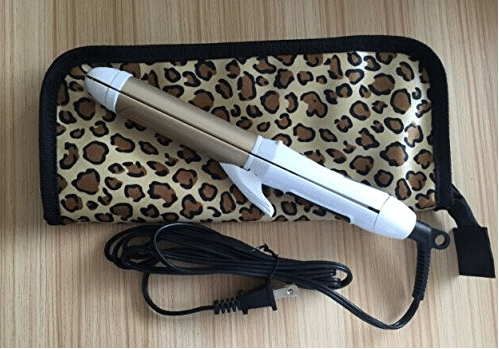 Now that we have the adapter covered, ladies will need their styling tools. 6th Sense's 2-in-1 Hair Straightener and Curling Iron is a cut above the rest. Since both tools are combined into one, precious space is saved. Topping out at 374 degrees, the nano titanium tool allows you to create hair styles just as would at home. The travel sized toiletry comes complete with an insulated carry bag for easy packing.
10. Wowax Beard Grooming Set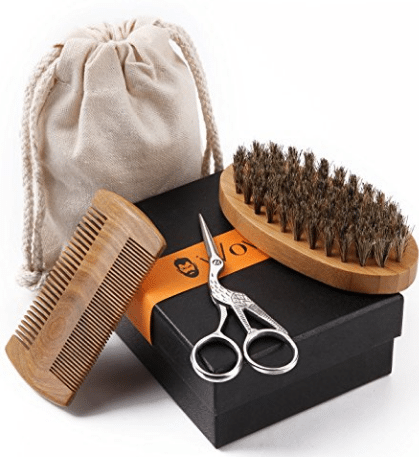 We at trekbible love a great beard. (Who doesn't?!) We also love a travel sized toiletry product that allows the men in our lives to maintain the integrity of their beards even when abroad. Included in the set ia a boar bristle beard brush, sandalwood comb, beard trimming scissors, and a cotton bag in which each component is stored. The nifty and portable set keeps your chin hair in prime condition regardless of where in the world you may be.
11. Rosenice 2-in-1 Eyeglass and Contact Lens Case
The visually impaired know that extra attention is required when packing for your peepers. For this reason, we love that Rosenice combines a case for both eye glasses and contact lenses. Travelers find the eyeglass compartment on one side separated from a contact case on the adjoining side. The lined case fits most standard glasses and promises not to scratch. These travel size toiletries are great investments to ensure you can see clearly on sightseeing expeditions.
12. Starlight and Sunny Eyeglass Repair and Cleaning Kit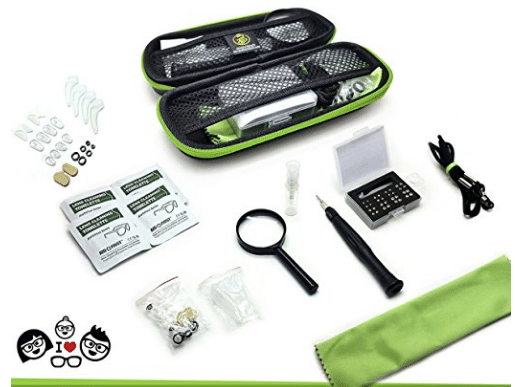 Much like we mentioned above, the visually challenged face many obstacles to sight. No greater travesty exists than being in the middle of a worldwind adventure with a pair of glasses that cannot handle the wear and tear. Loose hinges, lost nose pads, and bleary lenses have the potential to make or break your experience.
With that in mind, Starlight and Sunny's Repair and Cleaning Kit is one of the most perfect travel size toiletries. Inside travelers find a microfiber cloth, eyeglass chain, magnifying glass, foam nose pads, 11 nuts, 12 washers, non-slip nose pads, lens wipes, a spray bottle, frame hinge tightener, temple retainers, a magnetic screwdriver, and 32 screws. The compact kit fits in the portable case and works well as a travel companion. This kit prepares you for everything — you'll see everything coming from a mile away!
13. Squeeze Pods
It can be difficult to determine an accurate amount of toiletry products to pack. These leak proof, ready to go travel sized squeeze pods eliminate the guess work. The pre-measured pods contain the perfect amount of shampoo, conditioner, body wash, face cleanser, shaving cream, lotion, and toilet odor eliminator. Furthermore, these products are all made of safe, natural ingredients. Thereby, neither bodily hygiene nor health must be sacrificed even when traveling overseas. 
14.  Lagunamoon Travel Essential Oils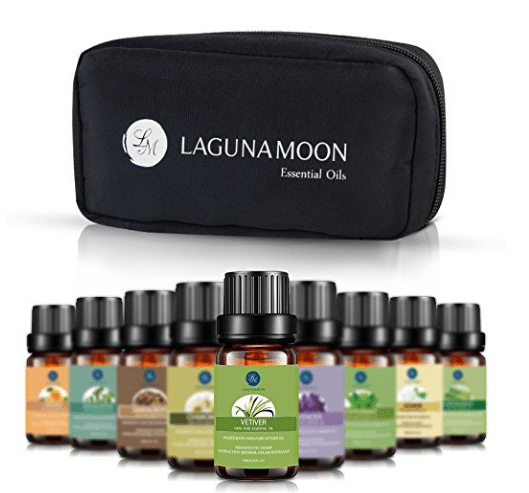 Upon landing, checking into your hotel room, and unwinding, falling asleep may be the most difficult part of traveling. Strange beds and noises work their part to create the recipe for insomnia. A well renowned and simple solution is the use of natural essential oils. Lagunamoon's version comes in a set of ten oils, including lavender, tea tree, peppermint, eucalyptus, lemongrass, orange, vetiver, jasmine, chamomile, and sandalwood. A portable storage bag keeps the oils tidy and ready for transport at a moment's notice.
The oils can be added to shampoo, lotion, creams, baths, or simply dabbed on the wrist or a pillow. Purported benefits include calming, grounding, healthy immune function, emotional balance, cleansing, purification, improved digestion and respiratory function, energy boosts, and relief for achy muscles and joints. Essential oils serve as great travel size toiletries that will assist in calming you.
Several items go into the making of an efficient toiletry bag.
Most travelers have the basic soap, toothbrush, and comb tucked into their toiletry bag. However, the items on this list seek to make a more prepared and complete toiletry pack. By considering the comforts of home and accounting for anatomical changes brought about by travel, one can best prepare themselves for all that kinks and twists that treks tend to throw. Thus, travel size toiletries are practical, functional items to bring along for overseas travel.
Tell us about your favorite travel size toiletries in the comments.
Related Article: A Travel Makeup Bag for Every Traveler