The Deuter Traveller 70+10 is Leading the (Deuter) Pack
The Deuter Traveller 70+10 is designed for traveling. Whether you are planning a backpacking trip where you will be on-the-go from one destination to another or you are planning an extended vacation where you will be planted in one city, this Deuter pack will make a friendly and functional backpack for you. The Deuter Traveller 70+10 is by no means a small bag. It will have to be checked at the airport, but thankfully the bag's durable material can withstand harsh baggage handling. While there is no particular risk in taking this Deuter pack hiking or trekking, it was built to provide functionality for traveling. If you are a traveler in need of a massive bag that fits comfortable and stores plenty, then check out our review of the Deuter Traveller 70+10. Of all Deuter packs, come find out why the Traveller 70+10 is one of the best.
A Little About Deuter Packs
Credit: Instagram/Foufinhaphoto
Deuter is known for their high-quality trekking, hiking, biking, climbing, and travel backpacks. Deuter packs come in different sizes, shapes, and with different features. The array of bag options provides customers with the opportunity to find the most functional bag for their needs. From light daypacks to large travel backpacks, Deuter is creating top of the line bags for adventurers. The one bag that is currently leading the pack is the Deuter Traveller 70+10. This backpack is large, but not cumbersome. Made of great quality, this bag is ideal for when you are spending an extended period of time away from home (and are instead making yourself at home in the world).
Deuter Traveller 70+10 Features & Benefits
Product Specification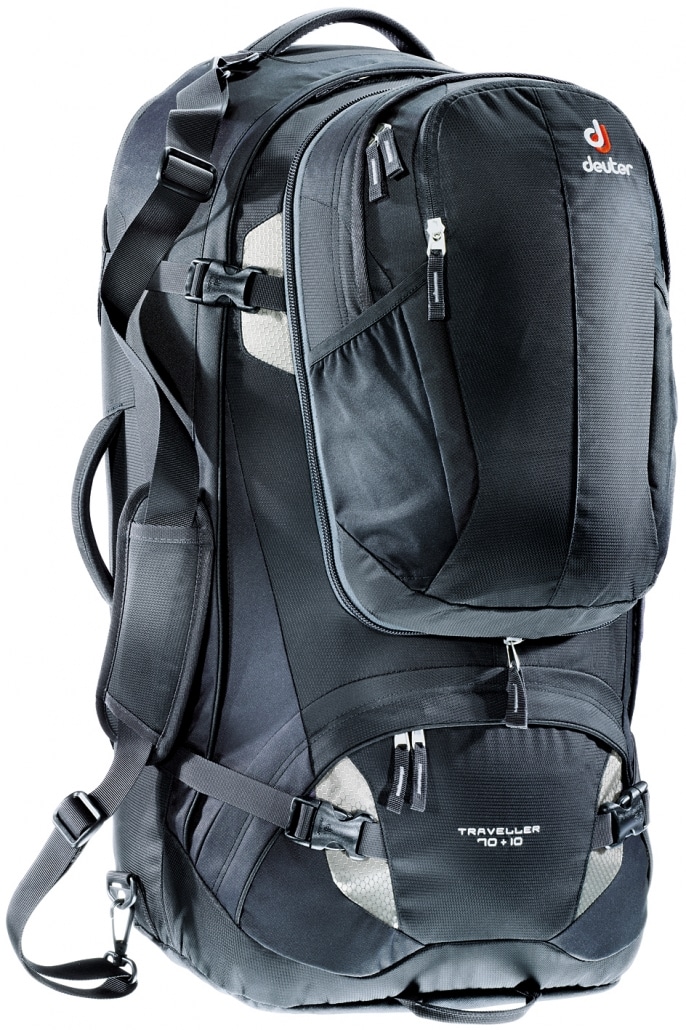 Credit: Deuter
The Deuter Traveller 70+10 is a large bag. The main pack has a 70L capacity, with a 10L expansion system. The dimensions of this Deuter pack are 29 x 15 x 12.6 inches and the backpack weighs in at 7.2 pounds. In terms of color options, there is only one. This Deuter pack comes in a black/silver color scheme. As for the bag's material, this travel backpack is made from Macrolite and Duratex fabrics. In other words, the bag is tough and durable.
There are many key features to this bag, including a spacious main compartment, roomy bottom compartment, adjustable straps, an attachable shoulder strap, several grab handles, a compression system, detachable daypack, and more. Let's talk in-depth about each of these stand-out features.
Main Compartment & Bottom Compartment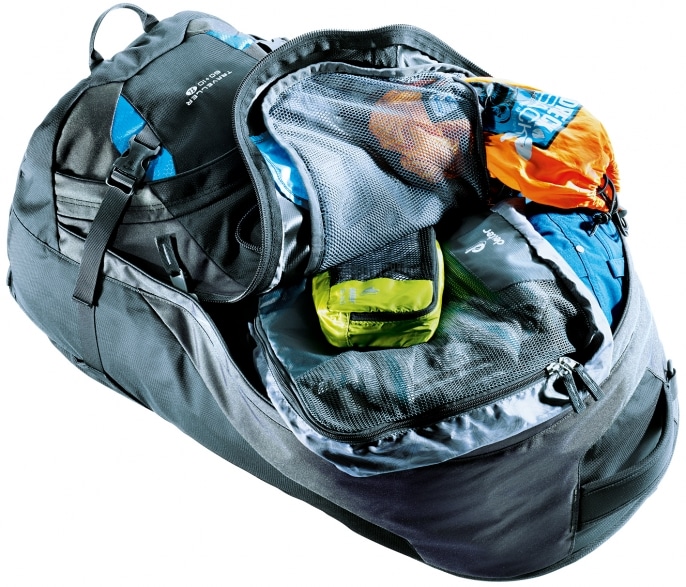 Credit: Deuter
The Deuter Traveller 70+10 is a backpack that packs like a suitcase. There is nothing more convenient than this feature and we highly recommend that with any travel backpack you consider, you make sure the main compartment opens fully. This makes packing, unpacking, and digging out belongings a simple and painless process. This Deuter pack provides nothing less than prime organization. For those of you who are super into organizing, there are plenty of internal zippered pockets in the main compartment where you can organize to your heart's content. Also, the main compartment can be used either as a single unit or separated into two compartments. Oh, the organization possibilities. This travel backpack also has a bottom compartment that is loaded separately. For quick access to belongings, the bottom compartment will be very useful.
Shoulder Straps & Grab Handles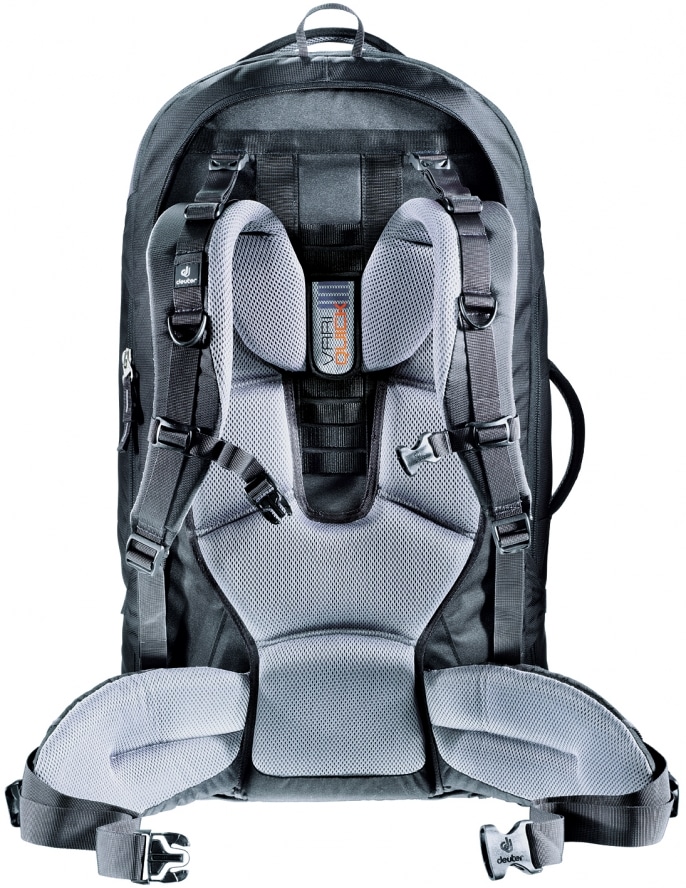 Credit: Deuter
Should you want to carry this backpack like a duffle bag, there is an attachable shoulder strap that makes this a possibility. Haul the pack onto one shoulder or across your chest when you want to change up the way you carry the bag. This travel pack also comes with three grab handles. The grab handles make tossing your Deuter pack into the car a simple task. Also, when you land at your final destination, the grab handles allow you to pull your backpack off the baggage claim carousel hassle free.
Concealable Back System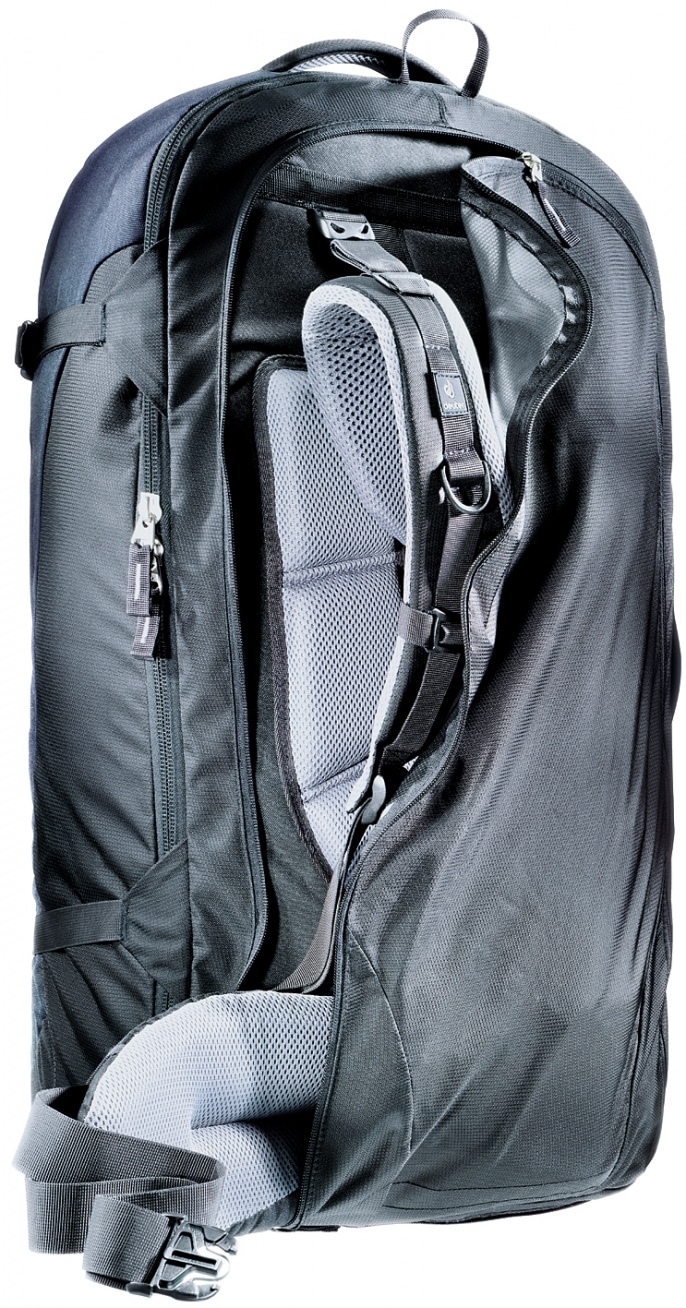 Credit: Deuter
When you want to make use of the shoulder strap, you can conceal the backpack's hip belt and harness to make carrying easier. The Deuter Traveller 70+10 has a concealable back system where you can stow away all those straps. Doing so will turn your backpack into a courier bag. This concealable back system is also useful when checking your bag at the airport. To avoid having your bag get caught up on something, tuck away those flailing straps. Speaking of the back of the pack, the Deuter Traveller 70+10 has a breathable foam back that minimizes perspiration. Also, the back is padded all around to ensure comfort.
Detachable Daypack
Credit: Deuter
Many large Deuter packs come with a detachable daypack. The Deuter Traveller 70+10 is no different. For day excursions, the 19L daypack is an ideal bag to take with you. This daypack is a large size, comparatively speaking, that can store your camera, travel journal, water bottle, wallet, tickets, and the souvenirs that you purchase throughout the day. It is also a convenient bag to carry-on the airplane with you when your main pack is being checked.
What People Are Saying About the Deuter Traveller 70+10
Travelers are surely talking about the Deuter Traveller 70+10. In terms of Deuter packs that are designed specifically for travel, this is the pack that does the best job. With a name like Deuter Traveller 70+10, it was built for it. Also, though the bag isn't designed for trekking or hiking (simply because it doesn't provide all the functionality need for those expeditions) several travelers have reported how the bag works just great on the mountains. Travelers also appreciate how organized you can keep your belongings in this backpack.
As for the detachable daypack, customers noted how large and roomy the bag is. Many 50L+ travel backpacks come with detachable daypacks, but few are as spacious as the one that comes with the Deuter Traveller 70+10. For that reason, travelers took notice and appreciated how much they could store in the daypack during day excursions.
Alternative Travel Backpacks
Deuter Transit 50
If Deuter packs are your type of backpacks, but the Traveller 70+10 is too large for you, then consider the alternative Deuter Transit 50. Unlike the Traveller 70+10 that must be checked, the Transit 50 can sometimes be carried on the airplane. We say sometimes because it depends on how full the bag is packed and what the airline's carry-on size restrictions are. The Deuter Transit 50 is another great pack for the urban explorer and traveler. Several features that it shares with the Deuter Traveller 70+10 include a large main compartment that opens suitcase style, an additional shoulder strap, the ability to stowaway shoulder straps, an adjustable suspension system, grab handles, a zippered bottom compartment, and a detachable daypack. As you can see, there are many similarities between these two Deuter packs. The main difference is the size and carrying capacity.
Patagonia Black Hole Backpack
Are you nervous about being stuck in the rain when traveling? The last thing you want is for all your clothing and electronics to get ruined. With the Patagonia Black Hole backpack, you never have to worry when you are caught in the rain. This bag can put up with harsh weather conditions. The look of the Patagonia Black Hole backpack is sleek, stylish, and best of all, waterproof. The Patagonia Black Hole is faithful to keep your clothing, electronics, and other belongings dry even when buckets of rainfall or snowfall come pouring down on this pack.
When traveling, the most unpredictable thing can be the weather. If you don't want to get stuck with damp clothes, then the Patagonia Black Hole backpack is the waterproof pack to consider. In addition, this bag is made of lightweight material and sits comfortably on the hips of the one carrying the pack.
Osprey Waypoint
The Osprey Waypoint is another alternative to the Deuter Traveller 70+10. One neat feature of the Osprey Waypoint is that travelers can choose between a male and female version to ensure a better fit for you. This is different from the unisex design of the Deuter Traveller 70+10. The bag also comes in either 65L or 80L and includes a detachable daypack. With those size options, the Osprey Waypoint is in the same "large travel pack" category as the Deuter Traveller 70+10. Comparing the looks of these two bags, the Osprey Waypoint looks more sleek and slender than the Deuter pack. When on your back, the Osprey Waypoint won't look as bulgy.
Is the Deuter Traveller 70+10 the Bag for You?
If you are looking for a large bag that can keep your belongings organized and safe, the Deuter Traveller 70+10 is one to consider. All Deuter packs are high-quality and the Traveller 70+10 is no exception. For long trips that require ample storage space, the Traveller 70+10 will have no issues holding your belongings. There are many features that make this backpack attractive. Some of these benefits include the fact that the bag expands 10L, has a compression system, has a main compartment that packs "suitcase-style," and has a suspension system that ensures comfortability. If you are a hard-core traveler that needs a high-functioning bag that can keep up with you, we recommend considering the Deuter Traveller 70+10.
Of all Deuter packs, do you agree that the Deuter Traveller 70+10 one of the best? Share your thoughts in the comments section below. If you own this backpack, we would love to hear about your experience with the product!
Related Article: 10 Best Travel Backpacks Of 2018 For Your Next Adventure