You Have Not Seen Beauty Until You Have Seen Le Sirenuse Hotel
Ivy climbing up walls, hand-made tile floors, white-washed walls, and colorful accents–Le Sirenuse is a place like no other. Antique meets modern at this Amalfi Coast hotel, providing the ideal space for a romantic vacation. Whether you are celebrating your honeymoon or celebrating your 25 year anniversary, a lovely and intimate stay at Le Sirenuse awaits you.
In our review of this hotel, we will be sharing the details concerning accommodation options, dining options, and amenities offered at Le Sirenuse. We will also be discussing what fellow travelers are saying about their experience at this Amalfi Coast hotel. Let's start talking about Le Sirenuse because there is a lot we want to share with you…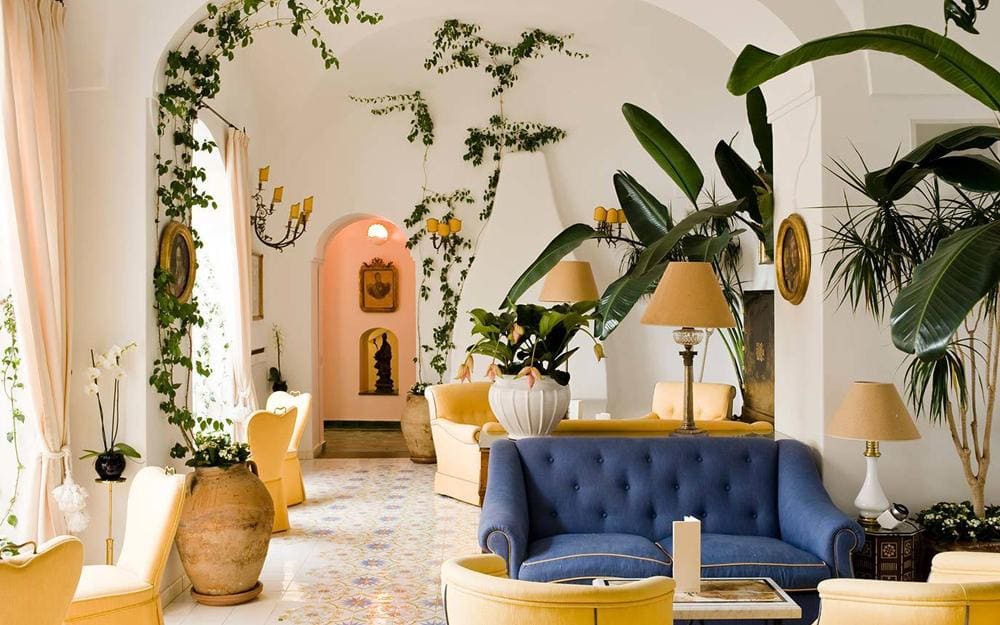 Credit: Sirenuse
Let's Talk Accommodations
At Le Sirenuse, there are 58 rooms and suites for guests to choose from. Each one is decorated with a mix of contemporary and antique furniture and décor. Most of these rooms and suites overlook the crystal bay and have a private balcony/terrace where guests can behold the view. The only room that does not have a view or balcony/terrace is the Inner Courtyard guestroom. The theme of all Le Sirenuse rooms and suites is simple, clean, airy, and minimal. White walls, white furniture, hand-made tile floors, and splashes of color are sprinkled throughout the interior. All rooms and suites also have a telephone, flat screen television, DVD player, a safe, and a minibar.
Guestrooms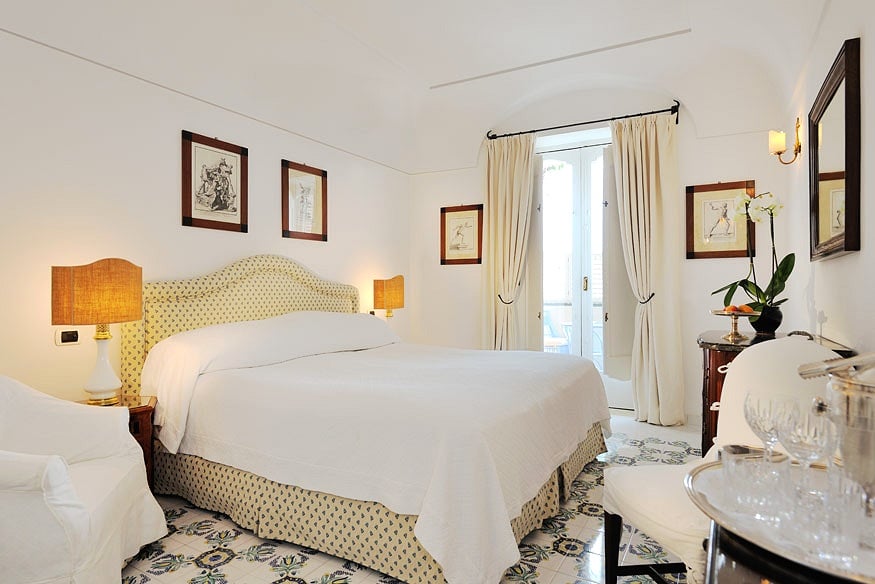 Credit: Sirenuse
The guestroom options at Le Sirenuse include the Inner Courtyard, the Pool Terrace View, the Sea View, the Deluxe Sea View, and the Deluxe Superior Sea View room. The only guestroom that does not have a view or a balcony is the Inner Courtyard. The Inner Courtyard room is 280 square feet. This guestroom is an intimate, simple space for travelers to rest after a busy day of exploration.
The Pool Terrace View is another guestroom option available at Le Sirenuse. This accommodation overlooks the pool area and the beautiful sea. This room ranges from 244 to 356 square feet and has its very own private balcony (with lavish French doors that open to the beauty!). The Sea View, of course, provides travelers with a breathtaking sea view just outside this 258 square foot space. The Deluxe Sea View offers more space at 323 square feet. For those who desire even more space, the Deluxe Superior Sea View has 434 square feet.
Suites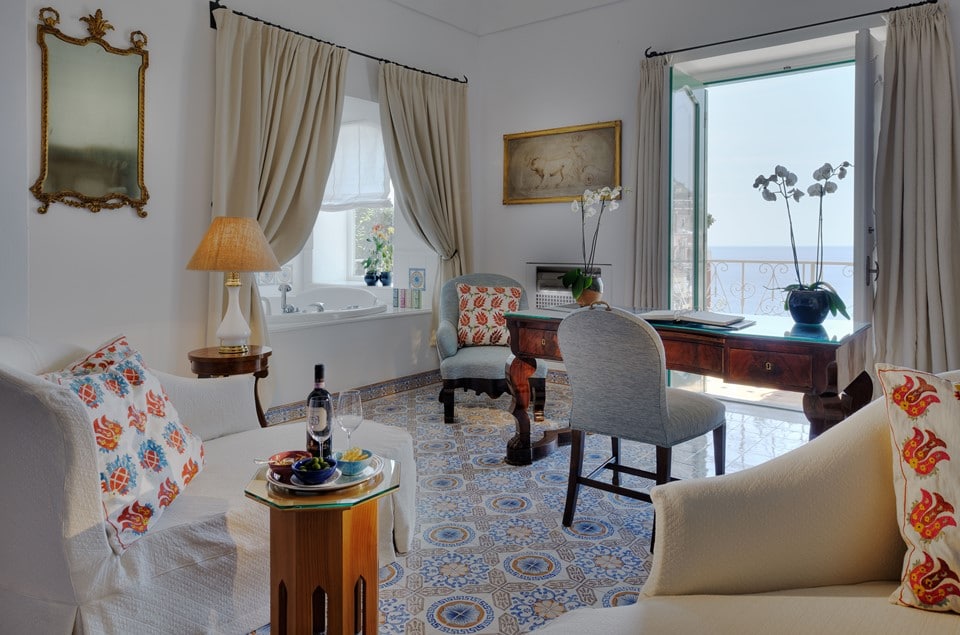 Credit: Sirenuse
As if the guestrooms were not beautiful enough, the suites at Le Sirenuse take design and beauty to a whole new level. There are four suite options available at this Amalfi Coast hotel. These suite options include the Junior Suite, the Junior Suite Superior, the One Bedroom Suite, and the Two Bedroom Suite. All have full sea views. Every morning, guests can wake up to the sparkling sea. At 496 square feet, the Junior Suite is a comfortable and inviting space for travelers to find refuge after a long day of exploring the Amalfi Coast. The Junior Suite has a separate sitting area and a private balcony/terrace. In this suite, guests can choose between having a large queen-size bed or two single beds. More spacious than the Junior Suite is the Junior Suite Superior at 524 square feet.
By far the most luxurious accommodations at Le Sirenuse are the One Bedroom Suites and the Two Bedroom Suites. The One Bedroom Suites range from 814 to 896 square feet. The One Bedroom Suite is comprised of one Junior Suite Superior, a sitting room, two bathrooms, and a bathtub that overlooks the sea. The Two Bedroom Suite is a wonderful 1884 square foot space. This suite is made up of three rooms and has three bathrooms. The Two Bedroom Suite is a combination of the Junior Suite Superior and the Deluxe sea view room.
Let's Talk Dining
There are four main dining facilities on Le Sirenuse's property. Each one serves culinary wonders and delights that are sure to satisfy. Plus, all guests receive complimentary breakfast with their stay at Le Sirenuse!
La Sponda Restaurant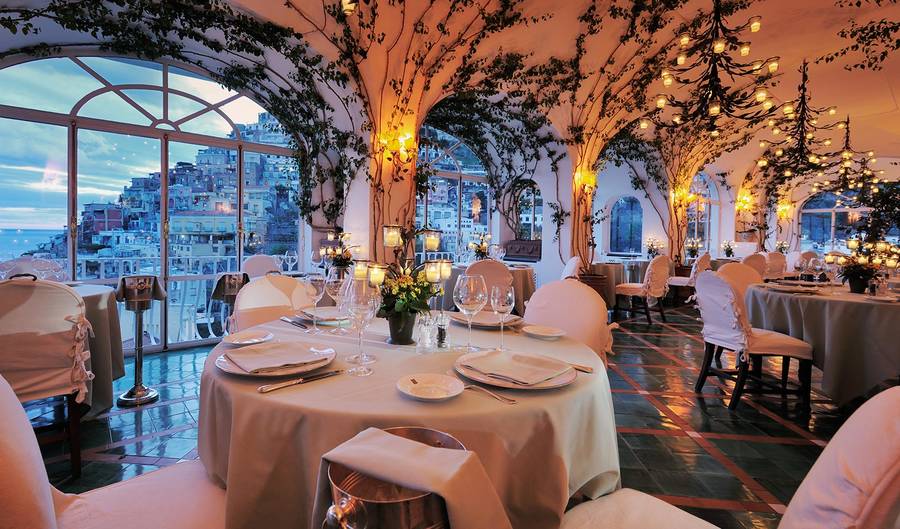 Credit: Sirenuse
La Sponda Restaurant is the largest dining space at Le Sirenuse. La Sponda serves light, gourmet Mediterranean cuisine. This Michelin-starred restaurant is a favorite of travelers, particularly for dinner. In the evening, four hundred candles are lit to create an intimate and memorable ambiance. If you are traveling to the Amalfi Coast for a romantic getaway, then La Sponda Restaurant is a recommended place to dine during your trip.
Champagne Bar & Grill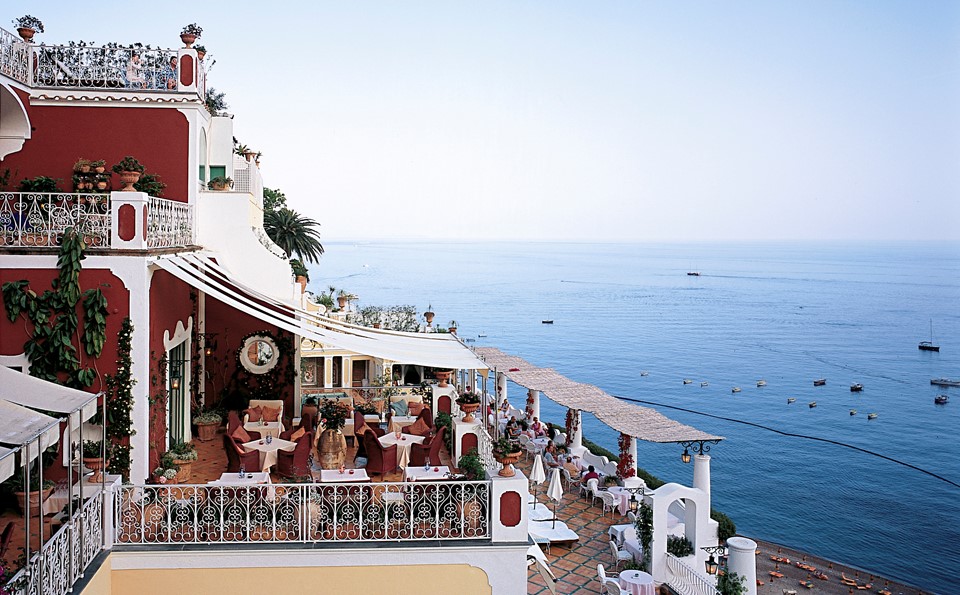 Credit: Sirenuse
For outdoor dining right along the sea, then come to the Champagne & Oyster Bar Grill. At this restaurant, guests can dine on the terrace and take in the panoramic views of Positano. Champagne, cocktails, oysters, shellfish, Mediterranean delights, pastas, and rice dishes are all available on the terrace. And on days when bad weather strikes, the Champagne Bar & Grill gets moved to a covered terrace.
Pool Bar & Restaurant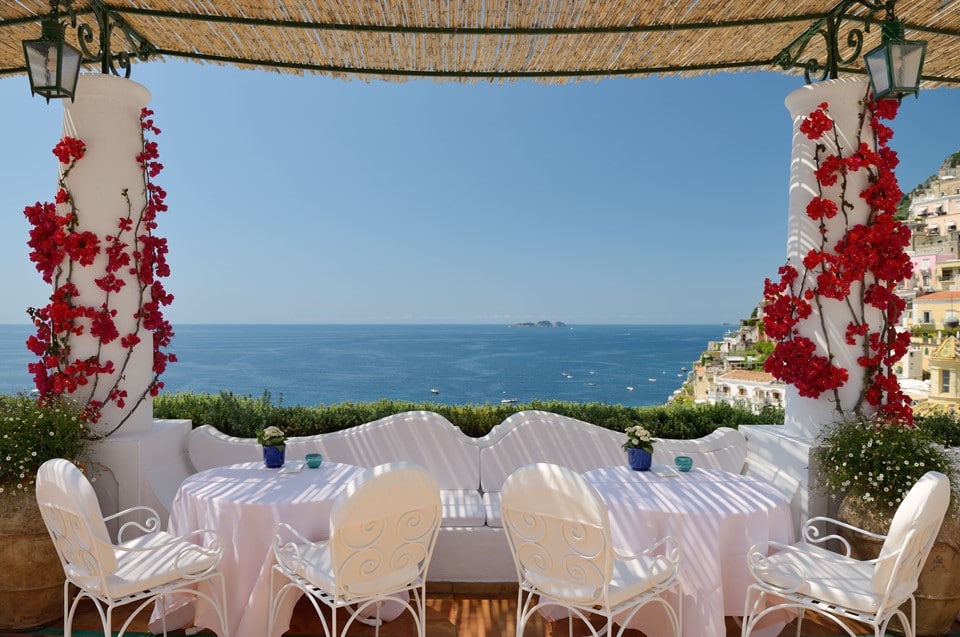 Credit: Sirenuse
Open from 12:30 to 6 pm, the Pool Bar & Restaurant serves up delicious lunch meals for guests. The Pool Terrace is a gorgeous place to enjoy a snack or meal mid-day because the area is brim-full of flowers and lemon trees. Guests can dine in laid-back style at Le Sirenuse's Pool Bar & Restaurant.
Franco's Bar
Credit: Sirenuse
Franco's Bar is a lovely seaside bar that offers drinks and small snacks within an artistic and elegant space. Light nibbles are served at Franco's Bar, including potato chips and salted almonds.
This bar is a real bar. You know, back when bars focused mainly on quality drinks and not food? That's why only light snacks are served at Franco's Bars. If you enjoy beverages, alcoholic or non-alcoholic, then you will enjoy a stop by Franco's Bar.
Let's Talk Amenities & Activities
Credit: Sirenuse
At Le Sirenuse, breakfast is complimentary for all hotel guests. Other perks to staying a Le Sirenuse include free wireless internet connection throughout the hotel. And trust us, once you walk onto the property, you will be snapping so many photos and wanting to share it all with your friends and family back home. The free wireless internet connection will come in handy for those who desire to stay connected with friends and family while they are vacationing on the Italian coastline.
Le Sirenuse has a swimming pool, spa, and fitness center for guests to enjoy during their stay on the Amalfi Coast. The Pool Terrace, as we have mentioned, is surrounded by fresh, blooming flowers, lemon trees, and cozy chairs to lounge in. After a dip in the pool, we encourage you to visit Le Sirenuse Spa. A few neat features about the spa include the Sauna, Bio-sauna, and the steam bath. There are many treatments to choose from, including massages, couples massages, facial treatments, and more. Guests will find this spa to be the perfect place to unwind on their vacation to the Amalfi Coast.
If you want to stay fit when on your vacation, then head to the Le Sirenuse fitness center. The fitness center has cardio equipment, free weights, and yoga mats for stretching.
What Travelers Are Saying About Le Sirenuse
There are little to no complaints about this Amalfi Coast hotel. If anything, it would be the cost of staying a night. Though Le Sirenuse Hotel is on the pricey side, this hotel is phenomenal. Travelers can't stop talking about the lovely ambiance both inside and outside the hotel. They highly recommend staying at Le Sirenuse if you are willing to indulge and pay the cost. Travelers state that this hotel is worth every penny. The beauty is very striking and unique, and guests simply rave about how wonderful Le Sirenuse is. Past travelers have encouraged others to keep their expectations high because Le Sirenuse is faithful to live up to the hype. The staff is helpful and friendly, the food is flavorful and scrumptious, and the rooms are comfortable and spacious.
Le Sirenuse Is a Coastal Paradise
Le Sirenuse is a charming hotel located on the Amalfi Coast of Italy. The Amalfi Coast has sweeping natural beauty of its own, but wait until you step foot inside Le Sirenuse. This hotel is chic and stylish, yet also very comfortable and homey. Couples on a romantic getaway will find Le Sirenuse to be the ideal space for them. The hotel is also located in Positano, which is one of the main transportation hubs on the Amalfi Coast. From Positano, travelers can get to virtually any part of the coast and do plenty of exploring.
When in Italy, consider venturing to the Amalfi Coast. And when on the coast, consider booking a stay at Le Sirenuse. There are many guestrooms and suites to choose from, so you are sure to find just what you are looking for at Le Sirenuse. This hotel has received 5 stars from nearly every traveler that has stayed within the hotel. We cannot wait for you to visit this place for yourself!
Are you as in love with Le Sirenuse as we are? Just look at those photos. Aren't they simply marvelous? Let us know in the comments what you think about this Amalfi Coast hotel!
Related Article: ​Amalfi Coast Hotels: Guide to Finding the Best One