Viking Star is the Cruise Ship You Are Bound to Fall Head Over Heels For
If Viking Cruises are known for one thing it is "beauty." Not only do all their cruises set off to spectacular cities around the world, but the ships themselves are cloaked in beauty. The Viking Star is no exception. A cruise on this award-winning ship is for travelers who want to see natural beauty and have an enriching experience. Once travelers climb aboard a Viking cruise ship, they are certain to disembark with a collection of fond memories and a collection of wonderful photographs. If you are ready to fall in love, then check out our review of the Viking Star. We are spilling all the details about this impressive cruise ship.
Why Viking Star?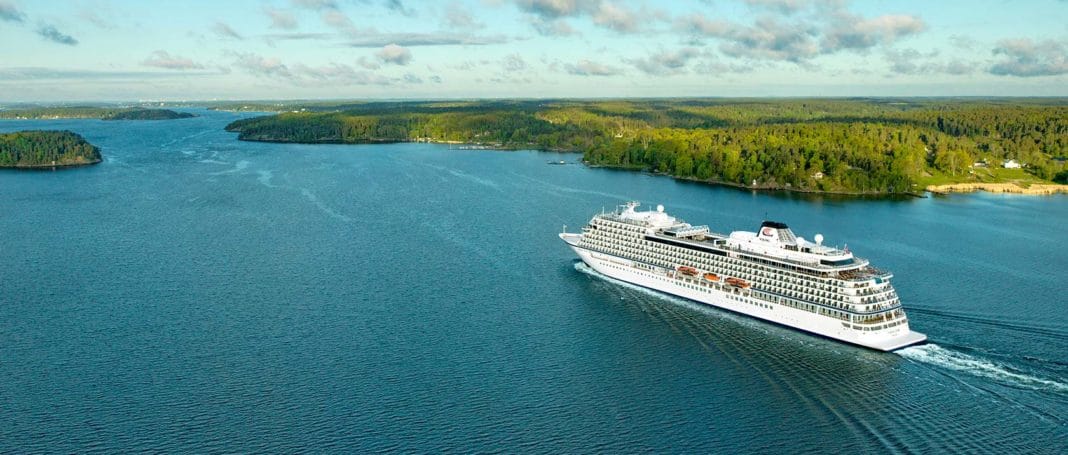 Credit: Viking Ocean Cruises
If you know cruises, then chances are you have heard of the Viking River Cruises. They take the lead in the realm of river cruise lines. However, did you know they also have a separate branch of Viking Ocean Cruises? The Viking Star is part of that fleet. The Viking name is continuing to rise in popularity, and for good reason. Not only do Viking voyages set off to stunning locations, but trips are designed to provide cultural enrichment for guests. Also, ships such as the Viking Star are built in energy-efficient ways to decrease their carbon footprint.
The Viking Star holds 930 passengers and is classified as one of the cruise line's smaller ships. Built not long ago in 2015, this ship is still young. However, it has many miles in its wake. The Viking Star has already embarked on countless journeys. Some of the places this ship has docked (and will dock shortly) include Rome, Barcelona, Athens, Venice, London, Montreal, New York City, Miami, Los Angeles, and more! The Viking Star is not afraid to take the high seas. Traveling from city to city, this small, yet exceptionally comfortable and capable cruise ship takes passengers from one beautiful place to another.
Features & Benefits
Staterooms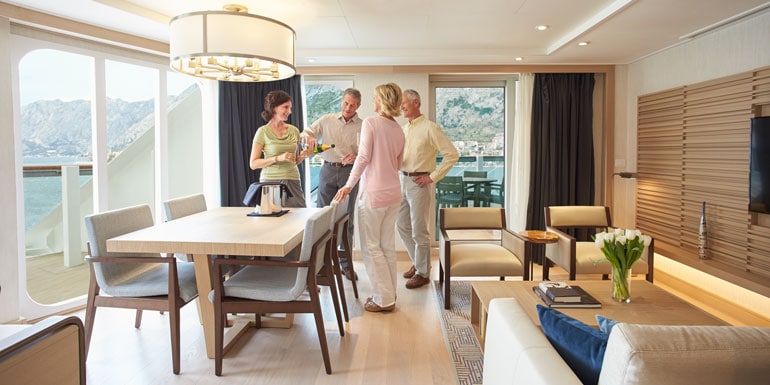 Credit: Viking Ocean Cruises
The Viking Star offers a variety of staterooms for guests to choose from. Within every stateroom, guests receive daily refills of purified water, 24-hour room service, WiFi connection, and a mini-bar.
The Veranda is a 270-square foot room/veranda that comes with a king-size bed, a large bathroom, and a 42″ flat-screen TV. It also, of course, comes with a private balcony where guests can enjoy the picturesque scenery that they will be cruising by. Also at 270 square feet is the Deluxe Veranda. The Deluxe Veranda has many of the same amenities as the standard Veranda stateroom. What makes it "deluxe" is that a stay in this room offers priority booking for shore excursions, restaurant reservation, and at the spa.
With a stay in the Penthouse Veranda, guests will be welcomed with a bottle of champagne upon arrival. The Penthouse Veranda comes with a king-size bed, in-suite binoculars, a coffee maker, complimentary shoe shining, and priority booking for shore excursions, spa treatments, and restaurant reservations. The Penthouse Junior Suite is another option for guest traveling on the Viking Star. This extravagant stateroom is 405 square feet (including the veranda) and a peaceful space for travelers to rest after a day of exploration.
Speaking of exploration, the Explorer Suite is the next suite available onboard. This 757 square foot space is fitted with a spacious dining area, living room, king-size bed, and plenty of windows for guests to see the surrounding beauty. For the utmost space and luxury, check out the Owner's Suite. It is by far the largest suite on the Viking Star, at an incredible 1,448 square feet. The Owner's Suite has multiple rooms and includes a dining area that seats 6, a private library and wine collection, a boardroom that seats 12, and first priority on spa treatments, shore excursions, dining reservations, and much more.
Dining Options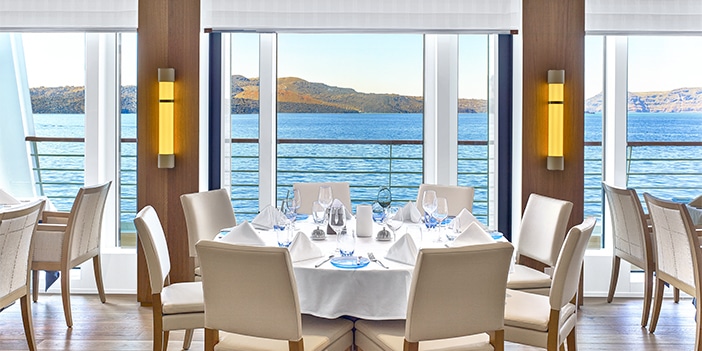 Credit: Viking Ocean Cruises
The food served on the Viking Star is exciting, creative, and globally-inspired. The Restaurant is the main dining room on the cruise ship. At The Restaurant, guests will enjoy the finest cuisine from breakfast until dinner. The menu offers regional cuisine that adds to the Viking mission of cultural exploration and appreciation. Whereas The Restaurant offers a wide range of food options, Manfredi's Italian Restaurant specializes in–can you guess?–Italian favorites. For Norwegian delicacies, dine at Mamsen's. At this restaurant, guests can taste Scandinavian pastries, Norwegian goat cheese, and choose from a number of sandwich and soup options.
World Café features live cooking and a buffet-style dining experience. Dining at World Café takes passengers all around the world within one restaurant. This café is packed with international flavors. Another casual spot to eat onboard the Viking Star is the Pool Grill. Enjoy a burger and fries poolside from this relaxed restaurant.
Afternoon tea anyone? Partake in high tea at Wintergarden while cruising on the water. At Windergarden, guests will be served pastries, finger sandwiches, freshly made scones, and a copious amount of tea. Wintergarden is a soft and quiet place to meet others or enjoy one-on-one time with your significant other.
Amenities & Activities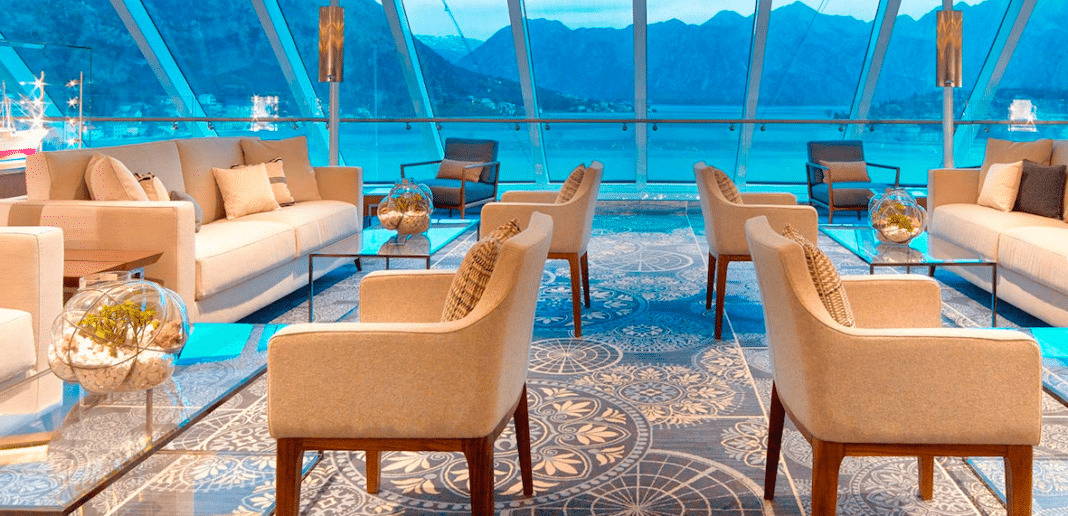 Credit: Viking Ocean Cruises
Primarily, the Viking cruise line desires for passengers to heavily immerse themselves at the destination they are in. That is why there are enlightening lectures provided daily for passengers to learn about the destinations they are traveling to. There are other activities onboard the Viking Star as well, including a pool, a golf putting area, shuffleboard, and board games located in The Living Room. By the time evening rolls around, guests can watch a movie outdoors, listen to live music, or grab a drink in one of the many bars and lounges on the ship.
A fitness center and spa are also available for guests wanting to exercise or pamper themselves at the spa. One key feature of the spa is the snow grotto. This snow room has ice shavings on the wall and, as you can guess, chilly temperatures. If the snow room isn't your idea of a good time, how about visiting the steam room? Best of all, the spa's thermal suite is open to all guests. That means that you can visit the thermal suite without booking a spa treatment.
Entertainment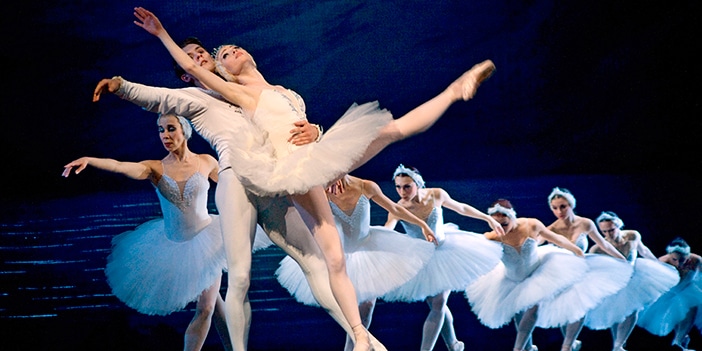 Credit: Viking Ocean Cruises
For production shows, films, local performances, and cultural events, head to the Star Theater. Talented singers and dancers are continually taking center stage at Star Theater. Plus, fresh popcorn is served whenever films are offered.
In addition to the entertainment offered at the theater, sometimes the most entertaining thing to do is trying to cook dishes you've never made before. Particularly for those unfamiliar with cooking, this can be an entertaining and laugh-filled experience. Would you like to experiment in the kitchen while sailing on the Viking Star? The Kitchen Table is a place where guests can immerse themselves into local culture by means of hands-on cooking. The ships' chefs will guide you through preparing these tasty meals.
The Kitchen Table is tailored to whatever your Viking Star itinerary is. During days at sea, you will be cooking local dishes from the places you are about the visit. During days at port, The Kitchen Table supplies guests with ingredients from the local market. You will use the ingredients to create scrumptious local delights. These cooking classes are filled with fun and learning – both about cooking and about culture.
What Travelers Are Saying About Viking Star
The great majority of travelers end their Viking Star cruise wishing it would last forever. There are little complaints about Viking cruises in general. On the Viking Star, guests noted how much they appreciate the enrichment lectures about the places they visited. Travelers also enjoy the size of the ship and many agreed that the ship was not too big and not too small.
Alternative Cruise Lines
Silver Shadow
The Silver Shadow is another elegant cruise ship. It is very small at a 382 passenger limit. The Silver Shadow is known for its unique voyages to places like Singapore, Hong Kong, and Sydney. If these destinations intrigue you, then the Silver Shadow may be an alternative cruise ship to consider.
Oceania Marina
Oceania Marina provides similar amenities to the Viking Star. This cruise ship is modern and sophisticated in design and offers a number of entertainment options for guests. Because of its similarities to the Viking Star, the Oceania Marina may be a worthwhile consideration too.
Allure of the Seas
The Viking Star is not the best cruise ship for kids. It is more of a cruise ship tailored to adults. If you are desiring a ship that has activities for both adults and kids, then the Allure of the Seas is a great option for you. This Royal Caribbean ship offers many engaging and fun-filled activities for the whole family.
The Viking Star Is All Smooth Sailing
Credit: Viking Ocean Cruises Facebook
Warning: If you set sail on the Viking Star, be prepared to want to go on another Viking Cruise. And another. And another. Just one cruise will get you hooked. Viking certainly has a faithful following, and after your first sail, we have a feeling that you might be joining that faithful following. Viking also stands out for its cultural engagement. If you want an all-around invaluable experience, then think about taking a trip on the Viking Star.
Have you cruised on the Viking Star before? Share about your experience in the comments section below!
Related Article: ​Silver Shadow Review: An Intimate and Sophisticated Sail​​​