Going on vacation? Eat like a local at these best restaurants in St Augustine.
Here, flavor-packed dishes meets gold old-fashioned southern comfort food. As the oldest city in the country, St Augustine has a rich and fascinating cultural history. For history buffs, exploring here is a dream come true. One of the top iconic sites you have to see here is the 17th-century fort Castillo de San Marcos. You can't forget about Ponce de Leon's Fountain of Youth either. While the historic sites are plentiful, this port town is also loved for its culinary scene.  The best restaurants in St Augustine are diverse and exciting.
Most of the food here is passed down from the Minorcans, a multicultural group who descended from indentured servants (yes, I snuck a little more history in there). Today, a Mediterranean style dominates the scene, bringing with it a heavy emphasis on seafood and flavorful spices. In its wake, an exciting farm to table scene and a new wave of coffee shops have rolled in too. Come along with me to explore it all and eat our way through the city. Not a bad deal, right?
Here Are My Picks for the Best Restaurants in St Augustine, Florida
1. Ice Plant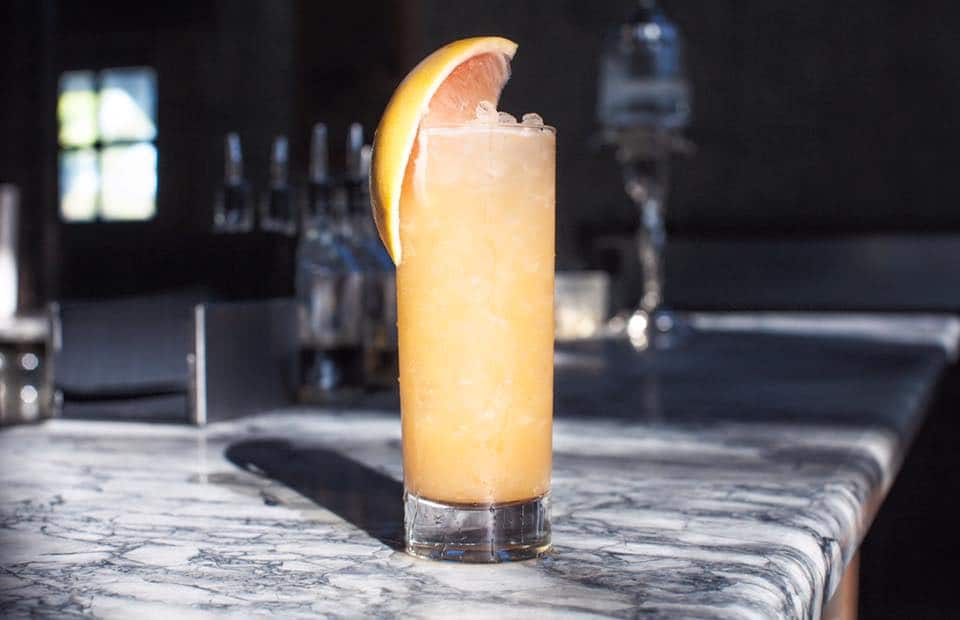 Credit: Ice Plant / Facebook
Located in a 1927 industrial warehouse-style building, Ice Plant offers so much in the way of ambiance alone. For foodie lovers like myself, that makes all of the difference. Here, you'll enjoy plenty of locally-sourced dishes and refreshing seasonal cocktails. So why is it called the Ice Plant?
The folks here believe that ice is a critical component of a well-made drink. With this said, their primary mission is to return to the craft of using purified water for ice and crafting the best drinks possible. The bartenders make drinks colder and offer just the right amount of dilution. In other words, you don't have to worry about ordering a drink that is all watered down with no flavor. Since they don't take reservations, we highly suggest you call ahead to see how busy they are or arrive as soon as they open for brunch.
When it comes to the menu, there are plenty of delicious and savory food options awaiting you. Believe it or not, it's not entirely about the drinking scene here at Ice Plant. But even if it were, I couldn't complain. Farm to table cuisine presents options you can feel good about eating. If you've ever traveled in the south before, you know this isn't always easy. But this is different. After all, Ice Plant is one of the best restaurants in St Augustine.
Inspired by the early 20th century, the menu brings back the concept of a healthy and enjoyable bite and drink. Some of my favorite meals are the pan seared local fish, Minorcan seafood stew, and fresh rigatoni. When it comes to drinks, you really can't go wrong. But that's not to say I don't have a few favorites. The New World Gin & Tonic is a beloved classic. And who doesn't love a Rum Tiki every now and then? When in Florida, you've got to try some rum. That's the rule.
2. The Floridian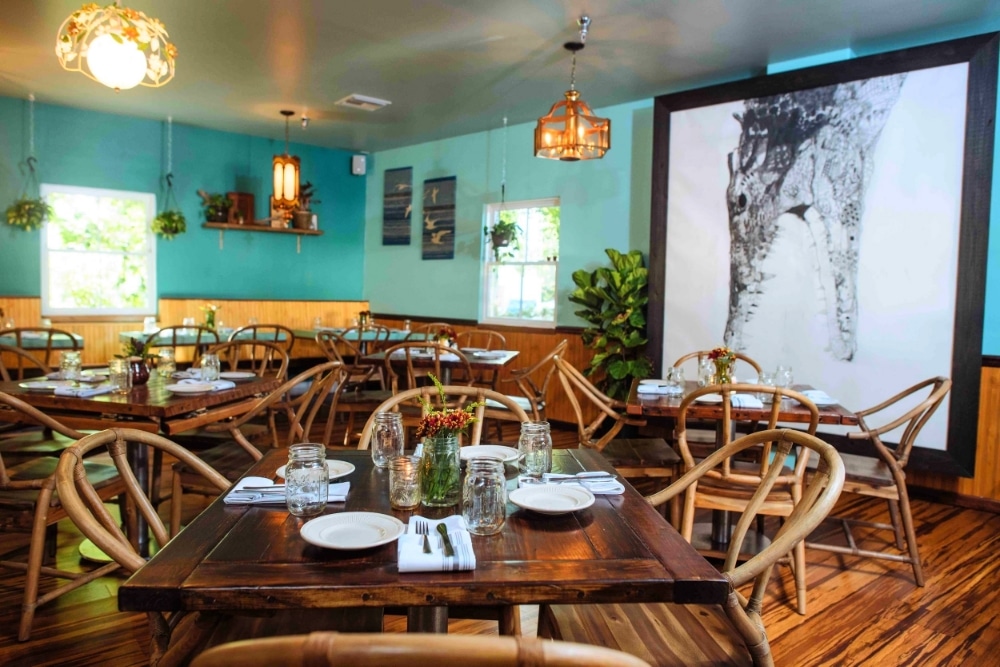 Credit: The Floridian
What do you get when you combine a modern menu and traditional southern grub? The answer comes in The Floridian, a place of plentiful vegan options served among kitschy decor. Their goal is to create fantastic food using locally-sourced, sustainable ingredients and methods. Now, this is a business model I can get behind. I love the casual, comfortable atmosphere here.
To accommodate the change of seasons, the menu changes too. Come with a sense of expectation to dive deep into the heart of Floridian cuisine. When you do, keep an eye out for their featured farm, fish, and artisan partners. After all, a restaurant's menu can only be as good as the ingredients and passion of the people behind it.
There are so many dishes to recommend. Where do I even begin? The menu gives a clear nod to whimsical dishes and comfort foods. But it does so in a way that uses healthy ingredients. It's important to be good to your body. Who says eating healthy can't be fun too? On the menu, some of my favorites include the cheddar and vegetable-stuffed cornbread, blackened fish served with a side of chimichurri aioli and sweet pickled veggies. Don't want fish? You can opt for the tofu instead. As I mentioned, The Floridian has a robust menu for vegetarians and vegans. This is definitely one of the best restaurants in St Augustine.
3. Collage Restaurant
Credit: Collage Restaurant / Facebook
Are you looking for an international menu besides traditional Florida eats? Check out Collage Restaurant. Here, local ingredients mesh with international flavor in an entirely effortless way. This draws in not only the locals but also travelers from all across the world. If you ask me, this is one of the most romantic restaurants in the country. Take your significant other here and sample dishes you won't find just anywhere. Collage Restaurant is one of the best restaurants in St Augustine.
If you're feeling a little brave, try out the escargot wrapped in puff pastry. Or if you're not, there are options just as delectable you can enjoy. How about some lobster ravioli with a pesto cream sauce or savory grouper crusted in parmesan cheese and brown sugar? Yum. Located just a block from St. George Street in the historic district, Collage Restaurant serves dinner nightly starting at 5:30 p.m.
4. Preserved Restaurant
Credit: Preserved Restaurant / Facebook
Take one step inside this charming eatery and you'll be happy. The natural light and airy interiors make a world of difference when it comes to ambiance. Elevated cuisine is made from local ingredients here and there is a fantastic selection of reserved wines. You'll find Preserved located on the corners of Bridge Street and MLK Boulevard, where it is beautifully kept in the Jefferson House. Did you know that this restaurant was the recipient of the prestigious James Beard Award? Now you know the food has got to be good.
Taking a look at the menu, you will find they serve Sunday brunch, supper, and wine. Since I'm a biased breakfast and lunch fiend, it's no surprise that Sunday brunch is my favorite time to make a visit here. What's good? In a word, everything. Not only are the menu items delectable but the prices are affordable too. And that's something we can all appreciate.
When you go, try out some of the house-made scones and jam to start you off. It's only $5 and it's so savory and filling. I particularly love the mushroom and Gruyere omelet, banana nut French toast, and the eggs, Benedict. Make sure you don't pass up on the delicious, frothy cappuccinos either. There's no doubt about it. Preserved is one of the best restaurants in St Augustine.
5. Catch 27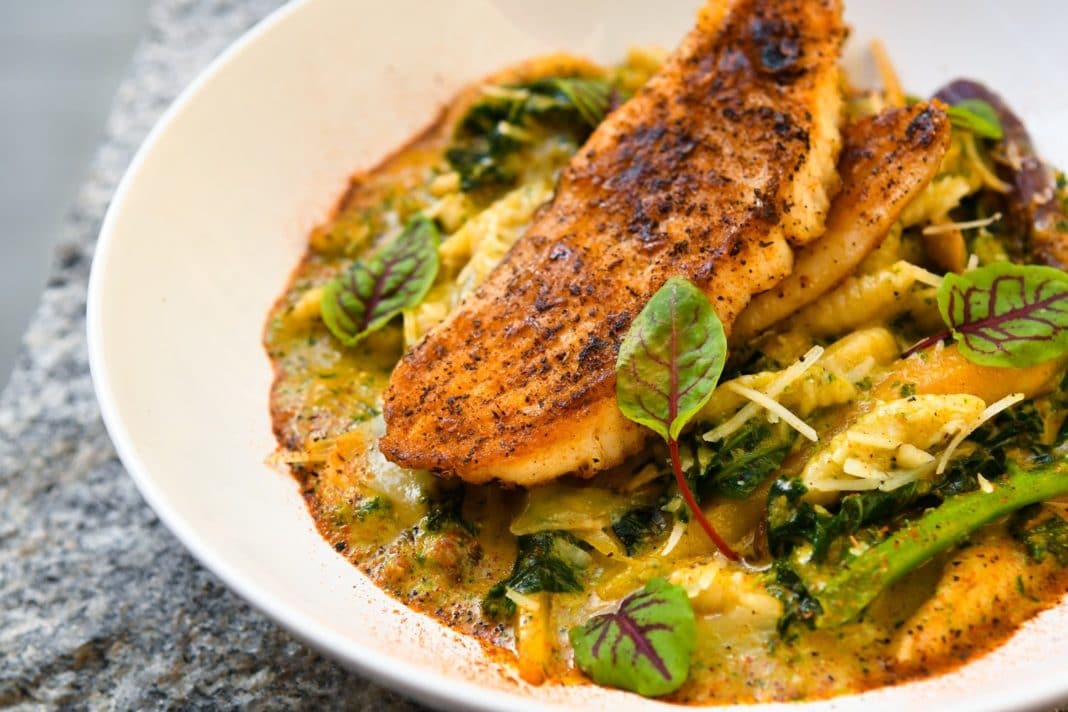 Credit: Catch 27
An elevated eatery serving local seafood and seasonal fare, Catch 27 is another one of the best restaurants in St Augustine. One of my favorite things about this place is how simple and understated the environment is. It's the kind of joint you can roll into with sandy, salty hair when you're hungry and sunburned without getting weird looks. The locals roll with it.
Located right in the heart of the city, you're also within close proximity to all of the major sites. So after you grab a bite and satisfy your hunger cravings, you can walk off the post-food sleepiness sightseeing. I can't think of another way I'd rather spend the afternoon. Preparing locally-sourced,  fresh seafood is their passion and that shines in the delicious flavors pervading the menu.
Fresh catches are delivered every day. Choose from options like shrimp, clams, Snapper, Sheepshead, Mahi-Mahi, and more. And if you're not a seafood fan while you're boyfriend is a fanatic, don't sweat it. There are plenty of options here that travelers of all tastes can enjoy.
6. O' Steen's Restaurant
Credit: O' Steen's Restaurant
You know you have found a good joint when it's a cash-only local favorite. The little quirks make all the difference. And while O'Steen's Restaurant is certainly a hole in the wall find, I cannot recommend it more highly. If you love seafood (particularly shrimp) and everything fried, then this is your Nirvana. Ever since 1965, this little place has been fixing people's hunger and leaving them happy. Their commitment to serving fresh seafood and daily specials accompanied by homestyle sides and quality vegetables has not gone unnoticed.
Over the years, it has become a popular tourist destination – and with good reason. Travelers come from across the globe to get their hands on this kind of seafood. And while some things have changed in this city over the years, one thing remains constant. O'Steen's will forever be one of the best restaurants in St Augustine.
7. Llama Restaurant
Credit: ​Llama Restaurant
Say hello to one of the best restaurants in St Augustine. If you looking for more international flavor, Llama Restaurant offers just that and more. Here, seafood, meat, and veggies are infused with Peruvian flavor, bringing a whole new world of excitement to this quirky Florida town on Anastasia Island. As soon as it opened in 2016, locals knew they found a forever gem. So why should you go? First off, prepare yourself to try some new and unusual dishes.
If you can get past the idea of eating anticucho beef hearts, then you will love it. If not, I can't blame you for wanting to try something on their menu that's a little tamer. The ceviche lima made with white Corvina fish will forever be one of my favorite dishes here. All of the appetizers are impeccable and there are plenty of delectable caramel-heavy desserts to choose from. What more could you ask for?
Book Your Trip and Check off the Best Restaurants in St. Augustine from Your Florida Bucket List
We hope you enjoyed reading our article about the best restaurants in St. Augustine, Florida. As you can see, this city is steeped in a rich cultural history and is teeming with activities. Diving into the culinary scene is one of the best ways to get to know the locals and understand the culture.  Which one of the places on our list would you like to visit the most? Let us know in the comment section below.
Common Questions
Are you interested in learning about more places to visit during your Florida vacation? We've got just the thing. From the most beautiful beaches to fun museums and hole in the wall eateries, you will get in on the local know-how and consequently, all the good stuff in life. Check out these articles below for all the information you need.
Related Article: 7 Best Things to Do in St. Augustine, Florida