Florida is only so wide. Even the most landlocked cities are just a short drive from the beach.
If you're traveling to Orlando, you're probably going to visit at least one of the twelve theme parks that rule the city. But, those can turn into long days in the sun without much to help you cool off. While you're in the Sunshine State, you have to take advantage of the waves. So, we've put together a list of the best beaches near Orlando to day trip to or spend a few days. Whether you're looking for the world-famous Daytona beach or want to spend a few more low key days tucked away, there is a beach for you. From family friendly waves to stellar surfing destinations, the best beaches near Orlando have it all. So, grab your towel, sunscreen, and flip flops and get ready to hit the sand and surf.
1. Daytona Beach
The most essential Orlando Beach to visit is easily Daytona Beach. Whether you want to see the track – or the actual race – of the Daytona 500, you will find that here. There is even a spot you can drive your own car along the beach if you're up for an adventure. If you're in town anytime during May through October, you can catch free summer concerts at the Bandshell pavilion. That being said, Florida is beautiful all year round. You will catch street performers and live music most days in some capacity at Daytona Beach. The crazy amount of things to do and see here easily makes Daytona Beach one of the best beaches near Orlando.
There is a vast amount of hotel, restaurant, and entertainment options while you're here. From arcades to the boardwalk and even the small amusement rides, you can easily take a family here. If you're worried about crowds, we understand. But, it's important to note that there are over ten beachfront parks and twenty miles of sandy to explore. Pair that with all the development around the beach and you will all have space to play. So, for one of the closest and best beaches near Orlando, put Daytona Beach high on your list.
2. Cocoa Beach
We said Daytona Beach was close, but Cocoa Beach is actually closer. Just an hour from downtown Orlando, the short drive alone makes it one of the best beaches near Orlando. It is home to the flagship Ron Jon Surf Shop, so this is well worth a stop for any water sports beach bum in your life. Open twenty-four hours a day with 52,000 square feet to peruse, you can entertain yourself for a while here. If you're just getting into the swing of things, grab a surfing lesson from one of their incredible staffers.
Cocoa Beach has a pier which is quite the party spot, especially around spring break. Take that into account if you're traveling with your family. If you need a space to get away when that time rolls around, head to the nearby Lori Wilson Park. With the clean restrooms, outdoor showers, and free parking here, it is hard for anyone to stay away. You'll still have easy beach access and some shade a little further in. Cocoa Beach is a great choice if you're just trying to make it to the beach for an afternoon. The short drive and gorgeous sand keep it high on our list of the best beaches near Orlando.
3. Clearwater
For a sparkling resort beach on the Gulf of Mexico, check out Clearwater. Voted one of the top ten spots to visit in Florida, you know you're set. It's pristine white soft sand beach beckons for one and all to come and sunbathe on the shores. Palm trees about here and make a great shady spot to rest after a day of parasailing, snorkeling, or swimming in the surf. Once you are beached out for the day, head over to the Clearwater Marine Aquarium for someone of a kind sights. Specifically, the aquarium is home to Winter the Dolphin. Winter is special because she swims with a prosthetic tail and was the star of the movie Dolphin Tale. Clearwater is often referred to as one of the best beaches in America, so it was a no brainer to sit on our list of the best beaches near Orlando. It's a spectacular family friendly destination with plenty of food, lodging, and entertainment.
4. New Smyrna
We would call New Smyrna the locals' beach, but that doesn't disqualify it from being one of the best beaches near Orlando. Just an hour from downtown, this is great for a quick day trip to catch some waves. National Geographic has also named it one of the top twenty surf towns, so you know it has to be good. When you get tired of the waves, if that's even possible, that's alright. There is still plenty to explore at New Smyrna Beach. Seek out the Old Sugar Mill ruins or rent a bike to ride through the surf. With many quaint restaurants nearby, this is a great and easy getaway for two from Orlando.
5. St. Pete Beach
St. Pete Beach will give you a taste of the 20s. The one of a kind Don CeSar Hotel, also known as the Pink Palace, has housed Great Gatsby's F. Scott Fitzgerald, Al Capone, and President Roosevelt. The regal ambiance of the palace sets the mood for St. Pete Beach. The crisp white sands call to all the sunbathers and you can get your sophisticated beach games on with a round of bocce. After a day in the sand, make sure to at least have dinner and drinks at the hotel if you're not staying there.
If you have a four legged friend in tow, Fort de Soto is right nearby. This is one of the best dog beaches near Orlando. In addition, the town of St. Petersburg holds plenty to do when you're all sunned out. The Salvador Dali Museum is here and has the largest collection of his paintings outside of Spain. So, art lovers and jazz age lovers should flock to St. Pete Beach. Its unique atmosphere makes it one of the best beaches near Orlando.
6. Madeira Beach
For a great couples or young families destination, one of the best beaches near Orlando will be Madeira Beach. You can simply lounge in the sun all day long or go for a ride on a sailboat or jetski. If you enjoy looking at wildlife, late summer is turtle mating season and they will be out and about. But, all year round is a variety of beautiful local birds that call Madeira Beach home. The beach has plenty of restaurants and snack shops at the wooden John's Pass Boardwalk. But, there is also a grocery store and pharmacy within walking distance. So, it's great for an extended stay if you don't want to eat out every meal. For the most laid back family beach spot with stunning sunsets on our list of the best beaches near Orlando, drive over to Madeira Beach.
7. Ponce Inlet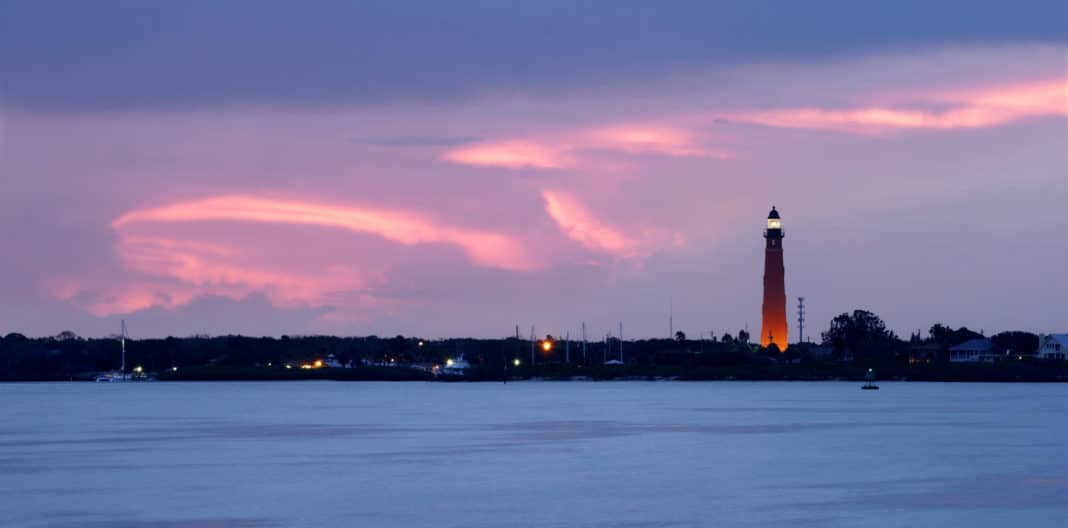 Credit: Jill Bazeley / Flickr
If you made it to Daytona Beach and realized it's a bit busy for you, head just south to Ponce Inlet. Home to Florida's tallest working lighthouse, this spectacular sight easily put it on the list of the best beaches near Orlando. If you're in the mood for a workout, head up the 203 steps to the top of the lighthouse for a spectacular view of the ocean and beach. Being 175 feet up will give you a bird's eye view of the sunrise as well. So, keep that in the back of your mind for an early romantic morning.
Ponce Inlet is also home to a delightful marine center with plenty of interactive exhibits for the whole family. It has a few nature trails and observation towers, so the littles can be entertained for quite a while here. That is if they can be pulled away from the sandy beach. By the way, Ponce Inlet has some of the best beach grub near Daytona. It's spectacular food without the crowds or tourists of those other beaches. We would suggest grabbing breakfast at Tim's Corner or Bello Valentino's for some spectacular Italian dishes later in the day. Wherever you end up here, you will quickly see how Ponce Inlet is one of the best beaches near Orlando.
The best beaches near Orlando all have unique styles, but they all are well worth the trip to the coast.
If you've already gotten your fill of southern Florida and the Florida Keys, it's probably about time to head to Orlando. The vast amount of entertainment in the city still won't be able to keep you away from all the nearby beaches. Whether you're a NASCAR fan or just a couple seeking out a warm and romantic getaway, there is a spot for you. The best beaches near Orlando have some of the best all-inclusive resorts, so if you're looking for a stress free vacation then, by all means, head on down today.
Related Article: 11 Beautiful Beaches in Alabama You Never Knew Existed