Craving white sand and warm water? Look no further than these top beaches in Alabama.
When you picture a scenic summer getaway, we'll bet anything the Cotton State didn't cross your mind. However, this often overlooked state has some of the country's best strands to soak up the sun. Since it's not a tourist hot spot, chances are you'll get some of these beaches in Alabama all to yourself. Let's take a trip to the southernmost tip of the state where warm turquoise waters from the Gulf of Mexico lap against the shores.
Furthermore, whether you're taking a road trip or you're an Alabamian looking for an easy weekend getaway, don't forget about these little stretches of paradise. Add these little known beaches to your must-see list on your trip to the south.
Here Are Our Picks for the Most Beautiful Beaches In Alabama
1. Gulf Shores Public Beach
Gulf Shores is one of the most popular destinations among the locals and it's easy to see why. Visitors and locals alike bask in the sun on this six-mile stretch of heaven. In the summer months, cool down and take a dip in the refreshing turquoise waters beckoning you from your comfy spot on your towel.
Don't be one of these tourists that just sits on the beach. The water has never been so inviting and warm. When you're done with your day of sand and saltwater, head over to the beach town of Gulf Shores from some bites and drinks. This charming little town is well-known for its thriving foodie scene. In the fall, it's home to the National Crab Festival.
2. West Beach – Gulf Shores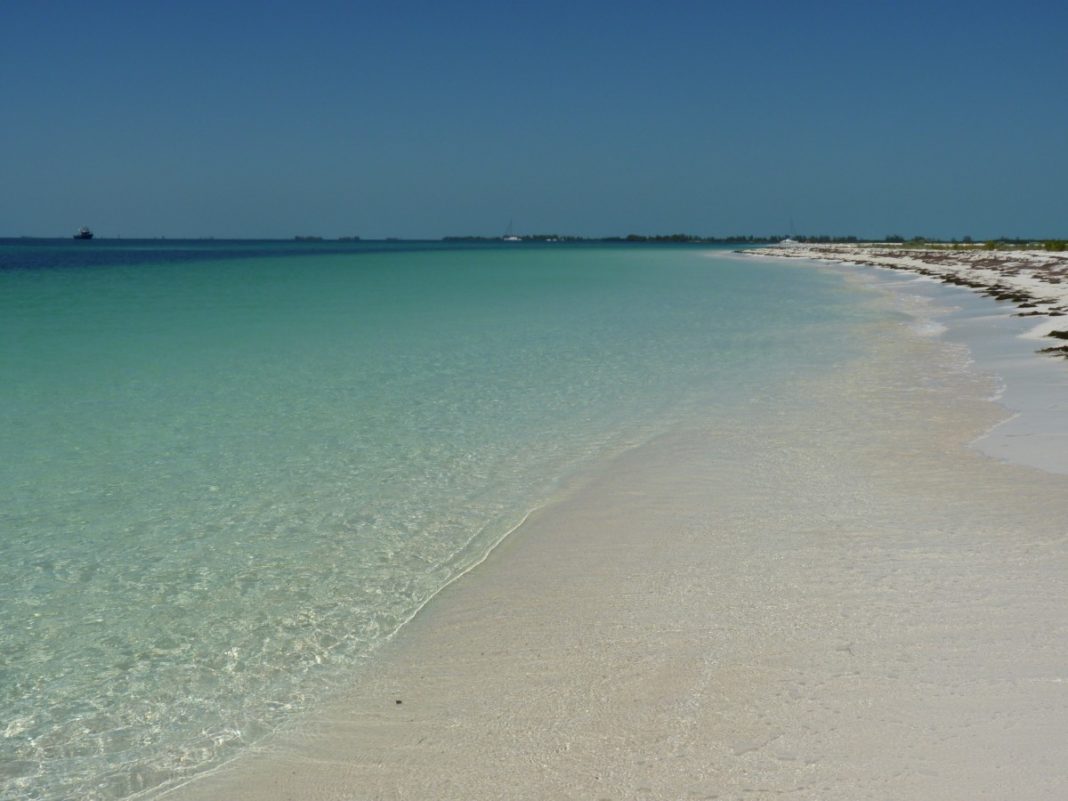 Okay, so we touched on Gulf Shores in the broad sense but now it's time to narrow it down a bit. This is arguably one of the best beaches in Alabama. We mean, come on. Just look at that soft white powder sand. You'll find this haven driving west down Highway 182 from the main Gulf Shores area.
Furthermore, we love that it's more quiet and residential than the main section of Gulf Shores. Stretching for six miles, you'll find it gets quieter the further you go. The road is lined with lovely condos, restaurants, and summer vacation rentals. Drive past them and find a place to park your car. The entire six-mile beach is open to the public. The shores are stunning, the sun is shining, and the waters are warm. What's not to love?
3. Fort Morgan Beach – Gulf Shores
We're not done with the Gulf Shores just yet. Are you looking for a little learning with your leisure? Fort Morgan is a historic 19th-century military base which played a key role in several conflicts. It's the iconic Civil War site famous where the famous phrase "full steam ahead!" was bellowed.
Surrounded on three sides by white sand beaches, there epic views everywhere you turn. Make sure you bring a good travel camera. Walk a ways down the peninsula and the crowds will definitely thin out. It's the perfect spot to post up and enjoy a picnic. Bring everything you need for the day (including a $5 per person fort fee).
4. Dauphin Island Public Beach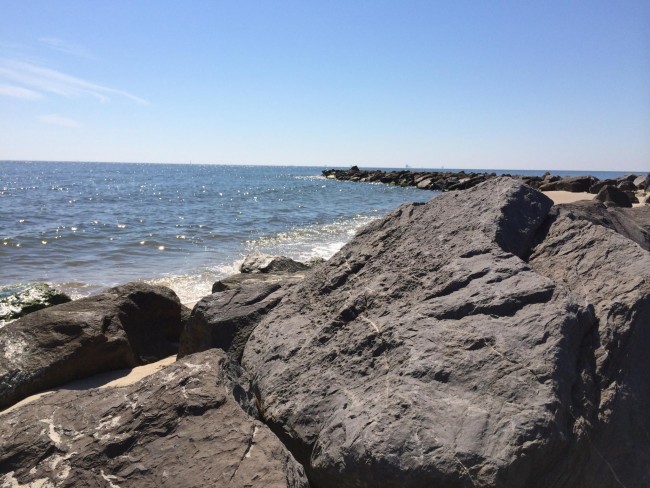 Credit: Andrea Wright/Flickr
Fourteen miles of unspoiled land make Dauphin Island Public Beach a serene escape for travelers. Since it's only accessible by bridge or ferry, you won't find the typical crowds you would at most beaches during the summer. However, when you're ready to book a trip, we know you'll fall in love. It has everything you could want and more. Colorful beach bungalows add a pop of color to the coast, friendly locals invite you in to family-run seafood restaurants, and since it's pet-friendly, you can bring your pup.
5. West End Beach – Dauphin Island
Wow, what a beauty. West End Beach offers all the gorgeous scenery of Dauphin Island with a few extra amenities. There are chair rentals, a picnic area, shower facilities, lifeguards, snack and beverage vendors, and even a water slide for kids! While you'll have to leave Fido at home for this one, you'll still be thrilled to spend a day at this beach. Be sure to post up the entire day. Besides getting a great tan, you're not going to want to miss the spectacular sunset.
6.  Bon Secour National Wildlife Refuge Beach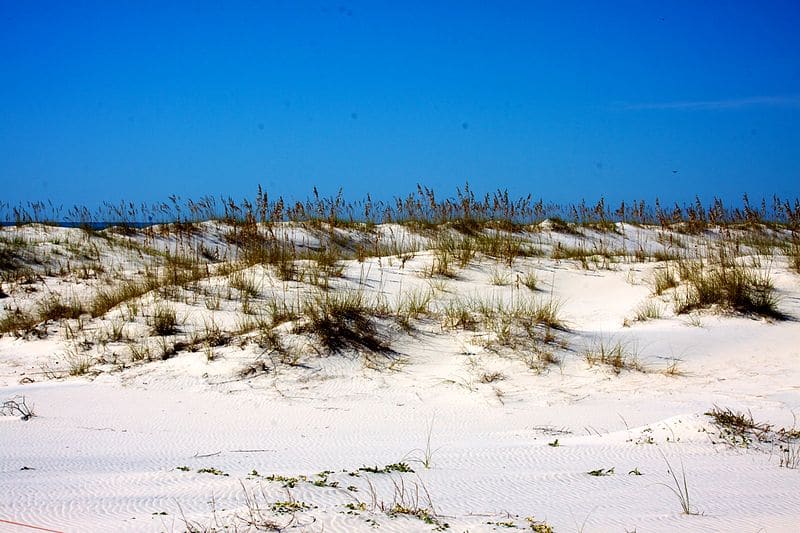 Coming from the French term meaning "safe harbor," Bon Secour National Wildlife is one of the best beaches in Alabama. Offering more than 7,000 acres of wildlife habitat, you'll find countless creatures inhabiting the area as well as gorgeous flora. For many locals and travelers alike, the sand offers a great place to park your beach chair and catch up on some much-needed R&R. So make yourself at home. Just make sure you remember to treat the environment with care. Before anything else, Bon Secour is a home for the indigenous species who grace the sands and forest.
7. Cotton Bayou Beach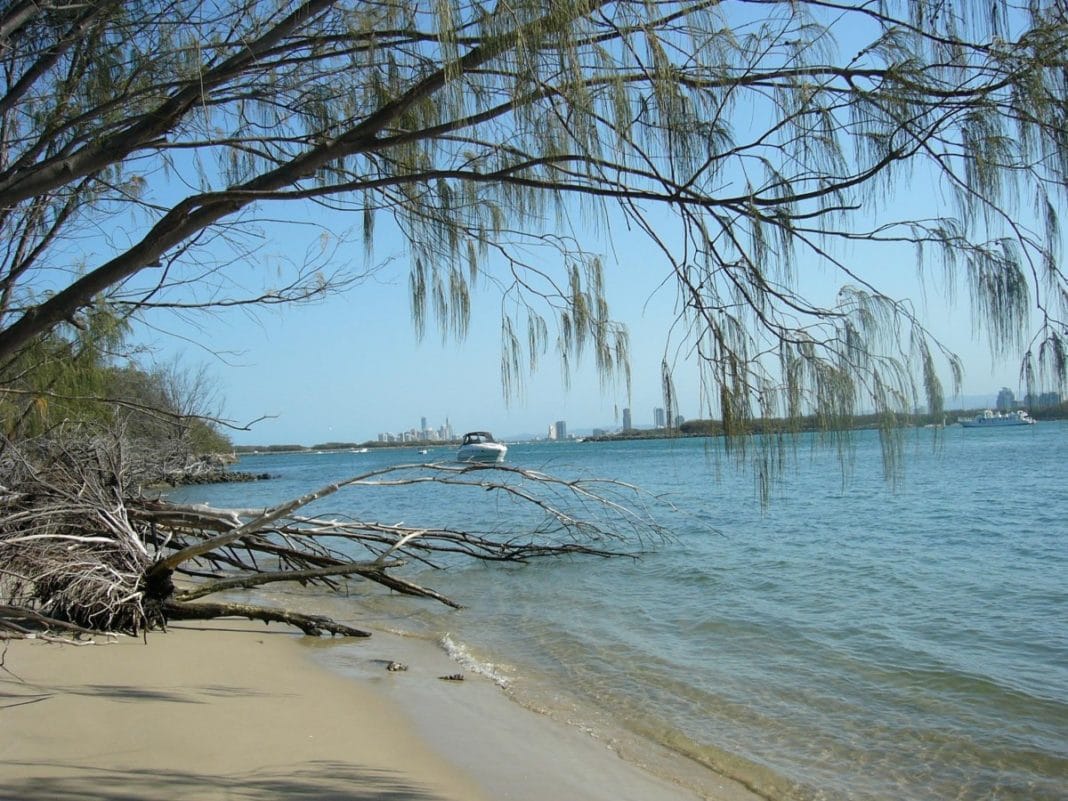 Picture perfect white sands, foamy gentle waves, and chic high-rises dotting the shoreline. Cotton Bayou is the epitome of the quintessential beaches in Alabama. You'll find it located at the intersection of Highways 161 and 182 in the well-developed area of Orange Beach.
It is one of three public beaches where there are plenty of restaurants, shops, and amenities to meet all of your needs. In addition, this easy-access beach is equipped with lifeguards, convenient beach showers, restrooms, and best of all – free parking. It's no wonder than Cotton Bayou is a favorite among tourists and locals alike.
8. Gulf State Park – Gulf Shores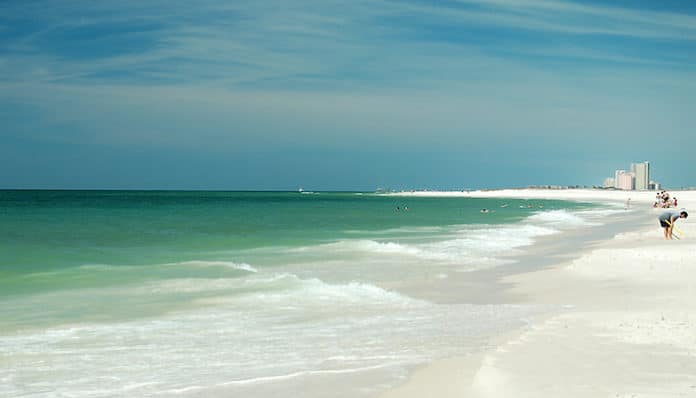 You didn't think we were done with the Gulf Shores yet, did you? Not a chance. There is so much to see here. It really does take some time to cover. But hey, having too many beautiful beaches in Alabama to choose from is never a bad thing.
Gulf State Park is yet another jewel in the Alabama coastal crown. This sprawling 6,000 acre park offers a myriad of activities and adventures. Covering the area between Gulf Shores and Orange Beach, the park offers a vastly diverse series of ecosystems within its bounds and plenty of things to do.
Here, you'll find some 3.5 miles of open beach, freshwater lakes, 15 miles of hiking and biking trails, a nature center, golf club, fishing, zip lines, and more. With this many activities, there really is something for everyone at this state park.
9. Florida Point Beach – Alabama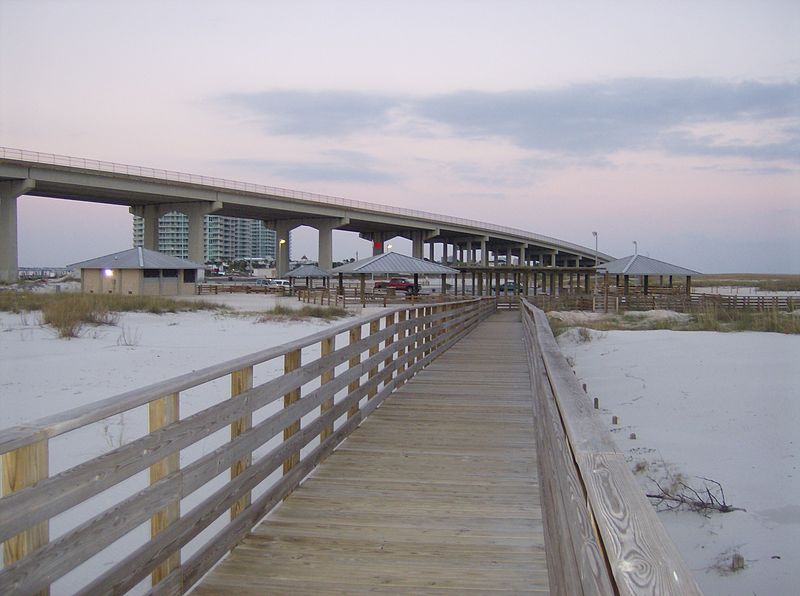 Here's another gorgeous Orange Beach option for your viewing pleasure. You'll find Florida Point Beach (the name is confusing, we know) located off of Perdido Pass. This beach stretches a little over a mile long. Since it's much further out of the way than Cotton Bayou, it also has much less foot traffic. The dunes are complemented well by shaded picnic areas, and a lovely boardwalk (*cue iconic song*).
To get there, turn south under the highway and then east along the Gulf Coast. This is where you'll find the best spots and get the most privacy. Free parking is just another added bonus.
10. Fairhope Municipal Pier, North Beach, and Magnolia Beach Park – Fairhope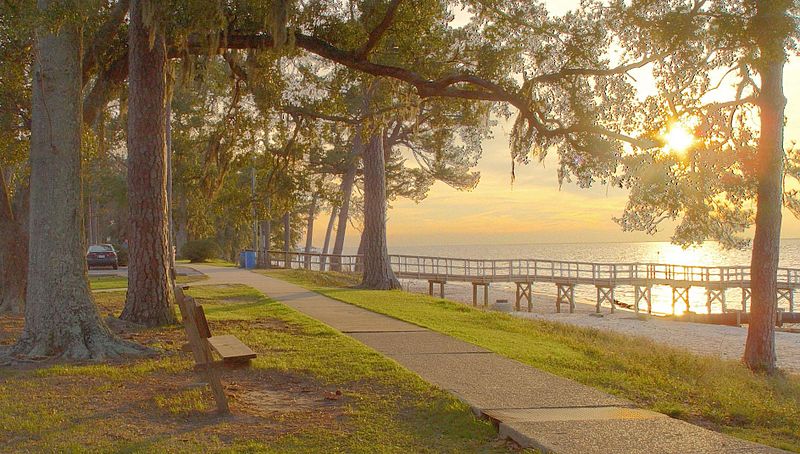 Not everyone needs an over the top beach getaway. We can appreciate that. There's so much beauty to be found in the little things. For a low key beach experience, head off to the town of Fairhope, located north of the Gulf Coast and east of Mobile Bay.
This charming little town of 13,000 residents is an artist's haven, playing a warm and welcoming host to visitors who seek it. Quaint tree lined streets and three quiet, scenic beaches provide all the necessary scenery to complete this picture-perfect little getaway.
11. Orange Beach
If you're looking for a little more action than Fairhope, head on out to Orange. It's definitely one of the best beaches in Alabama. Located right on the Gulf of Mexico, it is home to a slew of world-class hotels and resorts. If you're looking for some things to do, check all the nearby tourist attractions. You'll find Adventure Island, the Orange Beach Golf Center, places for deep sea fishing, and the Alabama Gulf Coast Zoo.
After spending a day at these nearby attractions, unwind under an umbrella on the beach, book in hand. After your visit, there's no doubt you'll be praising Orange as one of the best beaches in Alabama.
Book Your Vacation and Visit the Most Beautiful Beaches In Alabama
We hope you enjoyed reading through our list of the top 11 most beautiful beaches in Alabama. Most travelers don't even think of visiting these strands, but they are definitely missing out. That just means more room for you to enjoy yourself though. Book your vacation today and catch up on your fair share of sun, sand, swim, and surf.
Questions and Comments
Do you have any questions or comments for us? Perhaps you've been to some of the beaches in Alabama before and have a personal favorite. Whatever's on your mind, let us know in the comment section below. We love hearing from you.
Related Article: 10 Beautiful New Orleans Beaches To Visit This Summer