Nature lovers, hop up to the north island and discover all the things to do in Auckland, New Zealand!​​​​
As Auckland makes it way into its spring and summer months, nature lovers listen up: New Zealand's warmest and sunniest city is begging to be explored! Nestled between two major harbors, Auckland brings a touch of urban charm to the northern island. Home to one-third of New Zealand's population, there is plenty of activity throughout the streets of the city, but nature lovers, there is as many fun, inexpensive, and wild outdoor adventures to match it! We believe that with so many things to do in Auckland, in and around the city, you are sure to fall in love.
With so many landscapes and landmarks to explore, we have compiled a list of the 10 things you must do in Auckland. We promise the adventurous spirit of Auckland will permeate your visit and perhaps, nudge you towards a grand, unforeseen experience! Here is our list of the 10 things to do in Auckland for every nature lover!
1. Karioitahi Beach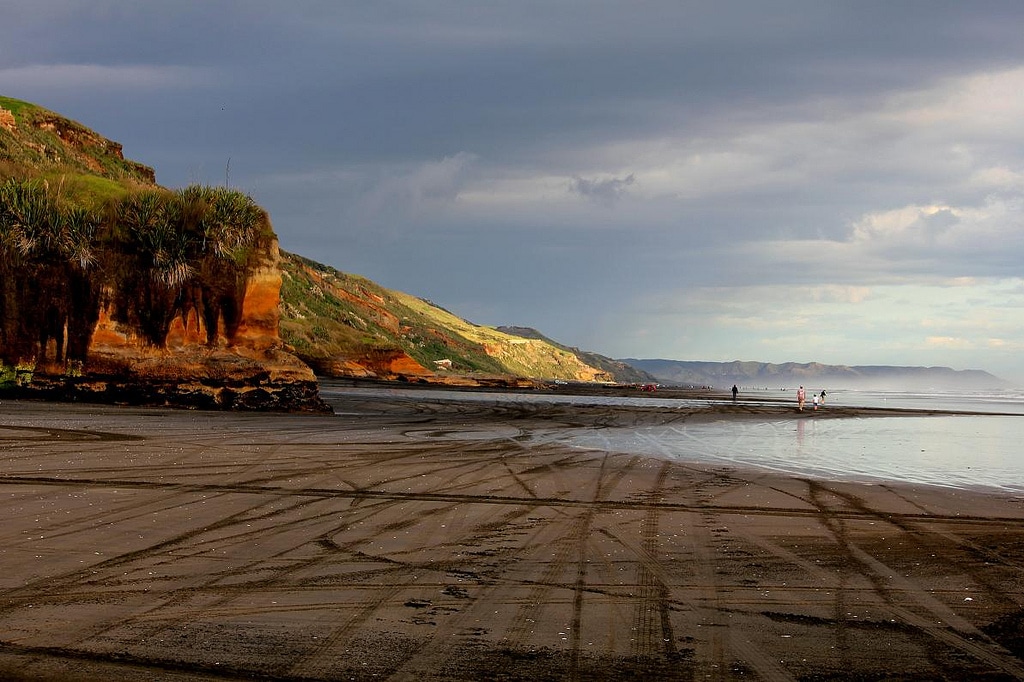 Credit: Auckland Photo News
Nestled between two harbors, Auckland has its fair share of gorgeous, surrounding beaches. The east coast or the west coast: just pick one! An hour from Auckland's center on the west coast, Karioitahi Beach lays waiting for you! Karioitahi is one of Auckland's many black sand beaches hosting beach activities from surfing and fishing to paragliding and New Zealand's famous "blokarting." (Yes it is just as crazy as it sounds! Think go-kart meets windsurfing.) Want to relax on the beach like a local? Bring a picnic lunch, lay out your blanket on the long stretch of dark sand, and enjoy the fresh ocean air and stunning views at Karioitahi Beach. It is sure to be one of your favorite things to do in Auckland.
2. Mount Eden
Nature lovers, Mount Eden is a must-see attraction in the city of Auckland! The city and the surrounding area of Auckland are dotted with volcanos. Sitting 643 feet above sea level, Mount Eden is the highest mainland volcano in the area and provides its guests a view of the city and the Waitemata Harbour and beyond. Guests can cycle or climb through three large craters landing at Mount Eden's summit. Visitors will feel enriched by the mountain's history, passing through the former Māori settlement or joining a guided walking tour with a Ngati Whatua tribe member for a small fee. This spot made our to-do list, because of all the things to do in Auckland, we think climbing volcanoes and discovering the history of the island sounds like a sweet combo.
3. Walk Coast to Coast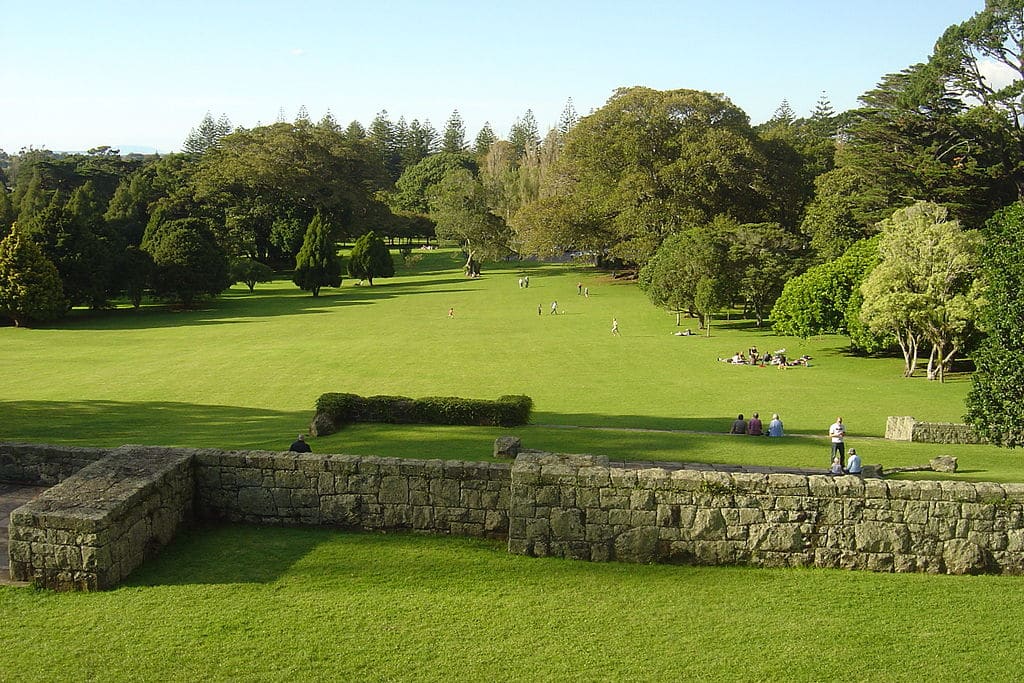 Credit: Follash
When it comes to things to do in Auckland, we believe this one is a unique attraction. The city of Auckland is situated between two harbors which means you can walk from one end of the country to the other in 5 hours. What a cool thing to claim: you walked coast to coast! Take the afternoon to see all that Auckland has to offer… for free! Just bring your walking shoes. You will pass through city landscapes, city parks, dormant volcanos, and you may run into a few Auckland locals. We suggest making a stop at Cornwall Park, the "Central Park" of Auckland. This green, inner-city oasis features tall trees and open space. It is a must see along the way.
4. Waiheke Island
History and island landscapes await you at Waiheke! Book ferry tickets in advance to get cheap rates on ferry rides to one of Auckland's most popular surrounding islands. Step off the ferry and make your way to Stony Batter Historic Reserve. You can explore a World War II underground tunnel system and take in the beautiful scenery of Hooks Bay. Dedicated hikers will trek the Matiatia, Owhanake Loop experiencing cliff tops, expansive island views, and solitude. The loop passes three separate bays and keeps its guests close to the wharf for ferry departures! Check "island hopping" off your Auckland to-do list, with an abundance of maritime opportunities this experience rates high amongst all the things to do in Auckland.
5. Auckland Botanic Gardens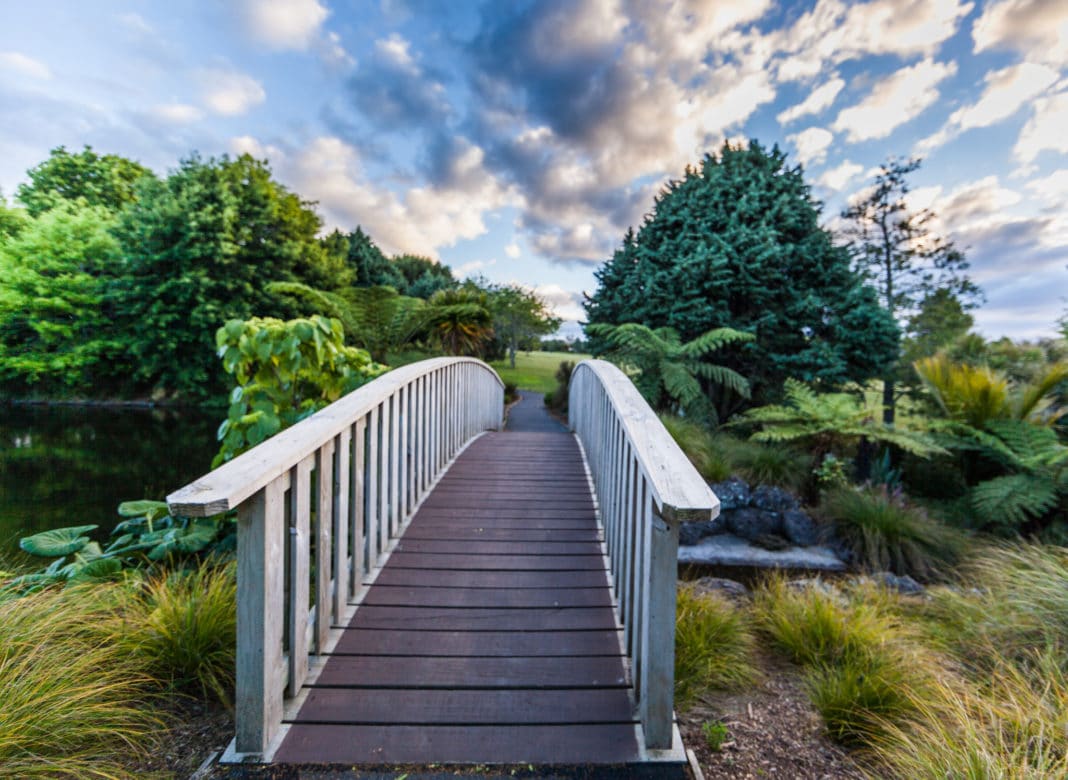 Credit: russellstreet
With so many things to do in Auckland, we think every nature lover will be sure to love Auckland's Botanic Gardens. As Auckland moves into its spring season, this is a free experience you should not miss. The Gardens feature over 10,000 plants from around the world in 23 different gardens. You can get some inspiration from the Organic Edible Garden or experience the wild atmosphere of the New Zealand forest. Be sure to catch a free guided tour of the Gardens, happening every Wednesday afternoon.
6. Music in Parks
Music in Parks features free outdoor, summer concerts perfect for every nature lover! Grab your blanket and sit in one of Auckland's many beautiful city parks listening to the sounds of local artists. There is a sound for every concertgoer — Jazz, Rock, Hip-Hop, Dub, Pop, and Opera — any of which you may hear floating across the lawn. There is an abundance of things to do in Auckland, especially outdoors, and we think this is the perfect way to end a day of adventure!
7. Movies in Parks
Prefer movies to music? Auckland Council has you covered. In Music-in-Parks-style, the city plays fan favorites across the city in Auckland's parks. Grab your picnic and your popcorn and enjoy a movie under the stars. We think this is a perfect, free nighttime attraction for any nature lover.
8. Visit a Waterfall
Credit: russellstreet
Lucky you, nature lover! When it comes to Auckland's waterfalls, just take your pick! A 20-minute hike takes you to Kitekite Falls, a three-tiered waterfall surrounded by forest. A quick walk with a rewarding destination. Or venture to Mokora Falls! Mokora Falls provides its guests with rivers, a swinging bridge, swimming pools, native fauna, and of course a waterfall that we think will make you "oooh" and "ahhhh." For the dedicated nature lovers, pay a visit to Fairy Falls. A set of stairs will take you through dense, native forest from the lower falls to the upper falls. Reward yourself with a quick swim at the base of the falls! When you're deciding your adventure of the day, considering all the things to do in Auckland, this should be at the top of your list.
9. Manukau Heads Lighthouse
Take a drive down the Awhitu Peninsula to visit Manukau Heads Lighthouse. Locals will say the journey down the coastline is as delightful as the destination (a local favorite considering to things to do in Auckland). Take in vast outlooks and spot a rare Maui dolphin in the lighthouse balcony. Look out over the water just as the lightkeeper has done for the past 140 years! Admission to the lighthouse is free and the grounds surrounding provide guests with an ideal picnic spot! Stop at Awhitu Regional Park on the way home and take in the ocean air on one of Auckland's white-sand beaches.
10. Visit Goat Island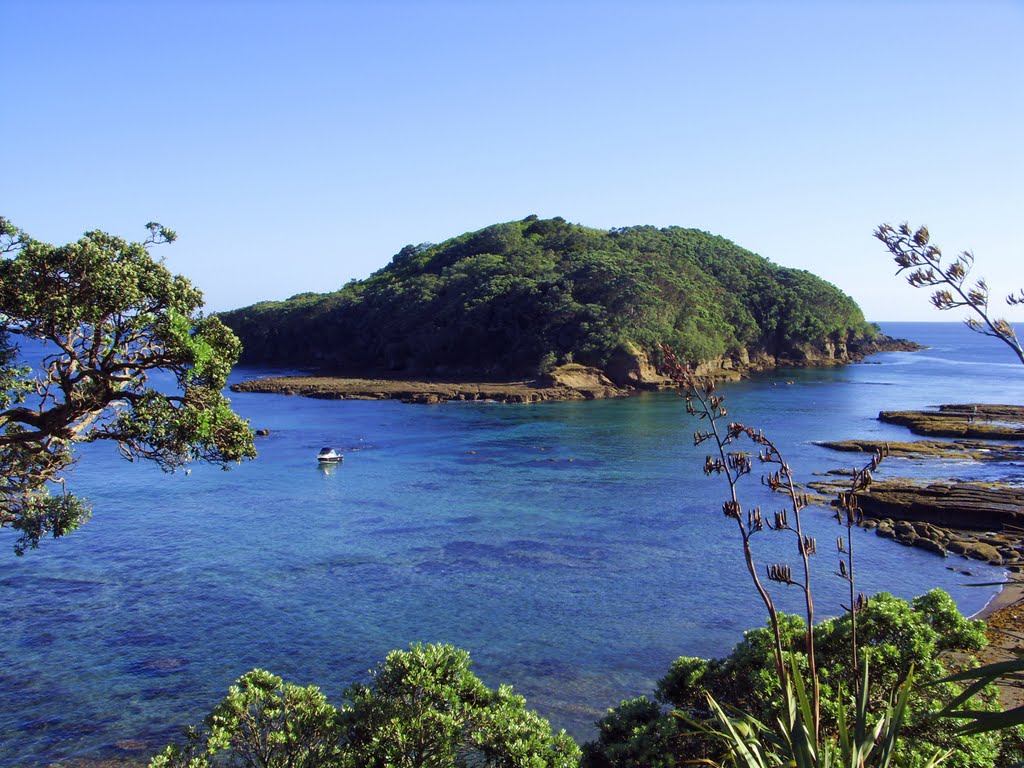 Credit: Korkut Tas
Last, but certainly not least, our last stop on our list of things to do in Auckland! Pay a visit to New Zealand's first marine reserve! Animal and nature lovers alike will find adventure snorkeling with snappers or discovering octopus and sea urchins in small rock pools. One hour guided tours with Auckland's marine experts are provided for a small fee. Don't fear, nature lovers, the stunning ocean views are absolutely free.
Nature Lovers Just Wanna Have Fun
They say some of the best things in life are free and in this case, we agree. I mean why wouldn't we? Stunning ocean views, three-tiered waterfalls, volcanic craters, and wildly green lawns with towering trees are just a few of the outdoor gems we can find in Auckland, New Zealand. We propose you grab your walking shoes and pack a picnic and venture to one of these stellar locales! Nature lovers, we believe you will enjoy the natural beauty of creation handed to us entirely for free!
Did we miss one of the best, free, spots any nature lover would fawn over? Let us know in the comments below! We may have our next adventure on our hands.
Related Article: ​10 Best Winter Vacations: Inspiration For Your Next Getaway​​​