Learn where to find the best coffee in San Francisco so you never have to drink a bad cup o' joe again.
You know the old phrase: "an apple a day keeps the doctor away." Though that may have been true when we were kids, I'm convinced a daily (and delicious) cup of coffee is what we need in our adult lives to keep us going. Sometimes, it's the only thing that can get us out of bed. And let's face it, there's nothing worse than starting your day with a weak, poorly brewed cup. At that rate, you may as well just forgo the caffeine altogether. But let's be real… that's never going to happen. Life is too short to drink bad coffee. That's why every California girl (and guy) should start their day right with the best coffee in San Francisco.
Forget about Starbucks or that $1.00 cup from 7-Eleven. You need a cup of coffee that has been carefully brewed and hand poured to perfection. Take note of where to find the best coffee in San Francisco so you never have to start your day with a bad brew again.
1. Pinhole Coffee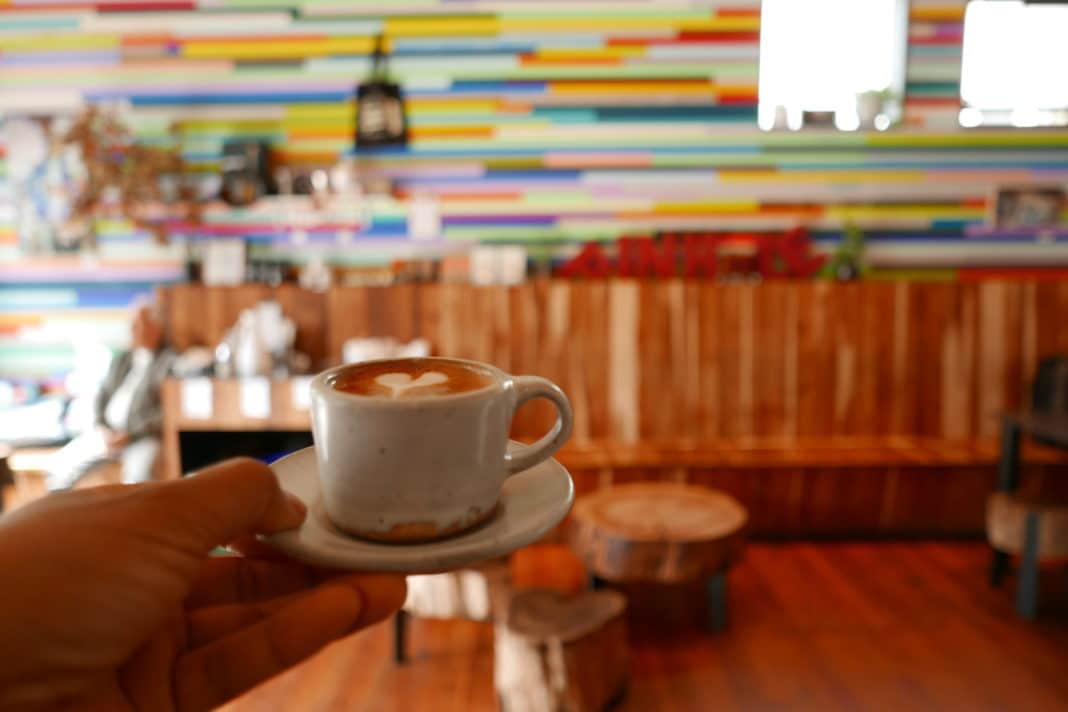 Credit: Pinhole Coffee
Coffee, art, and conversation are the three pillars of this Bernal Heights shop. Pinhole Coffee has a funky, welcoming vibe and serves some of the best coffee in San Francisco. It's also easily one of the most Instagram-worthy coffee shops in all of Northern California. The shelves in the cozy shop are stacked with books on design, photography, art, as well as novels and magazines. The furniture is one-of-a-kind (you'll know what we mean once you see their heart shaped chairs!) and the staff is friendly and knowledgable. The walls are adorned with vintage cameras, polaroids, and coffee mugs. The decor is thoughtfully crafted to inspire conversation and to make Pinhole a comfortable place for anyone to relax in.
The coffee is delicious, the latte art is stellar, and the pastries are to die for. Keep in mind that the space is small, so Pinhole may not be the best spot to suggest for a work related meeting. However, the space offers both in and outdoor seating to accommodate all kinds of weather.
In an effort to cultivate a community of coffee-lovers, Pinhole regularly hosts fun events and displays local artists' work on the walls. You can stay up-to-date with the happenings at Pinhole on their Facebook or Instagram pages.
2. Andytown Coffee Roasters
If you like your coffee strong, Andytown Coffee Roasters is the place to go. That's probably because Andytown coffee is some of the best brewed and best coffee in San Francisco. Founded in 2014, the owner Michael McCrory and Lauren Crabbe dreamed of bringing specialty coffee to the Outer Sunset neighborhood. They wanted their coffee shop to "feel like your grandmother's kitchen – clean, cozy, welcoming, and warm." They definitely accomplished this goal. The modern decor rocks a wooden bar and plenty of plants and greenery, adding to the welcoming vibe Andytown emulates.
When Andytown first began, the shop roasted and baked all of their own coffee and pastries on-site. That's why we recommend sticking to a classic black cup of coffee (if you can handle it!) during your visit to Andytown. The beans are freshly ground and hand poured into a delectable brew that makes for some of the best coffee in San Francisco.
Something we love about Andytown is its dedication and support for the surrounding Outer Sunset neighborhood. McCrory and Crabbe are both passionate about creating jobs and using Andytown's success for economic good. If a coffee shop is ran by good people, it's bound to serve some pretty good coffee, too.
If once you finish your cup you find yourself wanting more, don't fret. Andytown also sells its products for you to bring home. Due to popular demand, Andytown now has multiple locations to enjoy.
3. Snowbird Coffee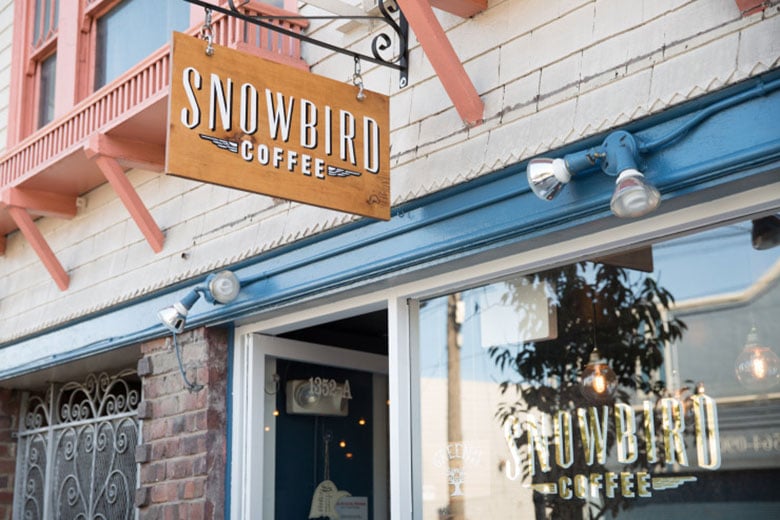 Credit: Snowbird Coffee
If a coffee shop is always packed, it's probably for a good reason. Though we highly recommend you check out this next spot, it may be tough getting a seat as Snowbird Coffee serves some of the best coffee in San Francisco. Nestled on 9th Avenue in the Inner Sunset neighborhood, Snowbird has become a favorite spot among locals. Its wooden decor and soft lighting makes for the perfect place for freelancers and students looking for a workspace, or simply for those looking for a spot to catch up with a friend.
Another perk that has us convinced Snowbird has some of the best coffee in San Francisco is its large menu. There is a wide variety of coffee and tea drinks to choose from. You won't be disappointed if you stick with a basic black cup of joe. But if you find yourself at Snowbird, why not try out one of their most popular drinks? The Spaniard is a sweet Spanish latte served with condensed milk. Everyone who tries it is bound to go back to Snowbird and order it again.
Snowbird is a hidden gem that provides customers an escape from the hustle and bustle of the city. Keep in mind that the tables are small, so this may not be the best coffee shop for large groups. But if you're looking to get some of the best coffee in San Francisco, Snowbird is a safe bet.
4. Equator Coffees & Teas
In 1995, three women set out to open a coffee shop that thrived on three basic values: quality, sustainability, and social responsibility. Thus, Equator Coffees & Teas was born. Since then founders Brooke McDonnell, Helen Russell, and Maureen McHugh have opened seven cafes, have 500 wholesale accounts, and was named the "National Small Business of the Year" by the U.S. Small Business Administration in 2016. All this being said, you just know that the best coffee in San Francisco is found at an Equator shop.
Equator has a wide range of single origin and fair trade blends that pack the perfect caffeine punch in every cup. You won't be disappointed by a classic latte or mocha. Plus, if you're vegan or dairy-free, Equator has a wide range of non-dairy milk to choose from. If you're looking to shake up your order, however, we suggest trying out the Shakerato: espresso, cream, a little sugar, and ice shaken up into frothy perfection. It's the best drink for a hot day in the the Bay area.
Taste alone isn't the only reason we think Equator serves some of the best coffee in San Francisco. It's their mission that inspires us. Equator is transparent in all their global efforts to "improve quality of life and food security in coffee regions." Go to Equator for a cup of coffee and you're bound to leave with a good story to share.
5. Dynamo Donut + Coffee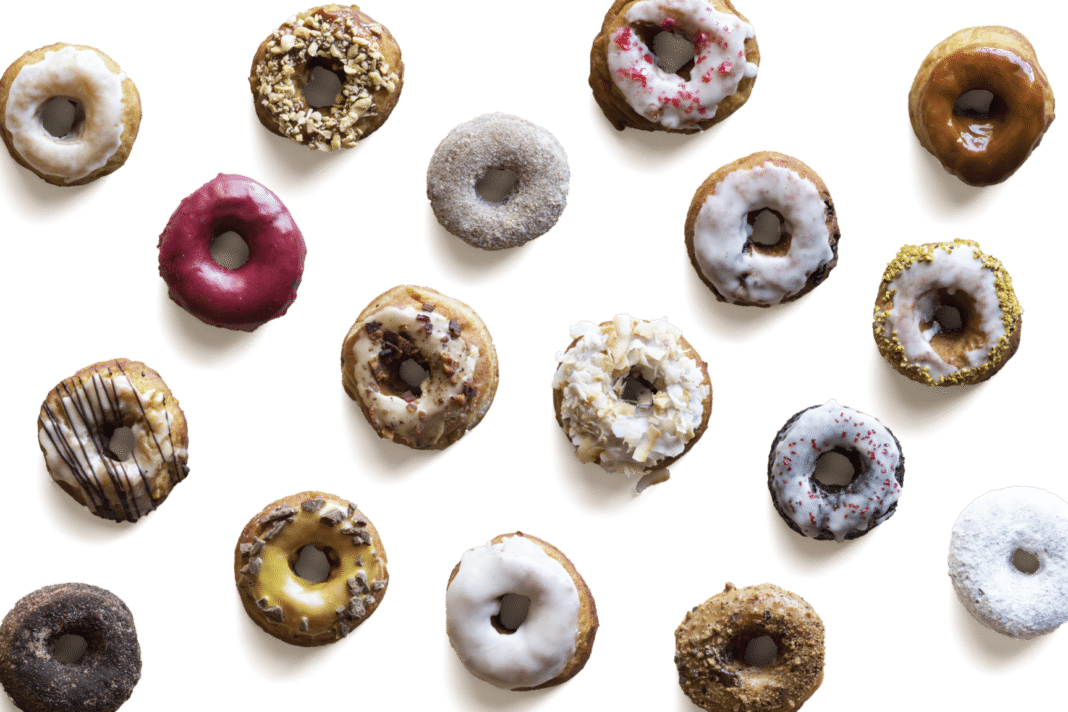 Credit: Dynamo Donut
Coffee and donuts? It doesn't get much better than that. Especially when it's some of the best donuts and the best coffee in San Francisco. Dynamo Donut + Coffee has been serving up San Fran's Mission neighborhood since 2008. The donuts are almost as beautiful as the shop itself. Inspired by midcentury aesthetic, the design has wood stains, minimalist features, an open kitchen, back patio, garden and a sidewalk "coffee counter" for those passing by to enjoy.
The donuts, however, are another story. Dynamo uses season, local, organic ingredients to craft light and fluffy donuts in an array of unique flavors. Everyday flavors that you'll always find at Dynamo include Maple Bacon Apple, Spiced Chocolate, and the flavor that started it all, Vanilla Bean. Dynamo also caters to the folks out there who can't eat gluten. Gluten-free flavors include Zucchini Oat, Lemon Cranberry, and Pumpkin Chocolate (yum!) As if that wasn't enough, Dynamo also rotates out seasonal flavors to give their customers something to look forward around every corner of the year! If you're in San Francisco now, do yourself a favor and get a Caramel Apple Peanut donut, one of the November flavors.
Dynamo's fanbase has gotten so big that the company is now spread all across the city. Stay up to date with new brews and flavors on the Dynamo website. Now what are you waiting for? Go treat yourself!
6. Orson's Belly
Cinephiles are sure to love this one. Located in Outer Richmond, Orson's Belly is dedicated to serving the best coffee in San Francisco in an "environment which promotes art and film." This beloved coffee shop tirelessly promotes the arts, from regularly hosting screening events to hanging local art all along its walls. Orson's feels less like a coffee shop and more like a neighborhood living room. The moment you walk in, you'll feel embraced by the airy, plant filled aesthetic and friendly staff. The tables are a comfortable place to set up your work for the day. Not only can you get some of the best coffee in San Francisco at Orson's, you'll also have a new go-to spot to settle in and be productive.
On top of serving delicious coffee, Orson's serves up great food. The breakfast and lunch menu is Turkish-inspired with a wide range of options. Start your day with chia seed pudding or a "leige waffle" (AKA a belgium waffle with pearl sugar, fresh fruit, and chocolate sauce.) For lunch, consider the hand-smashed avocado sandwich or the gravlox. After 5 p.m. Orson's invites guests to join them for "aperitif" at the vermouth bar. That's right: Orson's isn't just a coffee shop. Come evening, it turns into one of the best cocktail and wine bars around town.
Orson's is regularly hosting social events that are worth checking out. Treat yourself to fine art, delicious food, and the best coffee in San Francisco by spending an afternoon at Orson's.
7. Ritual Coffee Roasters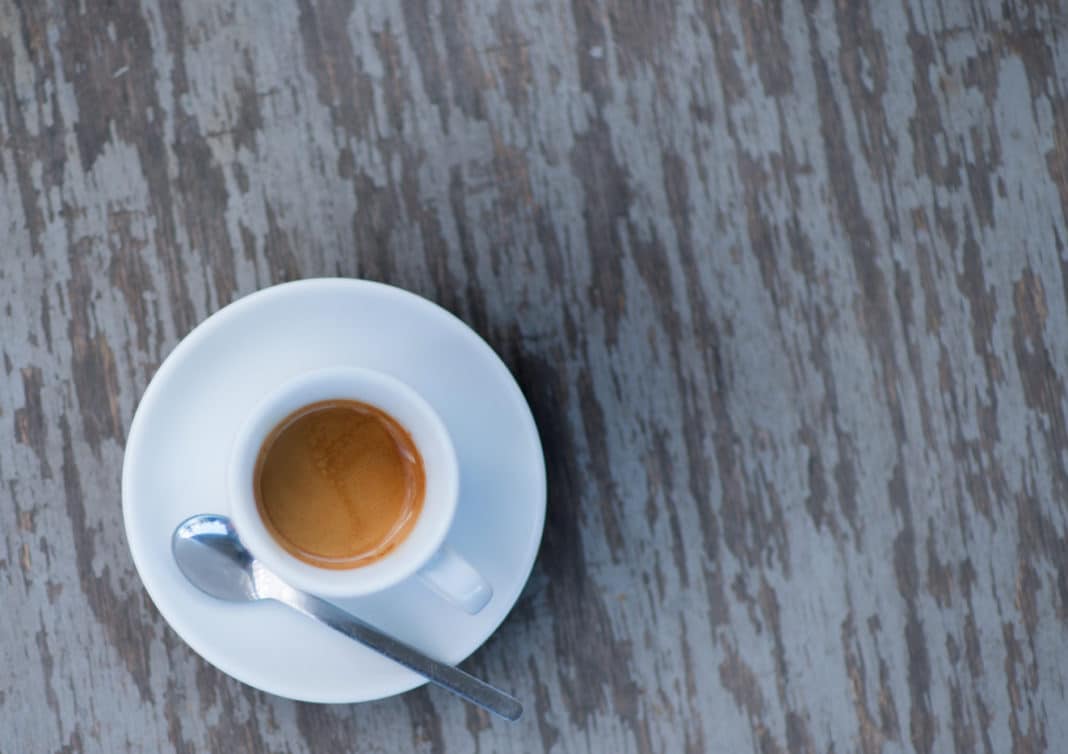 Credit: Ritual Coffee Roasters
What started out as a pop-up shop has turned into one of the most popular places for San Francisco locals to get their coffee. Rituals Coffee Roasters opened its doors on Valencia Street in 2005 and started "what some call a coffee revolution" in the Bay area. The company's mission has been the same from the start: to brew the best cup of coffee available to anyone, anywhere. Rituals doesn't rush the coffee-making process. They take their time to ensure every bean is roasted to perfection and that every cup is poured exactly to the customer's liking. That's why we believe Rituals is home to some of the best coffee in San Francisco.
The coffee may seem a bit on the pricey side, but that's only because when you go to Rituals, you're drinking the best. Because Rituals is committed to being a place for everyone to enjoy, they have plenty of gluten-free and vegan options to choose from amongst their homemade pastry selection. What we love most about Rituals, however, is how knowledgable the baristas are. It's clear everyone who works there is as passionate about coffee as the Rituals founders are. If you're at a loss of what to order, simply ask what's best. Tell the baristas what you like and they're sure to point you in the right direction – and tack on some background information about the roast you're about to drink.
To spread their knowledge and the coffee love, Rituals often hosts coffee tastings and cuppings at their Hayes location. If you can't get enough of Rituals, you can also purchase their coffee to bring home. Visit the website for more information on brews and locations.
8. Cumaica Coffee
Cumaica Coffee can be summed up in one simple mission statement: "heritage brewed into each and every cup." Since 1993, the founders have been serving the best coffee in San Francisco to the bay area by staying connected to their Nicaraguan roots. Cumaica continues to work with plantations throughout Nicaragua to source the purest most delectable coffee to their customers. The menu is easy to navigate with all the staples: espresso, americano, macchiato, etc. Don't let the simplicity of the orders fool you, however. Each cup and every order is freshly made and is sure to happily carry you through the rest of your day.
Cumaica isn't interested in watering down your cold brew or over-sweetening your latte to the point where you can't even taste the roast. After visiting Cumaica, you'll appreciate quality coffee and where it can from in a completely different way. It's also worth it to pair your Cumaica coffee with a homemade pastry or croissant. Freshly made every day, the Quinoa Banana Bread and Blueberry Soy Muffins are unlike any other.
Overall, Cumaica has an authentic and down-to-earth vibe that is easy to relax in. Cuamica now has four retail stores and a roasting plant in San Francisco . Their expansion is a part of their efforts to spread the love for coffee that they were raised on.
9. Martha & Bros Coffee Company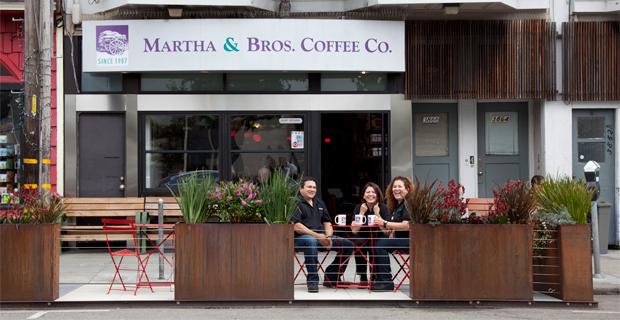 Credit: Martha & Bros Coffee Company
There are Martha & Bros coffee shops scattered all across the Bay area, and for good reason. Martha & Bros serves some of the best coffee in San Francisco, hands down. Founded in 1987 by Martha and her siblings, this coffee shop is a welcoming San Fran staple that will never let you down. The shop has continued on with its family-first values through its friendly, polite, and welcoming staff. A trip to Martha & Bros is always guaranteed to be an easy, pleasant experience.
Though the menu is simple, it's always delicious. The Dutch Crunch bread is crumbly treat that goes well with any drink. The food menu also offers a variety of breakfast burritos, bagels, a wide assortment of cream cheeses, smoothies, and sandwiches. Overall, Martha & Bros has a mom-and-pop feel that you can't go wrong with. This is a great place to go for a quiet morning with the family or to hunker down for an afternoon of work or studying.
Not only is Martha & Bros dedicated to serving you quality coffee in their shops, they want to make sure you're brewing delicious cups at home! All of their coffee is available to purchase. Visit their website to learn more.
10. Caffe Trieste
There are a lot of great Italian restaurants in the Bay area, and Caffe Trieste is one of them. Caffe Treiste has been serving up the North Beach area of San Francisco for over 50 years. This authentic, Italian cafe is home to some of the best coffee in San Francisco – and without a doubt the best espresso you'll find in the Bay Area. Nestled between Chinatown and Little Italy, this retro shop is always bustling with customers eager to order their americano and freshly baked croissant.
If you need help navigating the menu, however, we've got you covered. The cappuccino is strong but smooth and pairs perfectly with their not-too-sweet homemade biscotti. The no-frills lattes are steamed perfectly and make a nice add-on to an order of Baklava. Finally, because this is Little Italy and all, you can also order a slice of Italian pizza when visit Caffee Trieste. What's not to love about this place?
Caffe Trieste is a coffee shop with a community feel. It regularly hosts music shows and other entertainment events for the guests to enjoy. In fact, Caffe Trieste Saturday Concert is the longest-running show in the city of San Francisco. Visit their website for more information.
11. Farley's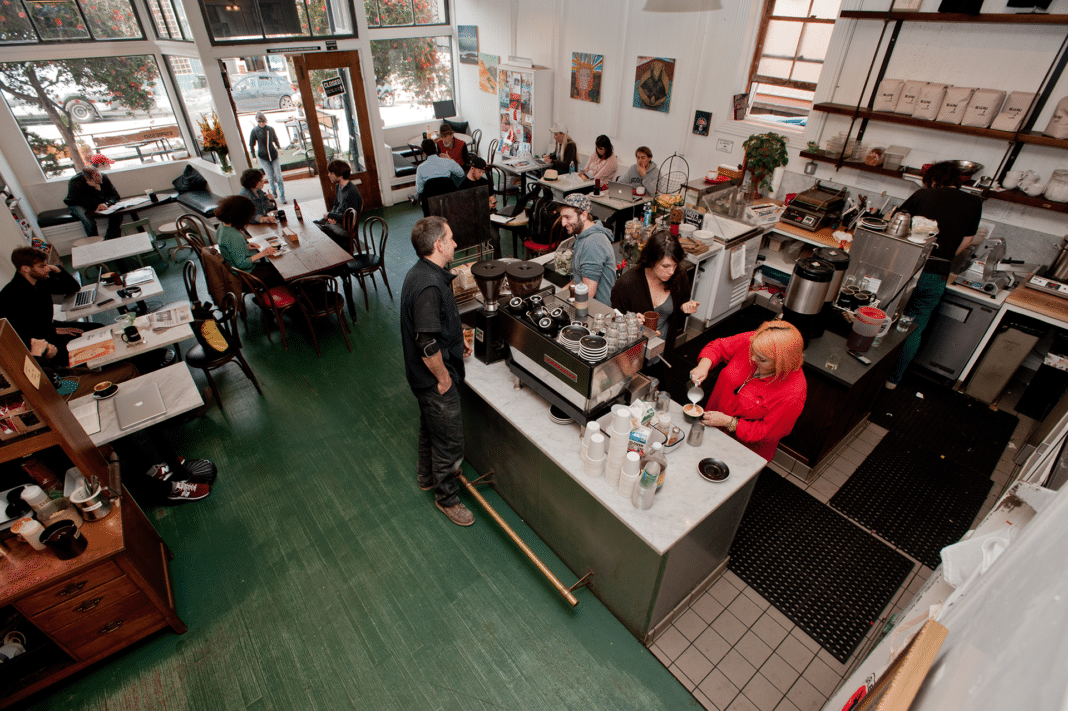 Credit: Farley's
Welcome to Farley's, the capital of Hipsterville. If you're of the artistic type, you'll feel right at home the moment you step on the green-wooden floors and take in the paintings lined on the walls. Farley's is a hub for freelancers and remote workers looking to set up shop with their laptops for the day, and it's easy to see why. Farley's serves some of the best coffee in San Francisco, hands down. They also have a funky menu with a variety of unique coffee drinks. For example, you may want to pair your Golden Milk Latte with oat milk with Coconut Milk Chia Pudding. Or a Matcha Soy Latte. Or a good ol' batch brew. You can't go wrong with anything you order at Farley's.
Though Farley's does serve some food, it's mostly small snacks. Because this coffee shop has such a casual, open-arms vibe, they allow customers to grab a sandwich at Hazel's Kitchen next door. It's this laid-back, genuine atmosphere that makes Farley's a favorite coffee shop among locals. In addition to being a great workspace, this is one of the best coffee shops in San Francisco for friends to hang out in. The shop has a collection of board games to pull out, as well as plenty of books and magazines to flip through.
Farley's also has a variety of teas on the menu to offer the non-coffee drinkers out there. No matter what you order, an afternoon at Farley's is bound to be enjoyable. Visit their website to learn more.
12. Flywheel Coffee Roasters
As you can see by now, San Francisco has its fair share of hipster coffee shops, and Flywheel Coffee Roasters definitely meets those standards. Located just across from Golden Gate Park, Flywheel is a go-to spot for a good cup of coffee. The interior of the coffee shop – which was made mostly from reclaimed wood and repurposed materials – is warm, spacious, yet cozy. The dim and natural lighting sets the mood for an ideal afternoon drinking a cup of coffee. Flywheel has a very mellow vibe, and most of its customers are on their laptops or reading a book.
Flywheel strives to go beyond the standards of a "corporate cookie-cutter coffee shop." Therefore you won't find yourself drinking a melted down cold brew or a watery espresso. Flywheel prides itself in handcrafting every order to perfection. Everything from their batch brew to their lattes are packed with earthly, flavorful tastes. Flywheel also has some of the best coffee cake you will ever taste in your life. Put that together with a freshly made cappuccino and you'll be in coffee heaven.
Flywheel is a great place to have some of the best coffee in San Francisco. Learn more about their coffee and ways to brew the perfect cup at home by visiting their website.
Take a trip to the Bay area and drink some of the best coffee of your life.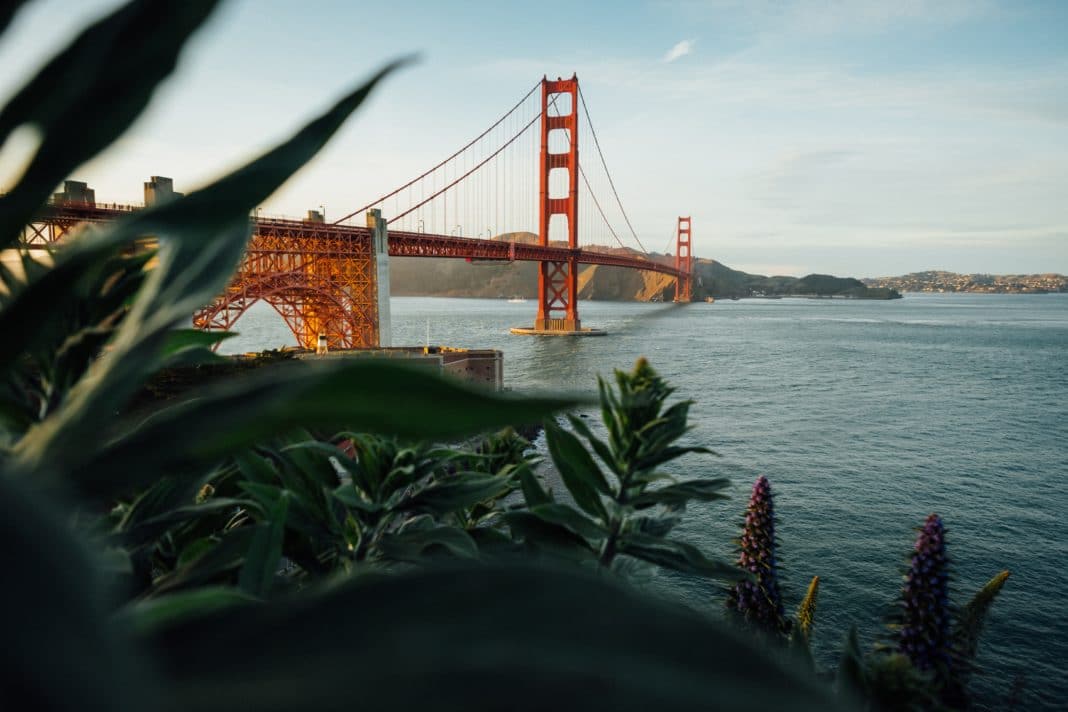 San Francisco is full of activity and fun things to do. Next time you find yourself there, make sure to explore its rich coffee culture. Sure, you could opt to stick with Starbucks or attempt to brew a decent cup with your French press at home. But when the best coffee in San Francisco is just around the corner, why wouldn't you go get your hands on it?
Related Article: These 11 Shops Offer the Best Coffee in Portland