Las Vegas Knows How to Do Buffets. This Is Why We Are Sharing with You the Absolute Best Buffets in Vegas.
Las Vegas is more than gambling and drinking. Have you heard about the food? When traveling to Vegas, we hope you come prepared with an appetite. Mouthwatering culinary dishes are found in every corner of the city. From street tacos to prime rib at celebrity chef restaurants, Las Vegas is a paradise for the extreme foodies. With delights from all around the world, there is no better place to enjoy the rich flavor of Las Vegas than at their buffets. Every dollar will be worth it once you taste the scrumptious options served at these top-of-the-line buffets. These buffet spreads happen to be among the best in the country. Come hungry to Las Vegas, and you are sure to leave satisfied. Without further ado, the best buffets in Vegas…
Wicked Spoon Buffet
Located at the Cosmopolitan of Las Vegas, Wicked Spoon Buffet serves well-crafted and flavorful dishes that are sure to satisfy the hungriest of eaters. The atmosphere and design of the buffet is modern, upscale, and beautiful. With a mixture of familiar staples and creative culinary delights, Wicked Spoon Buffet has options upon options to choose from. Salads, Italian food, Asian cuisine, meat, fish, and tasty desserts are all up for grabs at the Cosmopolitan buffet. Pack your plate with all the familiar favorites like homemade, quality pasta with spicy marinara sauce, and all of the multicultural delights as well.
At Wicked Spoon Buffet, be sure to save room for dessert. The dessert bar is one of our favorite parts of the buffet. Macaroons, chocolate tart, strawberry cheesecake (and many other cakes to choose from), and gelato can all be found here. As far as the gelato is concerned, you must test each of the creative flavors offered. White chocolate coffee, balsamic strawberry, Nutella, mango passion gelato and more are all waiting for your arrival at Wicked Spoon Buffet.
Paris Le Village Buffet
Be teleported to a charming French village when you step into this Las Vegas buffet. Le Village Buffet is necessary to put on this list of the best buffets in Vegas for more reasons than one. The décor and layout of the buffet, the steamed mussels, the leek mashed potatoes, the made-to-order crepe station, and the macaroon tower are all among these reasons. Le Village Buffet is divided into five sections – representing the five provinces of France. As you wander through the buffet, scoping out your meal options, you will notice that each province offers different flavor and different décor.
Since we are revealing the best buffets in Vegas, the lines to enter each of these spots can get long. However, unlike other Vegas buffets that fill up so quick you often have trouble finding a seat, we love that Le Village Buffet accepts online reservations through OpenTable. Thank you, Le Village Buffet, you just won yourself some brownie points. No more hustling to beat the rush. Book your reservation to guarantee your spot at this delectable buffet.
Bacchanal Buffet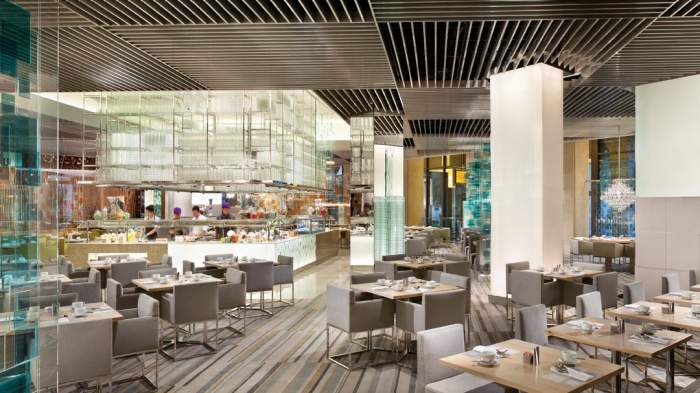 Bacchanal Buffet is located in Caesars Palace Las Vegas. Serving over 500 different dishes, the spread here is absolutely amazing. At 25,000 square feet, the buffet features nine open, interactive kitchens where guests can watch chefs prepare all of their favorite meals. Talk about a lot of food. Talk about a lot of variety. Each kitchen serves its own cuisine, such as Chinese, Mexican, Italian, American, pizza, seafood, soups and sandwiches, and we can't forget the dessert bar. Globally inspired dishes, as well as the staple comfort foods, will have every guest pleased with the options.
There are also plenty of options for guests with dietary restrictions. The gluten-free eaters, the vegetarians, and the vegans will all find delicious meals just for them. With so much food to choose from at Bacchanal Buffet, you will need to arrive hungry. Go back for a second plate, or even a third if you are up for the challenge. There is no shortage of great food and great service at Bacchanal Buffet. Concerning the best buffets in Vegas, Bacchanal certainly has the most options (did you pick up on the 500 different dishes!?).
The Buffet at Wynn
The Buffet at Wynn Las Vegas is a bright space with elegant décor for guests to dine in. Chocolate lovers, hang in there because have a surprise for you… One of the most unique features about the Buffet at Wynn is the huge chocolate fountain. As smooth chocolate waterfalls down from the fountain, dip pieces of fruit, cookies, marshmallows, and more into the chocolate. Everything tastes better with a splash of chocolate, right?
Whereas most buffets are fairly casual, Wynn has stepped up its game to provide guests with a fine-dining buffet experience. At the buffet, guests will find spaghetti and meatballs (made according to Frank Sinatra's very own family recipe), Indian curries, smoked fish, Guinness-braised short ribs, and more.
The Buffet at Bellagio
For 5-star food, come to the Buffet at Bellagio. Simple eaters and adventurous eaters will all find things they enjoy at the buffet. Warm, freshly baked bread, crab legs, pastas, sushi, buffalo, pesto mashed potatoes, shrimp cocktails, Thai chicken, crab avocado toast, mac 'n cheese bowls, and pizza. See? All you could want. All you can eat. It is a steep price to dine at the Buffet at Bellagio, but over and over again travelers claim that the buffet is worth the wait, worth the price, and lives up to the hype. The Bellagio is a fan favorite and certainly among the best buffets in Vegas.
If you are a veggie lover, or are traveling with a veggie lover, the salad bar is extravagant. Create your own salad topped with unique dressings and add-ons. After you finish your meal, journey over to the dessert bar where you will find ripe, seasonal fruit, parfaits, and cakes. Come on a Friday or Saturday night when the Buffet at Bellagio cooks up even more rich flavor and creative dishes with its gourmet menu.
The Buffet at Aria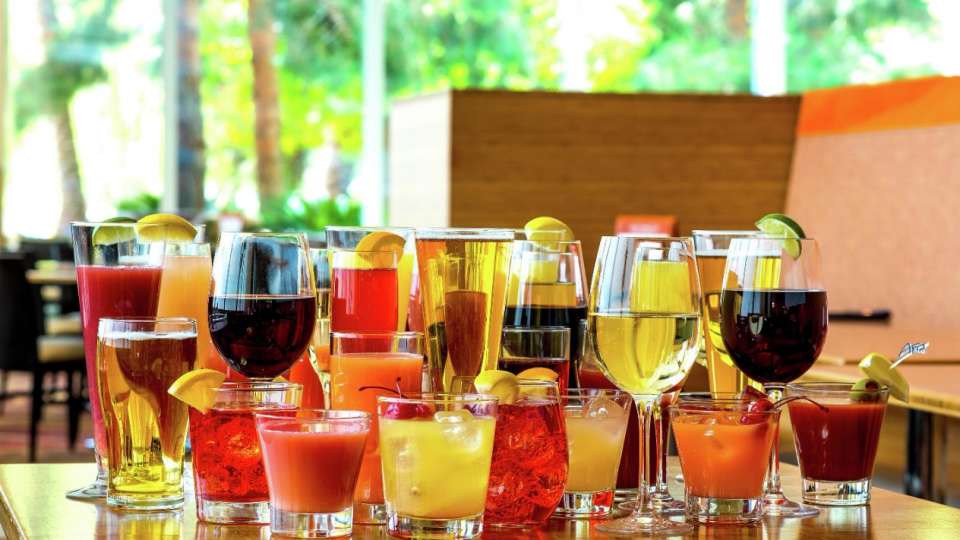 Watch chefs whip up mouthwatering meals right before your eyes at the Aria's live-action stations. The Buffet at Aria features many stations including Mediterranean, Asian, Italian, Mexican, American, Indian, and seafood. Can you say yum? Try some Chana Masala and basmati rice, fresh naan bread, calzones, red velvet stuffed pancakes, and crab legs at the Aria. The quality of food and the friendliness of service at the Buffet at Aria is noteworthy. We especially recommend trying the soups, the fresh naan baked on the spot, and the desserts at the Aria. With cuisine from all around the globe, the final word we will leave you with is Bon Appétit!
Carnival World & Seafood Buffet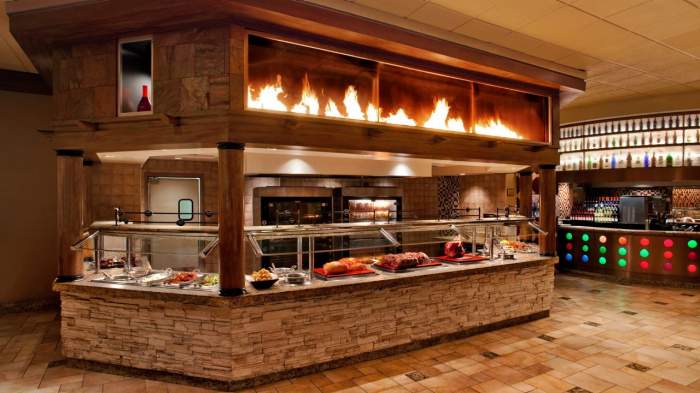 Traveling with kids who are less adventurous when it comes to trying new foods? Check out Carnival World & Seafood Buffet for every American comfort food. There is mac 'n cheese, hamburgers, hot dogs, fries, soups, sandwiches, and pizza that kids are bound to be excited about. Global travelers, don't worry, Carnival World & Seafood has more globally inspired meals as well. Venture to the noodle bar that features a variety of Vietnamese, Chinese, and Thai favorites. There are Mexican staples, Italian delights, and Brazilian dishes to choose from as well at Carnival World & Seafood Buffet. Diners will be "wowing" over every bite they take.
After your main course is when the real celebration begins. The Carnival buffet offers over 70 varieties of cookies, cakes, ice cream, pies, and pastries. We aren't joking. The gelato is also made from scratch on-site, so don't leave without grabbing a bowl of your favorite gelato flavor. The overall ambiance of this buffet is similar to that of a cruise ship. Smiling faces, chatting families, high energy, never-ending food options. This buffet located within Rio All-Suite Hotel & Casino will leave you impressed.
Studio B Buffet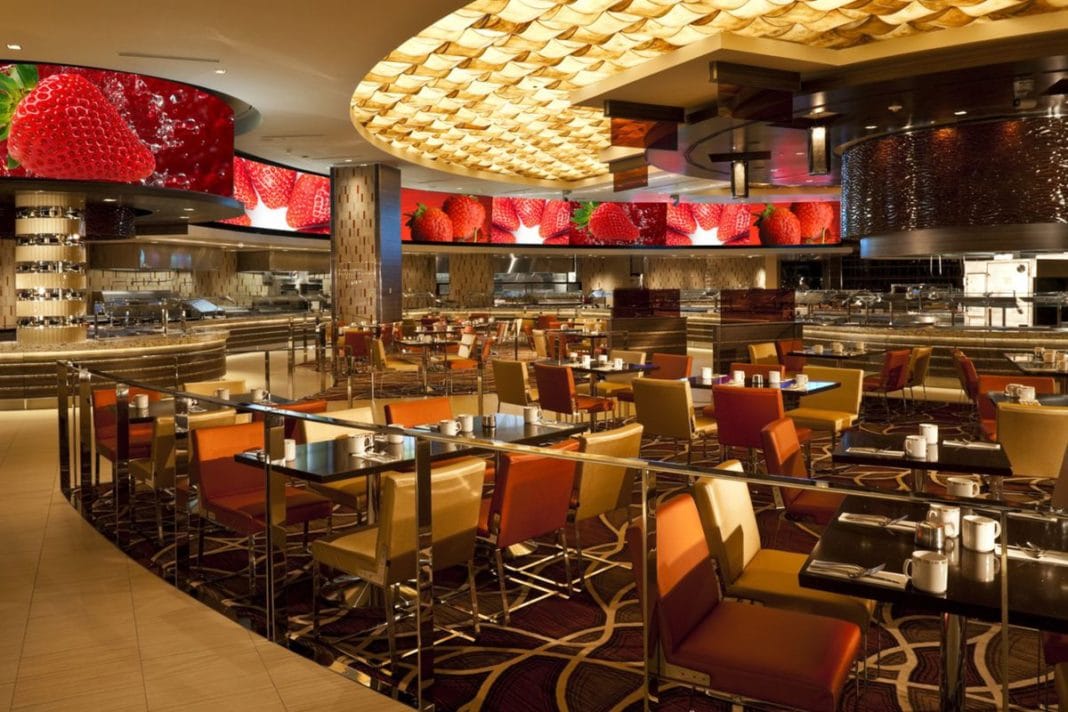 Studio B Buffet is located within the M Resort. The soft lighting and warm brown colors provide a calming and intimate dining experience. Both locals and out-of-towners enjoy Studio B, which says a lot. Our motto when traveling is, "locals always know best," so if locals are dining at Studio B Buffet, then you should too.
Eat Mediterranean delights such as fresh, creamy hummus and stuffed grape leaves. Build your own nachos at the Mexican station. Fill a plate with Chinese delights. Fill another plate with all things potato – mashed, baked, roasted, tater tots, English-style chips, French fries. There is no shortage of food or top-of-the-line service at Studio B Buffet. And like we said, the locals say it's the best buffet in Vegas, so that means it must be the best buffet in Vegas.
Those who have traveled to Las Vegas and have dined at one of these best buffets in Vegas, share your favorite place to eat in the comments section below!