A Cruise on the Silver Shadow Is an Intimate and Elegant Choice
Whereas most cruise ships are massive and house many kid-friendly activities, Silver Shadow is a way more simple, luxurious, and peaceful way to sail. If you are not into the huge 1,000+ passenger cruise ships, you might consider a sail on the Silver Shadow. This 382 passenger ship has many extravagant amenities for couples to enjoy. The ship may be small, but there is no lack of things to do. If you are searching for a honeymoon or anniversary cruise, then the Silver Shadow may be the romantic option for you.
Why Silver Shadow?
Credit: Silver Sea
With attentive service, endless ocean views, fine wine, gourmet food, comfortable suites, and many amenities, a cruise on the Silver Shadow make the ideal romantic getaway. The Silver Shadow also ventures to neat places including routes from Singapore to Sydney, Auckland to Sydney, Singapore to Hong Kong, Tokyo to Anchorage, and more. With interesting itineraries and fantastic suites, we cannot wait to share more about the Silver Shadow cruise ship. There is afternoon tea, great entertainment, and a nearly 1-to-1 staff-to-guest ratio, meaning passengers receive personalized service while onboard. For even more key features and benefits, let's get into our Silver Shadow cruise review.
Features & Benefits
Suites
Credit: Silver Sea
The Vista Suite is the most standard room option on the cruise ship. At 287 square feet, this quiet refuge may be the smallest room, but this suite provides plenty of space for passengers to rest and enjoy ocean views. The Vista Suite comes with either twin beds or a queen size bed, a walk-in wardrobe, a sitting area, a television, and a large window for guests to take in the view of the sea.
The Terrace Suite showcases elegant décor with many of the same amenities are the Vista Suite. However, it adds floor-to-ceiling glass doors which open to a shared veranda. The Veranda Suite is slightly more spacious at 345 square feet and offers a private veranda attached to the suite. This suite also comes with the option of either twin beds or a queen size bed. All three of these suites offer one hour complimentary WiFi access per guest/per day.
At 521 square feet, the Medallion Suite has a living room, dining area, and veranda with patio furniture. A stay in this suite comes with free WiFi and chocolates waiting for you upon arrival. The benefits increase as the suites become more spacious and more luxurious. The Silver Suite adds to your stay complimentary laundry service and more square footage. The Royal Suite comes in either a one-bedroom or two-bedroom option and has ample space to unwind and relax. A stay in this suite comes with dinner for two in Le Champagne and two hours of worldwide phone use from your suite.
The Grant Suite takes it a notch higher creating your very own "home" at sea. There is a private veranda, a living room, dining area, marble bathrooms, a one-bedroom or two-bedroom configuration, and many other amenities. Finally, the Owner's Suite is the peak of luxury, space, and comfort on the Silver Shadow cruise ship.
Dining
Credit: Silver Sea
The food served on the Silver Shadow is authentic, flavorful, and beautifully presented to guests. The dining options onboard the ship include La Terrazza, The Grill, La Dame by Relais & Châteaus. La Terrazza is where passengers can find ample Italian food. Italy's very best is served here. Pasta cooked to perfection, fresh mozzarella, olive oil and bread, fine wine, and plenty more are found at La Terrazza. At this restaurant, there is open seating for breakfast and lunch. Reservations are required for dinner. When you've had your fix of pasta and bread at La Terrazza, how about stopping by The Grill? Fresh food abounds here. From salads to sautéed vegetables to build your own burgers, The Grill has everything typically found in a grill restaurant. Also, the dress code is casual at The Grill, so guests won't need to get all dolled up to dine here.
The place where you will have to get all dolled up is La Dame by Relais & Châteaux. This wine restaurant is eager for you to taste from their wine selection and enjoy the world's best flavors. The Restaurant is the main dining room onboard the Silver Shadow. Unlike other cruise ships that assign guests to table and dinner times, the Silver Shadow provides guests with flexibility. At The Restaurant, you are able to eat whenever, wherever, and with whomever you would like. That means there are no assigned times or tables in this Silver Shadow dining room.
Amenities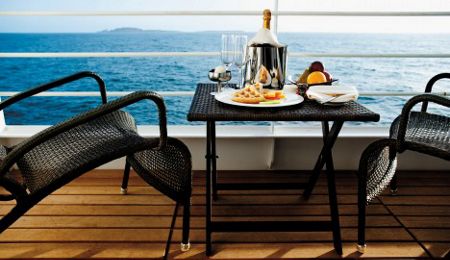 Credit: Silver Sea
There is the fitness center with all the equipment you could need for a productive workout. There are complimentary group fitness classes offered including yoga, Pilates, and aerobics. Aboard the Silver Shadow, there is a beauty salon for guests to get their nails painted and hair styled. For massages and facials, Zagara Spa will be the oasis at sea you're looking for. When the sun's heat is beating down on you and you're in need of a refreshing dip in the pool, dive on in. By the pool, you can also sit in the sun to catch some rays or sit in the shade to cool off. Snacks and drinks are available poolside too.
For guests over 18 years old, head to the casino for a game of blackjack or roulette. There is also a library where guests can check out a book to read during their vacation. For complimentary cocktails and live music, Dolce Vita is the place the be.When afternoon approaches, don't miss out on afternoon tea at the Panorama Lounge. The Silver Shadow also has a Card Room/Conference Room where the ship holds bridge games and tournaments on most days, so come show off your skills.
As you can see, this cruise ship has very high-end amenities. There are few kids activities, other than the pool. The Silver Shadow is definitely geared towards adult travelers; however, children are always welcome too!
Entertainment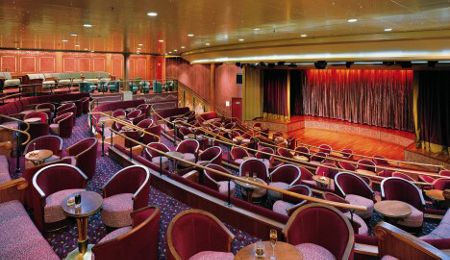 Credit: Silver Sea
The Silver Shadow has a Show Lounge where guests are invited to enjoy a live performance. There are cultural productions, feature films, musical performances, and lectures that take place at this stage. Whether you want to laugh, learn, or be amazed by talented musical artists, the Show Lounge is the place to be on the Silver Shadow that has all things entertainment.
What People Are Saying About Silver Shadow
Travelers who have set sail on the Silver Shadow have noted their love for the interesting itinerary options and the neat ports along the way. They also appreciate the attentive staff and spacious accommodations. However, some noted that the staff handling the shore excursions were unknowledgeable. The excursions were found to be very disappointing for most guests. Many travelers also noted that the Silver Shadow is not the best cruise ship for families with young kids. This is simply because of the lack of kid-focused activities. Travelers found it hard to keep children engaged and entertained and therefore only recommend the Silver Shadow for adults traveling without kids.
Alternative Cruise Ships
Oceania Marina
The Oceania Marina has formal dining options, exquisite cuisine, a peaceful pool deck, and a host of entertainment options. For travelers who enjoy the sophistication of the Silver Shadow, but want something a tad more modern in design, then Oceania Marina is a great alternative for you. It also holds nearly four times the number of passengers.
Disney Fantasy
If you are looking for a more family-friendly cruise ship that has countless activities for kids, then a Disney cruise ship will fit you better than the Silver Shadow. One popular Disney cruise ship is the Disney Fantasy. There are pools, a mini-golf course, Disney musical productions, Disney character meet ups, waterslides, and so much more onboard this ship.
Allure of the Seas
The Allure of the Seas is a ship from the Royal Caribbean fleet. For a happy balance between adult activates and kids activities, check out the Allure of the Seas. It is more family-focused than the Silver Shadow, should that be something you are interested in.
Sail Away on the Silver Shadow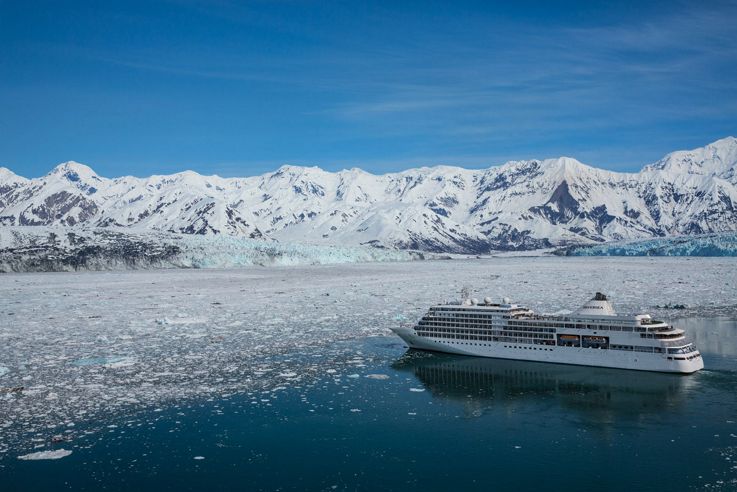 Credit: Silver Sea
If large cruise ships aren't your thing, then maybe this small Silver Shadow cruise ship is the one for you. This cruise ship is extravagant in its own way. On this ship, there are no waterslides or basketball courts. Instead, there is a library, a casino, a rejuvenating spa, and live music. Silver Shadow is certainly a romantic ship that best suits honeymooners and couples celebrating their anniversary. Maybe you and a few other couples have been searching for a cruise to go on together. If that is the case, then the Silver Shadow may be the perfect space for you! Plus, the places you will get to see, including Singapore, Sydney, Hong Kong, and more make this cruise ship even more unique. When everyone else is cruising around the Caribbean, come cruise to new and exciting destinations onboard the Silver Shadow.
Have you set sail on the Silver Shadow before? If so, share about your experience in the comments section below!
Related Article: ​Oceania Marina Review: Cruise Around the World in Luxury!​​​