Harmony of the Seas has all the frills and thrills!
They say the journey is as important as the destination. In this case, we agree. When we think of a family-friendly cruise ship, some things come to mind. We're thinking tasty, food, thrilling rides, dangerously, exciting entertainment: all of which can be found on the Harmony of the Seas. We think that the Harmony may just be your next cruise adventure.
A Little About Harmony of the Seas
Credit: elisfkc
Royal Caribbean newest ship here! Replacing its predecessor, the Allure of the Sea, the Harmony is not only the cruise line's biggest ship, but the world's biggest ship as well. This cruise ship has one thing in mind: activity. This ship is not large by accident. There are activities and entertainment packed into every nook and cranny on board. The vessel is grouped into neighborhoods. These neighborhoods help guests find their next activity. This design encourages guests to find their favorite areas and reduce traffic on board. Variety and personalization are key on the Harmony of the Seas. Now, take a look at our review! We think you will like what you see.
Harmony of the Seas Features & Benefits
Staterooms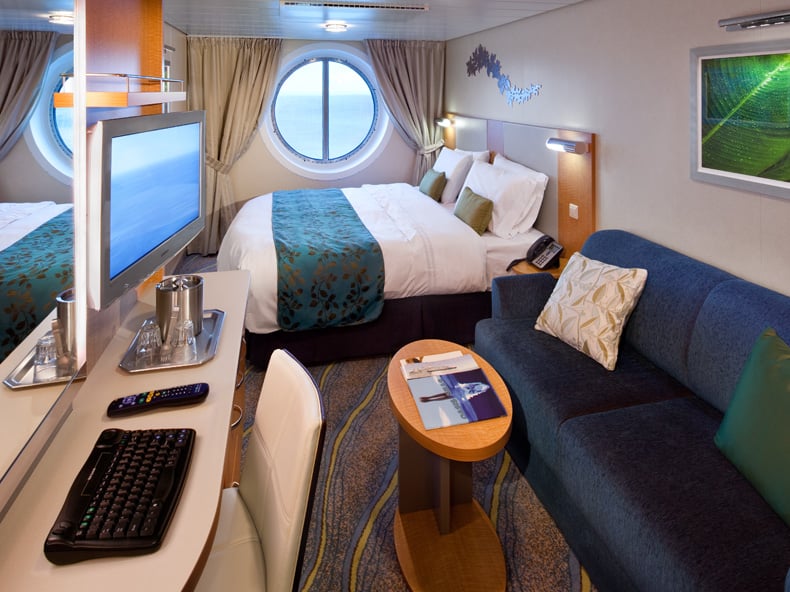 Credit: Royal Caribbean Blog
On the Harmony, guests will flow into staterooms of ocean hues. Compact and comfortable, each room offers plenty of storage space! A majority of the staterooms have two twin beds that convert to a "Royal King" bed, easily customizable for all guests. Each room offers a private bath, complete with shower, toilet and vanity sink.
When it comes to staterooms on the Harmony ship, there are several options to customize your experience. Each room can be made baby friendly or decked out for a couples retreat. Traveling with extended family? Select staterooms offer connecting doors to accommodate large traveling families. Of course, certain accessible staterooms offer comfortable space for those that require special accommodations.
For those guests that do not plan to spend much time in their stateroom, the Interior room would be a perfect match. The Interior and Ocean View are the cruise line's most basic staterooms. The Ocean View staterooms offer rooms with ocean views as well as views of the Boardwalk, Promenade, and Central Park locations on the vessel. Comparably, the Balcony staterooms offer slightly larger cabin sizes, but in this case, with verandahs overlooking the water. Chairs for relaxing sit on the verandah for relaxation. Lastly, the Harmony offers guests the option for Royal Suite Class. These spacious luxury suites offer plenty of room for relaxing with family and friends, and not to mention, plenty of exclusive amenities. Suite guests can enjoy dinner at the Coastal Kitchen, complimentary bottled water and luxury bath products, as well as cozy robes and comfy pillow-topped mattresses.
Dining
Credit: Cruise Radio
Harmony of the Seas offers 18 different dining options onboard. Variety is key when it comes to dining on a Harmony cruise. Those with dietary needs as well as those simply with selective taste will find something suitable for their needs and their taste. Restaurants fall under two categories onboard: free and fee. Free dining options are those included in the purchase of your cruise. Fee dining options function similarly to a restaurant requiring, in most cases, a reservation as well as a bill at the end of the meal.
Elegant Dining
There are several foodie options on board the Harmony of the Seas. First, visit Chef's Table, an intimate formal dining experience for a limited number of guests. You and your closest friends will enjoy a five course meal and wine tasting. Magnificent! Craving Japanese? Visit the "smart, casual" Izumi. Made-to-order sushi, sashimi, and more will wow you with intense flavors and fresh ingredients. Not to mention creative presentation. Next, when it comes to Wonderland, chefs categorize their food into the taste profile of "imaginative." You start your dining experience by answering one question: Sun, ice, fire, sea, or earth? Guests can expect a magical experience.
Casual Dining
Feeling casual? There are plenty of options for casual dining on board Harmony of the Seas. First, let the tastes and Italian way of life whisk you away at Jamie's Italian. Chef Jamie Oliver offers family-style foodies packed with flavor and passion. Next, grab a bite at the casual Park Cafe. Guests can enjoy deli cafe eats like made-to-order salads or freshly prepared sandwiches at this dining option. The Park Cafe serves guests at breakfast and lunch, making it a perfect casual, daytime spot. And of course, after you have worked up a sweat, you can grab a wrap or a smoothie at the Vitality Cafe.
Grab-N-Go Dining
With so much to do on board or on shore, sometimes you just have to grab and go! Stop by Mini Bites to grab sliders, grilled cheese, or another small snack while you take a break in the Pool and Sports Zone on board. Next, snag a burger at Johnny Rockets before your adventure. Sound familiar? This is one of two name brand dining options on board. The other, Sorrento's Pizza. Get a slice of New York-style pizza on your way to the next thrill. Need a late night snack? Sorrento is also open for late-night munchies. Last, devour a hot dog at Dog House. These aren't your everyday franks. Dog House features a topping bar! Make it your own!
Entertainment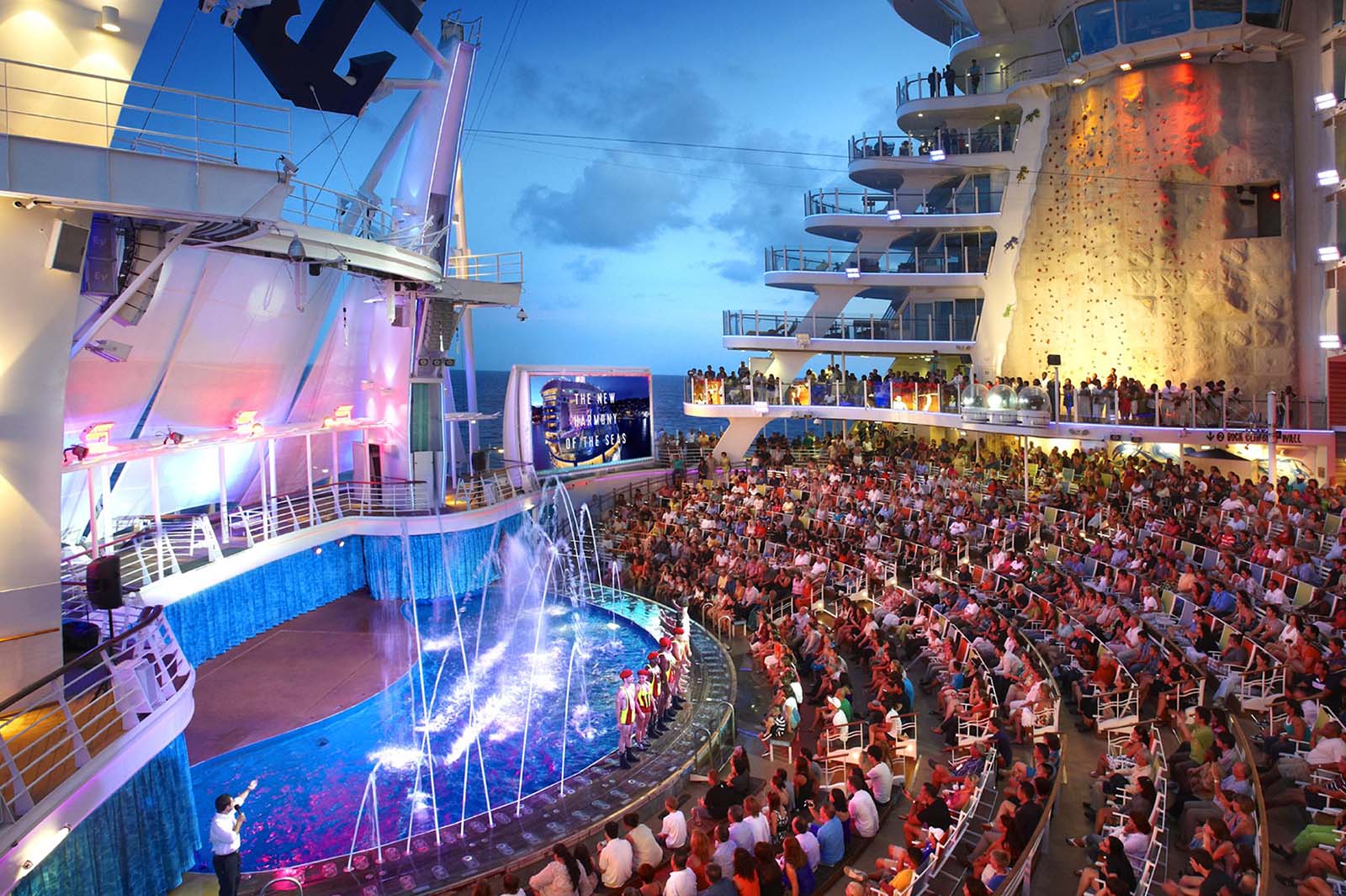 Credit: Royal Caribbean Blog
Thrills, thrills, thrills. That is the name of the game on Harmony of the Seas. Royal Caribbean has redefined on board cruise line adventures. The impossible is made possible on this cruise ship. First, strap on for a ride nine decks high and Zip Line across the Boardwalk. Or grab a surfboard and catch a wave on the FlowRider. A 40-foot-long surf simulator will have you ready waves on shore! Next, twist and turn down one of the three water slides on board. Are you a fan of the popular Escape Room experience? Harmony of the Seas has one of their very own!
Do heights make you nervous? Well, when it comes to The Fine Line, guests can watch extreme-sport athletes push their limits on high-flying stunts and acrobatics. No need to get up there yourself!  Make sure you catch a production of Grease! A popular show on board, you will be swept into a world of poodle skirts and leather, finding yourself whistling Grease Lighting all night.
Amenities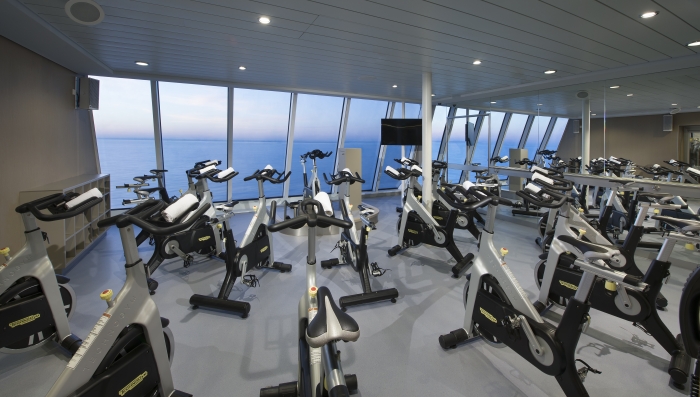 Credit: Royal Caribbean Press Center
A few featured amenities on board prove to make your stay relaxing and enjoyable. Guests can work up a sweat in the Vitality at Seas fitness center. An array of cardio equipment and weight machines fill the space. Of course, Wifi is available on board in varying package sizes. Next, guests can enjoy nightly turndown service as well as a daily stateroom attendant on call. Finally, visit the Pool and Sports deck! Separate pools offer guests various options for different pool needs. A sports court and ping-pong tables provide activity during a pool break! Decks for sun tanning and lounging can be found throughout the ship.
What Travelers Are Saying About Harmony of the Seas
Overall, Harmony of the Seas brings thrills and activity for all on board. Reviewers note that this particular cruise ship is perfect for traveling families. The activities are suitable for children and teenagers. Guests young and old can agree that on board Harmony of the Seas, there is a LOT to do. One reviewer mentioned that the cruise should be longer so everything offered on board could be done! Some Harmony travelers feel that the restaurants can be very busy at mealtime. In the same way, some repeat customers wish that the dining options on board would be changed more frequently.
Alternative Cruise Ships
Disney Dream Cruise
Looking for another family-friendly cruise ship? Take a look at Disney Dream. This cruise ship offers a variety of fun, kid-friendly activities on board. Waterslides, mini golf, and pools are just some of the fun activities on board. In Disney fashion, guests can join in a Pirate Night production or have tea with Cinderella! Overall, the Disney Dream may be suitable for families with younger, Disney-loving children. If that sounds like your family, this may be a perfect alternative!
Allure of the Seas
The Allure of the Seas is another ship in the Royal Caribbean Cruise Line. Before the Harmony of the Seas, the Allure was the cruise line's largest ship. This cruise line offers many of the same activities, amenities, and dining options as the Harmony. We consider Allure of the Seas a near one-for-one alternative.
Serenade of the Seas
Another Royal Caribbean Cruise, the Serenade of the Seas is a mid-size vessel. This ship reaches a wide ranging demographic, from families to older couples. Similar to the Harmony of the Seas, there is plenty to do on board, but without the feeling of a larger vessel. This cruise is considered "best overall" and would be a comparable alternative to the Harmony.
In Perfect Harmony
We think all the varying tones on board create a perfect Harmony! Whether you want to relax, seek adventure, or watch someone else seek adventure, there is something for you on the Harmony cruise ship. Families can enjoy activities, dining, and entertainment together with ease.
Is Harmony of the Seas perfect for you next family vacation? Leave a comment below and tell us why!
Related Article: ​Climb Aboard the Largest Cruise Ship in the World​​​