Head to the best bars in Atlanta and find a new favorite spot.
Atlanta has a fun and vibrant atmosphere that lends itself to some exciting bars and restaurants. If you come to Atlanta, you might not know where to find the top bars in the city. From dive bars to traditional pubs, every traveler will find a bar that fits their style and tastes while here. With our list of the ten best bars in Atlanta, you can discover your go-to spot for a night out. Read on to learn all about the coolest and most unique bars to visit during your Atlanta adventure.
1. Manuel's Tavern
Modeled after English taverns from the mid-1900's, Manuel's Tavern remains a classic bar choice for Atlanta visitors. This location feels like a home away from home for regulars and travelers alike. A casual atmosphere invites people to have genuine conversations while downing a few tasty drinks. Traditional wood décor and sports-related decorations create the pub-like environment that so many guests love.
When you come to Manuel's Tavern, you can order a variety of classic drinks, though beer remains a highlight. If you're a traveler who enjoys drinking beer, you'll most definitely want to visit this bar. Specialty brews, such as the Konig Lugwig, contain unique flavors like banana and clove. Craft beers remain a popular choice here, as the tavern serves many enticing brews. Of course, if you prefer wine or hard liquor, you can order your beverage of choice here as well. As one of the best bars in Atlanta, this location offers diners an array of different beverages.
2. Wrecking Bar Brewpub
Credit: Wrecking Bar / Facebook
Travelers intrigued by bars with lots of history will love stopping for a drink at Wrecking Bar Brewpub. This location, one of the best bars in Atlanta, maintains a long-standing connection with the city. The Victorian-style building was initially established by an important figure in Atlanta's history – Victor H. Kriegshaber. When you come to this bar, you'll get to enjoy your beverage while inside a historic structure.
If you're a traveler who loves beer, head to the Wrecking Bar Brewpub. As its name suggests, the bar specializes in producing the finest brews with a variety of interesting flavor combinations. From light wheat beers to IPA's and dark stouts, you'll find a beer that appeals to you here. The Staring at the Sun Saison remains a popular choice, with its blend of pilsner, rye, and citrus peel. While you're drinking, you could also order a few bites to eat, like tartare toast or shrimp sausage.
3. The SOS Tiki Bar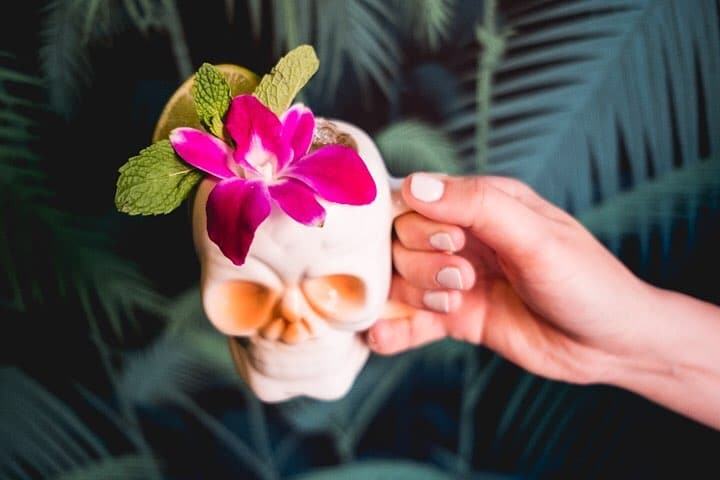 Credit: SOS Tiki Bar / Facebook
Atlanta travelers can enter a tropical paradise when they step inside the SOS Tiki Bar. This bar maintains a vibrant, colorful atmosphere, making it a great location for taking a break from the busy city. Bar-goers will sit inside the tiki bar and be surrounded by Polynesian-inspired decorations. You might want to go on a Hawaiian adventure after spending a few hours at this location. As one of the best bars in Atlanta, the SOS Tiki Bar provides a truly unforgettable experience for travelers.
Drinks on the menu at the SOS Tiki Bar emphasize the sweet, refreshing flavors of tropical destinations. Order a Zombie, which includes rum, grenadine, cinnamon, grapefruit, lime, and more. Or, try a sip or two of the Chaka – Cha. This drink combines rum, banana, peanut, hazelnut, and other flavors to produce a dessert-like beverage. Those drinking in groups will want to order a punch bowl to share, as these massive beverages serve eight people.
4. Leon's Full Service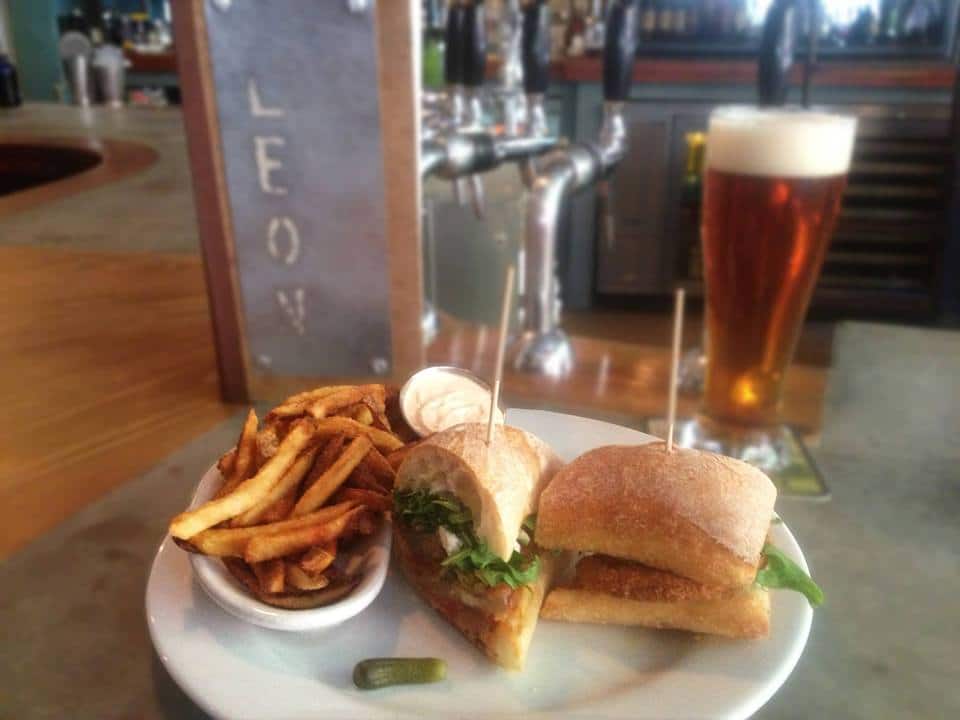 Credit: Leon's / Facebook
Visit Leon's Full Service if you're interested in having an all-American dining and drinking experience. This bar, a refurbished gas station, emphasizes Southern hospitality and top-notch service for all of its customers. When you come to Leon's Full Service, you can enjoy a few delicious drinks as well as tasty meals. This location, one of the best bars in Atlanta, provides visitors with a cozy place to enjoy drinks.
Travelers who come to Leon's Full Service will want to arrive with an empty stomach. The dishes here feel sophisticated yet taste like the best comfort food. Families and friends can order plates to share, such as beef poutine, mussels, or house-made ricotta. While you're eating, try drinks like the Rose Hotel, which combines gin, sumac, honey, lemon, and rose water. This bar also serves an extensive variety of beer, wine, and sparkling beverages.
5. The Lawrence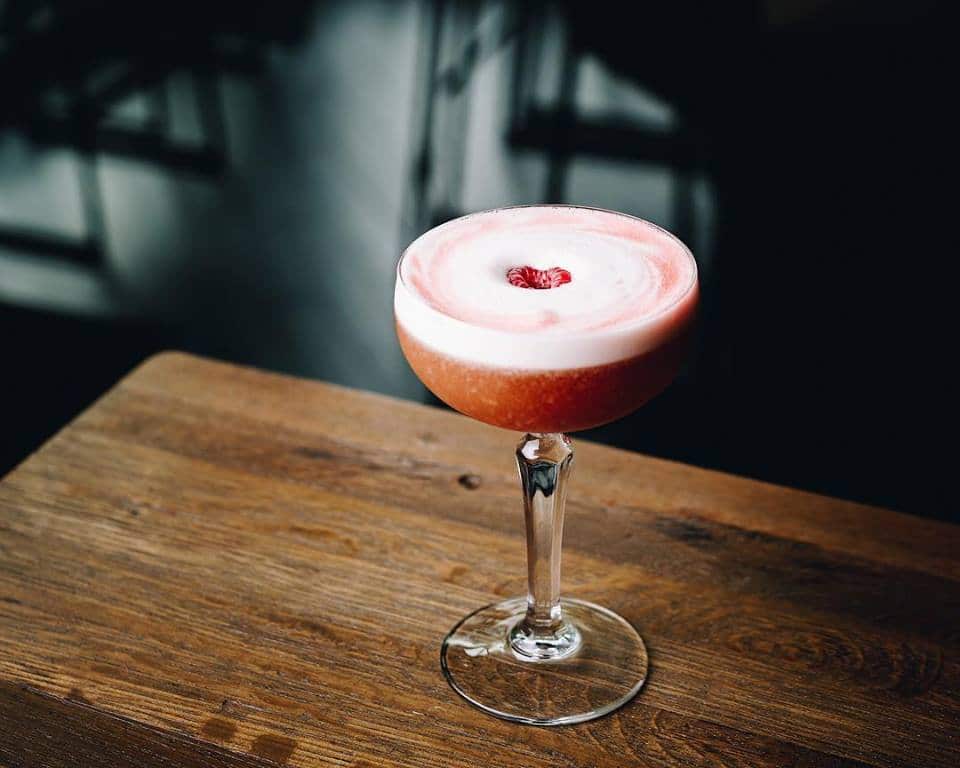 Credit: The Lawrence / Facebook
Somehow, The Lawrence combines elements of casual and fine dining in one trendy location. As one of the best bars in Atlanta, this location provides visitors with the ideal place to hang out. Found in Midtown Atlanta, The Lawrence offers views of the city while guests enjoy tasty drinks and dishes. The atmosphere inside the bar appears refined and elegant, though it doesn't feel stuffy. Customers can relax as they sip on beverages and eat elevated American fare.
On the menu at The Lawrence, you can order a variety of dishes, depending on the time of day. Stop by for brunch, and enjoy a plate of French Toast, Chicken and Waffles, or Fish & Grits. These dishes taste like classic Southern fare, but with a contemporary twist. For a refreshing drink, try a Grapefruit Mimosa, or a spicier Lawrence Bloody Mary.
6. Holeman & Finch Public House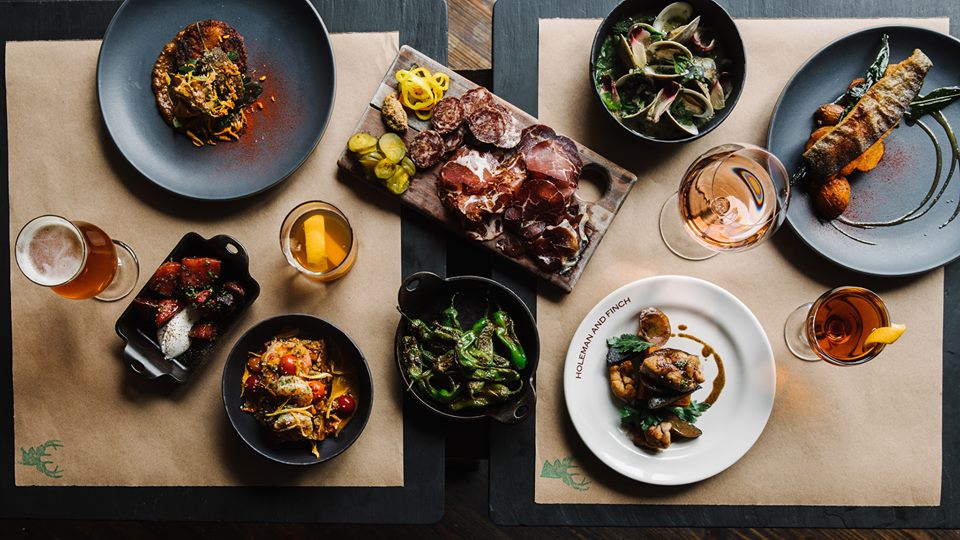 Credit: Holeman & Finch / Facebook
Holeman & Finch Public House remains a popular bar in Atlanta, and for good reason. Visitors and residents alike flock to this bar, as it offers some truly delicious refreshments. The food and drinks served here remain simple, yet still delicious. You won't find overly complicated menu items that combine odd flavors and ingredients here. However, you will find that this location, one of the best bars in Atlanta, represents a must-visit spot.
Those travelers who consider themselves foodies will definitely appreciate the menu at Holeman & Finch. Travelers with a taste for burgers should try the famous double cheeseburger served here, as it remains a crowd favorite. Snack on caramel bacon popcorn or order plates of heirloom tomatoes and beef tartare. You can find a number of unique beers, from fruity brews to pale ales, on the drinks menu. Cocktails such as the Beetlejuice, a combination of gin, beet juice, and mint, taste refreshing alongside meals.
7. Empire State South
Credit: Empire State South / Facebook
Those travelers who like trying lots of different alcoholic beverages will want to visit Empire State South. This spot, one of the best bars in Atlanta, serves countless unique cocktails and wines to satisfy every traveler's tastes. Talented professionals have carefully crafted menu items available here, so the beverages taste different from those at any other bar. If you want to experiment instead of sticking with your old standby drink, come to Empire State South.
Any travelers with a taste for wine can find their niche here. The drinks menu includes a huge variety of wines, including reds, whites, and rosés. Each of the cocktails at Empire State South utilize interesting flavor combinations to produce unique tastes. Order a refreshing Barbarella, which contains vodka, amaro, lemon, cucumber bitters, and sparkling wine. Or, try the spicier Tumble and Twirl, a tasty concoction of bourbon, bitters, ginger, pineapple, honey, lemon, and soda.
8. Bookhouse Pub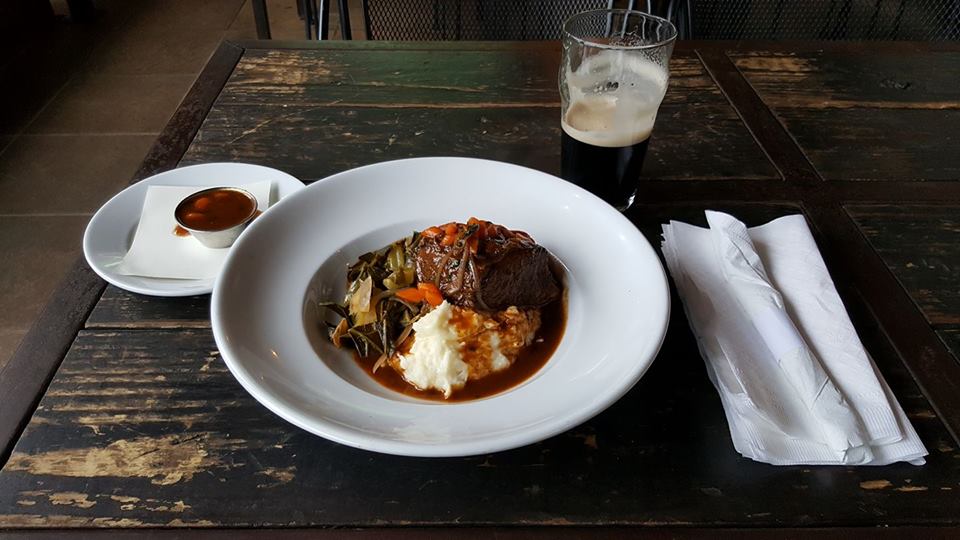 Credit: Bookhouse / Facebook
Any Atlanta visitors searching for a low-key bar experience may want to prioritize stopping by the Bookhouse Pub. The Bookhouse Pub has an earthy vibe, with wood and stone features utilized throughout the space. In the dimly-lit pub, travelers can relax with friends and family while sipping on drinks. One of the best bars in Atlanta, the Bookhouse Pub offers visitors a place to unwind during their travels.
When you come to the Bookhouse Pub, you'll want to order a few plates to eat. Items like the Chorizo Burger, Grilled Cheese Sandwich, and Grilled Ribeye will satisfy your cravings for savory bar food. You could even try a side order of Guiness Mac and Cheese, which utilizes the beer in its recipe. Beyond the tasty bites, Bookhouse also serves a variety of beer, wine, and whiskey.
9. Kimball House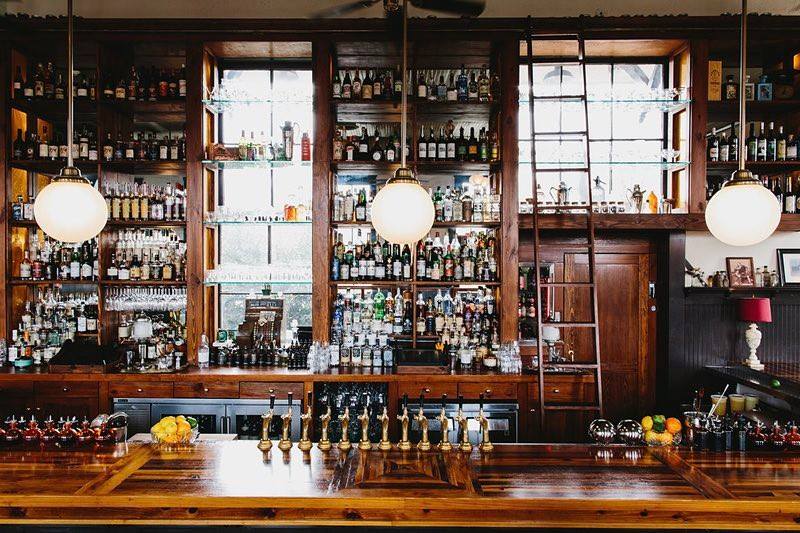 Credit: Kimball / Facebook
Interested in discovering an elegant location for sipping on drinks with friends and family? Kimball House remains one of the most sophisticated bars on this list. Leather upholstery and wooden furnishings make this bar appear elegant, while cozy at the same time. As a renovated train station, Kimball House also maintains some of the original structure's old-world charm.
The sophisticated atmosphere found at Kimball House also translates into the refined beverages served here. Order a Kimball House, and you'll get to drink a cocktail of gin, cocchi americano, French vermouth, and orange bitters. You can even order a variety of absinthes at this bar. The best bars in Atlanta offer delectable bites alongside carefully crafted beverages, and this location is no different. At Kimball House, you can order a dish of fresh scallops, or a savory shrimp cocktail. Oyster fans can also choose from an extensive list of oyster plates.
10. 8 Arm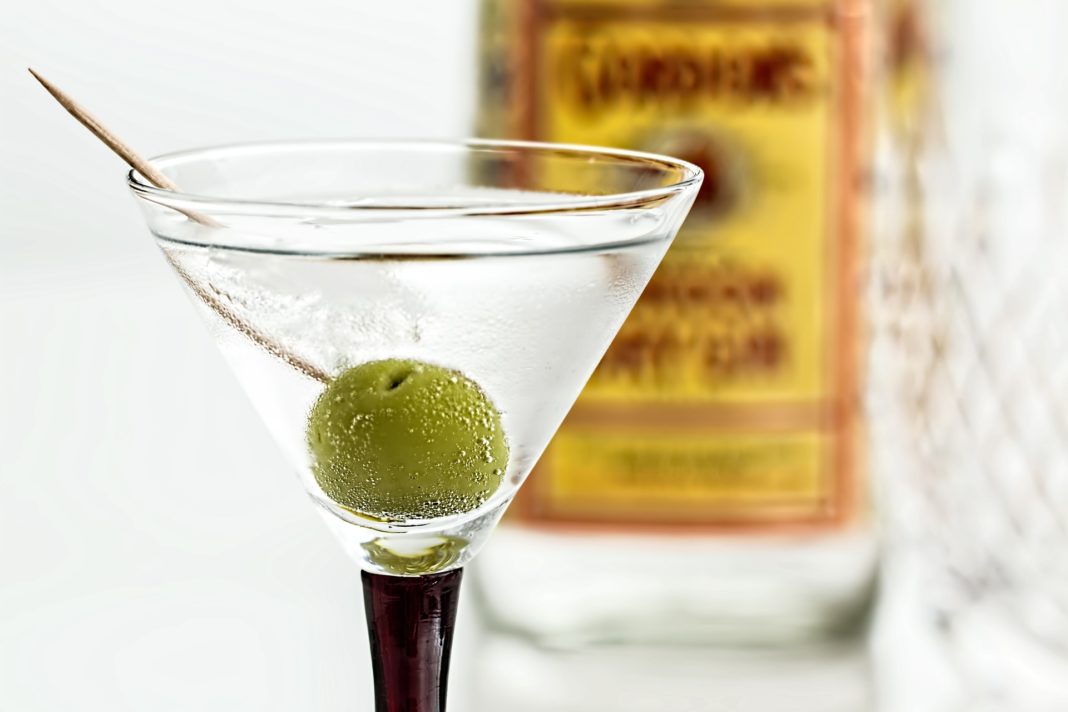 If you're looking for a bar to visit during the day, head to 8 Arm. This spot, one of the best bars in Atlanta, remains the ideal location to spend an afternoon amongst friends. As an outdoor bar, you'll get to enjoy the warm Atlanta weather as you drink tasty beverages. The bar also feels more contemporary than other locations, offering a more modern take on traditional spots.
Travelers who enjoy tasting experimental cocktails will appreciate the menu items at 8 Arm. Traditional drinks like Martinis and Mojitos have been given new and exciting twists. The Martini at 8 Arm utilizes gin, sweet vermouth, Bogart's Bitters, and Orange Curaçao. You might also try a fortified wine, an old-fashioned drink that isn't always served at typical bars. Make sure to visit 8 Arm for brunch, as the bar serves delicious fare, like whitefish bagels and cinnamon rolls.
Explore the city by visiting the best bars in Atlanta.
When you travel somewhere new, visiting the top bars and restaurants remains a very exciting activity to do. In Atlanta, visitors can find a huge variety of bars to explore and choose from. Whether you like causal spots or more glamorous venues, Atlanta has the bar for you. Hopefully, our list of the ten best bars in Atlanta has inspired you to make a bar-hopping adventure. You'll have an amazing time exploring Atlanta and everything the city has to offer.
Related Article: Best Bars in Nashville: Locals Love the Atmosphere and Drink Menus