The top 10 best bars in Nashville to sip great drinks in a cool atmosphere, all while avoiding the touristy crowd (and the bachelorette parties). 
In case you haven't been to Nashville, we'll give you this insider tip. Locals (okay, perhaps just me and my friends) make it a game to guess the number of bachelorette parties that we'll see in a five-minute period while cruising past the famous lower Broadway (it's usually pretty high). Then, we'll head into any of the truly best bars in Nashville on this list, where the loser has to buy the drinks.
The bars in Nashville are SO. MUCH. FUN. However, don't put a damper on your fun by waiting for hours in a line of tourists, especially when there are so many great options for bars in Nashville. These bars have been selected as our favorites for a few reasons: the crowds aren't ridiculous, the experience with the staff and bartenders remains positive every time we've been and the atmospheres are cool. Furthermore, we'll show you bars that have either a chill atmosphere, or a fun environment, depending on your desired experience. Additionally, we'll show you some bars with incredible drink menus, and bartenders who take pride in their unique creations. And of course, since it's Nashville, you'll have a high chance of hearing some incredible live music no matter where you end up.
Top 10 Best Bars in Nashville
1. Bastion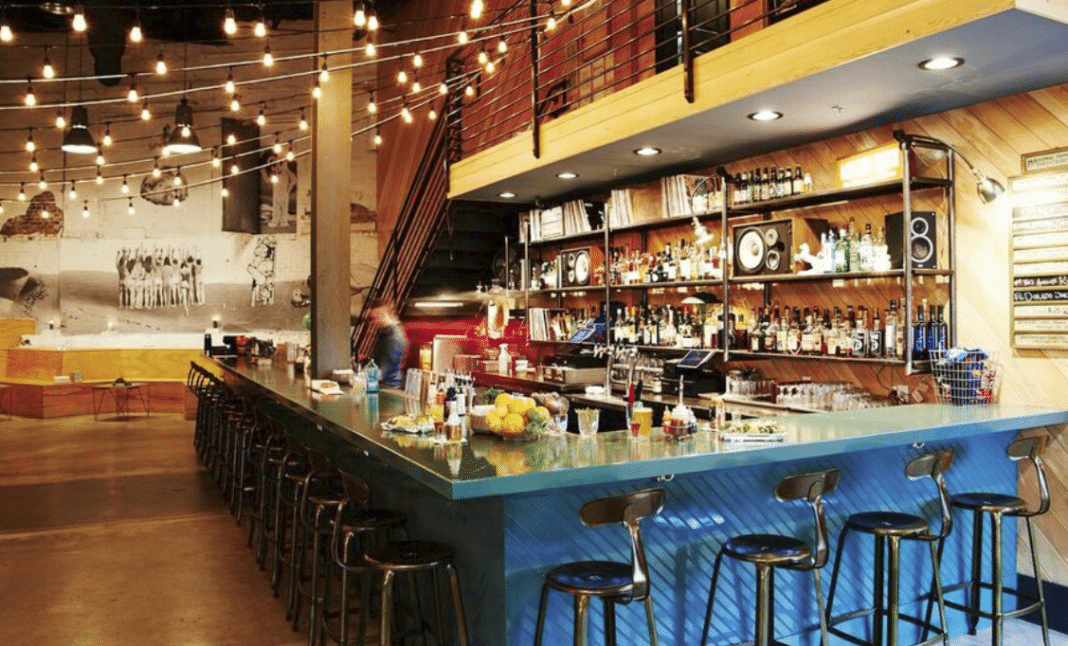 Credit: Bastion
This bar, pronounced "Bas-chen," scores high because both the drink options and the atmosphere are equally awesome. Inside, you'll find some super cool decor that's everything from vintage to eclectic to artsy. Twinkle lights hover overhead, and exposed brick and wood paneling create the coziness, even though there's plenty of space inside. Bastion is only open after 5 pm, but that's because they focus on their cocktails and drinks, and boy do they do them right! High-end liquor makes for great cocktails. Since that's the focus here at Bastion, the food options are limited. However, they serve up some amazing nachos! Since this top bar in Nashville is located on the east side of Edgehill, it's close to Nolensville Pike. Therefore, we suggest hitting up some of the great, authentic International cuisines on this stretch, and then planning to head over to Bastion for the rest of your night!
2. Wildhorse Saloon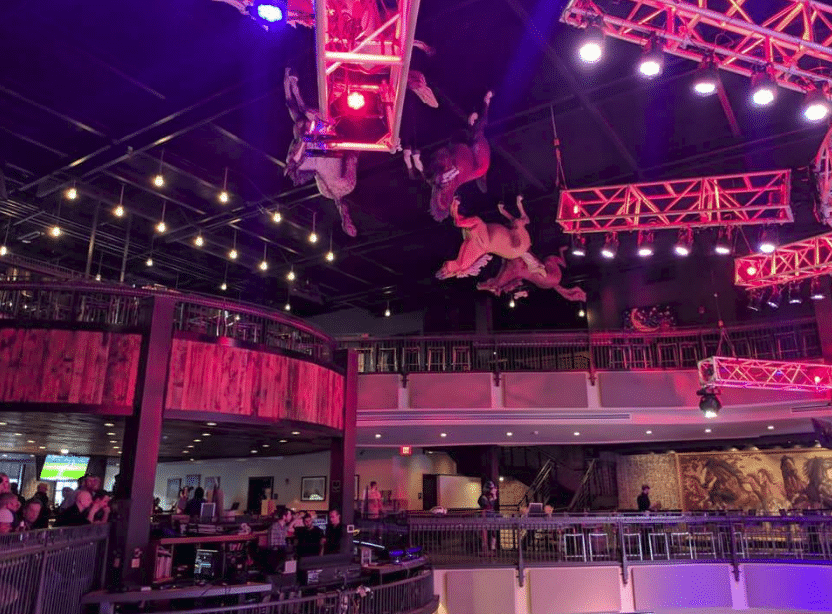 Credit: Wildhorse Saloon/Facebook
Okay, so we promised non-touristy and non-crowded bar options for you. However, we do believe that you shouldn't totally steer clear of the fun on Lower Broadway. Wildhorse Saloon pretty much guarantees a fun time. There's plenty of space on various floors, all overlooking the huge dance floor below. If you love dancing, you can spend the whole night with the crowd line dancing. If you don't always love dancing, here's your chance to let loose a little bit! Line dancers are interspersed with the crowd, so you can follow right along and blend in!
If you're really not up for some dancing, you can explore the multi-levels and sip your drink while the music plays and the crowd dances. You won't find the "bump and grind" style of music here, but rather a family-friendly crowd of line dancing with cowboy boots! Plus, the life-sized plastic horses hanging from the ceiling (and adorning the balconies) really help the Wildhorse Saloon earn its spot on the list of best bars in Nashville. 
3. Acme Feed and Seed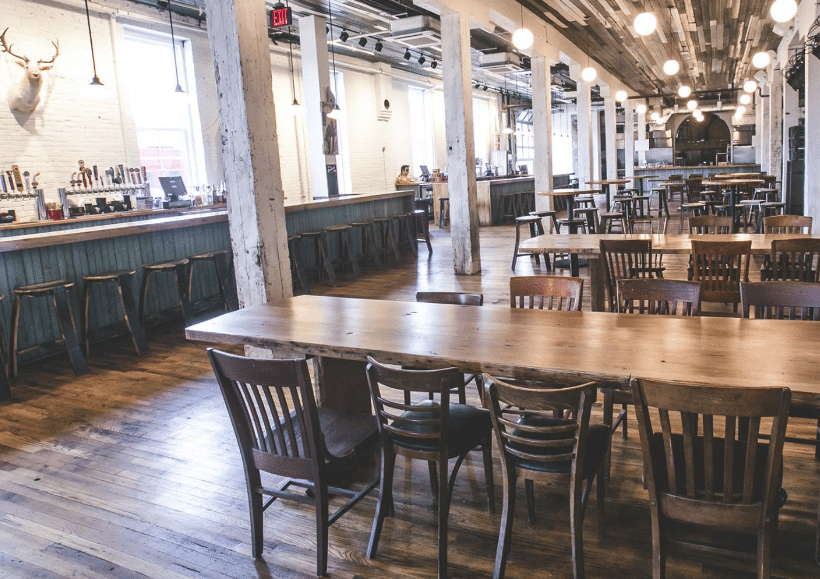 Credit: Acme Feed and Seed
Again, we have another Lower Broadway Bar that we, well, actually love (are you picking up on our personal distaste for the touristy mess known as Lower Broadway?) Acme Feed and Seed is expansive; hang out on any of the various floors for a good time. The multi-levels mean that there's plenty of space, and plenty of room for exploring, so it's easy to spend the whole night right at Acme! The interior is rustic and chic, since it is in the old Acme Farm Supply.
When you walk in, the bar's on the left and the stage is on the right. Almost always, there's something great happening on the stage. Grab a table to listen to the performance, or head upstairs for a more chill vibe. On the next level, there's another bar and you can gather in comfy chairs, couches or booths. We love all the levels of Acme, but the rooftop scores high as one of our favorite spots to hang out. http://theacmenashville.com/ Plus, Acme's located lowest on Broadway, so you can stroll along the Cumberland River at night too. Even better, you can park across the river and walk across the pedestrian bridge, beautifully light and lovely on a Nashville summer night!
4. Attaboy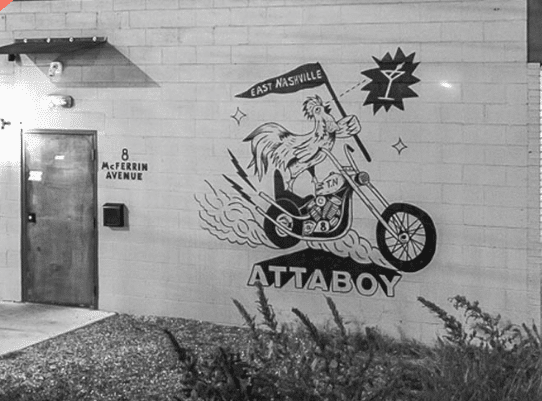 Credit: Attaboy
I really hope you get to experience this top bar in Nashville. That's just it; this bar is an experience. In fact, we don't want to tell you too much, so as not to ruin it. This is a hip speakeasy, with a nondescript outside facade, and directions on the door to knock. Inside, you'll be lead past a black velvet curtain and seated. Note that this really only works for groups of six or less, The lights are dim, and you'll sit in a circle booth, noticing the hushed conversation and the overall slight mystery of the place, There's no drink menu; rather the waiter will ask a few questions to gather your tastes, and the bartender will create a masterpiece. The spirits here are high-end, and the unique drink will be delivered and then introduced to you. It's relatively small, with perhaps an estimated twelve booths or tables. Between the truly personalized service, the pleasant unexpectedness of the speakeasy feel, and the great staff, Attaboy makes our list of best bars in Nashville!
5. Pinewood Social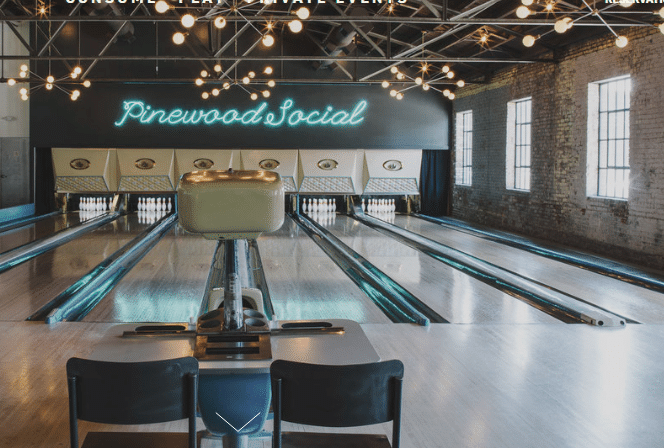 Credit: Pinewood
Pinewood Social always offers a fun time. Though it most definitely counts as one of the best bars in Nashville, it's really so much more. Pinewood Social is a gathering place, and it's lively throughout many times of the day. We'd argue that it's most fun at night, where you can take your beer, or cocktail out on the twinkle-light lined yard. Meet other people while you play bocce ball, ping pong, and plenty of other yard game options. Or, you can reserve a bowling lane for your group of friends! The inside is reminiscent of a super huge living room, with plenty of spaces to gather with your own group, or sit down next to others.
Related Article: ​Things to Do in Nashville: Experience the Magic of the Music City​​​
6. Rosepepper Cantina
Credit: Rosepepper
Rosepepper, located across the river in East Nashville, is definitely a dinner and drink destination you should visit while in Nashville. They are famous for their margaritas and their delicious Mexican cuisine. You'll get to enjoy all this in a fun setting; enjoy the huge patio, or the interesting, artsy Mexican-influenced props, pictures and paintings hanging on the walls. The margarita options are extensive and unique, such as the pineapple jalapeno. Every margarita I've experienced here has been awesome, though. Rosepepper is a great bar for dinner and drinks. As the grand finale of your night, you can head right across the street to Jeni's ice cream.
7. Saint Anejo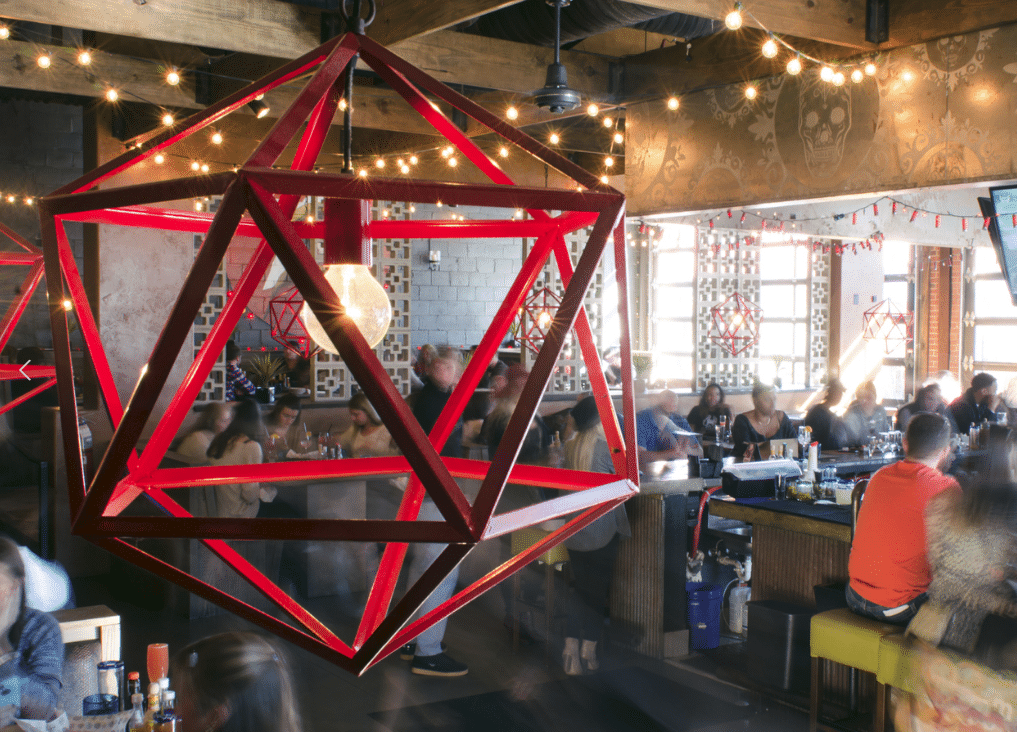 Credit: M-Street / Saint Anejo
We love the atmosphere of Saint Anejo, and the drinks we've had there, so that's why it makes our list of top bars in Nashville. The setting is totally stylish, with circle booths to gather friends and a rectangular bar in the middle. The Mexican cuisine served here is totally scrumptious, if you're here for dinner. Otherwise, the appetizers are totally worth trying out while you sip your delicious cocktails. Saint Anejo is located in the Gulch neighborhood of Nashville. Nearby, you can walk to Whiskey Kitchen, which is totally worth checking out, too, as your next stop in the Gulch.
8. Two Bits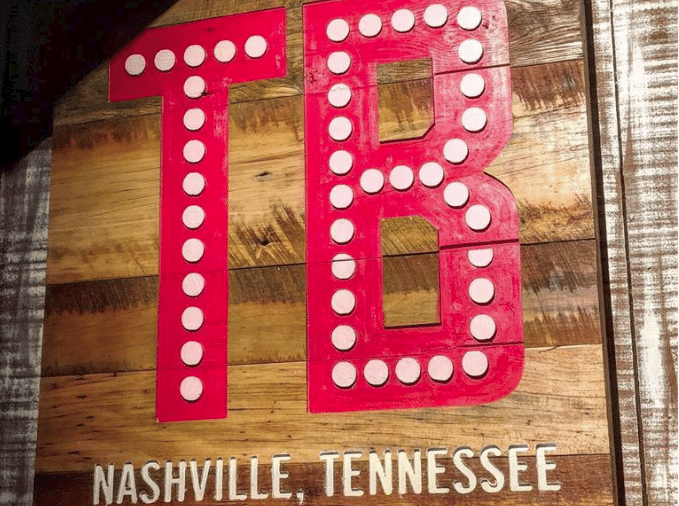 Credit: Two Bits/Facebook
If this article were about the best, touristy, honky-tonk bars in Nashville, then Two Bits would be overlooked. However, as locals with somewhat of a distaste for Lower Broadway, we totally love Two Bits. It fits our personalized list of top bars in Nashville because of its cool atmosphere, good drink options, and primarily, the classic arcade games. The vibes are far from that of a Dave and Buster's, though. First, the older-styled arcade games are all free! The food is pretty good, and it makes a good spot for grabbing dinner and drinks. Additionally, Two Bits has a great location on Demonbreun Street in Nashville, You can walk to many other bars from there, if you want to keep the night going. Plus, the stretch of restaurants, shops and bars clustered there with Two Bits have some good options.
9. Rebar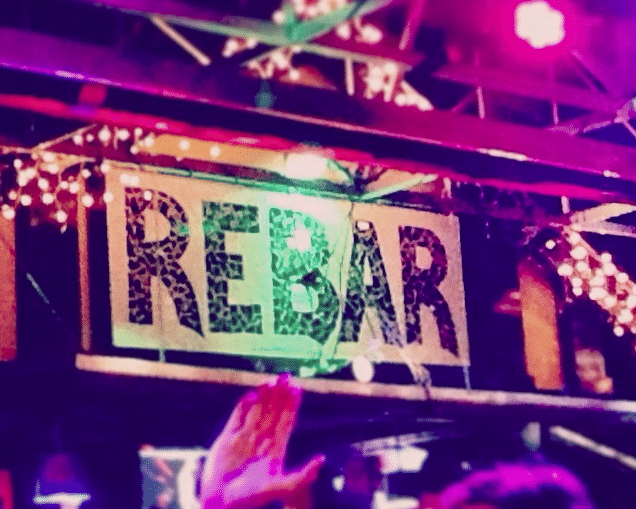 Credit: Rebar
We love Rebar because of the atmosphere and the fact that we can count on it for a good time. The focus here is not expensive, unique cocktails, though. Their bar bites are just what you're going to be craving around 10 pm, and the drinks are relatively cheap. Rebar draws a young, lively crowd. It's totally unpretentious, with little attention to creating the hipster, artsy inside, and more attention on throwing a fun party every night. There's dancing, and a patio to spill out onto, and darts to play. Even better, you can plan on doing a little bar hopping by going to Losers Bar just a few steps away! Rebar is located on Division Street, close to the Midtown and Hillsboro Village neighborhoods of Nashville.
10. The Listening Room Cafe
Credit: Listening Room Cafe/Facebook
Though it's known as a music venue rather than a listening room, we still consider this to be one of the best bars in Nashville for listening to live music. Though the Bluebird Cafe often gets credit for being the best, it's become increasingly popular, especially thanks to the TV show "Nashville." Therefore, we suggest not even heading over there, since the Listening Room Cafe is always a great time. This venue offers a fantastic evening of great food, drinks and show. You'll need to buy a ticket ahead of time, and you can select the various times of the evening. You'll have a seat at a table, and friendly service works quickly to deliver you food and drinks before the music starts, and intermittently.
Talented artists share their stories and their music, and you'll be swept right away by the amazing sounds. Even better, the complimentary valet service out front makes it really easy to navigate the parking in the crowded downtown. Our experiences at the Listening Room Cafe have always been really positive, and we return often for the great shows there.
Head to these best bars in Nashville, and you'll have a fun time in Music City. 
If you're looking for an authentic bar experience in Nashville, rather than a touristy honky-tonk waiting line, these bars are for you. Nashville's our favorite city, and there are plenty of options for a really fun night. These best bars in Nashville offer some unique drink menus and your choice of chic, hipster, chill, or fun environments. Let us know if you got to visit any of them, we love sharing in the Nashville fun!
Related Article: ​Best Restaurants in Nashville: These Non-Touristy Spots Are Our Personal Favorites​​​