Not sure what to expect for Chilean foods? We'll show you some typical dishes in Chile so you can experience some authentic Chilean food.
Prepare for some amazing Chilean food on your trip to Chile. Thanks to the expansive coastline, the seafood tastes delicious. The street food is incredible, and with all the touring around Santiago and hiking in the surrounding regions, you will deserve to indulge a little bit. Lunch is typically a bigger deal than dinner in Chile, so use this break in your day to experience some of the best entrees. These might include seasoned varieties of beef, lamb and pork, sweet breads, yummy dishes of meat and veggies, with a bonus scrambled egg thrown in! We had expected more rice and beans focused dishes, but were pleasantly surprised to find that those ingredients aren't especially ubiquitous.
Be prepared for lots of mayonnaise and guacamole. Some of you we already have hooked (we can't get enough of the awesome guacamole), but perhaps some are repulsed by that (we could forgo the mayonnaise). Have no fear, that's not all there is to Chilean food. In fact, if you don't already love guacamole, you'll fall in love with it here, since it's so fresh and practically everywhere. Between the especially flavorful produce, fresh seafood, fried treats, and amazing breads, the flavors of Chilean food just seem to be totally tasty.
Asado: Chilean Barbecue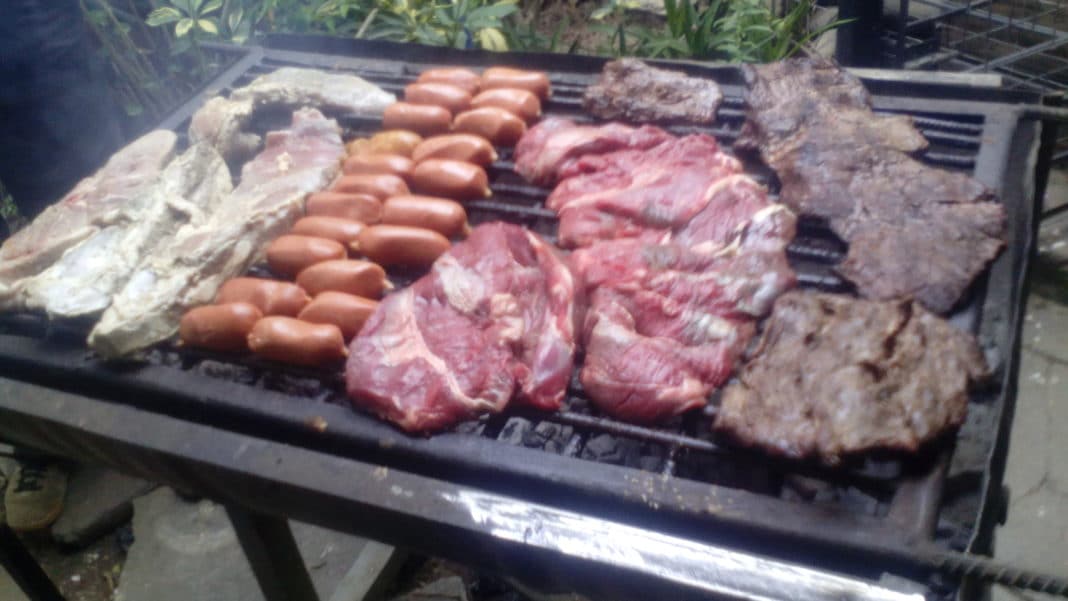 Credit: Gmagno
Asado simply refers to a Chilean barbeque, and it's hard to go wrong with the barbecued meats in Chile. You'll likely smell it before you see it; the flavorful smoke rises from the spit. Some types of the asado meats are cooked with a stick over an open fire, others are placed on a grill with charcoal. Since asado generally refers to the method of cooking meats, this involves a variety of meats, such as lamb and chicken, rib eye steak, and pork ribs.
As a condiment, try some "Pebre" on your smoked meats. This consists of finely chopped tomatoes, cilantro, onions and red pepper. You'll likely see it on restaurant tables, or on the food truck stand elsewhere, too. For an authentic Chilean food experience, take advantage of the delicious barbecues likely happening on the streets in the summer months. The asador, or the person who cooks the meats, might even share some of the asado traditions with you!
Pastel de Choclo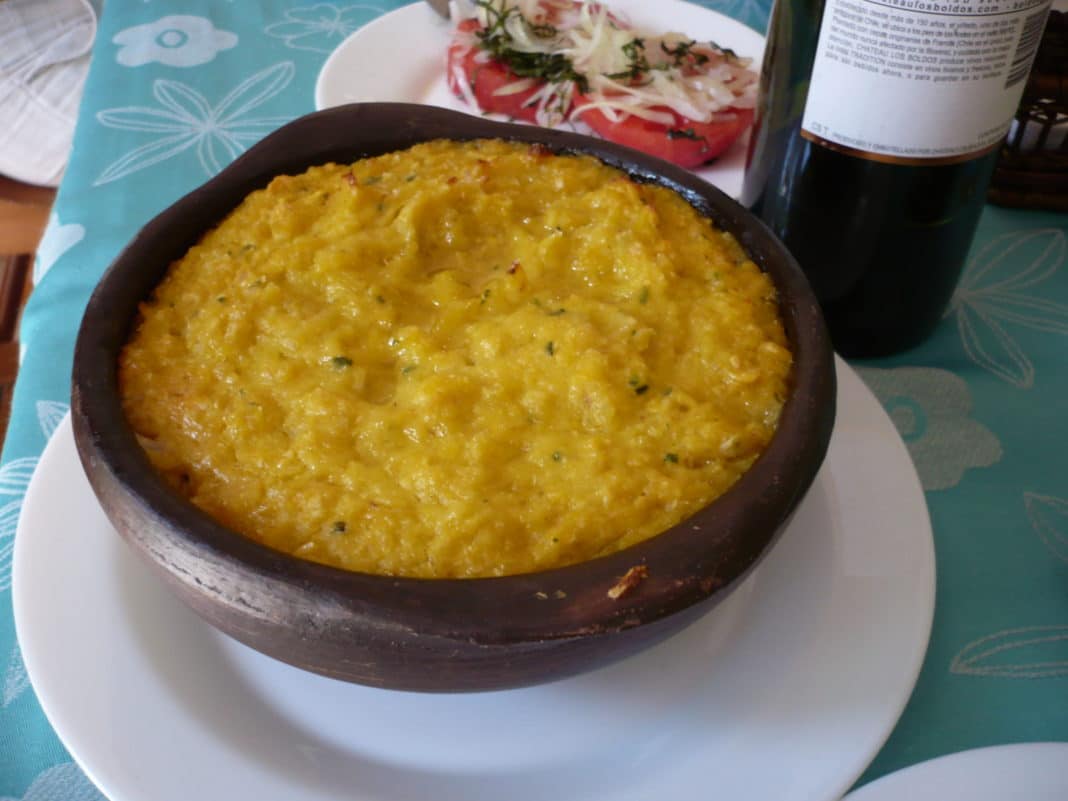 Credit: Jccamus
In short, Pastel de Choclo is a beef and corn casserole, and translates to "corn cake." However, before you dismiss it as the kind of casserole that gets left behind at potlucks, listen to this. As is typical with Chilean food, there are layers and piles of ingredients. You'll find ground sweet corn kernels filled with ground beef, onions, and hard-boiled egg. There might also be chicken, olives, raisins, and paprika. The creamed corn on top becomes caramelized in the oven, and this Chilean food is often served in an individualized round dish, or a pie plate for sharing. Some described this as similar to a shepherd's pie and corn pudding.
Either way, it's a delicious, warm and filling Chilean dish to try. In fact, Chile considers it to be a national food. Therefore, it seems that you simply can not leave the country without getting to try this Chilean food!
Empanadas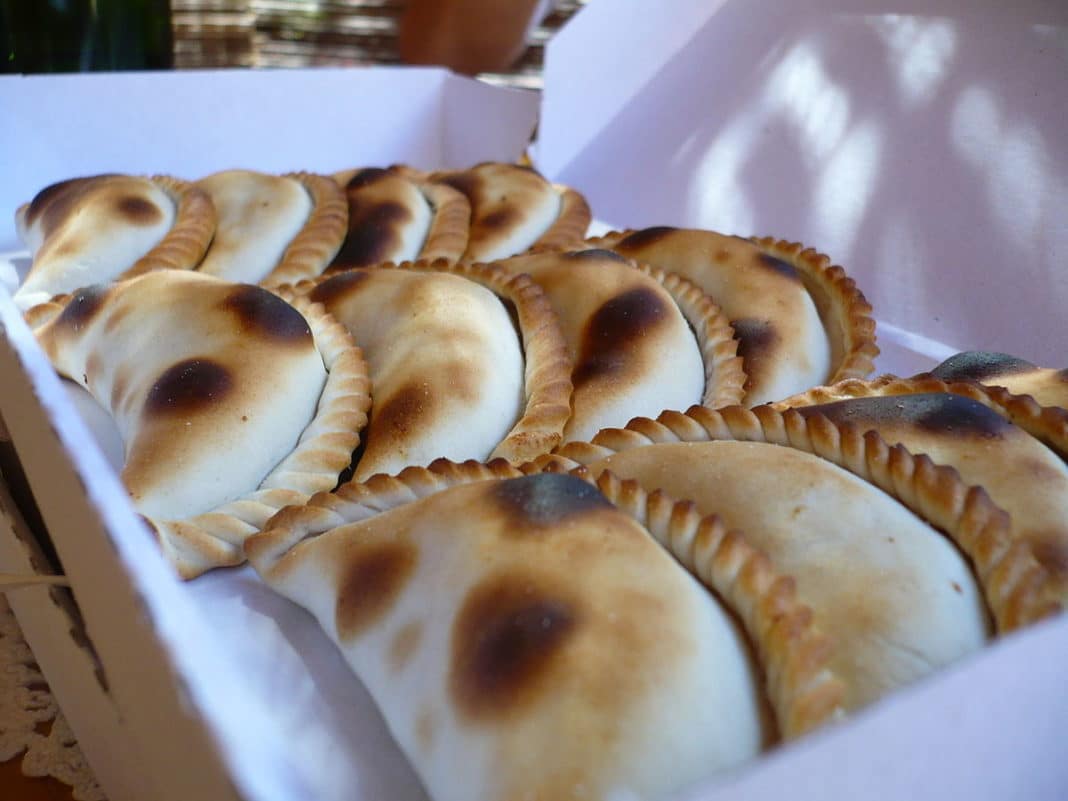 Credit: Gonzalo Rivero
This Chilean food specialty is a mixture of ground beef with a variety of ingredients stuffed in a dough. They are typically crescent moon shaped, with ripply pinched edges to seal all the delicious flavors inside. In Chile, the typical empanada filling is called "Pino," so look for that on the menus or on the street food trucks. On the inside of this way-better version of a hot pocket, the recipe calls for ground beef to be mixed with onions, raisins, olives and scrambled eggs. However, there are many renditions of the empanada, such as seafood, cheeses, or corn. It is even possible to enjoy some vegetarian empanadas.
Make it a goal to try as many empanadas as possible, since you'll have plenty of opportunities with this popular Chilean food! sopaipillas pasadas
Sopaipillas Pasadas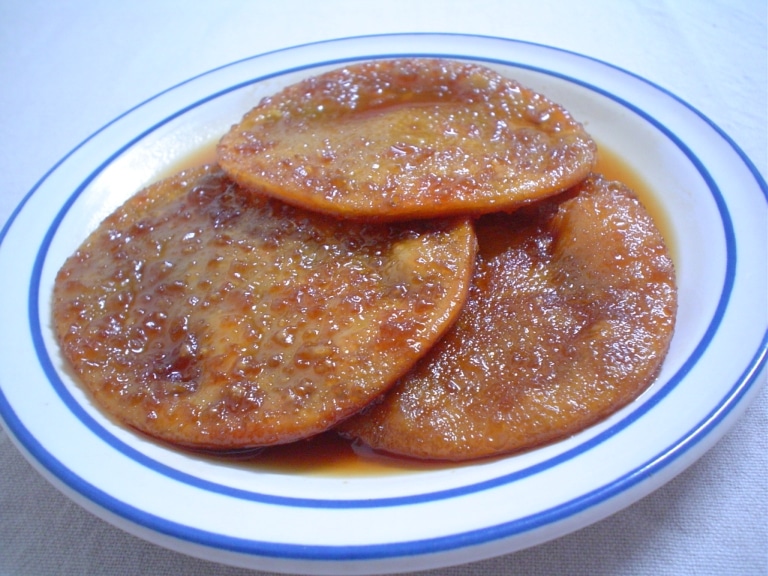 Sopaipillas Pasadas are a unique, delicious breakfast or treat to satisfy your sweet tooth. Available as street food, this Chilean food begin as a fried dough of flour and pumpkin or butternut squash. A dip into a saucepan of boiling syrup helps to seal it all in. As if that's not enough, this thick pancake-shaped patty is drizzled with a little extra syrup. You'll also taste the vanilla, orange peel, or other "warm spices" that may be added to this sweet chilean food. Perhaps you're feeling stuffed after a filling lunch of meat vegetables (whether that was empanadas or Pastel de Choclo)? It's still worth it to grab some of these Chilean sweets for later.
La Chorrillana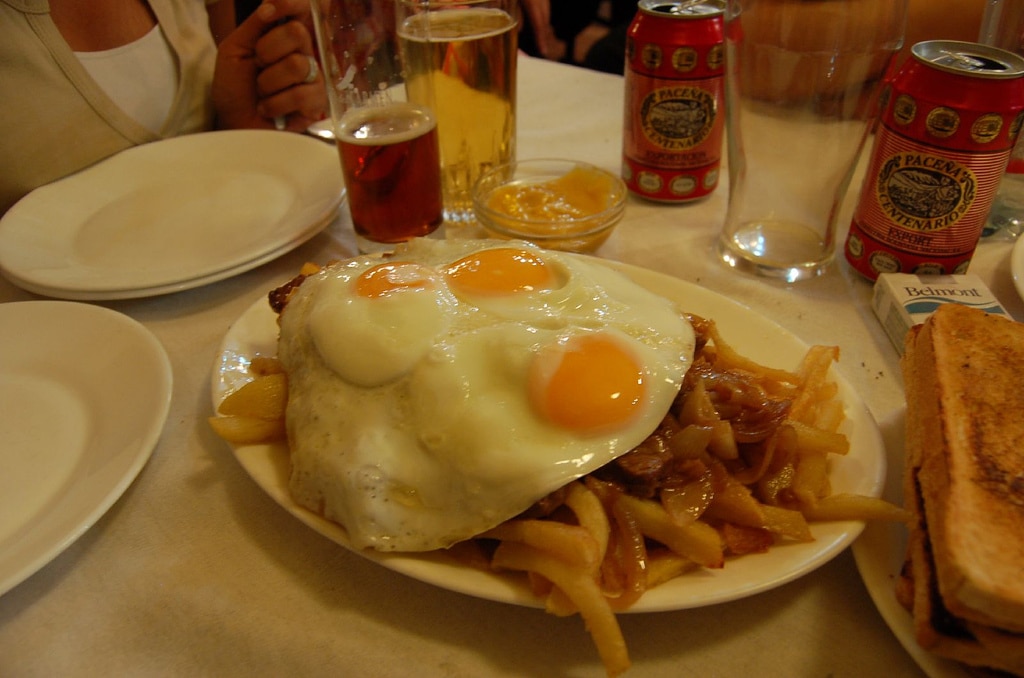 Credit: Las Antipodas
After spending your days sightseeing in Santiago, checking out the palace of the president, or hanging out with the animals at the Santiago zoo in Chile, you'll have worked up an appetite. When you're most hungry, we suggest trying out La Chorrillana, since it's totally packed with goodness. Forget about your diet after all your city-walking, since it's simply not important once you hear about this delicious Chilean dish. The base layer of La Chorrillana begins with French fries. Layer two piles on sliced meats and sausage (different variations here depending on location). Fried onions pair well on top, and here's the totally welcomed surprise. Two eggs rest on top.
This Chilean food is commonly shared, so experience this local favorite together. For some great chorrillana in Santiago, Chile's capital, we suggest heading to La Casa En El Aire.
Machas a la Parmesana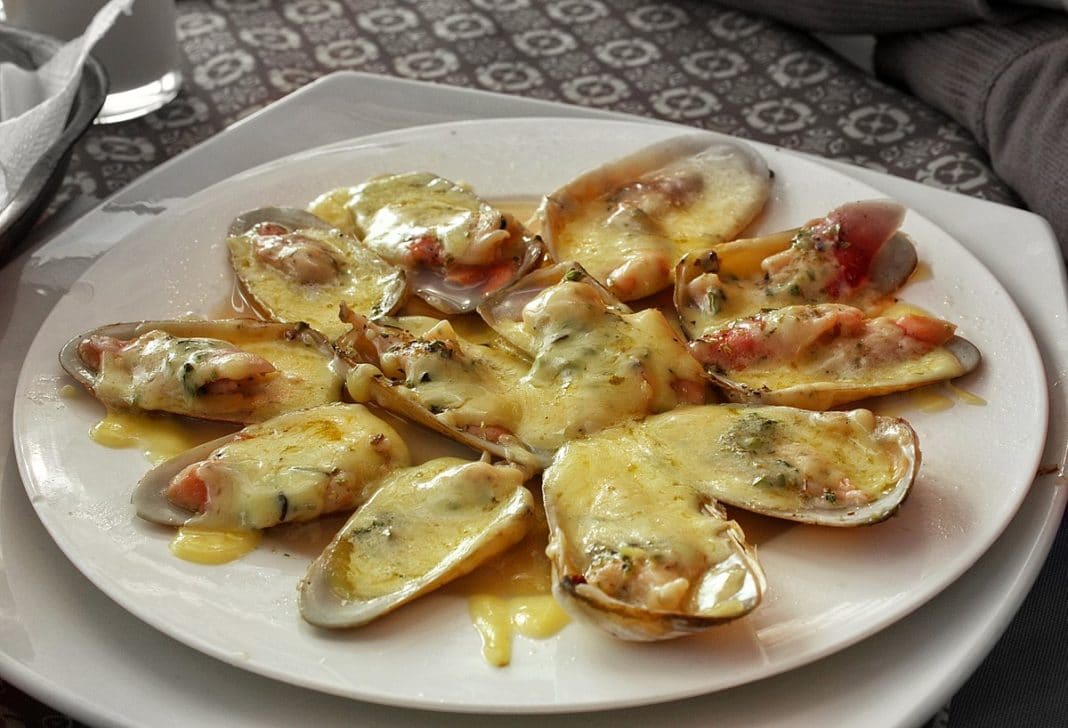 Credit: Mariela Morales
Even for those (like me), who are not huge fans of seafood, the Machas a la Parmesana is definitely a chilean food worth trying (and likely loving). Machas a la Parmesana, or clams with parmesan cheese, tastes amazing. Restaurants often serve this dish lathered in warm parmesan cheese, rather than stingily sprinkled on top. Plus, if you are at the right place, the clams will likely be deliciously textured and fresh. Try this classic Chilean food as an h'orderve, or as a main dish! Since Chile boasts an incredible length of coastline, we suggest heading a bit out of Santiago, to the coastal city of Valparaíso. Head to Oda Pacifico to try any of their seafood, but especially the Machas a la Parmesana.
Cazuela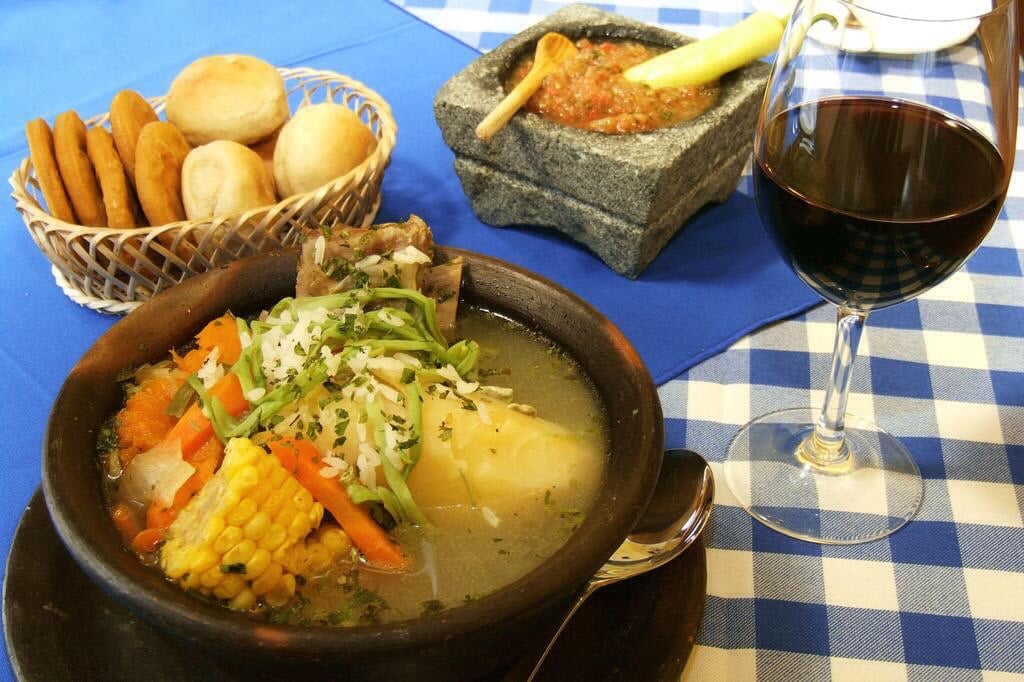 Credit: Conyann2009
Cazuela, which simply translates to "cooking pot,' doesn't provide much of a description for this traditional Chilean food. Inside this sturdy clay pot, locals cook a hearty stew, and that's what Cazuela refers to most often in Chile. The recipe is fairly simple, but you'll notice some restaurants "beef it up." Ingredients include a variety of beef, potatoes, and vegetables in a clear broth. Additionally, lamb, and pork offer some varieties of meats in this stew. Garlic, onions, paprika give the stew some flavors.
Typically, the consistency is not soupy, or pureed, but rather coarsely chopped vegetables with hefty pieces of meat. You likely won't find this at a fancy restaurant, since it's a simple, inexpensive group of ingredients. However, since it is typical of Chileans, it's worth heading to a not-so-fancy lunch spot to try some Cazuela.
Completo (Chilean Hot Dog)
Credit: Paul Lowry
To begin, the Completo is a much more impressive hot dog than is typical in America. The Completo is a little bit bigger, and the best part is the variety of toppings. Since Chilean food seems to find a way to put guacamole and mayonnaise in everything, it is super common to get a Completo that has both! You can find a Completo at almost every street corner in the cities. This Chilean food is definitely worth grabbing in between your sightseeing, and at any of the outdoor farmer's markets.
These Chilean Foods Offer Some Local Flavor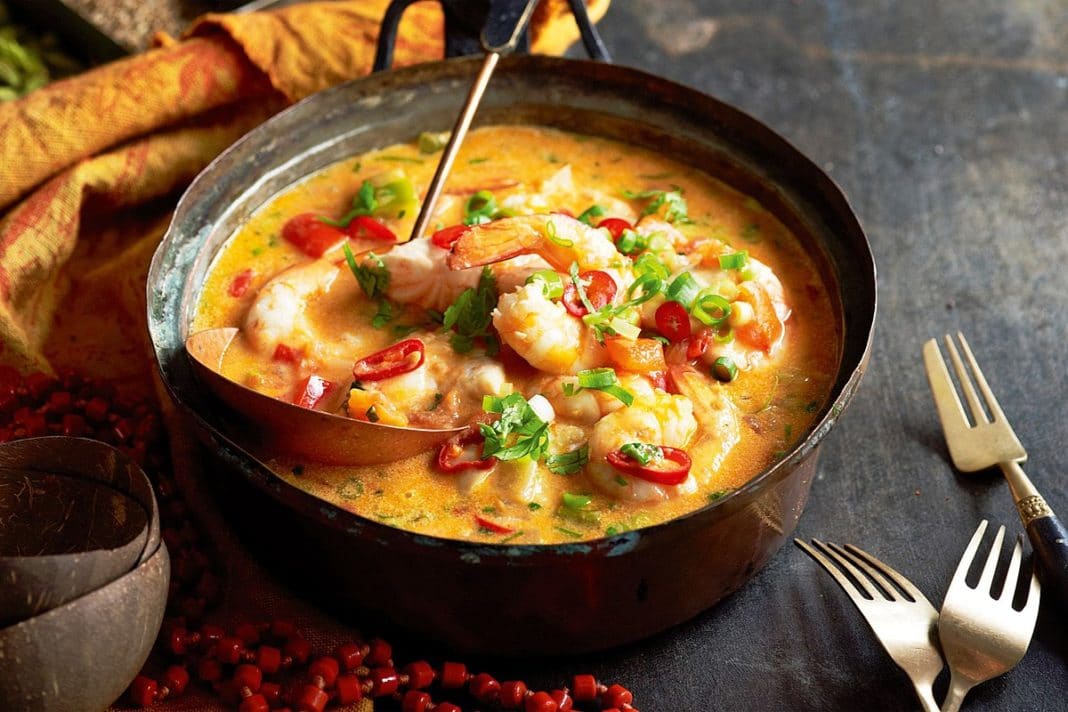 Credit: Gilrovina
If you're planning a trip to Chile, the local cuisine is part of the whole experience of the trip! You may need to expand your cuisine comfort zone, but these Chilean dishes are part of the fun of experiencing a new place. If you're a meat lover, this is totally the place for you, between the asados, the beef stews, and the meat-filled pastries. Even if you're not a meat-lover, the breads, fresh produce and guacamole are so delicious that you could practically eat those your whole trip! And of course, thanks to the many miles of coastline of Chile, the seafood options are totally fresh and delicious. Even if you are not a total seafood fanatic, we suggest giving it a chance here.
Bonus: there's a special shellfish that's unique to this area called "locos," and you can likely order this as an appetizer so you can sample it! Families likely have passed down the recipe for decades for these authentic foods of Chile. Therefore, the tradition likely originated long ago. Enjoy the local dishes of Chile with these Chilean foods!
Related Article: Chile Named Best in Travel For 2018