Lifepack Backpack is the Perfect Backpack For Digital Nomads
With everything in today's society seemingly getting smarter and smarter, it's about time that our bags did too. Even though cell phones continue to become the center of our technology-driven lives, they aren't perfect. Just about each and every one of us has been in a situation where our phones have left us helpless by dying. Whether trying to listen to music on a plane, using your phone as a boarding pass, or simply using it to message, having a flat battery makes it utterly useless. Taking it to the next level, having a battery depleted phone in a foreign country, forget it. Each and every traveler can relate. Why not have a charger that can go with you anywhere with you as a backpack and charges your phone thanks to the sun? With all the solar technology around in the current-day-in-age, it seems silly that a solution to this very problem hasn't been figured out until recently. Well, at least a trustworthy solution. The Lifepack Backpack tackles all of these issues, and sports a design that surely turn heads. Here's why the Lifepack Backpack is quite possibly one of the most perfect Solar smart backpacks for digital nomads.
A Little About Solgaard Design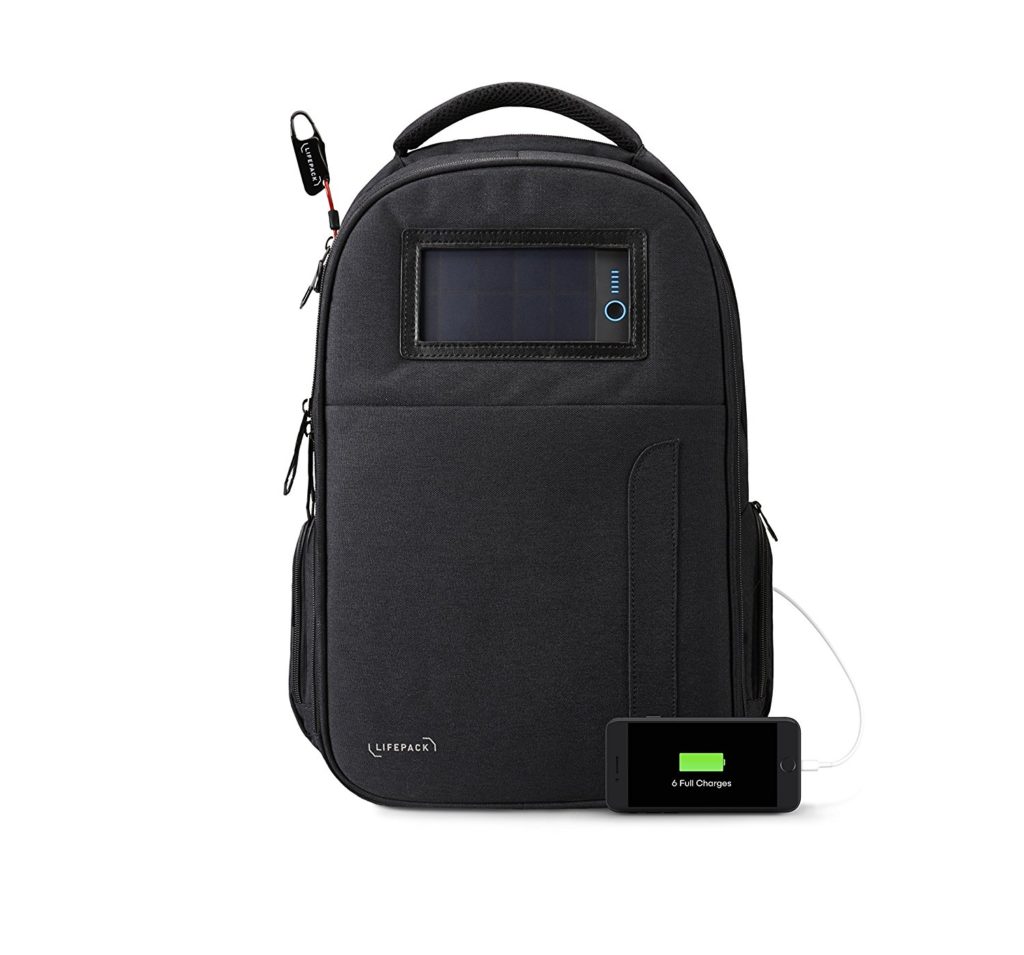 Credit: Amazon
Thanks to Solgaard, a design company based literally all around the world, they've designed a smart backpack that will change the way you travel. The company was created when Adrian, Solgaard's CEO, witnessed his girlfriend's backpack stolen. Through a multitude of events, including always traveling with a low phone battery, he set out to change backpacks. He successfully launched the Lifepack Backpack on Kickstarter which incorporated traditional functions of backpacks with new innovative smart features.
Lifepack Backpack Features & Benefits
To this day, the Lifepack Backpack still sits at the top of the ranks as one of the best. With its line of impressive features and benefits, there's no question as to why.
Solarbank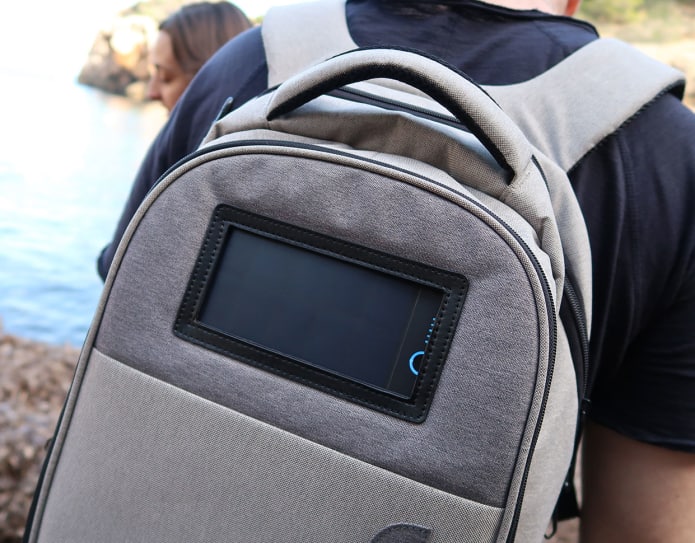 Credit: Indiegogo
Giving it the description "solar-backpack", the Lifepack's most distinct feature is its ability to charge up to six cell phones. Despite its ability to charge your device, it has a Bluetooth speaker function that can play up to 96 hours of tunes on a full charge. Under full sun, the Solarbank regenerates one full phone charge. The solarbank has two USB ports, so you can even charge other devices besides a phone, like a tablet or small computer. One of its signature features is that it guarantees a charge even under cloudy skies, so don't worry about rainy days.
Anti-Theft
Credit: Indiegogo
Aside from being incredibly smart, the Lifepack has anti-theft features that incorporates an anti-cut plastic layer, four out of sight external pockets, and a combination lock that's out of sight. As good as this all sounds, of course, a theft can still access the hidden pockets as they aren't protected by the lock itself. But don't let that deter you, as the hidden pockets sit in the backpack straps and cushioning without being seen.
A True-Backpack
Credit: Kickstarter
At the end of the day, cool features go a long way, but the true comfortability and use of a backpack are what truly matters. Like most smart backpacks, it has both a large and mid-sized compartment, giving the Lifepack backpack great ease of use. It is designed to being able to hold up to a 15-inch laptop, and the Lifepack backpack can even hold books and clothes. It also has space for several gadgets and accessories inside of the medium compartment.
What Travelers Are Saying About the Lifepack Backpack
Well, if you're like me, at first you may be thinking that a $200 backpack is no bargain. While it may certainly seem that way, consider the cost of all that it includes. Not only is it an excellently built backpack, but it can charge a phone (or two), play music, and be charged via the sun. For what you're getting, the Lifepack backpack does turn out to be a bang for your buck. Many owners of the Lifepack backpack have said that it's not extremely durable, but it brings unprecedented comfort.
A few owners though have said that with the Solarbank, the total weight of the Lifepack can add up quickly when carrying other items. And to not ignore the obvious, wearing this backpack certainly brings a "cool-factor" as surely your friend's backpacks can't charge their phones. The Lifepack backpack was created with travelers in mind and that's certainly where it shines. No more fumbling around for that foreign travel adaptor. It's sitting on your back. One traveler said, "As a frequent business traveler, the features like a power-bank to charge my phone with a USB cable during flights, a hidden passport pocket, thick back padding and the receipt holder are crucial."
Another owner said, "By far one of the best charging bags ever. Great for school! It can hold up to 4 binders and up to 4 notebooks or 1 or 2 textbooks. There is enough space for all your gadgets and even more for school! It has a cool design and has tough material to last a while."
Alternative Smart Backpacks
While the Lifepack Backpack certainly makes as an outstanding option for digital nomads and travelers alike, there are some excellent alternatives.. Ranging from smart backpacks fit for recreational activities, fashion, or even inexpensive to upper-range, these smart backpacks should be considered.
Ghostek Smart Backpack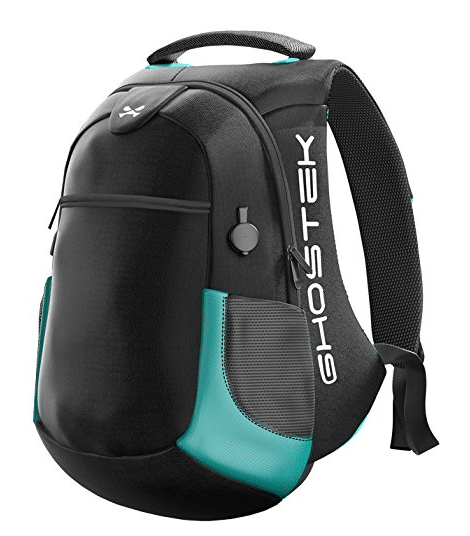 Featuring a compact, yet spacious 40-liter interior, the Ghostek Smart Backpack is the perfect backpack for those who travel but desire a sporty look. It's made out of water-resistant polyester and has a 16,000mAh battery with three USB ports for charging all your devices. An intelligent power LED indicator is present to let you know when your Ghostek backpack battery is low and there's also an AC adaptor. The Ghostek Smart Backpack sports a narrow and flat shape which sits forms parallel to your back. No more worrying about looking dorky with a backpack that sticks out.
Another defining feature on the Ghostek is its incredibly durable polyester build. Woven to be water-resistant, you won't need to worry about spills or even tears. The bag comes in black, blue, camo, teal, gray and red. Consider the Ghostek Smart Backpack if you're looking for a bag that will be perfect for an outdoor-based life.
Got2Go Smart Backpack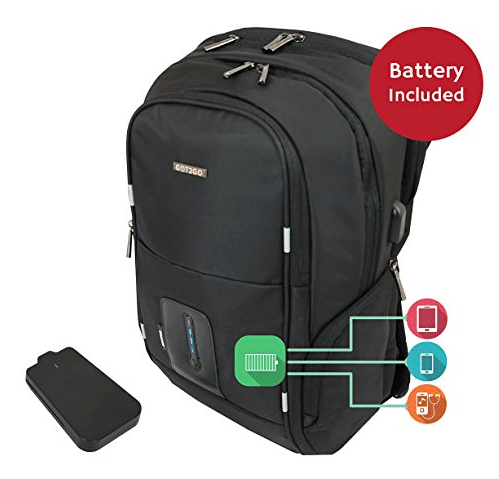 As a cheaper alternative, the Got2Go Smart Backpack features a 7000mAh Battery and docking station, which can charge a phone up to four times. It can hold a 15-inch laptop and has plenty of space for books, clothes, documents, and gadgets. The bag has a high rating from customers and ensures its quality with a 1-year warranty. Like most smart backpacks, the Got2Go has an LED indicator to let you know its power. With its extensive list of features and low price, the Got2Go laptop backpack has made a significant impact in the smart backpack industry. Most other smart backpack companies generally charge higher prices for essentially the same product while Got2Go offers their smart backpack for less. Being one of the first to offer a product at such a competitive price, the brand has made thiers practical and ideal for students.
Eceen Solar Powered Smart Backpack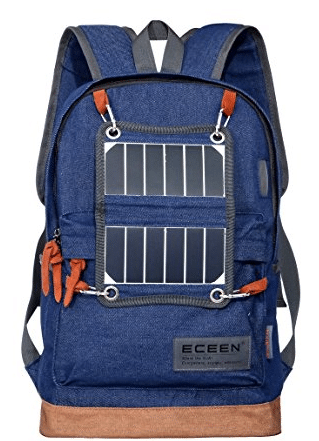 For those who spend their time exploring the great outdoors, the Eceen Solar Powered Smart Backpack is an excellent alternative. The Eceen Smart backpack has an adjustable suspension system that forms to your torso with stretched mesh panels for maximal comfort. In terms of its large solar panel, its 7W surface captures the sun to charge devices at 1.5A and has a 10000mAh battery. This also has a double USB, but keep in mind that the solar does not store energy, so a device must be plugged in. However, the backpack does include a power-bank which is charged from the solar, meaning that you can plug into the backpack whenever.
Another cool feature of the Eceen Solar Powered Smart Backpack is that it has a built-in hydration system with a straw. So no longer will you have a water bottle uncomfortably sticking out into your back. Lastly, it also has an overcoat, so if it rains, then you can protect it from getting wet. The Eceen Solar Powered Smart Backpack is another great option for those geared for the outdoor life.
Are You Ready To Travel Smart?
The Lifepack Backpack can prove a worthy investment as the lives travelers often rely on technology. You should never have to worry about not making it onto your next flight because your phone is out of juice. Traveling can be stressful enough the way it already is. Smart Backpacks are continuing to be made to adapt to travelers needs, and the Lifepack Backpack is a great take. But don't take my word for it. Check out the Lifepack Backpack for yourself to see how it could power your next journey, as well as make your next trip easier.
Interested in getting a Lifepack Backpack for yourself? Let us know in the comments section below.
Related Article: Every Smart Traveler Needs A Smart Backpack | Review