Are you wondering when is the best time to visit Norway?
If you've seen pictures, we're sure you know. Norway is gorgeous all year long. During the summer, travelers come from around the world to see the breathtaking fjords and embark on epic hikes like Trolltunga. In the later seasons, the landscape is transformed into a snowy winter wonderland. The further you go towards the Arctic Circle, the better your chances are of seeing the famous northern lights. The best time to visit Norway all depends on what you want to see.
To make life a little easier, we've mapped out each season's major events, attractions, and general weather. With this said, Norway spans nine different types of climates and almost half of its territory is located above the Arctic Circle. The temperature and weather patterns can vary drastically based upon whether you're in the south or north.
The Best Time to Visit Norway: A Seasonal Breakdown
May – June: A Good Time to Visit Norway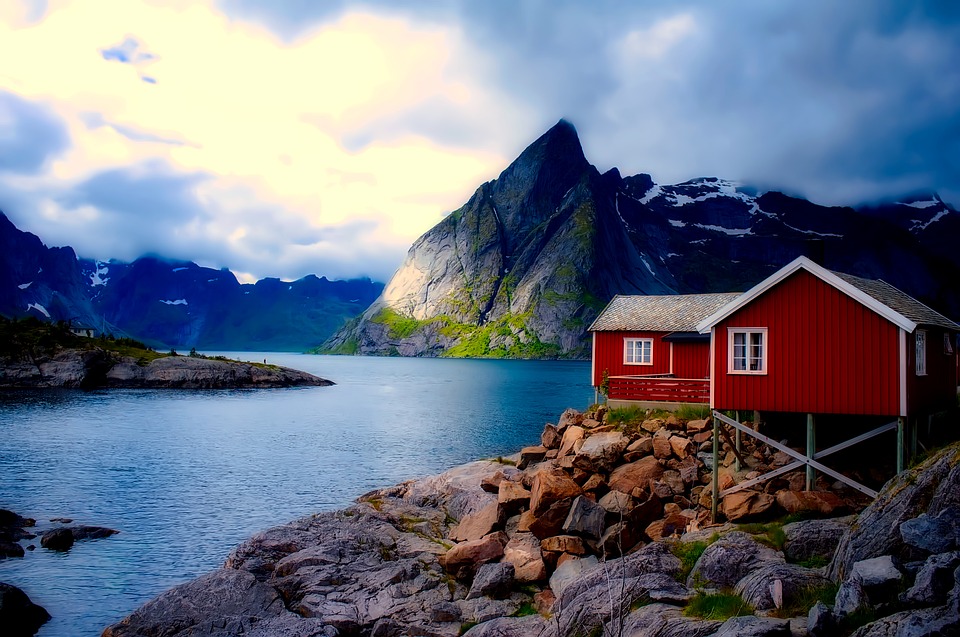 If you're looking for the best time to visit Norway, we highly recommend visiting between the spring months of May through June. By now, the winter's ice and frost have receded, giving way to lush greenery, open fjord passageways, and wildflowers springing up across the grass. Due to the melted snowfall, valleys may have a little sludge and waterfalls are flowing heavier than before. Looking to cities like Oslo, you'll find the temperature to be between 58-65 degrees Fahrenheit. Don't be fooled by the summery appearance; bring a good puffy jacket and layer.
Norwegians love celebrating the arrival of spring, so there are plenty of fun things for travelers to do at this time. And all before the massive influx of tourists arrive. On National Day, May 17, all the locals dress up. There's plenty of dancing, wine, and celebrations, as well as a number of fun outdoor activities. Other fun festivals include the Midnight Sun Marathon in Tromso and the Norwegian Wood Music Festival in Oslo (both are held in June).
June – August: The Peak Season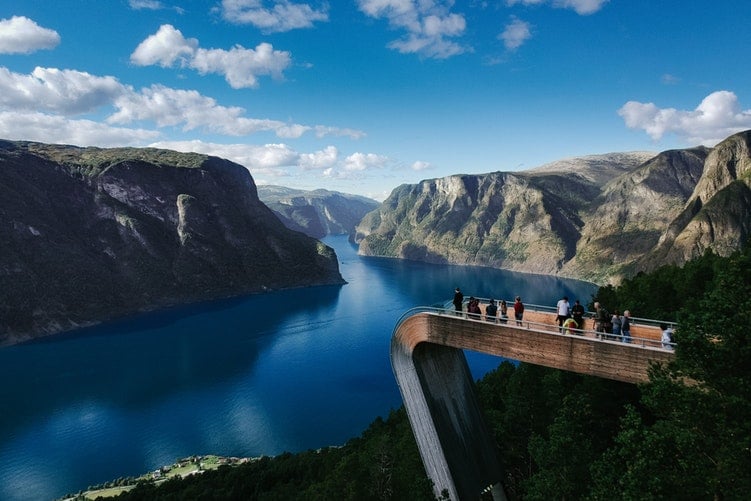 If you're looking for warmer weather and longer days, the best time to visit Norway is during peak season. From June through August, this is the country's busiest tourist time. Not only are transportation services more frequent but you can also spot the famous Midnight Sun the further north you head. During the month of June, there are quite a few medieval festivals; our favorite ones take place in the country's oldest city, Tonsberg (aka the city of vikings). Even in the warmth of the summer months, rain is prevalent, so make sure to bring an umbrella and good waterproof outerwear.
While plenty of tourists are coming into Norway, many native residents are traveling out for holiday come July and August. By now, the Midnight Sun is high into the sky, with the sun rising a little too bright and too early (aka 4 am). Bring a sleeping mask. However, despite the locals leaving, festivals are still underway and there are plenty of fun things to do. Unique festivals like the Riddu Riddu Festival (in July) celebrates indigenous Sami culture. Go berry picking, check out cool roadside attractions, and make sure to go on some of the top hikes too. Some of our favorite hikes are: Reinebringen, Hermannsdalstinden, Pulpit Rock, Trolltunga, Trollstigen, and Horseid Beach.
September – October: Fall / The Good Season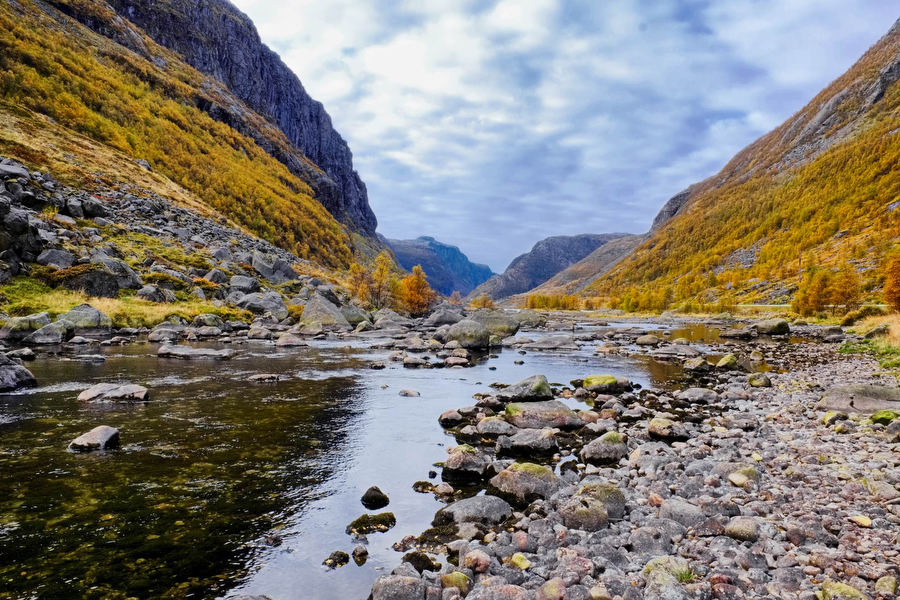 Credit: Niels Kliim
Fall could very well be the best time to visit Norway. September is a great time to visit Oslo. Temperatures will be around 50 degrees Fahrenheit, a crisp cold. One of our all time favorite events is Culture Night. During this time, cultural institutions keep their doors open until the wee hours and host free, fun events. Another great event is the torchlight walk along the Akerselva River. Celebrating the autumnal equinox, it's sure to make your visit to the capital city one to remember forever.
If you're looking for the highlight time to harvest berries and mushrooms, October is it. The weather can span anywhere from the low 40s to low 60s in Fahrenheit. While the rainy season might dampen some of your plans (all pun intended), there's nothing a little bit of waterproof gear can't fix. Not to mention, the fall colors are absolutely gorgeous. Make sure to spend plenty of time exploring the forest during this season. Just make sure to get an early start. The days are diminishing but on the plus side, that increases your chance to see the northern lights. We've heard from locals in Bergen that they've seen the Aurora Borealis there (it's a rare treat). The further north you head, the better your odds.
November – April: Winter / Low Season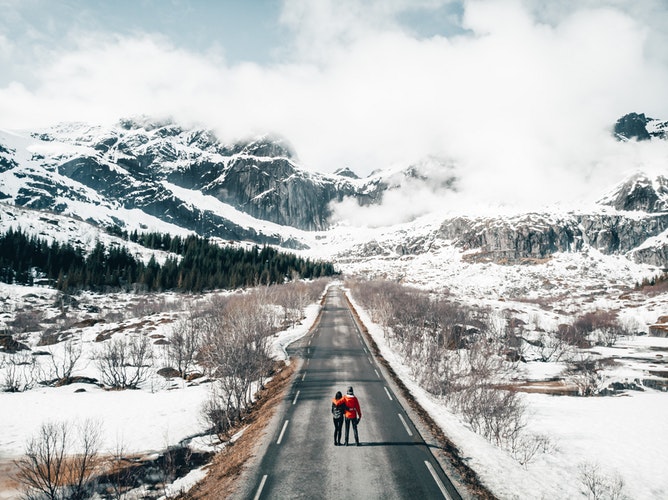 Come November, Norway is fully into the Polar Night season. What does this mean? Well, the sun sets around 3 pm in big cities like Oslo and Bergen. For those of you up in the Arctic Circle, the sun doesn't rise at all. For those of you who are okay with the cold and dark, the winter season very well could be the best time to visit Norway. Don't sell it short. You can go on sleigh rides, sleep in ice hotels, go snowmobiling, and best of all, head to Europe's northernmost point to see the stunning Aurora Borealis.
The Christmas season is perhaps the best time to visit Norway. Here, everything looks festive as the old traditions of Juletide blend with Christian heritage. The result is a merry spirit that pervades throughout the entire month. If you're ready to eat your fill in hearty holiday food and dive into the merriment that is Santa Claus's village, then book your ticket now.
When You Shouldn't Visit Norway
We get a lot of questions from travelers wondering when they should not visit Norway. As we said earlier, the best time to visit Norway all depends on your travel preferences. Can you handle cold temperatures (20 degrees Fahrenheit and below)? Would you mind visiting during times of drastically shorter daylight if it means seeing things like the stunning Aurora Borealis? Each season offers something beautiful and unique to see in the country.
The Best Time to Visit Norway for the Northern Lights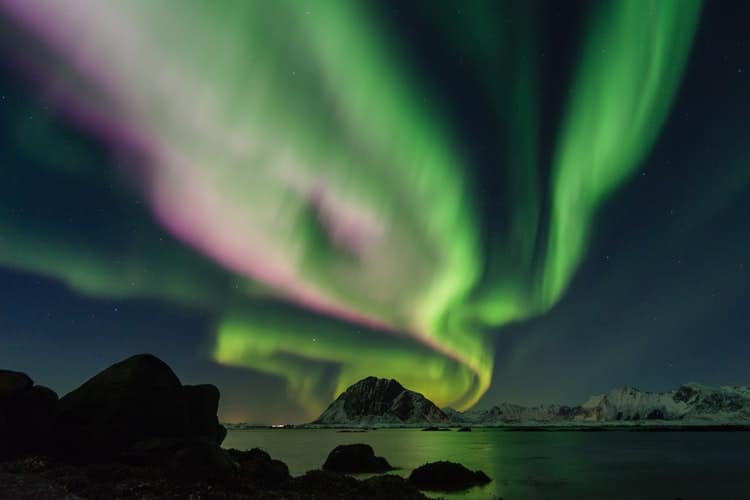 Are you wondering when to see the northern lights in Norway? While many people make the mistake of thinking they have a good chance of seeing them in towns like Oslo and Bergen, it's rare. Chances are, you'll be too far south of the Arctic Circle to even catch a glimpse. So, head to northern Norway. Tromso is one of your best bets.
However, if you're feeling a little more adventurous, head out to Svalbard, the archipelago between Norway's mainland and the North Pole. The long Polar Nights in January and February provide almost 24/7 opportunities to see the northern lights. Just keep your eyes open for polar bears, dress for extreme winter, and be cautious.
The Best Time to Visit Norway for the Lofoten Islands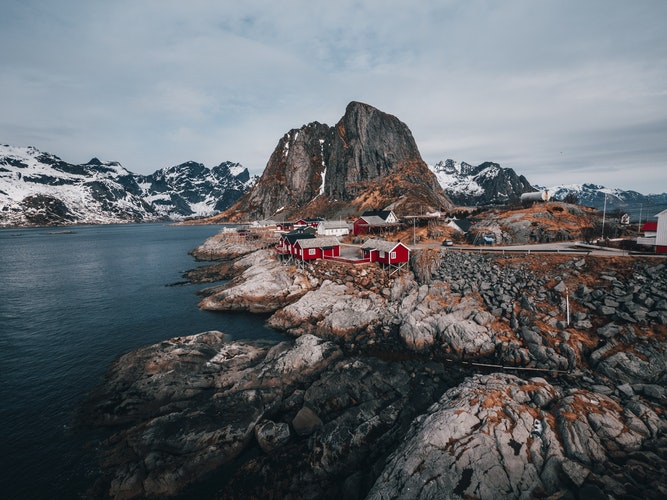 If you're scoping out some of Norway's most beautiful landscapes, look no further than the Lofoten Islands. While a few years ago, most people hadn't even heard of this location, Instagram has turned it into a travel hotspot. But just because it's got a big reputation doesn't mean it's been spoiled by tourism (at least not yet). It depends largely on the season that you visit in.
However, if you're looking to visit in the summer, don't be surprised if all the accommodations are booked in advance. If you want a nice place to stay (or any place at all for that matter), book ahead. For accommodations, check out all the cozy spots listed on Airbnb. Here's another tip. It will be a lot easier to explore Lofoten by car than simply walking around town or hoping to catch a bus or train. Sometimes the sights you want to see are scattered and it's hard enough to fit them all into one trip.
After all, the Lofoten Islands are a mecca for outdoor adventurers. You'll find beautiful hiking, climbing, fishing, skiing, and cycling spots all right here. We love that the tourist scene markets itself towards the young and young at heart. Even the luxury market orients itself towards adventure seekers. When you're looking for activities to plan, keep in mind that embarking on them during the winter can be dangerous. We think the later spring and early summer are the best times to visit.
Choose the Best Time to Visit Norway for You
We hope you enjoyed reading our article on the best time to visit Norway. As you can see, this country is filled with natural beauty, rich culture, and so many amazing opportunities for adventure. Now that you know all about the best time to visit Norway, it's time to book your dream trip. What kind of vacation are you seeking? Whether you are coming for nature observation, adventure, or all of the above, this country has it all. Let us know your plans to visit the land of the fjords.
So when is the best time to visit Norway? While you will enjoy your stay at any time of the year, the summer and early autumn seasons offers the best weather and longest days. However, they are often the most expensive times to visit and you'll face the most crowds.
To save a little more money, consider visiting in the shoulder and off seasons. You'll be pleasantly surprised at the price rates you'll discover. Besides, we would rather sacrifice a little sunshine for less tourists. We loved having a little more space on the streets to ourselves. Lines to museums and exhibits were shorter too.
Last but certainly not least, do you have any questions or comments for us? If you have a fun story about your visit to Norway and some favorite hot spots, we'd love to hear those too. Feel free to leave us a message in the comment section below. We look forward to hearing from you and will be sure to get back with you soon.
Related Article: Travelers, Here's the Best Time to Visit Ireland