Know before you go. Check your bag's weight with the best luggage scale.
Nothing is more embarrassing and frustrating than getting that look from the flight attendants and being told your carry-on is too big to fit on the plane. If you're anything like us, you're more of a minimalist packer. Unless you're planning on staying in a new location for a long time, a carry-on bag can get you very far. We have even traveled out of one for a month's backpacking trip across Europe. But that is another story. To save yourself a little time (and money) from having to check a bag, invest in the best luggage scale. This fun little travel accessory will pay for itself in no time.
In a time of strict luggage restrictions, you can never play it too safe. Don't forget your bag will contribute a lot to the overall weight of your packing. Weigh your suitcase at home and thank us later. Some international airlines like RyanAir and EasyJet are even more strict than your standard domestic ones. Make sure to look up their restrictions for carry-on bag's dimensions before making a purchase too.
While the function of most of these devices is the same, the best luggage scale will have a few extra key features. Make sure to keep your eyes open for the ability to switch between different weight units (e.g. lbs to kg) and a built-in tape measure. Here are our affordable picks for the best luggage scale.
What is a Luggage Scale?
For those of you who don't know, a luggage scale is a handy, portable device you can bring with you to weigh your luggage wherever you go. They are helpful to keep you from going over the weight limit imposed by airlines for carry-on bags. Knowing how to pack light (and what not to bring) helps too. The best luggage scale has a digital display screen and is built from durable materials. They can be found at a variety of price points and styles to suit your taste and needs. Generally speaking, they're pretty cheap to buy and are a vital accessory to buy for your luggage – no matter how large or small your bags are.
If you think to yourself 'Do I really want to spend money on a luggage scale?' the answer should always be yes. Think about it this way. Would you rather spend ten to fifteen dollars on a luggage scale one time or would you rather pay $30+ every time you have to check your bag? By weighing the costs and benefits of buying a luggage scale (all pun intended), it's easy to see that you will want to pick one up.
The Best Luggage Scale: Our Top Picks
The best luggage scale depends on your needs. Are you going to be traveling with a large, heavy bag or are you going to be using a fairly lightweight carry on piece? Either way, you have to factor in how much your bag weighs into the overall weight. As we mentioned, some airlines are very strict with the weight requirements, even for checked baggage. Before you start packing, make sure you know the weight requirements for the airline as well as the restrictions on dimensions for your bag.
International airlines are particularly strict with size and weigh restrictions for baggage. Convert the measurements of your bag and its weight to meet their standards. It is always better to fair on the lighter side and leave out some items than to have to throw them away. Pack light when it comes to toiletries. And remember, you can always buy some items you need when you reach your destination.
1. Camry Luggage Scale with Temperature Sensor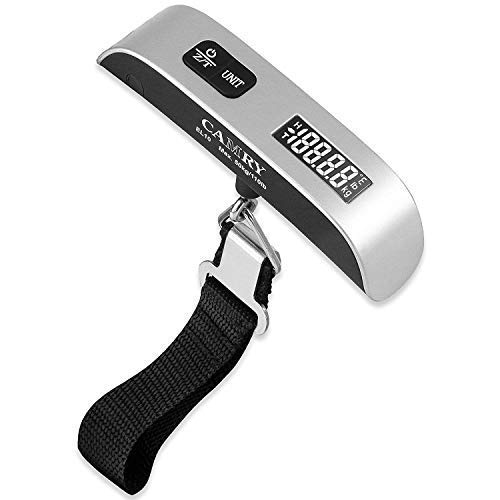 Credit: Amazon
You will never have to pay unexpected luggage overage fees again. This luggage scale from Camry has got you covered. Now, you can remove the stress of not knowing if you can carry your bag on board until you reach the long line at the gate. We love the design. A comfortable rubber handle showcases temperature display, zero and tare function, and a low battery and overload indication.
You'll find just how easy it is to use, weigh, and store. First, unravel the black luggage strap. Hang your stuff on the strap and wait for the display to read "0." Lift up on the scale and hold until the display flashes three times. The value displayed at the end of this process is the weight of your bag. Weighing in at only 3.5 ounces itself, you can easily store it away when you are finished using it. It's portable and easy to slide right into your handbag or laptop carrying case. Here's the best part. It only costs ten dollars.
Tech Specs:
110 lb/50 kg capacity

Room temperature display

Rubber handle

Zero and tare function

Low battery and overload indication

100% satisfaction guaranteed

30-day hassle free money back guarantee and one year warranty
2. Tarriss Jetsetter Digital Luggage Scale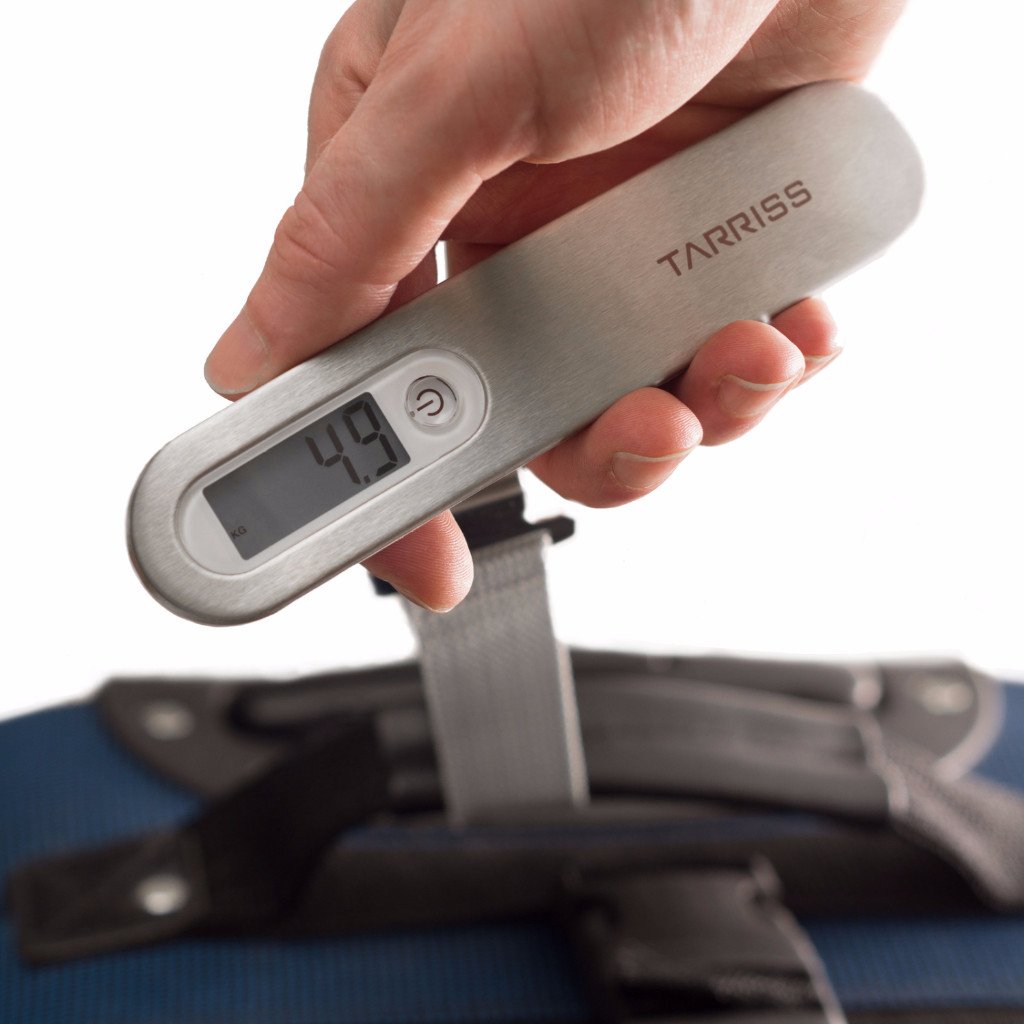 Credit: Amazon
Traveling can be expensive and stressful. Save some money and keep your peace of mind with the Jetsetter Digital Luggage Scale from Tarriss. Why should you have to worry about your bags at check-in time? This highly accurate and dependable piece is just what you need. The easy to read LCD display is a lifesaver; you won't have to strain or bend to see how much your bag weighs. There are so many features that go into making this a top pick for the best luggage scale.
3. Samsonite Manual Luggage Scale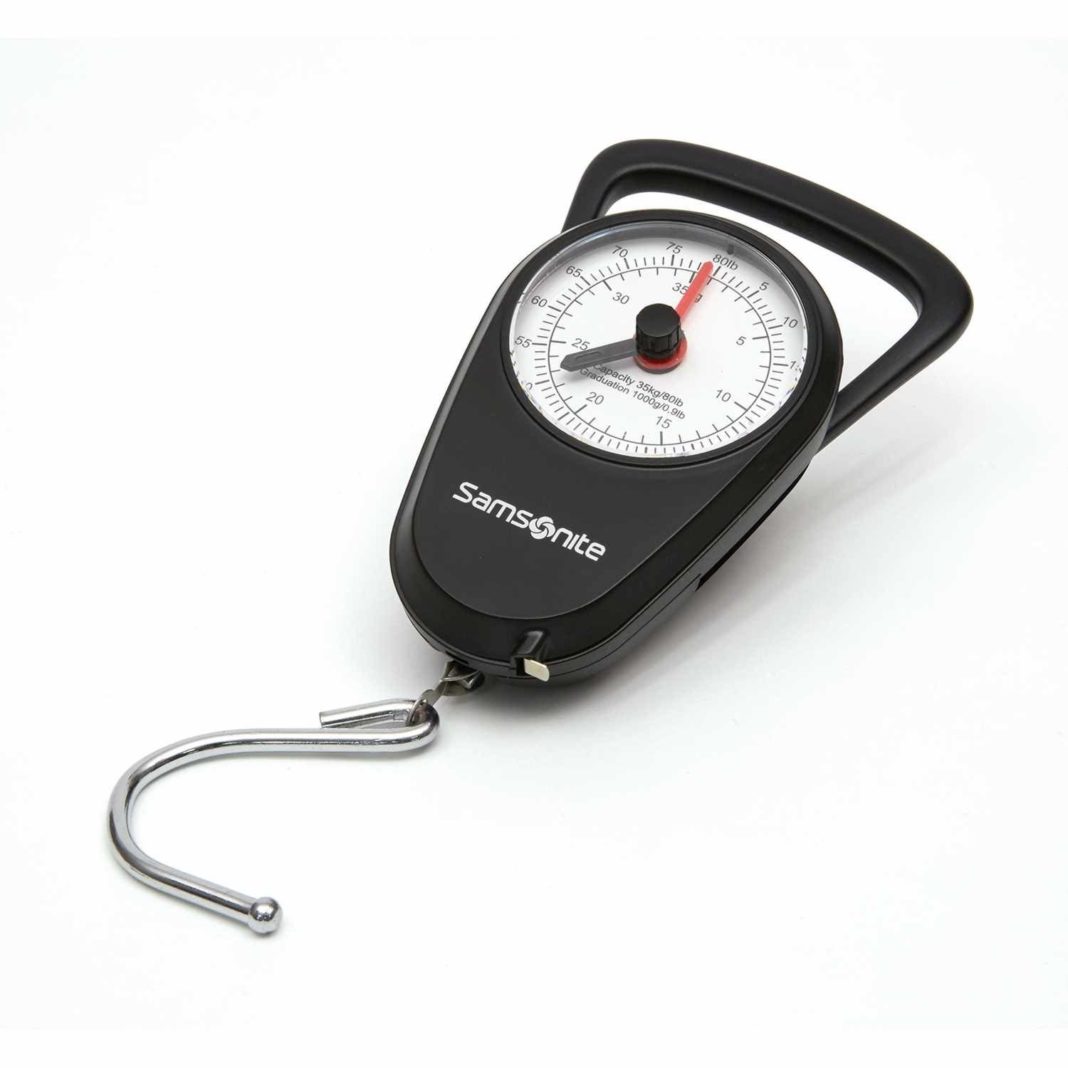 Credit: Amazon
For those who prefer a more classic approach to their luggage accessories, check out the Manual Luggage Scale from Samsonite. Reviewers love how easy it is to use and at only $7, you won't be able to beat the price. A clear, readable face has a dial that shows both pounds and kilograms, convenient for when you are traveling abroad.
The capacity of this scale is lower than others on the list but that shouldn't matter. The max capacity of the scale is 80 pounds – and if your bag weighs more, we have to say that is your problem, not Samsonite's. Having a built-in tape measurer is a bonus, letting you make sure that your bag meets the measurement requirements for carry-on luggage. As we mentioned earlier, some of those international budget airlines are very strict with what they allow you to bring on for free. After all, they've all got to make money so they look to charge you in the little things. Do your research before you fly and you will be fine. Last but certainly not least, the dial features two needles, one of which has locks in place to give you a consistent, simple measurement.
Tech Specs:
Manual

Comfortable grip handle

80-pound max capacity

Dial features two needles

Simple, consistent measurement
4. Leokor Luggage Scale with Tape Measurer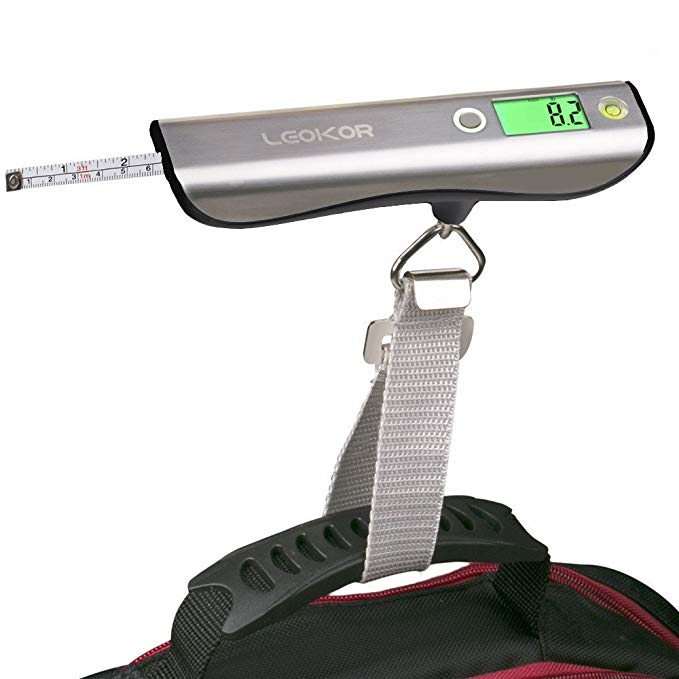 Credit: Amazon
You get the best of both worlds here. The Leokor Luggage Scale offers the convenience of a modern digital display screen and a built-in tape measurer. Making sure your luggage meets airline restriction standards has never been easier. Forget about pulling your bag apart and leaving behind your warm sweaters to save some weight. Pack what you need and weigh your items before you go. In terms of organization, how you pack helps a lot. A good set of packing cubes will reduce lumpiness and keep your travels stress-free. ]
The maximum capacity of this tool is 110 pounds. That is just one of many features that make it a great candidate for the best luggage scale. Depending on the size of your suitcase, you can even operate it using only one hand. The brightened LCD display makes it easy to read the screen, even in a darkened room. When it is not in use, the auto functionality tool kicks in, turning the device off and saving the juice in your battery. Push button controls allow you to switch between pounds and kilograms and a red warning flashing light alerts you when your bag weighs more than fifty pounds (aka the weight limit for most airline's checked bags).
A thirty-six-inch measuring tape allows you to check your baggage against the restrictions wherever you are. It's never been easier knowing how your bag will fit into the overhead bins. All in all, this 4.8-ounce gadget is a dream come true for the conscientious traveler. A luggage device you can slip into your pocket is one that will never get old.
Tech Specs:
110-pound/50 kg capacity

Built-in 36-inch tape measurer

A brightened LCD display screen

Auto turn off

Push button controls for weight

4.8 ounces
Invest in the Best Luggage Scale for Your Next Trip
Now that you know about the top picks for the best luggage scale on the market, it's time to make your selection. These affordable picks will make your life so much easier the next time you go to travel. In the long run, it will save you so much money from paying for checked baggage fees. It will pay for itself in no time at all.
Related Article:​ The Best Underseat Luggage For Every Journey