Best Restaurants in Disney World
It is no secret that Disney World has amazing food. Not only is the food known for being delicious, but the themed restaurants go above and beyond to give you and your family an incredible experience. Since Disney World is such a large place, there really is every type of restaurant you can imagine. From fine dining to character meals, to themed diners and cafes. If you love to eat while you travel, Disney World is a great place for you.
Regardless of your motivation for going to Disney World, whether you are a mickey mouse lover or you want the best time for your kiddos at the happiest place on earth, the food will always make your experience happier. Be sure to try at least a few best restaurants in Disney World on this list during your stay. And have a magical visit! Be sure to checkout our Disney Packing List before you take your trip to Disney World!
1. Storybook Dining at Artist Point, Disney's Wilderness Lodge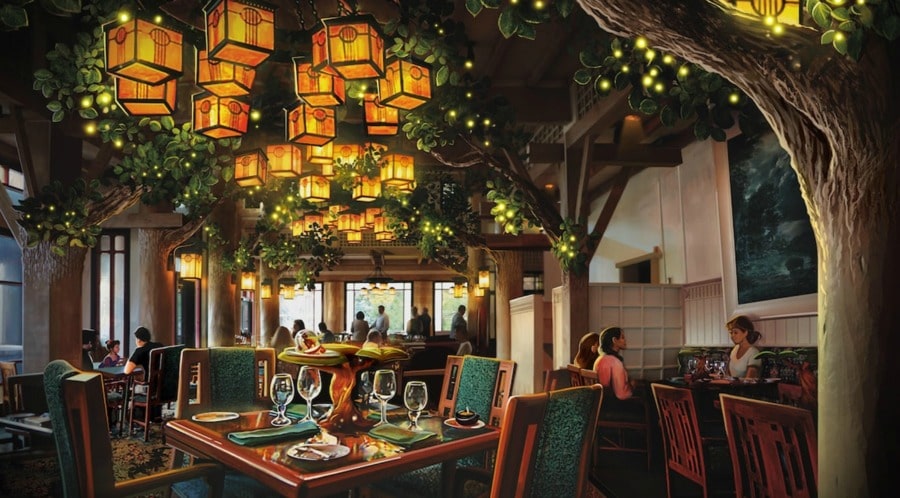 Storybook Dining with Snow White – Credit: Disney
Our first Disney Restaurant is a brand new one that has opened up just this past winter. You will be able to meet Snow White and her friends, Grumpy and Dope. This restaurant is inspired by the setting of the movie Snow White and the Seven Dwarfs. It has a rustic, outside type feel that brings the enchanted forest to life. This restaurant plays music that brings you into the story as well. There are plenty of drink options available from out of state, such as cocktails, beers, and wines. The foods are named to fit the story, such as Hunter's Pie and Wicked Shrimp Cocktail, and Princess Pasta.
Everything here is delicious, meals coming from a prix fixe menu, and even down to the dessert. Reservations are recommended in advance at this restaurant as well. From the moment you walk in until the moment you live, this restaurant embodies the story of Snow White. You may even meet her nemesis, The Queen! If your little ones love the story of snow white, or maybe you love her story, this is a fantastic new addition and best restaurant of Disney World for you. This has been a long-awaited addition, and now it is here! Be sure to make your reservation as soon as possible at one of the best restaurants in Disney World.
2. Monsieur Paul, Disney's Epcot
This is a gourmet French restaurant is one of the best restaurants in Disney World serving classic cuisine. It is centered in Epcot's France in the World Showcase. This restaurant has the exact feel of being in France, so when you come here you can be sure it is a great place to celebrate any special occasion as you would in the real France. The menu was made by a chef who has a three-star restaurant. He is sure to use dishes and ways of cooking that are uniquely French, so you are receiving an authentic experience.
As for any good chef and restaurant, the dishes are made with local and seasonal ingredients! The decorations in this restaurant have French architecture and design. Make sure you make a reservation. It is recommended that you make it 180 days before coming. The dress code can be found on the same webpage you make the reservation on. The dressier the better is recommended!
3.
Biergarten, Disney's Epcot
This German buffet is a fun and exciting place to dine. It is communal style, meaning there are tables all in one area and people come together in close quarters to enjoy their food. The types of foods served here are many heavy types of meat such as bratwurst, chicken, and pork schnitzel. There are also tasty salads for those watching their meat intake and yummy desserts!
There is a fun band playing traditional German music as you eat and you are free to get your jiggy on or enjoy the communal space that is an ode to Oktoberfest. Another beloved favorite of the Germans is undeniably, alcohol. There are plenty of beers and wines to choose from! There is always something fun and different going on in this restaurant in Epcot, Germany. This is one of the best restaurants in Disney World with a theme.
4. Be Our Guest, Disney's Magic Kingdom
Credit: Tammie, Make and Do
Be Our Guest is one of the most loved and visited Disney restaurants on our list, and beyond. This can easily be marked as one of the best restaurants in Disney World. Here, you can enjoy any meal- breakfast, lunch, or dinner, and it is all DELICIOUS. Because it is based on a French-inspired movie and characters, the cuisine here is French-inspired. The many rooms of this restaurant screen Beauty and the Beast. As you enter in, it is as if you have stepped into a storybook. This castle exists in Fantasyland, and its truly an elegant and sweet experience to behold.
There are three rooms, all decorated with scenes from the movie. The first is The Grand Ballroom, which a ballroom that is Gothic style with its chandeliers and high ceilings. The West Wing is room two. This is the beast's West Wing that is mentioned in the movie. This room is meant to be out of bounds for Bell to enter into, but of course, we know she does not listen to this request during her stay at the Beast's castle. The third room is The Castle Gallery. Here, you will experience Belle's library come to life. There are visions of Beauty and Beast dancing and in love all around. All three rooms have the same menu and level of service, so take your pick and enjoy!
Additional Perks
On top of the request to make reservations in advance, there is also an option to pre-order your meals. You can order ahead for breakfast and lunch online up to 30 days beforehand! This accommodation does not apply to dinner. Breakfast and lunch are more laid back meals, but dinner is an outstanding, classy 3-course meal with genuine French-inspired dishes. For the kiddos, there is an option to create their own 3-course meal!
You are able to make this the best experience ever for those you love by using the First Wish option. With this, you can have a gift placed on your table just in time for your arrival. This contains a pixie-dusted rose and charm bracelet with a crystal "wishing star" from Swarovski. The other option is My Disney Fairy Tale which is a next step gift experience. There will be everything from a tiara to a slipper to everything in between signed by your girl's most beloved princess available at the table. If you are wondering how to choose either of these gift options, you can check out the Disney Floral & Gifts site and speak with a Dream Maker.
5.
Jiko – The Cooking Place, Disney's Animal Kingdom Lodge
Our next restaurant is an incredible place to experience African, Indian, and Mediterranean food. As far as cultural cuisine, this is one of the best restaurants in Disney World. There is everything from seafood, to steak, to vegan and vegetarian options. The menu is constantly changing depending on what season we are in. There is a great children's menu for those youngins less excited about trying exotic food. But this is not just a typical kids menu. They serve grilled meat, fresh fish, and veggies with ancient grains. Talk about healthy and yummy for your kiddos! This allows you to enjoy incredible flavors.
Walking into this restaurant is like being transported into the Savanna. The ovens give the whole place a warm light that is similar to an African sunset. You will be able to watch those preparing your food in action from your seat, as well as look out onto the amazing grounds outside with tons of African animals. Jiko has a wine tasting tour that will allow you to have a taste of wine throughout South Africa. Along with your dinner, you can also encounter animals privately! Jiko- The Cooking Place is an amazing experience for the whole family. Be sure to check out and adhere to the reservation time period (180 days in advance) and the dress code.
6.
Spirit of Aloha Dinner Show, Disney's Polynesian Village Resort
The Spirit of Aloha Dinner show is a Polynesian luau for the whole family to enjoy. There is everything from hula dancing to fire dancing. The purpose of this dinner show is to display Polynesian traditions. The food is authentic such as chicken and veggie medley, Aloha pulled pork and Polynesian ribs. There are also kids options that are filling and healthy. You can buy fruity cocktails served in keepsake cups that are hand-carved coconuts! They also accommodate dietary requests, so just let them know! Just like our last few restaurants, be sure to set up a reservation 180 days in advance. There is no dress code needed, just show up ready to have an enchanting time! When it comes to dinner shows, Spirit of Aloha is one of the best restaurants in Disney World.
7.
Sci-fi Dine-in Theater Restaurant, Disney's Hollywood Studios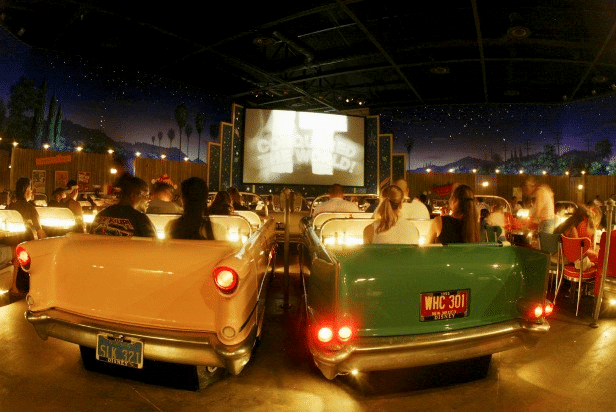 Disney Sci-Fi Drive -Photo by Gary Bogdon
Not only does this place give you a blast from the past, but does it in a modern way. It is no secret that eating at the movie theatre is a huge current phenomenon. But at this 50's diner, you can show the younger generation what drive-in movies were really like. The car you eat in is also a booth with a table. You will be able to watch classic sci-fi movies as you eat your dinner. The environment is an indoor, outside like atmosphere. The stars will be shining above you and the cars around you hosting other families will take you all the way back the 50's. Enjoy going back in history at one of the best restaurants in Disney World!
There is even a concession stand where you can pick up extra treats, just like the good old days of 50's drive-ins! You will find the American greats here, and by that, we mean the great American foods! Burgers, sandwiches, and fries. Don't worry, they are more evolved now and include a vegetarian burger option as well! There are plenty of drinks named to fit the theme as well as desserts that are "out of this world". Reservations made in advance are a recommendation, but you can also just show up and see if there is a car available for you. While you are visiting Disney's Hollywood Studios, be sure to checkout the Toy Story Land expansion!
8.
Chef Art Smith's Homecomin', Disney springs
Farm to fork- this is what our next restaurant is said to be! This is a Florida-inspired restaurant. The inspiration is from the bygone era in Florida. This being said, many of the foods used are from local farms and other places to get local meats. This is a comfort, soul type food such as shrimp & grits, biscuits, and fried chicken. There are also liquors such as their moonshine cocktails and Southern Shine bar. It does not get more southern than these names, or that the Florida bygone era! When it comes to southern food, this is one of the best restaurants in Disney World.
Every weekend (Saturday & Sunday) there is a Southern-Style brunch served. This is a great time for the whole family. Some foods served here are short rib and hash, homemade sugar doughnuts, and all types of breakfast foods. This restaurant can be found at Disney Springs, an incredible area to get a bite to eat at Disney World! If you are a lover of Southern food, or simply want to try it for the first time, this is a winner of a Disney World restaurant for you. Be sure to check out the menu ​​here! Your mouth will water just reading through it, we are certain of that.
9. Liberty Tree Tavern, Disney's Magic Kingdom
Our next restaurant is colonial style in honor of the founding fathers. This is situated in Liberty Square and they serve New England type food. Eat a family style all American meal like cheeseburgers or clam chowder. The whole experience will take you back to colonial times and truly immerse you into this period in time. Kids get a souvenir cup upon their visit and adults get a collectible mug. There are SIX rooms, all with the same historical Colonial Williamsburg theme. Each room showcases a different American hero.
10. The Rose & Crown Pub, Disney's Epcot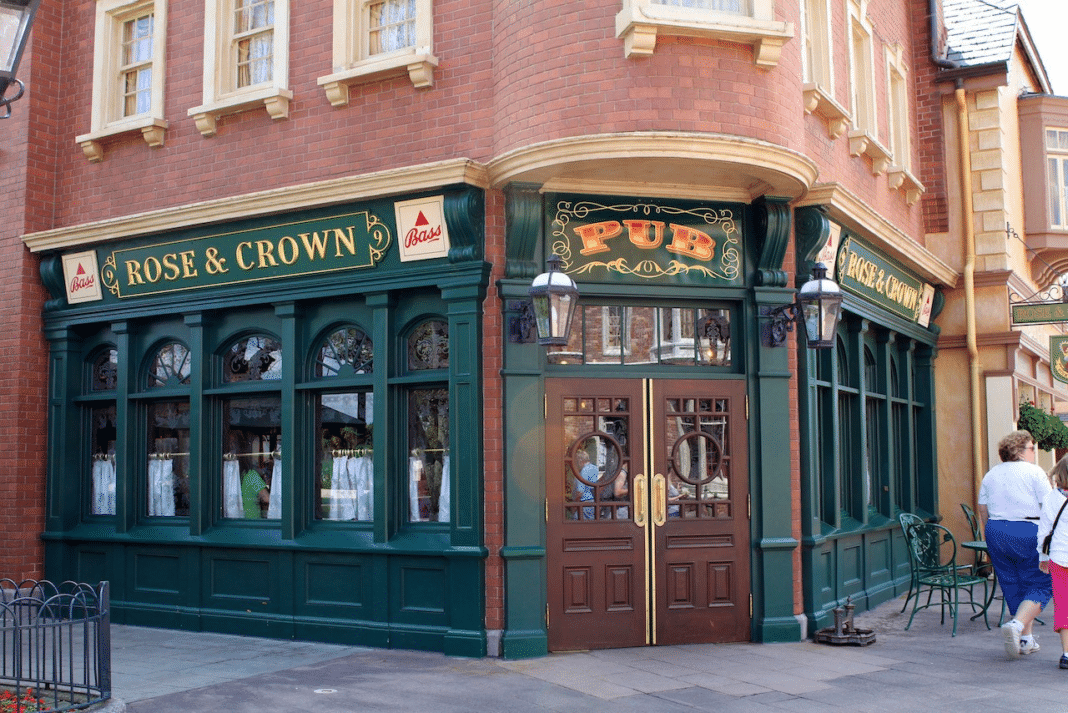 Photo by Anthony Trumbo
This British Pub is in England, which is part of Epcot's World Showcase. There are super popular British foods like fish and chips, or bangers and mash. This themed restaurant has kiddo friendly options as well, like turkey meatballs and grilled chicken. Rose & Crown has plenty of British alcohol options such as beers, ciders, and cocktails. This is a waterfront dining option because it overlooks the World Showcase Lagoon. If you have been dying to take a trip to Britain, then this is the perfect spot for you. As for the entertainment, there is a musician doing all UK tunes.
A huge perk enjoyed when dining at Rose & Crown Pub is the ability to watch Epcot's show while you eat, IllumiNations: Reflections of Earth, which takes place over the waterfront area. Be sure to get to your seat early in order to get a great spot to watch the show! Disney does an amazing job at making you feel like you truly stepped into whatever themed place you enter into while on their property. Many guests from Britain have expressed how similar this is to a traditional and true British restaurant in Britain.
Rose & Crown Tea Experience
If you are a fan of The Rose & Crown Pub of simply love tea and all things Britain, this is the experience for you. Here you will learn about various blends of tea and the history of Twinings tea. You can experience this weekends (Friday's, Saturday's, and Sunday's) at 9:45 am. Not only will you get to taste scrumptious teas, but you will also be served sandwiches and scones while a trained Twinings Cast Member gives you a history lesson of this brand. Be sure to make reservations in advance. The check-in for this experience is 15 minutes prior to the event, so be sure to show up early! Since this is a newer attraction, it is very popular right now. Be sure to reserve a spot!
11. California Grill, Disney's Contemporary Resort
Overlooking the Seven Seas Lagoon and the Magic Kingdom, this is a gourmet dining restaurant where foods from all over the world are offered in creative ways. From sushi to pizza, there is something delicious for everyone. There is a Sunday brunch option where the chefs talk with their guests from the open show kitchen. Try a light meal and even get your car valeted for free.
One of the best perks of California Grill is the view of the Magic Kingdom Fireworks Spectacular. The restaurant joins in the firework show and sets the mood for you to have the best experience possible. Regardless of if you are dining before the fireworks or after, you are invited to watch them at California Girl.
Be sure to make your reservations in advance and check out the dress code requirements before dining. You will check in on the second floor of Disney's Contemporary Resort and then be taken to the 15th floor to California Grill! If you are looking to mainly experience the fireworks and do so in a private way, check out Celebration at the Top – Savor, Sip, and Sparkle. Enjoy small plates and drinks, and then go out onto an observation deck to watch the Happily Ever After fireworks show.
Choose a Few Restaurants to Try in Disney World
No matter where you go in Walt Disney World to eat, you are pretty much set to have an amazing time. There is a place for every type of family. Maybe you want to dress up and have an incredibly fancy and nice dinner, or maybe you want to enjoy a laidback time of good food and entertainment. Regardless of what you are looking to eat and experience, you will absolutely be able to find some of the best restaurants in Disney World that excite you and your whole family on this list.
Related Article: Step-by-Step Guide to Parking at Disney World