As fun as the Windy City is, sometimes you need to escape the concrete jungle. Check out our ideas for fun weekend getaways near Chicago.
Okay, we know it's winter. But the best travelers don't let bad weather stop you from exploring. That's what snow chains, antifreeze, and four-wheel drive are for, right? On this list, there is no need for annoying security checkpoints or TSA-approved small liquids to bring in your carry-on bag. We're all about the open road. So pack up your favorite weekender and prepare yourself to have some fun and laughs. These fun weekend getaways near Chicago are within a reasonable driving distance. Check out these activities and take some time to recharge your life a little.
Here Are Our Picks for the Coolest Weekend Getaways Near Chicago
1. Geneva, Illinois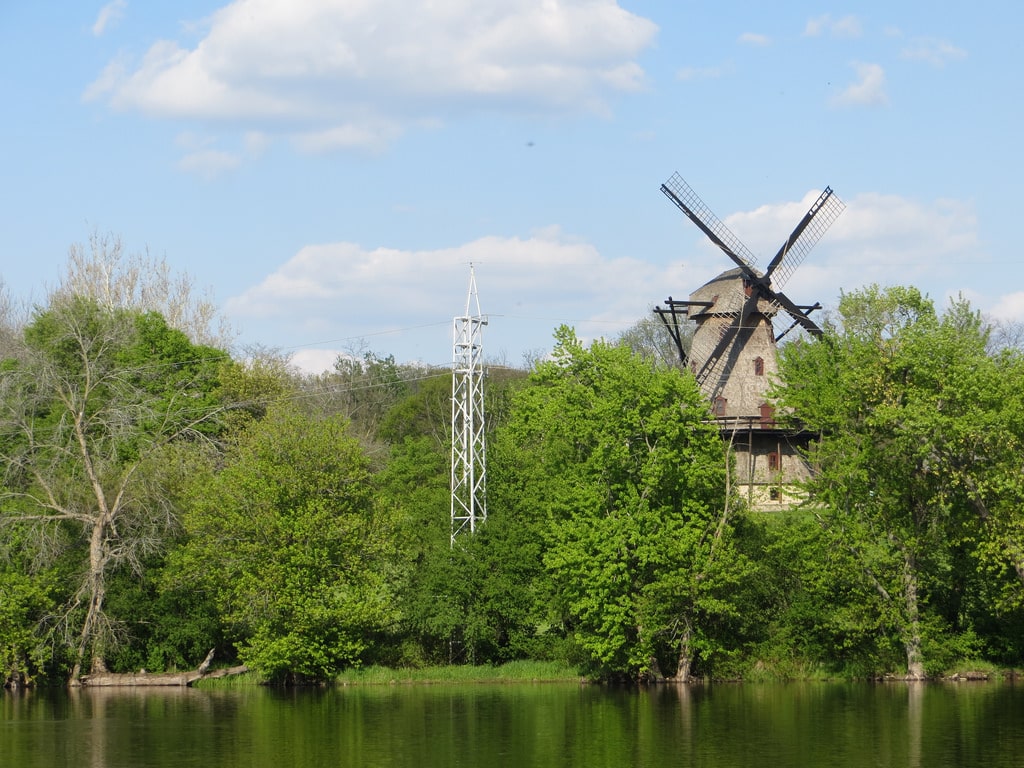 Credit: David Wilson
Have you ever heard of Geneva, Illinois? If not, you are in for a very special treat. This is one of our favorite small towns to escape outside of city life. And we all know we could use a break from the hustle and bustle once in a while. It's one of the best weekend getaways near Chicago. Since it is only forty-four mile outside of the city it is an easy one-hour drive or train ride away. This little town set along the Fox River offers plenty of charm in the form of outdoor, waterfront restaurants perfect for dining.
When you're picking a place to stay, we have a few recommendations. Fiora's, Bien Teucha, and the Herrington Inn are all viable options. After you have unpacked and taken some time to relax, go explore the town a little bit. Island Park offers some good old fashioned time with nature. Another fun thing to do is take a trip to St. Charles. Here, you can try out their classic vodka lemonades and sit out on the old-timey patio watching the boats drift past.
2. Ottawa, Illinois
Credit: Wikimedia Commons
Are you looking for a lush green forest that looks like the Pacific Northwest? Well, you have found it in Ottawa, Illinois. Seriously. This dense green forest is the stuff of every photographer's dreams. The good news is that it is not that far of a drive from the city either. As one of the coolest weekend getaways near Chicago, it is hard to believe you will only drive an hour and a half southwest to get here. You'll swear you have never felt so far off of the grid.
A historic town, Ottawa is located right at the junction of the Fox and Illinois Rivers. It's also known for being the entry point to the treasured Starved Rock State Park where towering trees run across cragged bluffs and cascading waterfalls trickle down their moss green canvas. Here is a pro tip. Avoid the crowds and go check out the equally cool site of Buffalo Rock State Park. And since you'll be staying the night no doubt, check on into the Starved Rock Lodge. It's a must-see hotel while you are here.
3. Saugatuck, Michigan
Credit: Wikimedia Commons
Does going out of state sound a little bit far? Absolutely but that is the fun of it. Taking the drive is one of the coolest weekend getaways near Chicago that you could do. And get this. It's only a two hour and a half hour drive from the Windy City. So why did Saugatuck make our list? The main attraction here is the beach and it is easy to see why. Known as the Midwest's best beach, there are plenty of ways to soak it all in and make the most of it.
Rent out some kayaks, sailboats, and maybe even do a little fishing. You have all the time in the world, so stop and enjoy it. Think of this beachfront getaway as a more affordable alternative to the Hamptons. Sand dunes and paddleboard rides are fun options to get out there and enjoy yourself among nature. If you have never been sandboarding in the dunes before, we highly recommend it. It's one of those bucket list things you have to try out at least once in your lifetime.
Walk the halls and take in the art before you retreat to your room. Or wait to rest until the night and try your hand at brew making at their on-site Saugatuck Brewing Company. Can you think of anything cooler than brewing your own beer? Sit with that for a second. We will wait.
4. Bloomington-Normal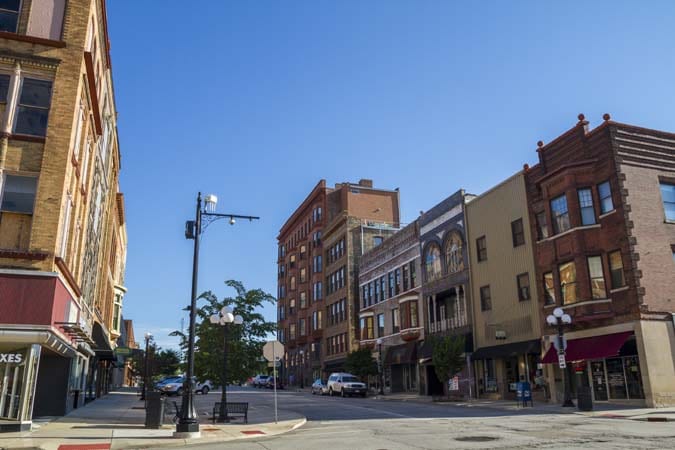 Credit: Visit Bloomington-Normal
Take a 130-mile drive southwest until you reach Bloomington-Normal. Theater lovers know the upstate as a great place for outdoor Shakespeare in the summer. But what about down low? Whether you are looking for an improv show, sing along, or just a performance of the Shakespearean classics, this is the place to be. The Illinois Shakespeare Festival in Bloomington kicks off in June every summer, running all the way until mid-August.
Are you wondering where the "normal" came from in naming this city? It's a nod to the Bard. One thing that makes Bloomington-Normal such a big drive is its restored 1800s buildings. Old buildings house lovely farm to table eateries, there are plenty of cute shops to poke around into, and live music fills the air on most breezy nights. Last but certainly not least, make sure to check out the three-story courthouse while you are there. Inside, the museum highlights the area's fascinating historical treasures. When you're looking for the coolest weekend getaways near Chicago, add this fun locale to your list.
5. Madison, Wisconsin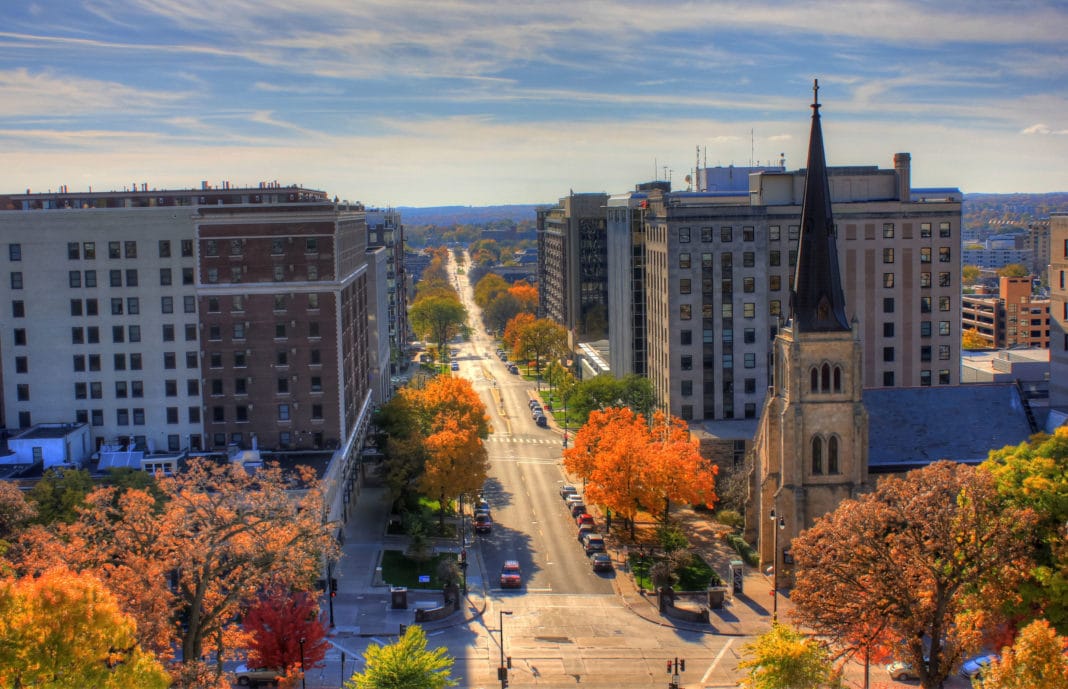 Seeking out the coolest weekend getaways near Chicago? Believe it or not, Madison, Wisconsin is only 147 miles northwest of Chicago. This quirky city embraces all that is life in the most vibrant, fun way. Art stalls, museums, dining venues, and plenty of outdoor activities will keep you busy all weekend long. There is no shortage of things to do and see here. Wander the paths of the stunning Olbrich Botanical Gardens, visit the University of Wisconsin Arboretum, and stroll along to see the exhibits inside the Madison Museum of Contemporary Art. It is all at your fingertips.
During the day, go and visit the Dane County Farmer's Market. Come and experience a Saturday tradition in Madison, Wisconsin. Here, over 275 vendors come together to bring the season's bounty of produce, vegetables, meats, and cheeses from across the county. You'll find it conveniently located on the tree-lined grounds near the Washington Capital Building. This year, the market began on April 14th and will run until November 10th. They are open every Saturday in the Square downtown. Grab your friends, family, shopping bags, and come enjoy this fun Madison tradition. If you ask us, this is one of the best things to do in Wisconsin.
One of our favorite places to stay while in Madison is the Edgewater. Basking near the beauty of Lake Mendota, you will find elegantly appointed rooms. Floor to ceiling French doors opens up to the lovely outdoors. Here, luxurious amenities abound. From the soft terry bathrobes to the 90-minute therapeutic massages offered on-site, it's clear that the traveler's experience is championed here. Five restaurants offer nothing but the finest in dining.
You'll have options for everything from casual to elegant fare. In the summer, come and enjoy outdoor movies in the most epic setting. During the winter, the scene transforms into a magical setting like something out of a snowglobe. Ice skating, anyone? The Edgewater is one of the most beautiful resorts in Wisconsin.
6. Fox River Valley
Credit: Flickr
We touched briefly on the Fox River Valley earlier but it is worth exploring some more. After all, this is one of the coolest weekend getaways near Chicago. Just an hour southwest of the Loop, the Fox River Valley provides the perfect sleepy backdrop to towns teeming with activities, bustling coffee shops, and plenty of places to eat.
Three towns located along the river provide fun places for adventurous travelers to poke around in and learn a bit about the area's history. From the River Valley, it is only three miles to Geneva's shopping district. And just a few minutes away from Main Street, you will also find brick-paved sidewalks leading to a charming, family-run winery.
7. Grand Rapids, Michigan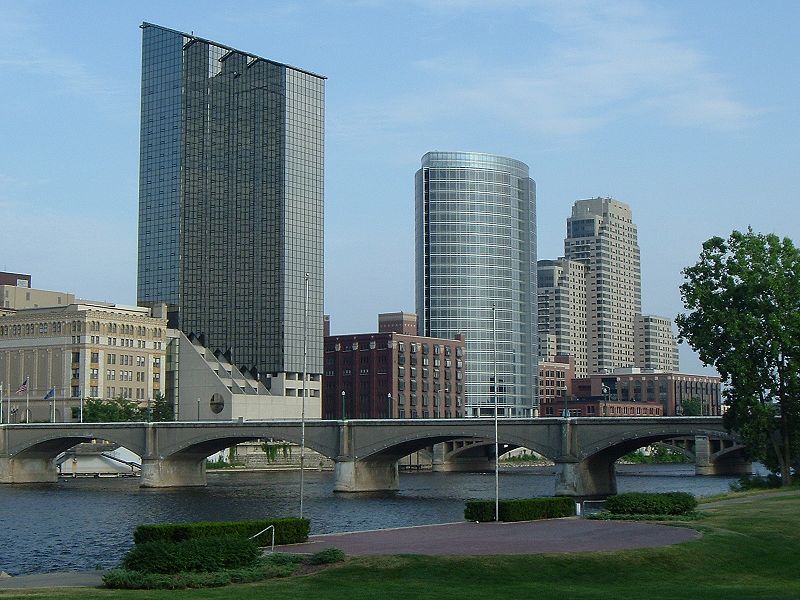 Credit: Wikimedia Commons
Here is yet another fun stop for the coolest weekend getaways near Chicago. One hundred and seventy-five miles northeast of the city, Grand Rapids, Michigan marks a rare spot where inspiration flows freely, particularly in the heart of the city. This is a great place for a summer or fall vacation. If you're looking to get away from it all, this state is chock full of beautiful destinations. Don't just drive up for the forests and Great Lakes though. You don't want to miss out on the excitement of city life. After all, there are plenty of things to do in Grand Rapids.
This lovely metropolis is full of restaurants, museums, concerts, and so many breweries, it's earned the nickname "Beer City USA." Grand Rapids is the perfect place to take a weekend trip or maybe a little bit of an extended stay. This is why we've rounded up the top things to do, see, and eat while you're there. It's time to make the most of your experience.
If you haven't been to Michigan before, this Midwest state that's full of surprises. From the Great Lakes to sprawling cities and dense wilderness, there's no denying this is a prime vacation destination. Half of the state is covered by forest. Breaks in groves of maple trees give way to the pristine shoreline, historic villages, and a flourishing craft drink scene.
While locales like Mackinac Island are a big draw in the summer, there's something to be said for visiting resorts in Michigan in the fall and winter too. Autumn offers a scene plucked straight off a postcard, a kaleidoscope of colors you'd swear is unreal. Go apple picking on a farm, make your own cider, and revel in the magic of the season.
Book Your Trip and Venture Out to the Coolest Weekend Getaways from Chicago
We hope you enjoyed reading our article on the coolest weekend getaways from Chicago. As you can see, there are so many amazing day trips you can take all within close proximity to the city. That's just one of the reasons why Chicago is such a desirable place to live – besides having the best rooftop bars, Italian restaurants, and an all-around amazing vibe, there are so many adventures to take in the surrounding area too.
From coastal beach cities to artsy urban escapes and ski resorts, there is no shortage of places to choose from. We would love to know – which of the coolest weekend getaways from Chicago on our list stood out to you the most? Let us know in the comment section below.
Related Article: A Foodie's Guide to the Best Deep Dish Pizza in Chicago