Discover these unbelievable rooftop bars in Chicago—you must see to believe!
From Lincoln Park to North Center, Chicago is spotted with sky-high restaurants and bars. Gourmet bites, sophisticated drink, sunset views of Lake Michigan, the Chicago skyline, and of course socializing are just a few of the reasons why these rooftop establishments are such a smash hit. More and more cafes, patios, and water holes are appearing on Chicago rooftops over the past few years. We decided to track down 12 of the very best rooftop bars in Chicago and you'll have to see them to believe them!
1. Waydown
[tcb-script async="" src="//www.instagram.com/embed.js"][/tcb-script]
The Ace Hotel in Fulton Market features one of the hippest new rooftop bars in Chicago, 7th story Waydown. The 4,111 square-foot watering hole boasts enough space for over 250 people. It is furnished with high-end leather chairs and couches, TVs, two patios and an indoor bar as well. The name of the bar comes from a song written by Chicago native folk singer John Prine. Waydown has some of the most panoramic views of the Windy City including Google Headquarters, historical warehouses, the West Loop Corridor and more. The bar has a full restaurant on its first-floor, City Mouse, overseen by Chef Sheerin. Reservations are not available for the Waydown.
2. Noyane
Not your typical food and drink spot, the Noyane is the finest Japanese rooftop bar and restaurant in Chicago. This classy watering hole sets high above the Conrad Chicago Hotel off Mag Mile and offers cocktails, sake, sushi, and views of the city to die. Celebrity chef Richard Sandoval is in charge of Noyane's kitchen. For those who aren't familiar with chef Sandoval, he is well known for his creative cuisines based on Mexican, Asian, Peruvian, and Pan-Latin cuisines. At Noyane, you will enjoy tasty drinks and traditional Japenese dishes. Reservations for 25 or more people are available at Noyane.
3. London House Chicago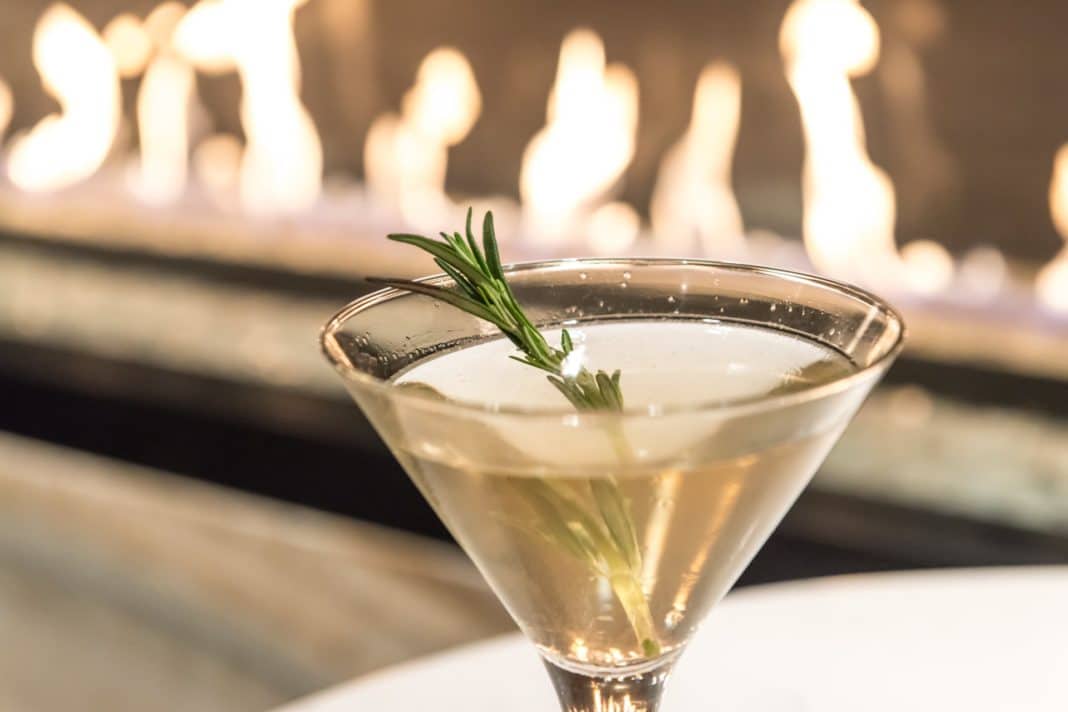 Credit: LondonHouse Chicago / Facebook
The London House Chicago is one of the highest and most happening rooftop bars in Chicago. Located on the 22nd floor of the Hilton, the London House Chicago is home to a vibrant atmosphere, breathtaking views of the city, and plenty of live events. This tri-level bar begins with a lounge on the 21st floor and leads to the massive terrace on the 22nd floor. A most luxurious private Cupola is available for private party reservations. There is no question about it, this spot is one of the nicest rooftop bars in the entirety of Chicago. While enjoying bites and drinks, you'll also experience some of the finest views of Chicago skyscrapers, the Chicago River, and Lake Michigan.
4. The Robey's Rooftops
The Robey Hotel, located in Chicago's Wicker Park, is one of the tallest buildings in the surrounding area. It also features two of the loveliest rooftop bars in Chicago. The Up Room and the Cabana Club. Both of these classy watering holes offer bites, drinks, comfortable furnishings, and captivating views of the city from the 13th floor. The Up Room is an all-year-round establishment with enclosed seating as well as an outside terrace. While the Cabana Club is tropically themed featuring summer-time drinks and a beautiful in-ground pool. From nightcaps with friends to intimate encounters, anything and everything is possible at the Robey's rooftops.
5. Devereaux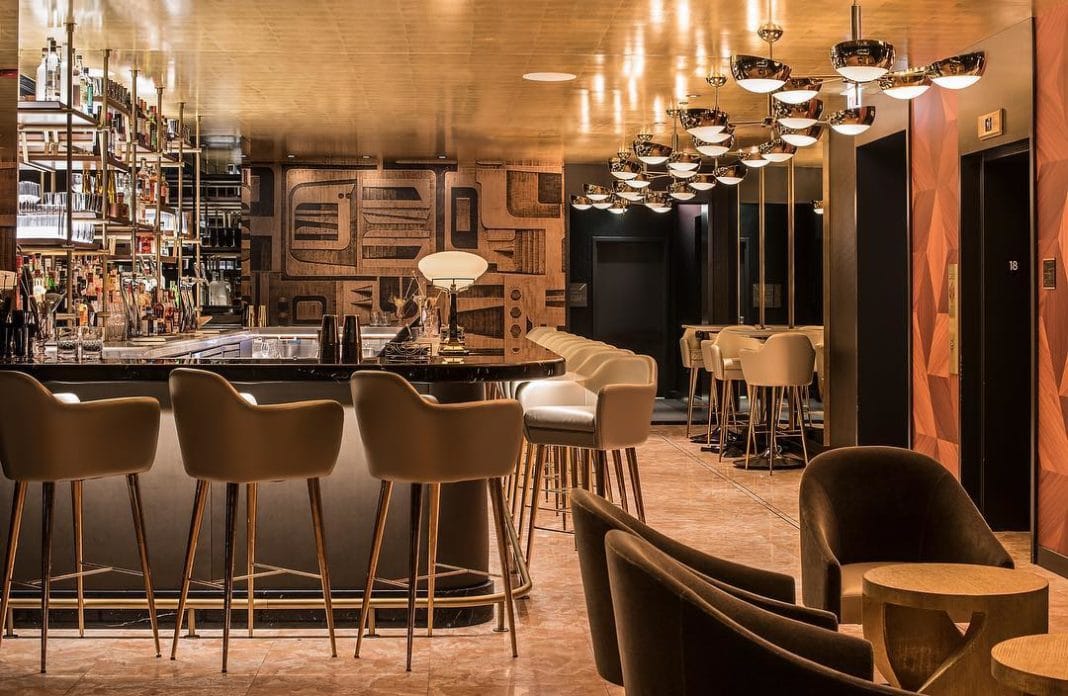 Credit: Devereaux / Faceook
Speaking of intimate encounters, the Boka Restaurants Group's high-end rooftop lounge, Devereaux, is perhaps one of the most intimate rooftop lounges in all of Chicago. Located on the 18th floor of the Viceroy Chicago building, you will enjoy panoramic views of the city while sipping cocktails and bites from Chef Lee Wolen. This rooftop bar features a pool, however, it is only available for use by guests of the hotel (and only during day-time hours). The terrace is open only during the warm weather, so if you want to make the trek up to the 18th floor and knock back a few cold ones, sometime between late May and October will be your best bet.
6. Cerise Rooftop
Another of the coziest rooftop bars in Chicago is the Virgin Hotels Chicago' rooftop bar, Cerise Rooftop. A piece of Sir Richard Branson's handiwork, this watering hole is truly one of a kind. If you are looking for a comfortable environment to hang with the crew and sip a few cocktails, Cerise Rooftop is the place to go. The views of Chicago from this 26th-floor rooftop spot are some of the most spectacular views of all rooftop bars in Chicago. If you happen to be in Chicago during the end of October, consider stopping by for The Cerise Haunted Rooftop. The event includes full bar service, DJ, complimentary party favors, two dance floors, and two floors to mingle with friends and locals. You must be 21 or older and wear a Halloween costume.
7. Aba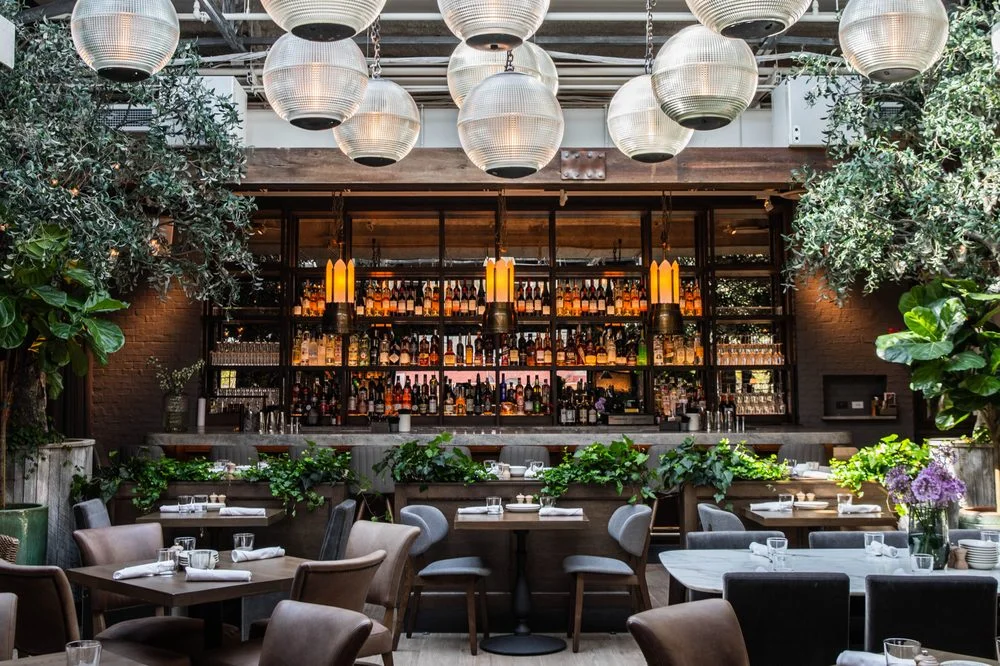 Credit: Aba / Facebook
The first official rooftop restaurant and bar from Lettuce Entertain You, Aba is one of the most popular drinking spots in Chicago this year period. The bar sets above the highly acclaimed Fulton Market Mediterranean restaurant. It offers the finest wine, cocktails, and of course gourmet bites. Chef C.J. Jacobson is responsible for the mouth-watering California-style and Mediterranean dishes served up at Aba. The rooftop itself is divided into several spaces with fire pits and comfy seating. Wine director Ryan Arnold and Liz Pearce, Aba's main Mixologist, are responsible for stocking and serving some of the rarest Mediterranean spirits in Chicago.
8. Raised
Downtown, the Raised rooftop bar is located atop the Renaissance Chicago Downtown Hotel. Directly across from the Chicago River, this 3rd-floor watering hole offers well-crafted cocktails, fire pits, plenty of sofas and an excellent river-view. If you value great service, Raised is where you want to be. This stylish bar has both indoor and outdoor sections, so no matter what mood you're in, you'll be able to sip a few drinks in maximum comfort. If you've been searching for the best rooftop bars in Chicago that also serve amazing food, look no further. At Raised, the menu is All-American including solo dishes, appetizers, and platers. The bar has a massive selection of wine, beer, and mixed drinks as well as a down to earth atmosphere with an extremely friendly and professional staff. Reservations are not available at Raised. In fact, the establishment is run on a first-come, first-serve basis, so you'd better arrive early!
9. Shanghai Terrace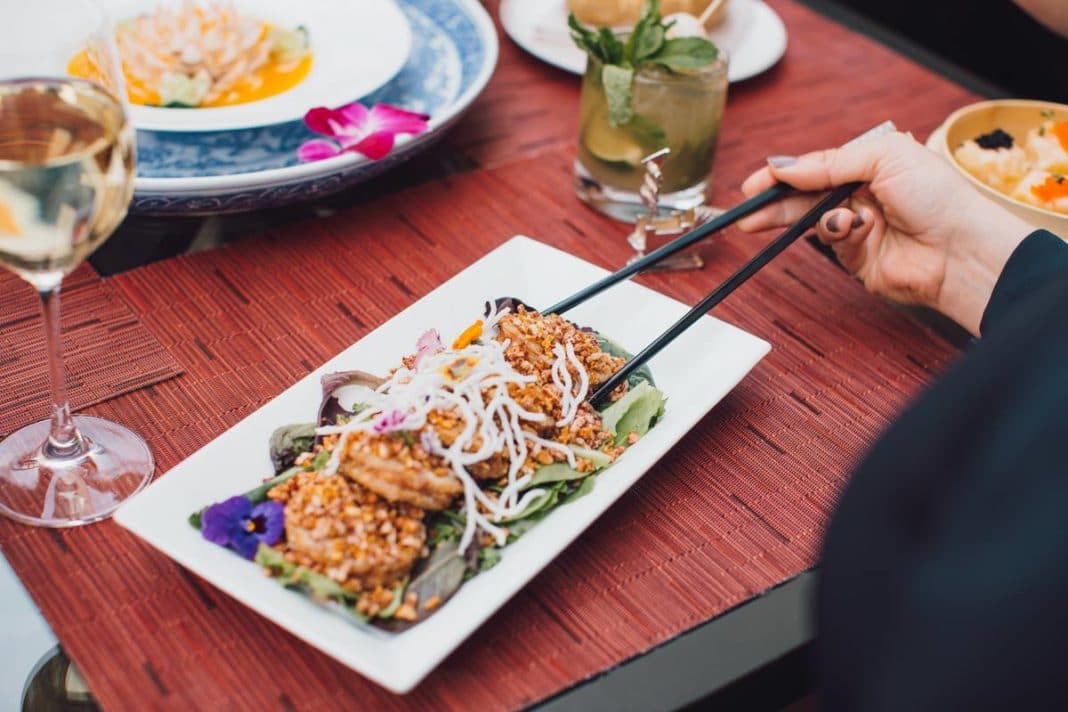 Credit: The Peninsula Chicago / Facebook
Another of the most excellent rooftop bars in Chicago is the oriental-themed Shanghai Terrace. This 4th-floor bar serves not only handcrafted cocktails, and beer, but top-notch sake, authentic Asian beer, and Asian mixed-drinks as well. Shanghai Terrace isn't strictly about the drinking, however, they are also one of the best Chinese restaurants in the entire greater Chicago area. On the terrace, the environment is more than stylish. There are cabanas, dining tables, large comfortable sofas, and impeccable views of many of Chicago's tallest buildings downtown. Reservations are available for the restaurant section, they are not available for the actual terrace. Like many of the rooftop bars in Chicago, this one is first come, first serve. Also, keep in mind that this is one of the rooftop bars in Chicago that has a dress code. So, make sure you dress smart casual and arrive in plenty of time to secure a good spot!
10. Radisson Blu Aqua Hotel Rooftop Bar
The Radisson Blu Aqua Hotel is one of the larger rooftop bars in Chicago. Located on the third floor of the Radisson Blu Aqua Hotel, this is one Chicago watering hole which is for hotel guests only. So, if you plan to hit up the Radisson, you'll have to book a room for the evening. The bar is situated near the Chicago River, Millennium Park, Lake Michigan, on the Chicago Loop. It has a bunch of features, such as a an 82-foot-long pool that others rooftop bars in Chicago are simply lacking. Other unique features of the Radisson Blu Aqua Hotel Rooftop Bar include a hot tub, track, sauna, fire pits, wading pool, and one of a kind views of the Windy City. Keep in mind that it's seasonal, so it'll be closed for the winter. Again, this amazing bar is only for hotel guests, so, reservations are impossible, however, all you need to do is rent a room!
11. Terrace 16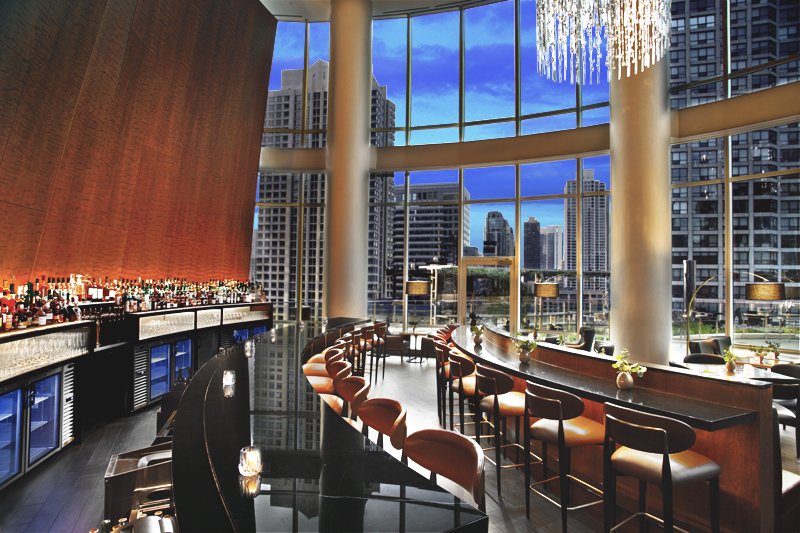 Credit: Trump Hotels
One of the most magical views of the Windy City comes from Terrace 16, a 16th-floor rooftop bar atop the Trump International Hotel & Tower Chicago. From the terrace, you can view Lake Michigan, Wrigley Clock Tower, and the beautiful Chicago River. Formerly known as the Terrace at Trump, this most excellent rooftop bar recently underwent a re-branding earlier this year. Handcrafted cocktails like no others, a full restaurant and bar, and an All-American atmosphere are a few of the main aspects that attract locals as well as tourists. The terrace has room for around 200 people as well as a large and comfortable indoor dining room and lounge. Open from the time the sun comes up until midnight, you can stop into this luxurious bar for breakfast, lunch, dinner, brunch, or a drink any time you please! Terrace 16 is geared towards a sophisticated and professional crowd and is by anyone's standards a pricey place. If you're looking for a cheap night out, this is definitely not the place to go.
12. III Forks Steakhouse & Bar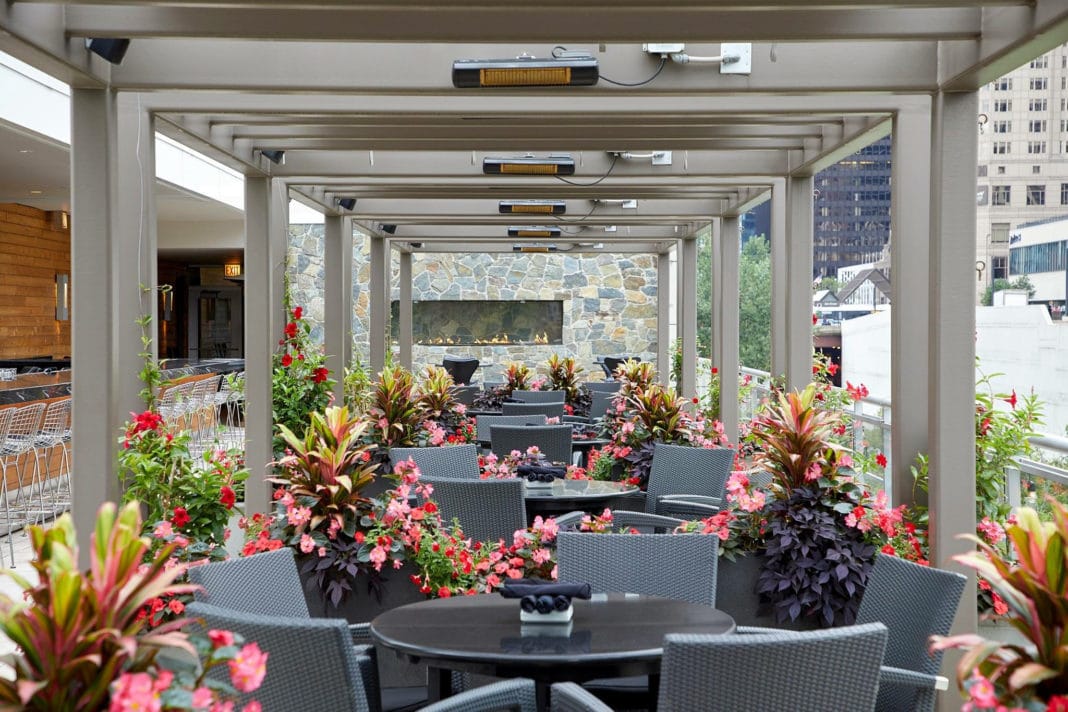 Last, but never least, is the III Forks Steakhouse & Bar. Not your ordinary rooftop bar, III Forks is a classic steakhouse with several fine dining rooms. The Prime Roof Lounge, a luxury patio, and bar for 100 people are located on the 2nd story rooftop. Aside from seriously amazing food and a gorgeous dining setting, there is a rustic bar in the middle of the place, fireplaces, and lovely views of Chicago including the picturesque Lakeshore East Park. III Forks Prime Roof Lounge is one of the most romantic rooftop bars in Chicago, period. Not into steak? That's ok! The Prime Roof Lounge also serves excellent drinks including beer, wine, and cocktails. Happy hour is Monday through Friday from 4 pm till 7 pm. However, if you are considering visiting the III Forks Prime Roof Lounge for a romantic dinner for two, make sure to put on something fancy and remember to make reservations at least a couple of weeks in advance.
What are you waiting for? Wet your whistle at one of these 12 amazing rooftop bars in Chicago.
The nex time you're in Chicago, do yourself a favor and grab a bite to eat and a drink with your favorite people at one of Chicago's best rooftop bars. From authentic Chinese and Japanese beer, wine, and liquor, to All-American sandwiches and brews, these elevated establishments have got you covered!
Are you planning a romantic weekend in (or around) the Chicago area? If so, make sure to read our recent article about romantic weekend getaways in Illinois.
Related article: Best Bars In Chicago: Drink Your Way Through the Windy City