Caffeine addicts, unite! We've gone on a search and found the coolest coffee shops around the world.
We all have our favorite coffee shop. It's the place you post up for hours at with a good book, kick your feet up on the table, and feel cozy. When you find the right ambiance where a good cup of joe is served, you can't help but feel like you have found a second home. Secretly, we all wish Central Perk was a real place. But since we can never live out drinking at our Friends fantasy location, we have found the next best thing. The next time you get the travel bug, add one of these coolest coffee shops around the world to your must-see list.
A Brief History on Coffee Shops
Do you know how the first coffee shop was started? It is said that the first ever coffee shop opened in Constantinople back in 1555 as a place where businessmen, friends, and colleagues would meet to go over what was going on in their lives. Today, the coolest coffee shops around the world serve the same primary purpose; they bring people together. There is nothing quite like exploring a new city and finding a spot thousands of miles away that feels like home. So where can you go to sample some great tasting coffee in a place that is both special and unique? Hang tight. We've got our list right here.
Here Are Our Picks for the Coolest Coffee Shops Around the World
To us, that first sip of morning coffee is the best part of the whole day. Take some time for yourself to get up early, watch the sunrise, relax, and gather your strength for the day. As a traveler, self-care is so important.
1. Tree Coffee, Naha Harbour, Japan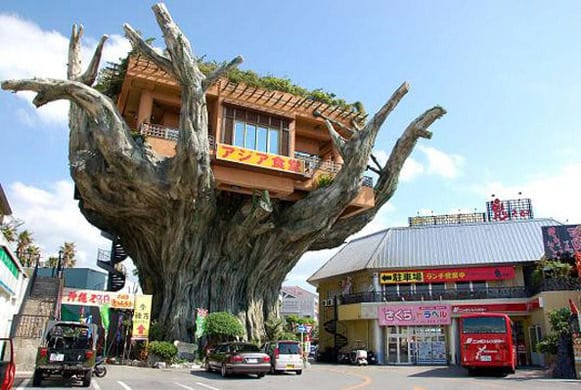 Credit: Tree Coffee
Are you ready to take your love for coffee to the next level? How about to a treehouse? This quirky Japanese tree house is actually a coffee shop places twenty feet above the ground. While it's not actually a real tree, the concept is still really cool. So how do you get up? The interior has not only an elevator but a built-in spiral staircase. Whichever one you decide to take, you will get nothing short of lovely ocean views. It sounds like a win-win situation to us. Try to think of a cooler place to go and enjoy your piping hot cup of joe. We'll wait.
2. The Wormhole Coffee, Chicago, Ilinois, USA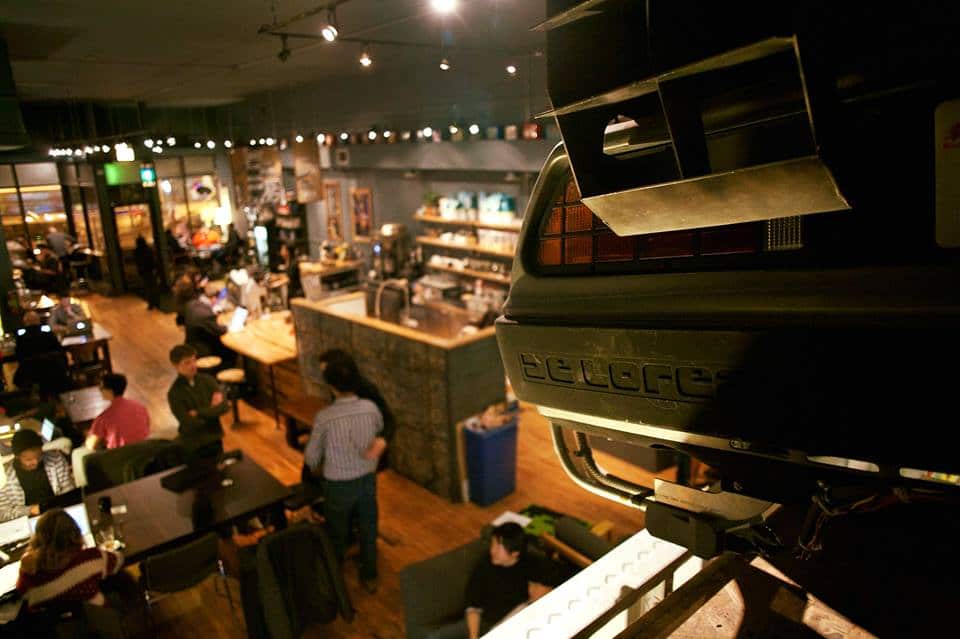 The Wormhole Coffee / Facebook
Is nostalgia getting the best of you these days? Indulge it and take a trip back in time to the 1980s. Chicago's Wormhole Coffee offers a cool 80's-themed shop, complete with a flying Delorean, and locally-roasted beans. If you see this on the street, how could you possibly pass by? Seriously. This is definitely one of the coolest coffee shops in the world.
But it's not just the Delorean inside that makes this place cool. It is also covered in movie posters and memorabilia from some of the most beloved classic films. Think Star Wars, Ghostbusters, and any other glorious 80s-related movies. Even if you're not a coffee fiend, these fun gimmicks are enough to pull the average onlooker right in. Who doesn't want to take a look at a full-sized Delorean complete with the OUTATIME license plate? Count us in. Looking for more coffee shops in Chicago to check out? We've got you covered.
3. Vampire Cafe, Tokyo, Japan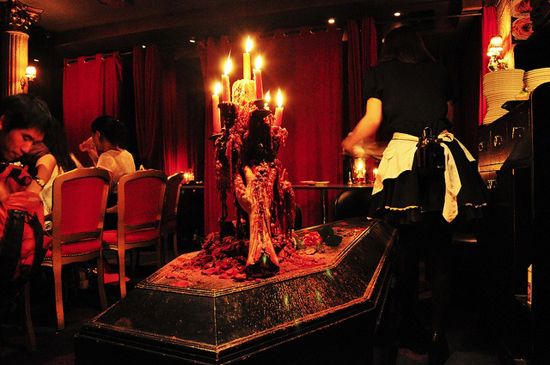 Credit: Vampire Cafe
Do you have an affinity for spooky things? If so, you will love the Vampire Cafe in Tokyo. Tucked away in a ritzy Japanese shopping district, you will find this macabre hidden treasure. Far from the common commercialism of Ginza, this Gothic paradise effortlessly blends the classic elements of a horror film with the touristy kitsch that travelers want. All in all, the experience is fun. Millennials will appreciate that it is highly Instagrammable.
As soon as you walk in the door, the first thing you will see is wall to wall red velvet carpet. Waiters in fancy tuxedos wait for your order and the floor is covered in fake red blood cells. Every piece of the decor is incorporated to make the most fascinating possible experience and create an eerie dining landscape. Take a seat on a red throne while sipping a dark drink from an ornate cup covered in skulls. This sounds like some Game of Thrones kind of stuff, huh? The atmosphere here is so immersive, you'll forget you are right in the heart of a bustling and lively tech city.
4. Shakespeare and Company, Paris, France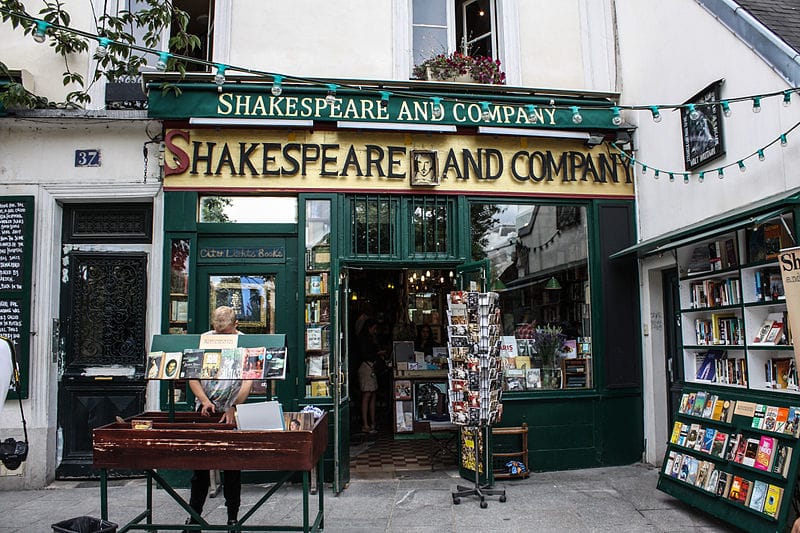 Credit: Wikimedia Commons
Looking for more of the coolest coffee shops around the world? This is hands down our favorite places (slash bookstores) in Paris. Climb the old wooden stairs in the bookstore and sit in the loft, where you can check out and read an antique book. The selection boasts everything from late 19th century reads to current literature. Next door, you can browse the menu and choose from anything between a classic, dark roast to a cane sugar-sweetened espresso. Experience a Parisian coffee shop at its finest. Shakespeare and Company is a perfect blend of the old and the new.
5. Starbucks, Shanghai, China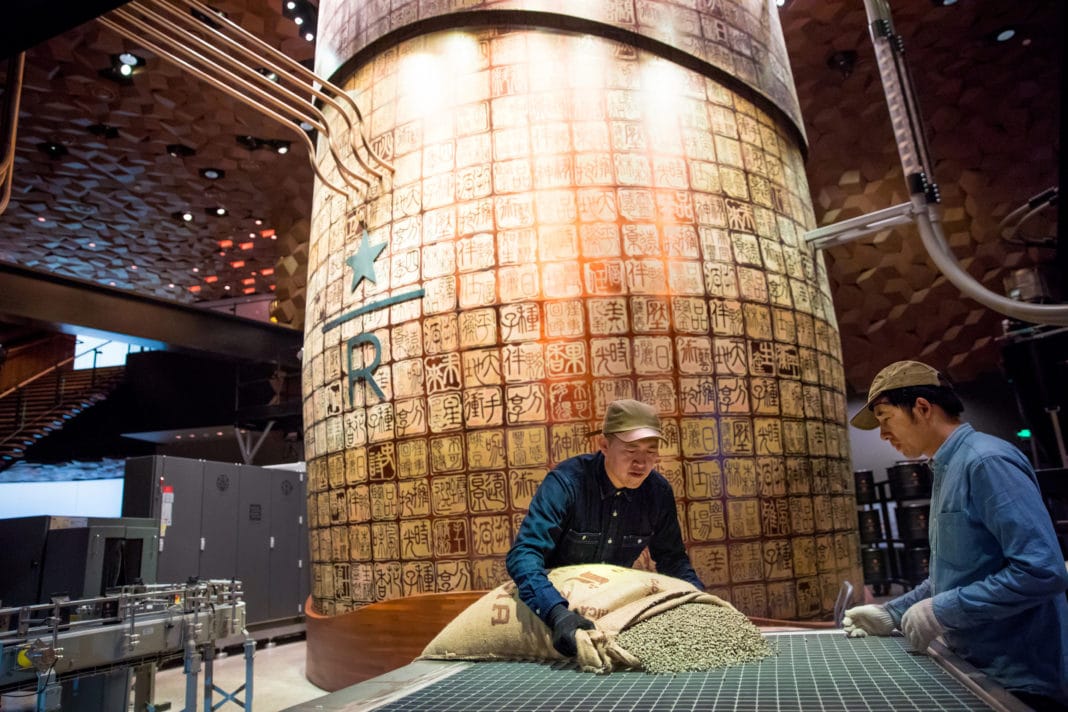 Credit: Starbucks
The world's largest Starbucks store opened in Shanghai on December 5, 2017. This coffee wonderland spans 30,000 feet sitting in the middle of Nanjing Road, one of the world's busiest shopping destinations. The opening brings to mind that China is the most critical global market for this giant company.
While there are more than 600 Starbucks locations in Shanghai already, this is just the beginning. The company is growing at a mind-boggling rate abroad. According to Forbes, a new store opens every fifteen hours in China. This means that within just seven years, China will surpass the U.S. for the record of the most Starbucks locations on the planet.
So why should you visit this location? If you've ever been to Seattle's flagship location and thought it was large, guess again. This Shanghai store is more than twice the size of Seattle's Reserve Roastery. Here, customers are treated to an exploration guide upon entering the store. Each of the four entrances has 550-pound wooden doors sculpted entirely out of roasted coffee beans. Being one foot thick, they are designed to recall the entryways to Chinese temples of old.
But that's not all. Inside, you'll find a 40-ton copper cask spanning the floor to ceiling of the building. Symphony pipes play an integral role; long coils of copper piping run the ceiling, carrying beans from the copper cask all the way to the bars where they're ground into your hot cup of joe. They are called symphony pipes because of the sound they make as the beans travel through them. We bet you didn't think Starbucks would be one of the coolest coffee shops around the world.
6. Alice in a Labyrinth, Tokyo, Japan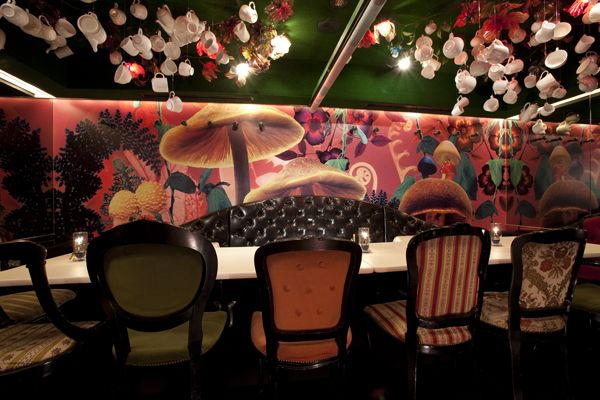 Crredit: Alice in a Labyrinth
Located in the upscale Ginza district, Alice in a Labyrinth is one of seven wonderland themed coffee shops in Tokyo. Enjoy fine dining in the world of Lewis Carroll. This is so much more than just a place to grab a cappuccino. It's a labyrinth plucked straight from your favorite childhood storybook pages.
Enter into the main dining room and experience various scenes from Alice in Wonderland. Walk around the hedges from the mad queen's garden, look up to find a ceiling with enormous playing cards hanging from it, and sit on chairs shaped like rose bushes. To top it all off, even the food has a theme. Choose from appetizers shaped like roses or ice cream that looks just like the beaming Cheshire cat. We're all mad here.
7. Hedgehog Cafe, Harry, Japan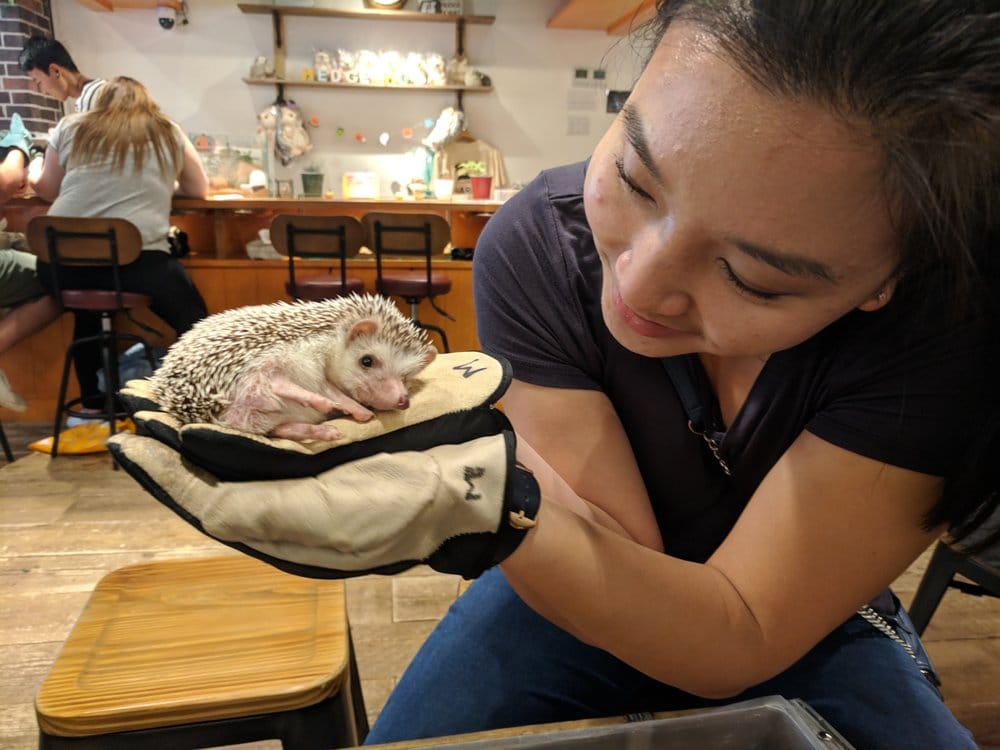 Credit: Yelp
Animal cafes have long been a tourist attraction in Japan and with good reason. There are various types you can visit. Visitors can play with cats, owls, rabbits, and yes, hedgehogs. The Hedgehog Cafe Harry is one of the most unique places to see in the Roppongi area. You'll find it located near the Roppongi Station about a two-minute walk and located slightly off the main street. For first time visitors, it can be a bit tricky to locate so we highly suggest that you use Google Maps on your visit.
When you arrive, you will see that the building is home to two animal cafes: Ms. Bunny (bunny cafe) and Harry (Hedgehog Cafe). We also highly recommend making a reservation before you swing by. Since the cafe is pretty popular, it is not uncommon that guests wait as long as 30 minutes or more. On the first floor, you will find the reception and bunny cafe. There are various kinds of rabbits you can hold and take photos with. Moving up to the second floor, you will find the hedgehog cafe.
Here, the staff will direct you to take a seat on a sofa by several metal containers. You will be given special gloves to hold the hedgehogs and shown how to handle them with care. Since they tend to move around a lot and try to run, make sure to hold them right above the container for their safekeeping. Prepare for your heart to melt. This is the cutest thing you'll ever see. Make sure to take lots of pictures (just keep the flash off). For a rare and pleasant surprise, there is also a Fennec Fox running around the shop. There's no doubt that the Hedgehog Cafe Harry is one of the coolest coffee shops around the world.
8. Wild Garden – the Cafe at Amethyst, Chennai, India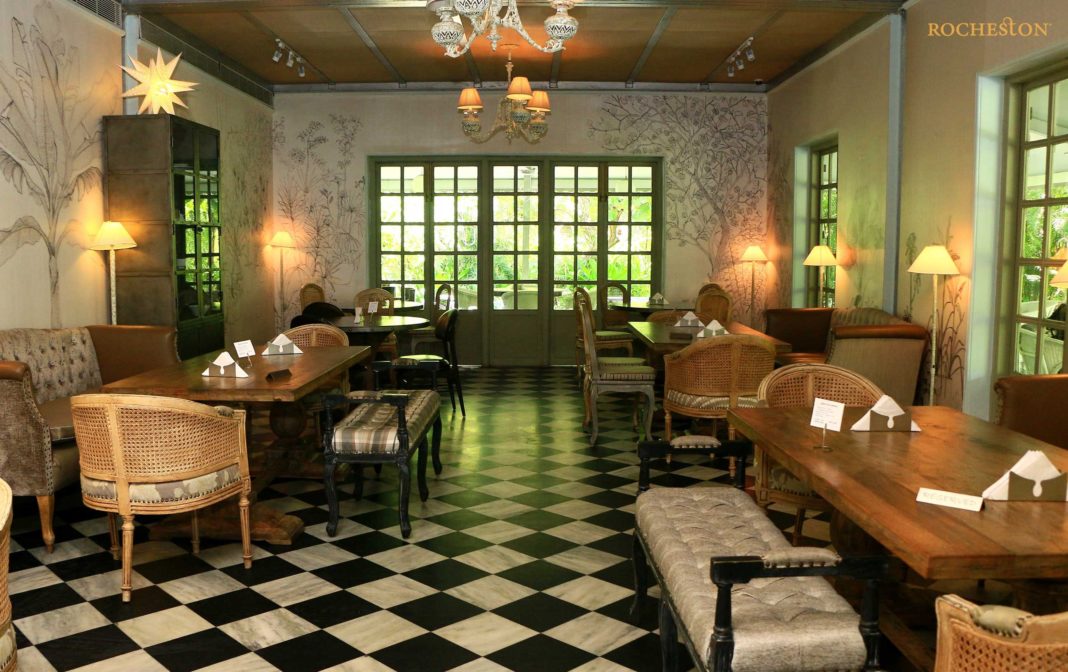 Credit: Cafe at Amethyst
This cafe perfectly captures the essence of old Chennai. Old wicker chairs dot the tropical garden while marble floors line the interior complemented by old family portraits of the mansion's owners. You will also find an indoor florist and an upstairs shop teeming with old books, clothing, and jewelry from South Indian themes. Whether you're an expat or local, you'll have to admit that this is one of the coolest coffee shops around the world. Take a seat wherever you would like, enjoy delicious continental food, and a superb cold coffee (an iced latte with ice cream blended into it).
9. Dreamy Camera Café, South Korea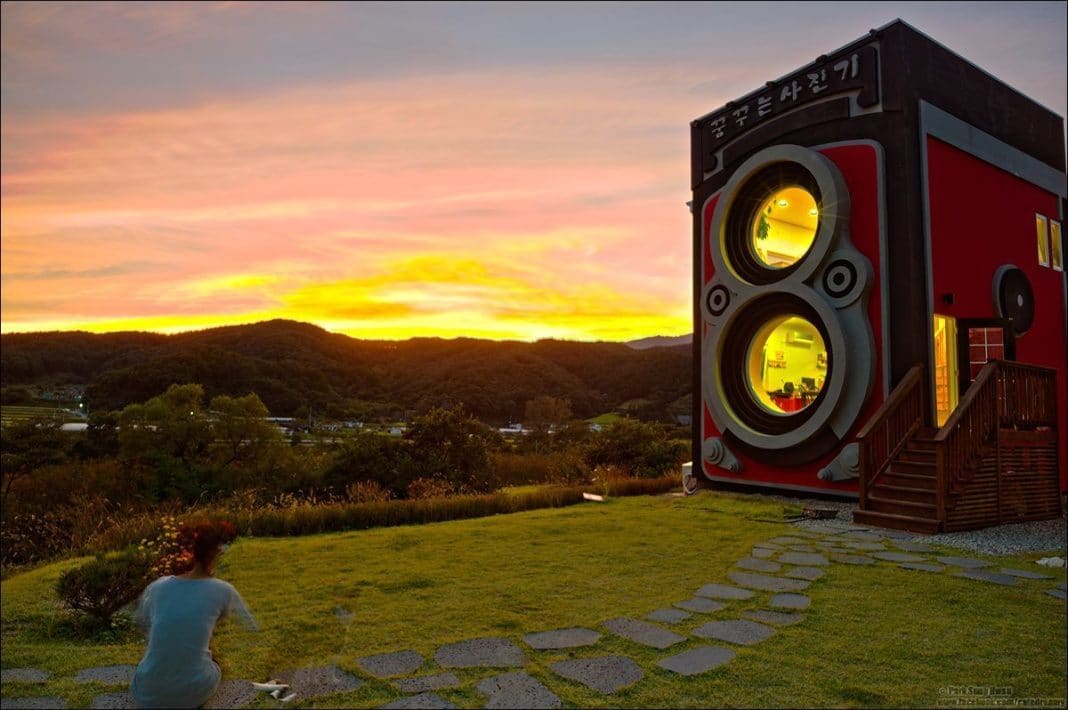 Credit: Dreamy Camera Cafe / Facebook
Cameras and coffee… Can you think of the more perfect combination? When you visit South Korea, the Dreamy Camera Cafe has to be on your list of must-see locales. For those looking to get away from the hustle and bustle of Seoul, this picturesque cafe in the middle of Yangpyeong presents the perfect escape. You'll get to see life on the flip side of the lens and it's pretty amazing.
A cozy two-story cafe, Dreamy Camera is a family-owned establishment. This family of three takes great pride in being a platform for communication and space where you can come and dream. So why should you visit? First, take a look at how Instagram worthy this place is. It's guaranteed to rack up the likes. A second reason is that it's outlook changes with the four seasons and by day and night. If this isn't one of the coolest coffee shops in the world, we don't know what is.
It also runs as both a cafe and gallery. Inside, you will find plenty of cool pictures illustrating the family's lifestyle along with a collection of drool-worthy vintage cameras. If you're into photography at all, this place is picture-perfect (all pun intended). You can even take a free polaroid with the picturesque background, all courtesy of the cafe owners. While Dreamy Camera Cafe is definitely far off the grid, it's worth the trek. Isn't that what travel is all about?
10. Confeitaria Colombo, Rio de Janeiro, Brazil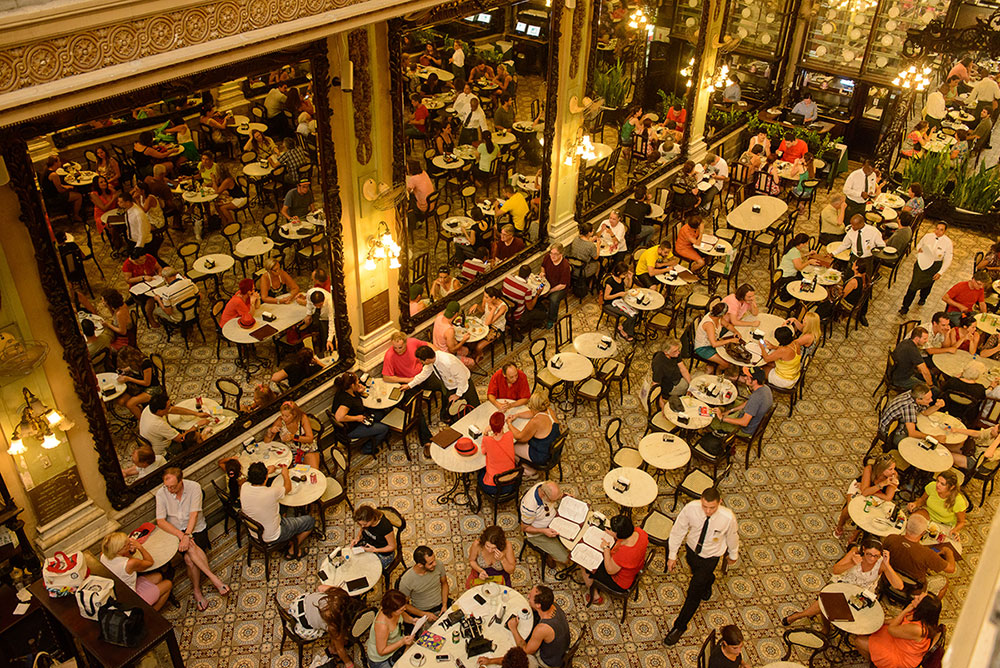 Credit: Confeitaria Colombo
Situated in Rio de Janeiro, this century-old cafe is certainly one of the most beautiful we have ever seen. Huge stained glass mirrors and tiles flood the scene, reflecting the dark wood interior and intricate mosaic tiles. This sweeping space offers plenty of seating and a good way to get to know the locals. When you are there, make sure to try the feijoada (a classic Portuguese dish with rice and pork). Try to save some room for dessert too. The menu is unbelievable.
While there are plenty of touristy joints in Rio, Confeitaria Colombo is one of the authentic ones. Enjoy a hot cappuccino and a good book. This is the kind of place you will want to post up for a while and have a three-hour conversation with a friend. We just can't guarantee you won't be distracted by the sheer beauty of the architecture. It's a wonder, really.
11. HR Giger Museum Bar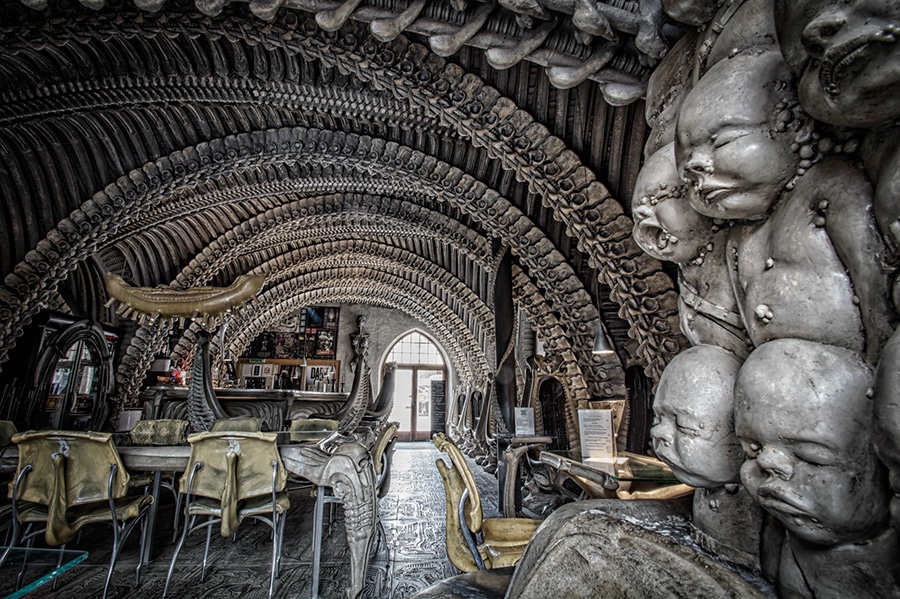 Credit: HR Giger Museum Bar
Okay, this is simultaneously one of the creepiest and coolest coffee shops around the world. If you haven't heard of the HR Giger Museum Bar before, prepare yourself for a sensory overload. An otherworldly environment (to say the least), the interior seems to have been based on the movie Alien. Everything about this place looks like the skeleton of an extraterrestrial.
A cavernous, skeletal structure, the roof showcases double arches of vertebrae that crisscross the ceilings of an ancient castle. The HR Giger Museum Bar is nothing if not epic and Instagrammable. This looks like something straight out of Photoshop. Take a look around and try your very best to take it all in. You won't be able to believe your eyes.
Go Visit the Coolest Coffee Shops Around the World
We hope you enjoyed reading our feature on the coolest coffee shops around the world. As you can see, these places prove that where to grab coffee is more than just about the quality of joe. While all of these places make delicious caffeinated drinks, the ambiance adds something memorable that will add to your photo album and travel journal for years to come. Do you have any favorite coffee shops that were not included on our list? Let us know in the comment section below. We would love to hear all about them.
Related Article: The Most Romantic Restaurants in Every State