It's 2019 and the coolest places to visit in Tokyo are the talk of the travel world. 
If you think you can see all of Tokyo in just a visit, guess again. Unless you're an expat with a lot of time on your hands, it's going to be hard to narrow down your choices. There are so many places in the city which are tucked under wraps. How do you find these off the radar gems that the tourists don't know about yet? We've mapped out the coolest places to visit in Tokyo. For those who want to explore the city deeper, come along with us.
Here Are the Coolest Places to Visit in Tokyo
1. Yanaka
While Tokyo is most famous for its innovative technology and towering skyscrapers, there is a whole other side to the city that is often overlooked. Yanaka marks a cool historical gem with an untainted atmosphere and local vibes. Here's the best part – it's hidden right in the heart of the city. If you're looking to shop and eat like a local, the Yanaka Ginza Shopping Street is the place to be.
To make the most of your time in Yanaka, consider taking a guided tour. This is a great way to learn all about the area's history, local customs, and dive deeper into the culture. Enjoy walking down local streets, sampling authentic Japanese food and drinks, and hidden spots.
2. The Nezu Shrine
Not too far from Yanaka, you'll find the Nezu Shrine located in Bunkyo Ward. Established in 1705, it is one of the oldest houses of worship in the city. Several of the buildings on its grounds are designated as Important Cultural Property. While the collective shrine was established 314 years ago, many of the individual shrines on the site date back more than 1,300 years. 
In fact, the present structure still stands from the mid-Edo Period (1603-1868). It is important to remember that much of what Tokyo is today has been recreated since 1945 (following the destructive World War II) air raids. Out of all the shrines to visit, pay special attention to Nezu Jinja. Sitting on the foot of the hill at Bunkyo and Taito Wards, it is covered in gorgeous azalea flowers in spring. You'll probably also notice that the architecture is distinct from other Japanese places of worship. This opulent design is known as Gongen-zukuri as seen in the large red gate.
When you visit, take your time to walk around the grounds. Here's the best part. Since this site is less popular than Kanda Myojin or Sensoji, you won't have to deal with all the swarming crowds trying to get that Instagram shot. Make sure you also keep your eyes open for the second two-story gate (Romon) and the third main gate (Karamon). Both are designated National Important Cultural Properties.
If you enjoy exploring some of the lesser known sites in cities, we highly recommend going to see the Nezu Shrine. Not only will you be able to avoid swarms of tourists and get a little peace and quiet in the city but you will also learn a whole lot too. After all, isn't that what traveling is all about?
3. Hiroo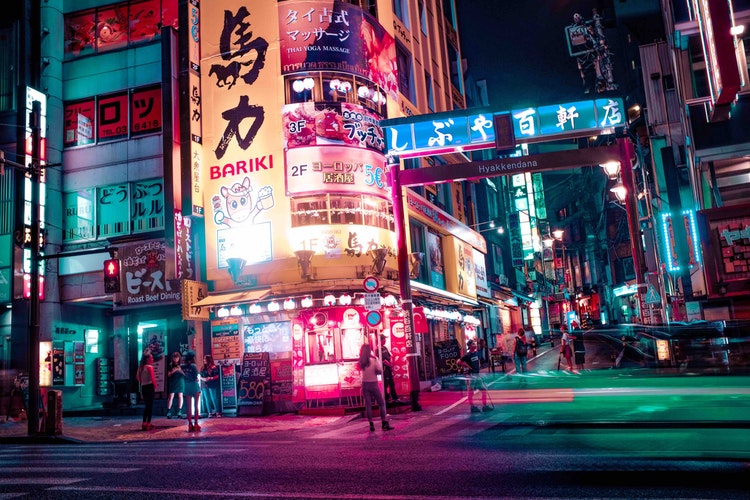 If you haven't heard about this trendy street food destination, we're here to change that. You'll find Hiroo Station off the Hibiya subway line. This is home base for much of Tokyo's expat community. Consequently, there are plenty of places to make a westerner feel right at home. While we are all for indulging in authentic local foods and culture, every now and then, you might miss a burger. Sure, the prices in the market are a little steep but hey, you're in Tokyo.
For those seeking out the best bargains and deals, the sayonara sales and many international schools offer community fairs where you can snag some cheap food and some really cool second-hand goods.
4. Yayoi Kusama Museum
From mind-boggling infinity rooms to splashes of polka dot covered interiors, the Yayoi Kusama Museum brings your wildest dreams to life. Opened in 2017, this artistic venue spread knowledge of her art, exhibiting her works and materials as part of a representative whole. Her avant-garde sensation will surely continue into the new year and we are excited to see what shape and form takes hold. Here's a heads up. The museum is immensely popular and getting tickets is very difficult. If you're planning on visiting Tokyo in the upcoming year, make sure you book your museum tickets far in advance. 
5. Tsukishima Monja Street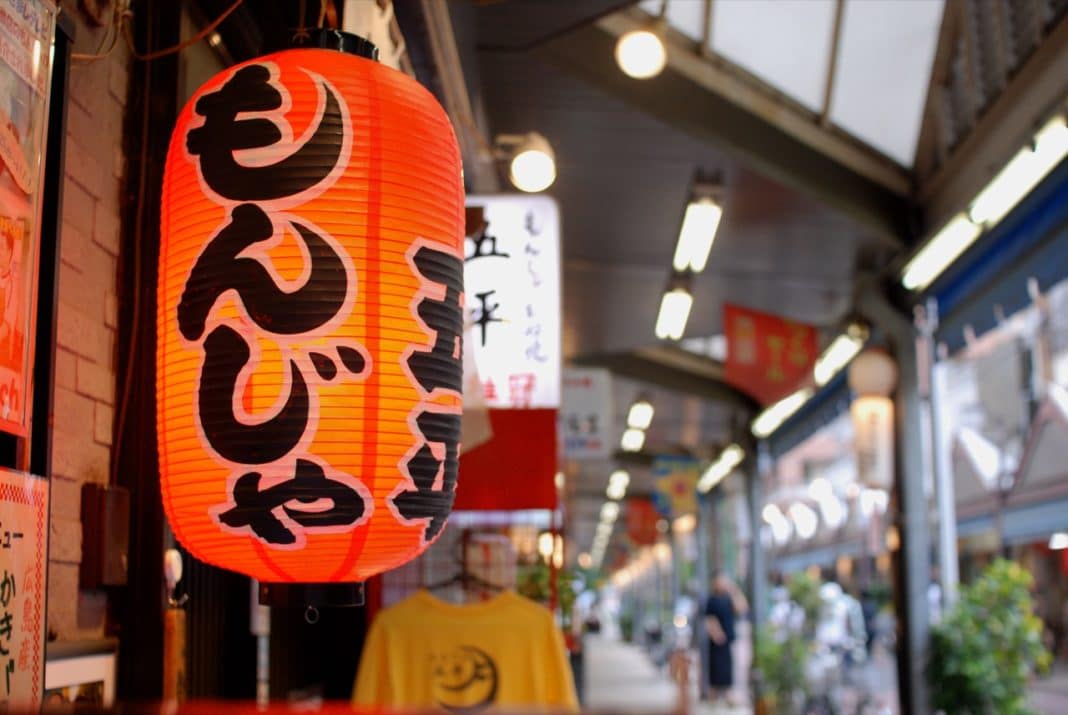 Credit: Wikimedia Commons
Have you ever heard of the dish Monja? Let's just say it's so popular here that there is a whole street named after it. It's extremely unique and definitely unfamiliar to foreigners. While many people are skeptical to try it at first, trust us. It's good. Tsukishima is well known to be the birthplace of this dish and there are plenty of amazing restaurants on the street to try it out. If you're looking to dive deeper into Japanese culture, go ahead and try out some monja!
6. Robot Restaurant
Credit: Wikimedia Commons
Yes, this is exactly what it sounds like – except it's better than you could possibly imagine it to be. From the first moment you step inside Robot Restaurant, it's a sensory overload. Swirling neon lights bounce off the mirrors, giving the space a feeling of infinite depth. Dramatic fights occur between costumed girls atop robots, all with the rhythm of charismatic drums in the background. 
While the restaurant is definitely more dedicated to a flashy show than the food, it's definitely worth the visit. Where else can you get a video of battling larger than life robots all from your dinner story? If that doesn't make for an epic Instagram story, we don't know what does. We recommend at least ordering a bento box or caramel popcorn for the show. Free flowing cocktails and beer are also available. Be prepared to come and spend a good amount of cash. Tickets at the door cost around $80 USD. But you can book online in advance and snag a discount with Voyagin.
7. Happo-en Japanese Garden
Credit: Wikimedia Commons
Happo-en Japanese Garden should definitely be on your list of the coolest places to visit in Tokyo. Sitting in the Shirokanedai district, this stunning location exemplifies natural beauty in every sense. Take a look at the bonsai, koi pond, and lovely cherry blossoms. Every element lends to the overall feeling of serenity pervading through the atmosphere. Here, you can take part in a traditional Japanese tea ceremony. Get ready to put on your kimono and sip some delicious matcha in the wooden Muan tea house. 
8. Shibuya Crossing
There's a rumor floating around that this is the busiest intersection in the world. Want to be part of the hustle and bustle? Take a seat from a nearby cafe or walk with the locals as hundreds of people scatter across Shibuya Crossing. From a bird's eye view, people look like ants scurrying in and out of a hive. The second story of Starbucks on the north side is a prime spot for people watching from afar.
9. Yoyogi Park
Credit: Wikimedia Commons
Taking a walk in Yoyogi Park is the stuff of bucket list dreams. It's definitely one of the coolest places to visit in Tokyo. Did you know that this was once the site of military barracks? It also served as the Olympics Gymnasium back in 1964. With each step you take, you're walking on a little piece of history. A wide road divides the park into two sections. On one side, you'll find a dense forest area. Take a stroll, have a picnic and enjoy all the beauty that mother nature has to offer. To the other side, there is a stadium and an outdoor stage for exclusive festivals and events.
Go See the Coolest Places to Visit in Tokyo
Now that we've given you a head start, it's time to start planning your epic trip to see the coolest places to visit in Tokyo. There is simply no way to travel this country without being in constant awe by the diversity of culture, history, natural beauty, and culinary scenes. This unimaginable wealth of attractions offers so much. For the adventurous traveler, Tokyo offers so much to explore. As you can see, this country carries a rich culture into the present. Make sure to learn some Japanese phrases and facts about Japan before you go. The locals will appreciate your attempts to connect with their language culture. 
Besides its legacy, Tokyo offers unmatched natural beauty to see. On our list, we have included picks from the most popular tourist attractions to off the grid wonders that you just can't miss. Which of the coolest places to visit in Tokyo would you like to see the most? Let us know in the comment section below. Seize the day and book the vacation of your dreams. It's time to travel to Tokyo. 
Related Article: The 10 Best Things to Do in Japan During Your Trip