Enduring British Foods to Try in London
The British are resourceful and have created distinctive and special foods that speak to what their culture loves. In the majority of their famous foods dating back hundreds of years, there is a way they have taken the scraps or undesirable parts of leftover food and made something delicious and staple worthy out of them. They have specific tastes such as puddings, gravy's, pies, heavy and hearty foods such as potatos, and meat. Let's take an adventure through British foods to try in London!
British Favorites: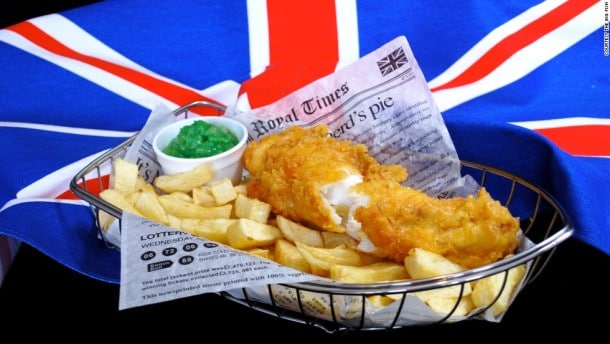 Fish and Chips
No list of British favorites would be complete without fish and chips at the top of it. This is the #1 of best British foods to try in London. When you think of British food, it would be no surprise if this was the first famous plate that came to mind. Dating back to the 1800s, this food is two parts. Half battered fish and half french fries served as the "chips". The fish typically used is cod or haddock, though other types can be used. 
Coleslaw, a lemon wedge, and tartar sauce are typically what accompany the fish and chips. Sides are usually baked beans, mushy peas or other creative foods such as these. Though this is a food originated in Britain, it is beloved in many other countries such as Ireland, New Zealand, and the United States. Fish and chips are important to this culture and they are a beloved staple of Britain. No trip to Britain is complete without tasting this dish!
A Great London Restaurant that Serves this Dish: Fishers Fish & Chips
2. Sunday Roast
The British have an affection for meat, especially beef, and other hearty foods. Common pairings to this roast such as roasted potatoes or parsnips, tons of gravy, and veggies such as cabbage, brussel sprouts, peas, broccoli, or other greens add to this meal. An oddity to those of other cultures is the cauliflower cheese which is a beloved part of this meal. A typical thing to accompany this on the side is Yorkshire pudding.
This meal is commonly served for large family gatherings on Sundays, hence the name. This is a beloved tradition to the people of Britain and even eaten by the royal families in the past. Many pubs and restaurants will serve this meal on other days of the week because it is so popular, so this is an easy British food to try in London.
A Great London Restaurant that Serves this Dish: The Pig and Butcher
3. Bangers and Mash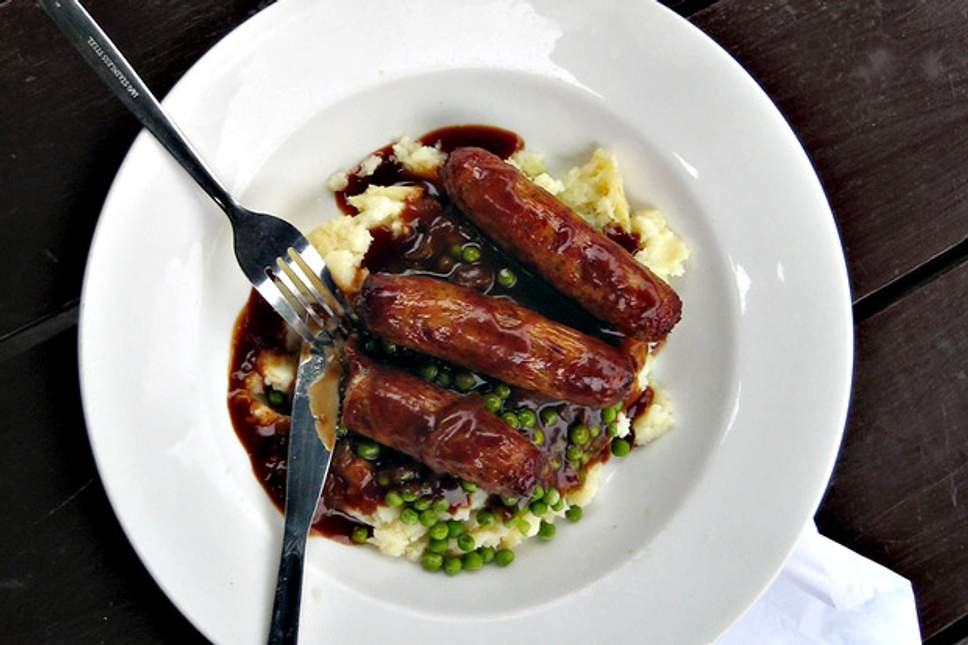 Bangers and MashCredit : John Wesley Barker
Bangers and mash is a dish dating back to World War I and is easily one of the most British, British foods to try in London. It is commonly served at pubs and restaurants as a staple. This meal consists of sausages, mashed potatoes, and a lot of gravy. The name "bangers" came into existence because during the war there was a shortage of meat. Because of this, sausages were commonly filled with water and other fillers that would create an explosion of the sausages in the pan.
This dish is still well loved today and it has been recreated in a variety of ways. The favorite sausage of Britain is pork sausage, no matter the variation. There are hundreds of different recipes and sausages used today that are of much higher quality. This is a beloved British food to try in London and it fits the typical foods they eat perfectly, which usually consist of hearty meats, potatoes, and loads of gravy.
A Great London Restaurant that Serves this Dish: Bar Boulud
4. Chicken Tikka Masala
There has long been much debate about the origins of Chicken Tikka Masala. When you hear the name of this dish, your mind may wander to Indian origins, but this has been labeled "a true British national dish". There are many variations of this dish, but it is typically made up of marinated (in spices) chunks of chicken, a form of tomato sauce, such as tomato puree, a type of cream, such as coconut cream, and spices such as turmeric, paprika, and sometimes food coloring which is what gives the dish an orange color. 
Though this dish is long disputed about its origins, it is served and beloved all over the world. This dish is a good representation of the types of foods loved in Britain, such as loads of gravy on top of a starch and a meat. No matter the exact origin of this dish, this is one of the best British foods to try in London.
A Great London Restaurant that Serves this Dish: Chicken Tikka Masala
Puddings & Pies:
5. Toad in a Hole
This dish is sometimes called "sausage toad". This British dish follows the traditions of creative and strange names of popular foods. This dish dates back to the 1700s (of recorded history) and is said to be a food that helped families who couldn't afford much meat stretch what meat they did have. It is a dish with sausage baked in Yorkshire pudding with onion gravy on top. Of course, the types of meat used to create the pies today are of higher quality and so many variations of the recipe were created since it's early stages of the dish.
 A big oddity is the purpose of the strange name. The best guesses are that the meat peaks out of the pudding giving the appearance of a toad peeking out of a hole. Another suggestion is that the name was given because of the frogs that would be found stuck inside stones in the late 1700s, which would make sense since this is when the dish was named.
A Great London Restaurant that Serves this Dish: ​Sherlock Holmes​​​
6. 
Steak and Kidney Pie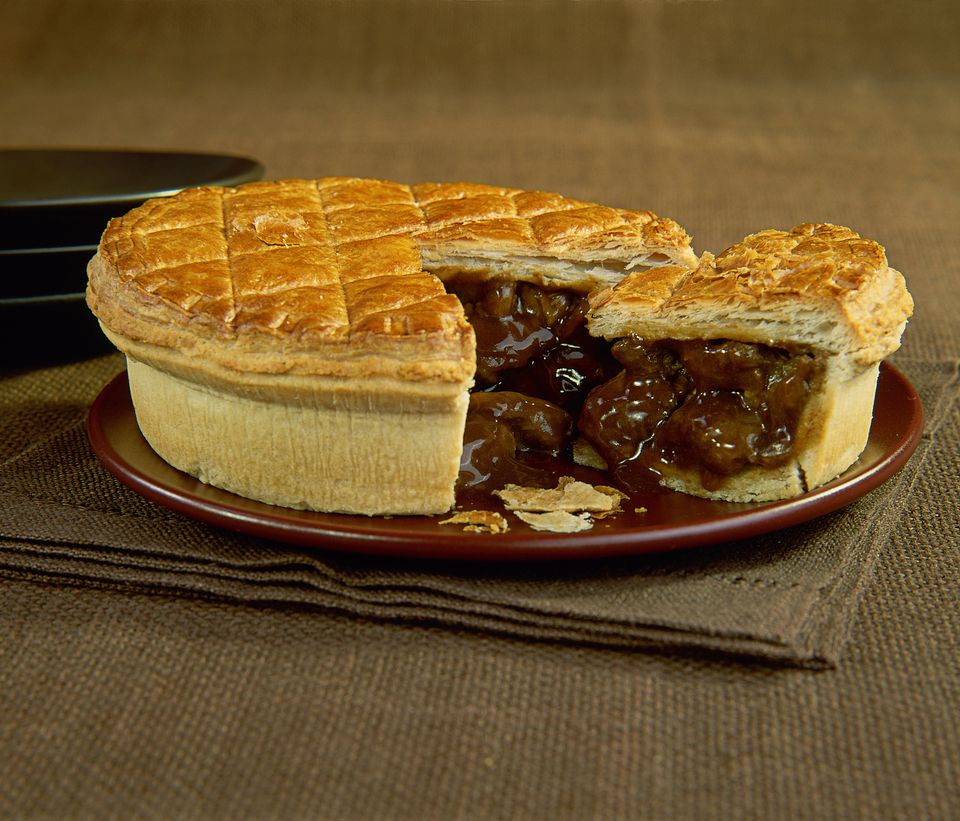 Steak and Kidney Pie-Credit: Georgia Glynn Smith
Steak and kidney pie is a dish with small cut up pieces of beef, small cut up pieces of the kidney, gravy and cooked onions, and a pastry crust. These pies, often filled with vegetables such as peas or mushrooms and potatoes, are a common side. This pie takes us back to the beloved types of food in Britain. Pies, rich gravies, and hearty meats. This dish is at the heart of beloved British foods to try in London.
A Great London Restaurant that Serves this Dish: Windmill Mayfair
7. Yorkshire Pudding
Yorkshire pudding is found for the first time in a book dating back to the 1700s called "The Whole Duty of a Woman". This pudding is the common accompaniment of a roast, such as a Sunday roast for instance.  Don't let the name fool you, it is a baked pudding and serves as more of a pastry. It is made from flour, eggs, and milk batter. This baked pudding is meant to go with meats of all kinds, and you will find it with many types of meat on dishes in London. This dish also stands on its own as a dish served with gravy. This is part of many of the dishes we have already covered such as the Sunday Roast, Bangers and Mash, and Toad in a Hole. Puddings and meats are specialty here, so this is among the must experience British foods to try in London.
A Great London Restaurant that Serves this Dish: ​Blacklock​​​
8. Shepherds Pie
Shepherds pie is commonly called cottage pie, though cottage pie typically means it's made with lamb, and shepherds are made with beef. Shepherds pie takes on many different forms as the recipe has been changed and tweaked many times since it's creation. But it commonly contains ground or minced meat, gravy, and veggies such as carrots, peas, or celery with a layer of mashed potatoes on the top. There is sometimes a layer of cheese on top. This pie supposedly comes from the remains of leftover in dinners from the night before, used to that nothing goes to waste. This is a loved and known dish in many places around the world, not just Britain. But it is still absolutely one of the top British foods to try in London.
A Great London Restaurant that Serves this Dish: ​Annie's​​​
Brekky & Light Snacks:
9. Full English Breakfast
Full English Breakfast – Credit: Jan Bennett
The full English breakfast is sometimes called a fry-up or even a full Monty. The Brits do breakfast big. These meals consist of sausage and bacon, beans such as baked beans (this seems like an oddity, but it really brings all the flavors together when you try it). Grilled tomato, two or three eggs cooked sunny side up, and toast that is generally fried bread. Mix it up and add personal touches. Some common additions to this meal are potatoes, mushrooms, black pudding, ketchup, marmite, and sometimes a nice cup of tea. This tradition started as far back to the 1300s, beginning with the rich and important and trickling down to the regular people. This breakfast has become common in other parts of the world as well.
A Great London Restaurant that Serves this Dish: ​Apres Food Co,​​​​
10. Black Pudding
Black pudding is made with animal blood mixed with oatmeal and fats, then shaped into a sausage and packaged. This began as a practice to try to use as much of the animal as possible. Many different kinds of animal blood are used, but it is typically pig blood. Many different cultures serve various forms of blood sausage and use many less desirable parts of the animals to create meat, so this is not a complete oddity. Black pudding is commonly used in full English breakfast as well as in stews. Black pudding is a large cultural food that dates back hundreds of years and is so loved and celebrated that there are entire festivals centered around it, such as the World Black Pudding Throwing Championships. This is one of the British foods to try in London that you may have a hard time finding anywhere else. 
A Great London Restaurant that Serves this Dish: ​Regency Cafe​​​
11. Crumpets
Crumpets are spongy cakes that are sometimes served with tea. They date back to the 1600s century, and there are recordings in the Victorian era. Tradition holds it that the servants would mix the scraps of bread, muffins, and mashed potatoes to create crumpets. Then when the family realized how good these were, they requested them to accompany their tea. You can toast these and spread butter on them, or you can go all out. The Brits put vegemite, jam, honey, cheese, and much more. If you can think of a topping, they have probably used it. These are also a breakfast favorite at many restaurants in London. 
A Great London Restaurant that Serves this Dish: ​Dean Street Townhouse​​​
12. Scotch Egg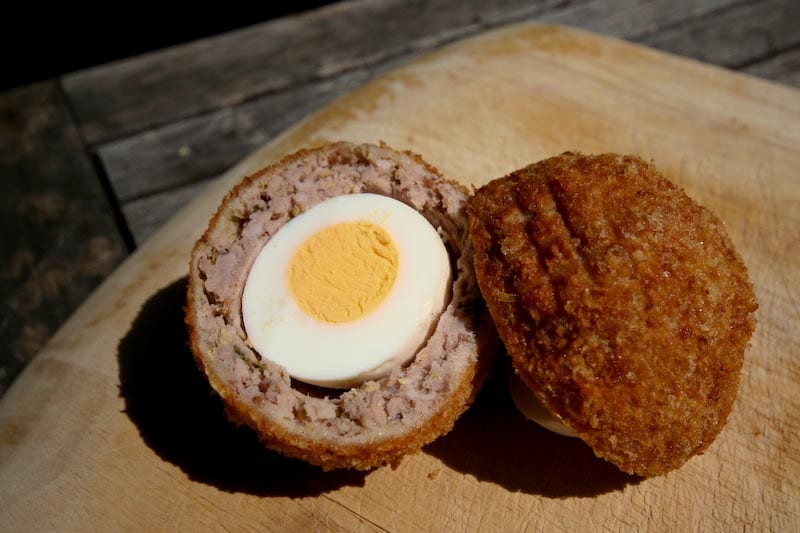 Scotch Egg – Credit: Simon Barrett
Scotch eggs are by no means scotch. These snacks are best served as picnic foods or finger foods. They are good served hot and cold. They are filling while still not creating a full meal. The scotch egg is a hard or soft boiled egg with meat, usually sausage, wrapped around it. Afterwards, they bread it and either bake or fry it. Like any true British food, they are typically served drenched in gravy. They are often eaten with sauces such as mustard, mayonnaise or lemon juice.
Like many other British foods, these are said to have begun at the high Victorian royalty level and are now regular commodities at pubs, restaurants, food stands, and on the tables in homes. Other historians would claim the history of the scotch egg to actually have started as the lunch of a poor man and not of the upper class and royalty. Nevertheless, there is no dispute that the meat used during its origins was lower quality and the eggs would've been smaller, such as quail eggs and not hen eggs. Just like Black Pudding, this is one of the British foods to try in London, because it is not common in many other places. 
A Great London Restaurant that Serves this Dish: The Trading House
Tea Time: 
13. Afternoon Tea
Afternoon tea is also called low tea because it is taken on low tables. This is a tea time that serves lighter options like finger foods. Finger sandwiches, scones, Battenberg cakes, finger sandwiches, tea sandwiches, crumpets, small cakes, cupcakes, deviled eggs, biscuits, and a variety of other small foods are served. As the story goes, the 7th Duchess Anna documented that she had a sinking feeling when it got to be later in the afternoon all the way back in 1840. It was typical of the British to have breakfast early in the morning and dinner late in the evening, but there was no meal in between. Out of this, Duchess Anna created Afternoon Tea. 
It apparently began with just her and slowly moved onto a time with her friends to enjoy afternoon tea and then a stroll in the garden. Eventually, it became an embraced practice that was significant and respected enough to move into the drawing room. In the later 1880s, high society women would change into beautiful gowns and fancy attire and have their tea. It is common in the US and other nations to believe the Brits take part in tea time every day. As a child, I even heard tales of there being an hour each day where work, school, and all other activities broke at half past three in order to have required tea time. But this is simply not true. 
Afternoon Tea Time Today
Tea time is actually a special occasion for the Brits nowadays and is served in many hotels in London. Nevertheless, tea time is a beloved tradition. Some of the lighter teas suggested for afternoon tea time are lavender herbal tea, and rose congou tea which fits the true Victorian style. Regardless of if you decide to go to a tea house, a nice hotel, or just enjoy afternoon tea in your home, it is a special break in the day to participate in. This is one of the most beloved British foods to try in London.
A Great London Restaurant that Serves this Tea Time: Mad Hatters​​​
14. High Tea
In contrast to afternoon tea or low tea, we have high tea. Afternoon tea was a practice of the rich and privileged. They had the ability to take a midday break. But for the working class, tea had to wait until work ended and they were back home. By the time this hour came around, tea was more like supper and was enjoyed at a higher supper table. This gave it the opposite name of high tea, based on the height of the table it was enjoyed on. The foods eaten during high tea are heavier and more dinner like because heavier sustenance is needed after a long day of work. Some of these dishes could be steak and kidney pie, vegetables and potatoes, casseroles, or fish heavy plates. This sums up all the best British foods to try in London
A Great London Restaurant that Serves Tea Time: Your best bet is enjoying a hearty meal along with a steaming pot of hot tea in the home of a family in London who embraces cultural tradition. Best experienced after a hard days work!
Come Have a Taste of London
London has some amazing eateries that showcase Britain's most beloved and historically and culturally important foods. From breakfast foods to desserts, to teatime and meals that have spun gold from leftovers. The food you experience here is special. Come have a closer taste. There are so many British foods to try in London!
Related Article: London, England Is The Best Place To Live In 2019