The best restaurants in Buffalo bring together all the diversity, authenticity, spunk, and flavor that this city has to offer.
The Queen City, Nickel City, and the City of Good Neighbors. If those don't pique your interest in this underdog western New York city, then maybe this list will. But, Buffalo has recently had a revival. This means that great food from around the world, as well as spectacular nightlife, has become a daily occurrence here. Just a few miles south of Niagara Falls, exploring Buffalo will be well worth it if you're making your way to upstate New York anyway. So, if you're ready to explore some of the best restaurants in Buffalo, then keep reading.
1. Lloyd
Credit: Lloyd/ Facebook
If you like Chipotle, Qdoba, or really any solid taco or burrito spot, then Lloyd is for you. While Lloyd started out of a bright green truck, it has grown to be a much-beloved restaurant as well. Granted, if you spot the truck on the streets, you should go there for the experience. But, if you don't have the time and resources to hunt it down, go ahead and check out their brick and mortar location.
As for the food, you'll be impressed by the quality for the price. Lloyd sources only anti-biotic and hormone-free meats. In addition, the black beans are organic, and much of the produce that makes it into your taco is local. Lloyd is most known for its pickled reds, signature rocket sauce, and killer queso. However, don't be nervous about branching out to try some of the specials. The Dirty South is made with buttermilk fried chicken, waffle pieces, baby kale, Piggery bacon aioli, Harvest Patch maple syrup. If that doesn't sound delectable, well, maybe you just don't like tacos. Either way, it's well worth hitting up Lloyd while you're in town for some stellar local grub.
2. The Black Sheep
Credit: The Black Sheep / Facebook
For an intimate experience at one of the best restaurants in Buffalo, make a reservation at Black Sheep. Located on the West Side, this Farm-to-Table restaurant is brought to you by Steve and Ellen Gedra. The friendly, knowledgeable service compliments the handmade food superbly. You will quickly feel like a part of the family once you've made your way in here. If you make your way to the bar, you can be dazzled by the classic & modern cocktails that have an equal and meticulous attention to local, seasonal ingredients, just like the food. On top of that, the beer and wine lists are made up of rare picks and local brews.
When figuring out what to try, we would highly recommend starting with a charcuterie board. You'll taste some of the Nickel Cities finest meats and cheeses while being awed by the house-made sauces. If you're feeling adventurous, go out on a limb with the Peach Gnocchi, which has been topped with pesto, blue cheese fondue, and pistachio. If you plan ahead of time and have a party of six or more, you can even get a pig's head dinner. You can tell that the chefs put their heart and soul into the food here, and they care deeply for their city. So, if you want to go where the locals go, then Black Sheep it is.
3. West Side Bazaar
Credit: West Side Bazaar / Facebook
Buffalo is a city bustling with other cultures. The West Side Bazaar is an incubator for up and coming restaurants and shops began by refugees and other immigrants. So, you will get incredibly authentic Thai, Burmese, Ethiopian, and other countries food here for a spectacular price. It is set up almost like a food court, so you can go to each booth and order a little bit of each. Grab some bubble tea as you chow down on some Chana Masala and a Potato Samosa. For something a little lighter, grab some Som Tai, also known as papaya salad. Whatever it is you're searching for, the West Side Bazaar will deliver it perfectly. So, head on over for a quick lunch date if you have time. You'll quickly realize why this is one of the best restaurants in Buffalo.
4. Ted's Hot Dogs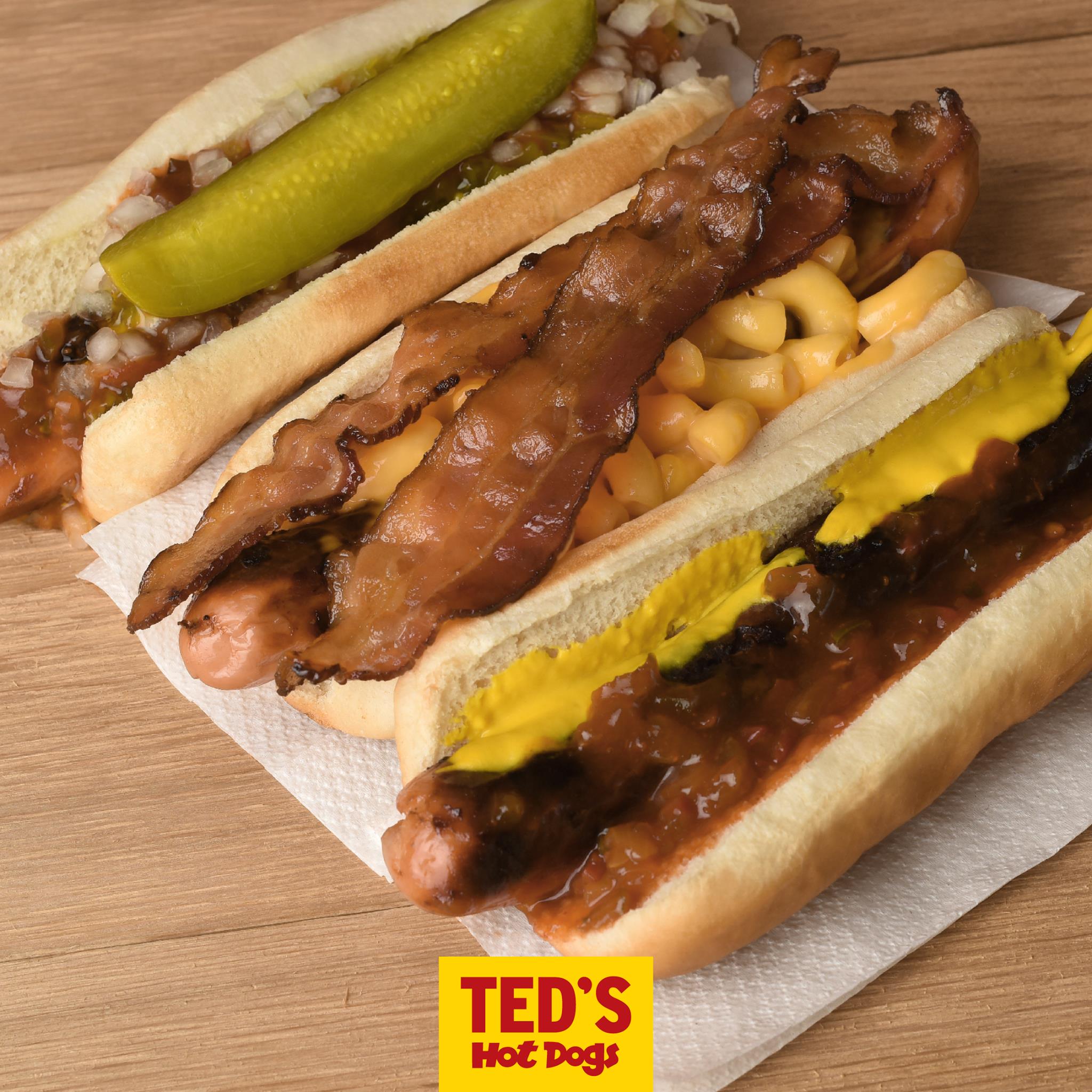 Credit: Ted's Hot Dogs / Facebook
If you haven't caught wind of it yet, Buffalo is home to those dream-makers and innovators from around the globe. When Theodore Spiro Liaros first came to Buffalo in 1913, this immigrant never would have dreamed of what his own dream would become. Ted's Hot Dogs first started as a horse-drawn cart, developed into a small shack under a bridge, and now has multiple locations in Western New York and Arizona. Ted's has been beloved in the hearts of Buffalonians for years and will continue to be a staple of this city.
So what is so special about these hot dogs to make it one of the best restaurants in Buffalo? Well, it's probably the personal attention that still goes into these little meals. Each hot dog is still roasted over a shimmering bed of hot, hardwood charcoal. Topped with the homemade, secret family hot sauce, you have a one of a kind hot dog awaiting you. The onion rings are hand-battered, and there are many options where you can get them straight on the dog. For a true Buffalo favorite, grab a loganberry soda or a milkshake made with real ice cream. Whatever you choose here, you'll know that Ted's is one of the best restaurants in Buffalo without a shadow of a doubt.
5. The Left Bank
Credit: Left Bank / Facebook
For a chic, fresh bistro experience with exceptionally tasteful options, head to the Left Bank. The staff delivers a beautiful service to complement the locally sourced food. It does get quite busy, so make sure you have a bit of time in case your food takes a few minutes to come out. If you're a brunch lover, try these on for size. The Croque Madame is made with thinly sliced ham and gruyere cheese. Then, it is baked between brioche bread and topped with a mornay sauce and a sunny side up egg. If that doesn't suit you, try their house-made crepe wrapped around chicken, roasted red peppers, mushroom, and spinach, then finished with a roasted red pepper cream sauce.
If you're hoping for a fancier night out, the Left Bank still delivers seamlessly. On their Grill & Pasta menu, you will find a variety of local favorites. The Carrot Papardella is tossed with lobster, shrimp, and crabmeat, then served in a shellfish-brandy cream with julienne vegetables, arugula, and tarragon. There is a vast amount of meats for the grill which is complemented by the extensive wine list. The Left Bank also specializes in focaccia, so make sure to grab one as a taster while you're there. You'll get a sense of the uniqueness of this restaurant as soon as you step in. All in all, you'll see how The Left Bank made our list of the best restaurants in Buffalo with ease.
6. Sun Restaurant
Credit: Sun Cuisines / Facebook
House-made sushi, authentic Burmese and Thai cuisine, and a black rice bar. Unique and spectacular are just two words to describe the wonders within Sun Restaurant. Having studied authentic Asian cuisine and food trade in Tokyo, Japan, Burmese Businessman and Master Sushi Chef Kevin Lin and his wife Stephanie have grown Sun Restaurant from a small food market to the nation's first Black Rice Bar. They have desired from the start to bring Buffalo fresh, healthy, and authentic food, and they have delivered. If you're haven't tried black rice before, make sure to do it here. The way they craft and pair their ingredients into dishes how they easily rank as one of the best restaurants in Buffalo.
Some of the favorite dishes here are the Tea Leaf Salad and the Black Rice Sushi. The portions are generous here, and the service is almost always on point. The green curry is a popular option, but you can't go wrong with anything you choose here. As each dish is made from scratch and to order, be patient. But, this authentic Burmese and Thai destination will appeal to anyone who has a taste for authentic eastern cuisine.
7. Betty's
Credit: Betty's / Facebook
Where do the locals go for brunch? It's been Betty's since they opened their doors in 2004. The bright, cheery dining room and moderately priced homey and fresh cuisine have been bringing people back for over ten years. That being said, Betty's gets pretty busy every morning. You can't be seated until your whole party arrives, so make sure to come together to avoid frustration. Sunday Brunch will offer you options like shrimp and grits or a hearty smoked salmon benedict.
The menu has vast amounts of dairy free, gluten free, and vegetarian/vegan options, too. This makes it incredibly easy to eat out and know what you're putting in your body. If you're looking into dinner options here, there's everything from sandwiches and salads to baked brie and Argentinian flank steak. So, come hungry because Betty's will stuff you to the brim. You'll know by the end why it is one of the best restaurants in Buffalo for just about anyone.
You've now read that not all the best restaurants in Buffalo, New York, serve your deep fried Buffalo Wings. This underdog city actually has quite the phenomenal foodie scene.
These are all phenomenal restaurants, but we couldn't even begin to share with you all of our favorites. If you're craving a spectacular vegan and vegetarian happy hour, you should add Merge to your list. But, if you need a bakery that makes the world's best toast, make sure to hit up Five Points Bakery while you're in town. This city is teeming with affordable, delectable food options that are expansive enough to entice just about anyone. So, you better start eating if you want to make it through all of the best restaurants in Buffalo before new ones sprout up!
Related Article: 6 Best Restaurants in Scottsdale, Arizona to Tantalize Your Tastebuds