Don't miss these best restaurants in Montreal. Dining at these is an ultimate French cuisine experience.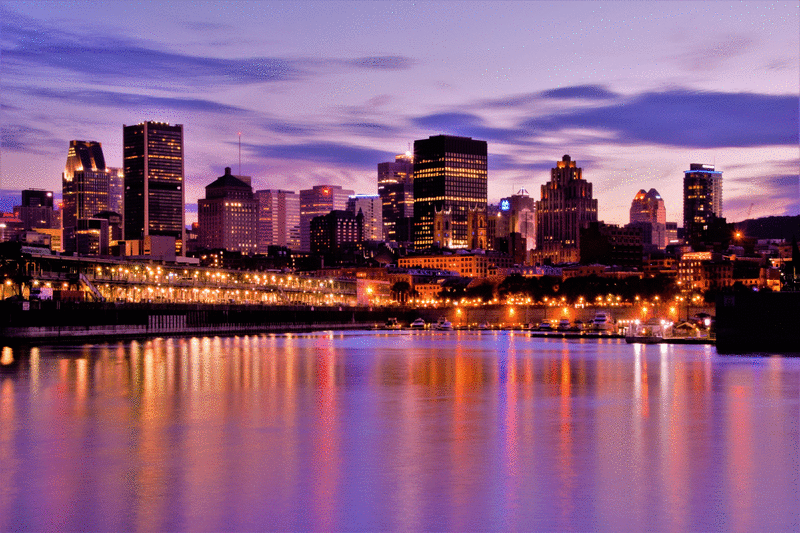 Oh, the culinary delights await in Montreal! In fact, Montreal has the highest number of restaurants per capita. To put that into perspective, Montreal is close to New York City for the plethora of restaurant options. With so many options, we'll help point you towards the best restaurants in Montreal. The authentic French classics and some upcoming modern venues make Montreal a delicious destination! And hey, if you're looking for things to do nearby, check out these top things to do in Quebec.
Keep in mind a few things while enjoying the dining experience in Montreal. First, tips are generally not included. While it feels like Europe in Montreal, it's important to remember that the system for tipping is the same as it is in the US. Additionally, menu prices are in Canadian currency. Depending on the exchange rates, one Canadian dollar equals .75 of the US dollar. That means that an entree that is listed at 24 Canadian dollars will be about 18 US dollars. Sure, it is a bit of a shock when you see those high menu prices, but what a relief to realize that you get to shave some numbers off. Price tags aside, the dining experience is generally exquisite here at these best restaurants in Montreal.
1. Bouillon Bilk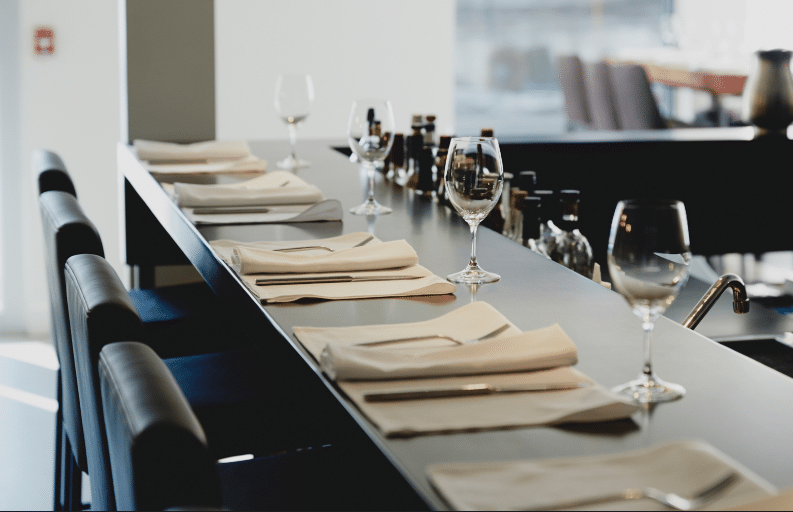 Credit: Bouillon Bilk
It's beautiful, sleek, modern, and delicious. The whole dining experience is an event. You'll be treated well, and graced with some beautiful, delicious cuisine. The minimalist decor inside doesn't at all indicate that your food will be bland. Enjoy a widely varied menu, with beef, rabbit, snapper turtle, duck, seafood, paired with interesting and delicious flavors of grapefruit or jalapeno or shiitake. Lunch is available, and just as delicious for a slightly lower price. The gentle portions will help you to save room for desserts, and you'll be glad for that.
Additionally, the drinks are expertly prepared and the wine pairings seem to totally complement the meal. As one of the best restaurants in Montreal, it's easy to see why. With the truly scrumptious, expertly prepared foods, the kind service and the elegant atmosphere, Bouillon Bilk is a must-try. You'll likely see the name Bouillon Bilk often if you research Montreal since it's one of the famous in Montreal.
2. Barroco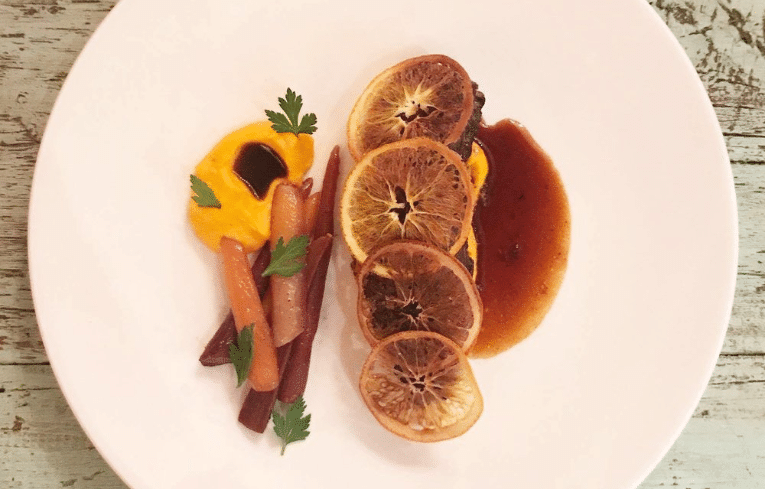 Credit: Barroco
The environment here at Barroco is warm and inviting. That's all because of its location in Old Montreal, combined with the stone walls of the historic building, the dim dinnertime lighting, and linened tables. You'll find delectable dishes here, such as beef short ribs, poached Halibut, with sides of mashed potatoes or wild mushrooms. Additionally, the cocktails are delicious! Stop in for some cocktails if not for the main course, because it's a fun interior to check out. It's arguably one of the best restaurants in Montreal, especially Old Montreal.
3. Cafe Bistro Mon Plaisir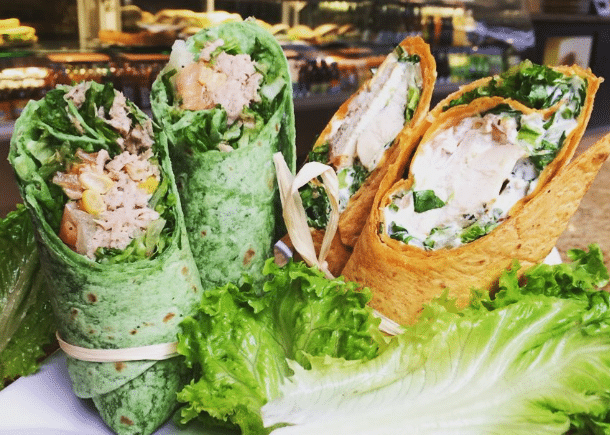 Credit: Cafe Bistro Mon Plaisir / Facebook
We think this is one of the top restaurants in Montreal because it's delicious (of course). It's also because it's not incredibly pricey and it is vegetarian-friendly. The ideal location (it's one of the old downtown Montreal restaurants) makes for a great lunch spot after visiting the Notre Dame Basilica. This restaurant is located just south of the Old Courthouse. We especially appreciate that it's not a touristy chain, and offers some great lunch, pastries, and coffee for a fair price. That's why it's one of the best restaurants in Montreal for lunch, especially in between all your sightseeing. Menu items include some great quiche, croissants, sandwiches, pastries, and beverages.
4. Foiegwa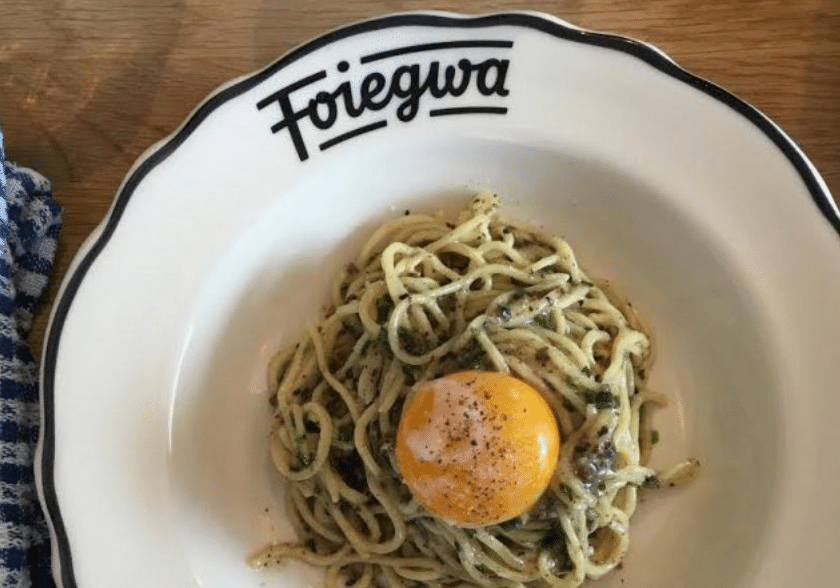 Credit: Foiegwa
Foiegwa is truly a gem in Montreal. We highly suggest adding this to your list of restaurants to try in Montreal. Located away from the touristy Old Downtown, Foiegwa is a good reason to visit another cute neighborhood south of Old Montreal. To begin, let's discuss the food itself, which is the primary reason it earns a spot on the list of best restaurants in Montreal. Menu items include the range of cheeseburgers to filet mignon. And you can choose some foie gras as an appetizer.
The various menu items mean that likely everyone in your group will be pleased. Even better, the foodie among you will be impressed with the delicate attention and choice ingredients of some of the entrees. The interior has the vibes of an upscale diner, with booths and flowers on the tables. It's well decorated, and the food on your plate is presented well. Plus, the experience with the service is positive!
5. Taverne Gaspar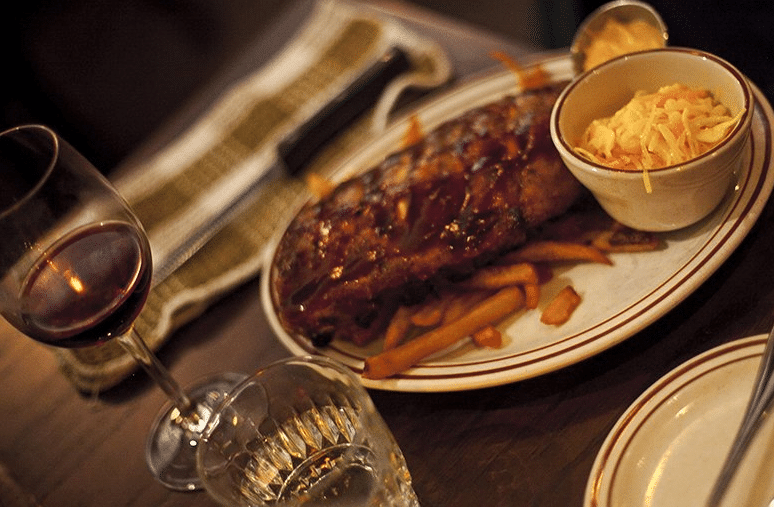 Credit: Taverne Gaspar
Here's a lovely Old Montreal restaurant located near the Old Port, and close to the promenade for some lovely after-dinner strolling. There are options for sitting indoors or outdoors: a rooftop and a terrace. The menu includes some delicious comfort foods such as burgers and yummy mac and cheese. There's a great seafood platter, and options for plates of oysters, too. Some main entrees for dinner include filet mignon, grilled salmon, mussels, and fries.
Additionally, they are open for breakfast and brunch, so it's a great place to start your morning by the river! Enjoy some delicious crepes or French toast, or some omelets or Eggs Benedict. The interior is cozy with unique lighting features and arched windows on the front of the beautiful old building. Don't leave without trying some of the delicious maple creme brulee!
6. Restaurante Bonaparte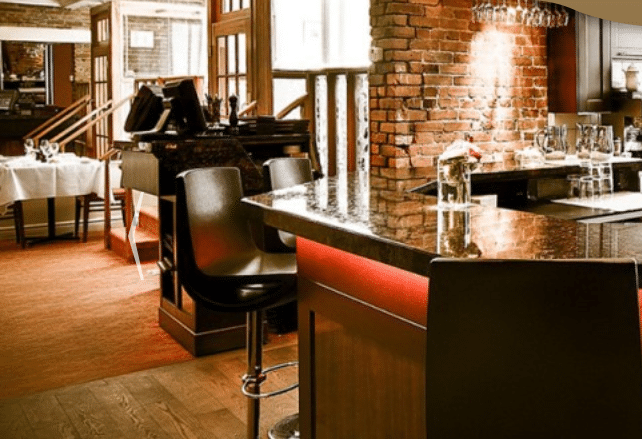 Credit: Restaurant Bonaparte
Restaurant Bonaparte, another of the great restaurants in Vieux Montreal, is located close to the Notre Dame Basilica. It should be part of your Montreal experience because this French restaurant is phenomenal. That's in part to the great service, who attended well without being overbearing. The small portions are artfully prepared on your dish, though you'll find that it is all filling! White tablecloths complement the old historic stone walls, and the whole ambiance is romantic and peaceful. The sampler or tasting menu is a great way to experience many flavors at Restaurant Bonaparte. Additionally, the A La Carte menu served from 5:30 to 6:30 is a great chance to experience some of the delicious food for a little bit cheaper.
The Table d'hote menu changes daily. The variety of menu items is good, yet the options aren't overwhelming. Try chicken with mango and curry, pork medallions with sweet and sour sauce, or roasted Monkfish with saffron sauce. Furthermore, the "tasting menu" option allows you to pick a few options for your salad, soup, entree, and dessert, for a total of six courses. The experience at Restaurant Bonaparte is an incredible culinary experience in Montreal. It's one of the best restaurants in Montreal, and worth planning ahead to make sure you'll get to dine here.
7. Restaurant Europea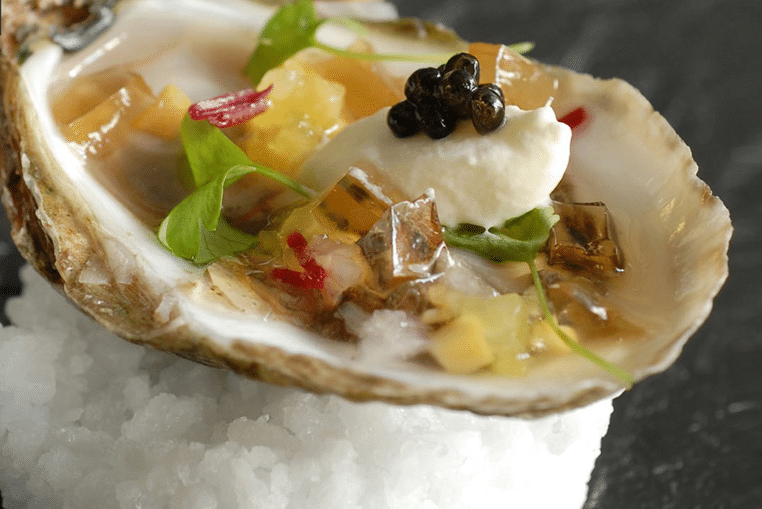 Credit: Europea
Restaurant Europea is one of the famous restaurants in Montreal, all thanks to the genius and talent of Jerome Ferrer. Come to enjoy a dining experience that is tough to describe, and even tougher to categorize, because that would be putting it in a box. With local flavors, and creative renditions of French dishes Restaurant Europea will likely stand out as a memorable restaurant in your life. The extreme attention in each dish is evident. Be prepared to spoil yourself, as you head to Europea because you'll likely be enthralled by each of the courses is placed in front of you.
Lunch menu options include two pricing options: the tasting menu or the discovery menu. Delicacies include lobster cappuccino with truffle puree, and a choice of entrees such as Jerusalem artichoke, chestnut and porcini velouté, or smoked duck ham and beef tartar. Dinner offers the ultimate culinary experience, with the discovery menu, signature tasting menu, or the chance to pick a single course. Interior decor and table accessories are modern and unique. Perhaps you'll be served in a bowl that looks like it was from prehistoric times or servingware of dark wood and silver. A sommelier helps to suggest wine.
And lastly, if the service, atmosphere, and food itself didn't blow you away yet, dessert will. Here at Europea, you can be served the "L'arbre a sucreries de Sainte Culpabilite." That's a fancy name for a cotton candy tree. Lovely wisps of the pink sugar artfully decorate a little tree base. Accompanying this fun treat are other homemade candies and chocolates. This is perhaps the epitome of the experience at Europea. It's full of delicious surprises, with every course. Don't miss out on your chance to visit Europea, one of the best restaurants in Montreal.
8. Restaurant Le Bourlingueur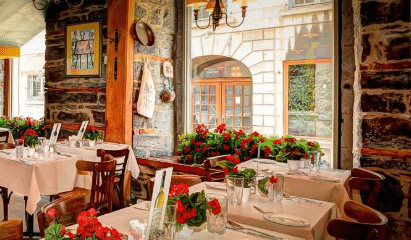 Credit: Restaurant Le Bourlingueur
We think Restaurant Le Bourlingueur is one of the best restaurants in Montreal first because of the delicious, fresh organic local ingredients in their French dishes. Secondly, it's because of its cute, farmhouse-style interior. The variety of fresh salads on the list makes it a great lunch spot, especially with all the rich, decadent French courses you've likely been sampling in Montreal! There is also a great selection of fresh, delectable pasta dishes (tortellini stuffed with cheese and rose sauce, lasagna au gratin with salmon).
And then, there are the "Signature Host Table" menu options, and here's where we really think it's at! Restaurant Le Bourlingueur brags that these specialties of the restaurant have been created and crafted expertly for over thirty years of its opening in 1974. These include the veal liver meunière, onions-cranberries-xeres jam, and traditional Alsatian sauerkraut potatoes and assorted sausages. As one of the best restaurants in Old Montreal, Le Bourlingueur makes a great spot to rest and refuel during your day of sightseeing. It's not as expensive as many of the others and offers a great atmosphere to relax.
Prepare for some memorable dining experiences at these best restaurants in Montreal!
The chef's pride, incredible attention to details and scrumptious flavors make some of these French restaurants the best in Montreal. Sure, some of them may be a bit pricey, but many other tourists also fondly recall "that restaurant in Montreal" years down the road. Head to these best restaurants in Montreal to find some great service, unique experiences, beautiful old buildings, and truly scrumptious foods.
Related Article: ​Best Italian Restaurants In NYC A Foodie Could Dream Of​​​