Welcome to a liberal town of bibliophiles and home to the University of Michigan. This walkable city is teeming with free-trade coffee shops, great bookstores, and old-timey pubs. It's also a mecca for foodies. Come along with us as we explore the best restaurants in Ann Arbor.
What's better than a foodie tour? Nothing. From burgers and milkshake to delicious Cuban cuisine, this city offers something for everyone. Without further ado, here are the best restaurants in Ann Arbor.
1. Frita Batidos
Credit: Yelp
To say nothing of this restaurant would be a shame. Frita Batidos is inspired by Cuban culture and a fantasy revolving around two street food staples – the Frita and Batidos. The frita is a burger traditionally made with spicy chorizo dished up with shoestring fries and a soft egg bun. Batidos are tropical milkshakes made with fresh fruit, crushed ice, and sweetened milk. Rum is optional. This natural pairing and the whimsical menu is the result of a dream-driven cuisine.
A Little Back Story
While the restaurant's owner isn't Cuban, she did spend a good deal of time visiting her grandmother who lived in Miami. As a result, the Cuban and more broadly Latin influences became a major influence in her style of cooking. Her love for the ingredients, culinary traditions, and spirit of the Cuban culture grew as she worked alongside people from these communities.
Equally important, she is excited about the aspect of Cuban culture and cuisine blending with that of migrant communities. Local farmers and purveyors inspire the seasonally changing menu in like manner. Frita Banditos is one of the best restaurants in Ann Arbor.
2. Gandy Dancer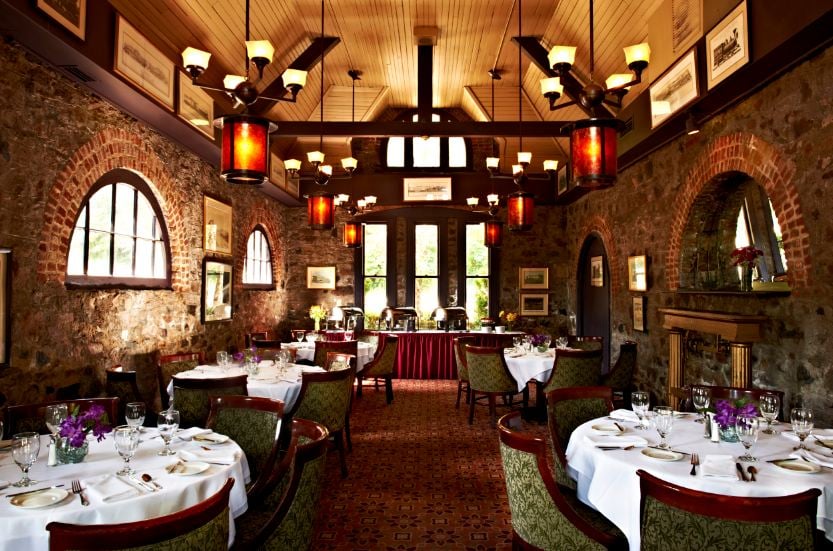 Credit: Yelp
All across the city, this restaurant is known for its unique preparations of seafood, pasta, and steak dishes. As a matter of fact, it's pretty famous across the state too. Located in the beautifully restored 1886 Michigan Central Depot, Gandy Dancer is both a restaurant and a historical site. As a popular wedding venue, the fine sophisticated cuisine and chic venue make it a great setting for rehearsal dinners and receptions to remember. Just take one taste from the Gandy Dancer menu. It's a place you'll want to visit again and again.
3. Gratzi Ann Arbor
Credit: Yelp
Come and try out one of the best restaurants in Ann Arbor. Gratzi is an elegant Italian restaurant with distinctive style. Founded in 1987, the eatery made its home in the former Orpheum Theater which once screened the most popular movies of its day. Gratzi maintains the flair of its dramatic history with an elegant decor and ambiance. Seated above the bar, is a grand sculpture of Orpheus himself.
All About Gratzi
It's a fan favorite among the locals, particularly the college crowd. We have heard so many stories about people getting engaged at the restaurant. It's one of the most romantic locations in town!
Guests enjoy several courses of the season's freshest flavors with their original Italian cuisine. Of course, the perfect Italian cuisine varies according to the season and culinary trends. Sharing a meal here is always an entertaining experience dished up with several distinct courses.
There is also a full-service bar with an emphasis on wines. We particularly love the antipasti table located in the main dining room. The buzz surrounding the table creates a positive, energetic vibe felt around the whole restaurant. When you dine here, you won't want to go home.
4. The Earle – Italian & French Fine Dining
Credit: Yelp
You can find The Earle in the heart of the city, serving up award-winning Italian and French cuisine. Their wine list offers up over 1,200 selections and received the Wine Spectator Best of Award of Excellence for twenty-one years in a row. Make a reservation for dinner and enjoy live jazz five nights a week. From Tuesday through Thursday solo piano or guitar shows begin at 7 PM. On Friday and Saturday, the Jazz Trio plays, starting up at 8 PM.
If you're looking for private dining events, the Earle offers just the place. Whether you're meeting for business, a casual gathering, or a formal celebration, there are three rooms that can accommodate up to fifty people. Flexibility and quality service are the hallmarks of Earle's private dining facilities. After all, it's one of the best restaurants in Ann Arbor. You'll find yourself coming back again and again.
5. Taste Kitchen
Credit: Yelp
At Taste Kitchen, origin matters. The chefs only use fresh, quality ingredients; of course it's important to know where they came from. Here, the best seafood is on rotation based upon seasonal availability and sustainability. The Taste Kitchen menu showcases the house chef's ambition to build sophisticated dishes, both layered and unadorned. Dishes are a unique blend of French and New American, for a refreshing cuisine. The staff is just as passionate about service as they are food and wine.
6. Aventura
Credit: Yelp
Welcome to one of the best restaurants in Ann Arbor. Like many great ideas, Aventura began with a creative individual and a unique experience. When restaurant owner Sava Farah first bought the building for Aventura, she immediately fell in love with the history, personality of the space, and – a table. She gathered with her friends around that table in the cavern-like building and that's where Aventura was born.
That same table now sits in the middle of the restaurant, where free-flowing wine, cheese, and tapas pass by. It's a symbol of her team coming together over a shared love of Spanish cuisine and culture. The dining room and bar are intentionally intertwined. Above all, they emphasize the deeply social experience of traditional Catalan and Valencian-style tapas bars. Come drink, laugh, and linger in one of the best restaurants in Ann Arbor.
7. Vinology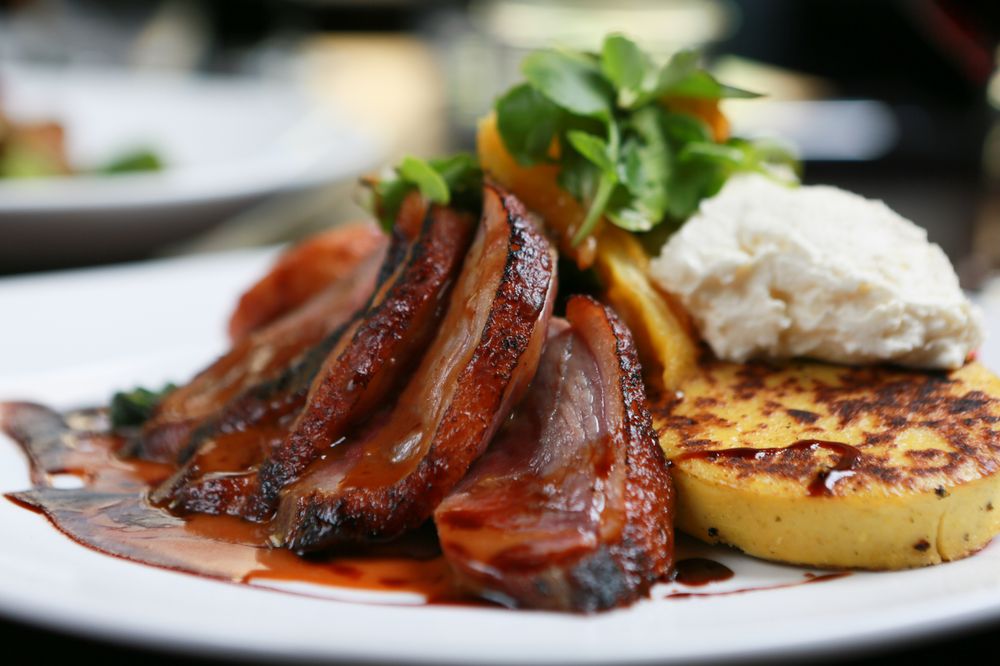 Credit: Yelp
Come and indulge your wine and cheese cravings at Vinology. Over the years, this family-owned restaurant has enjoyed sharing wine, food, and spirits through their love of experimentation and education. From their personal philosophy came a place for you to enrich your life. The menu and atmosphere are uniquely crafted to suit every style, taste, and budget.
Over 100 wines are served by the bottle and 50 from the bottle are served from around the world. We're sure you'll find just a few gems to love. Enjoy wine flights, focused food and wine pairings, and more. Vinology is truly one of the best restaurants in Ann Arbor.
8. Zingerman's Roadhouse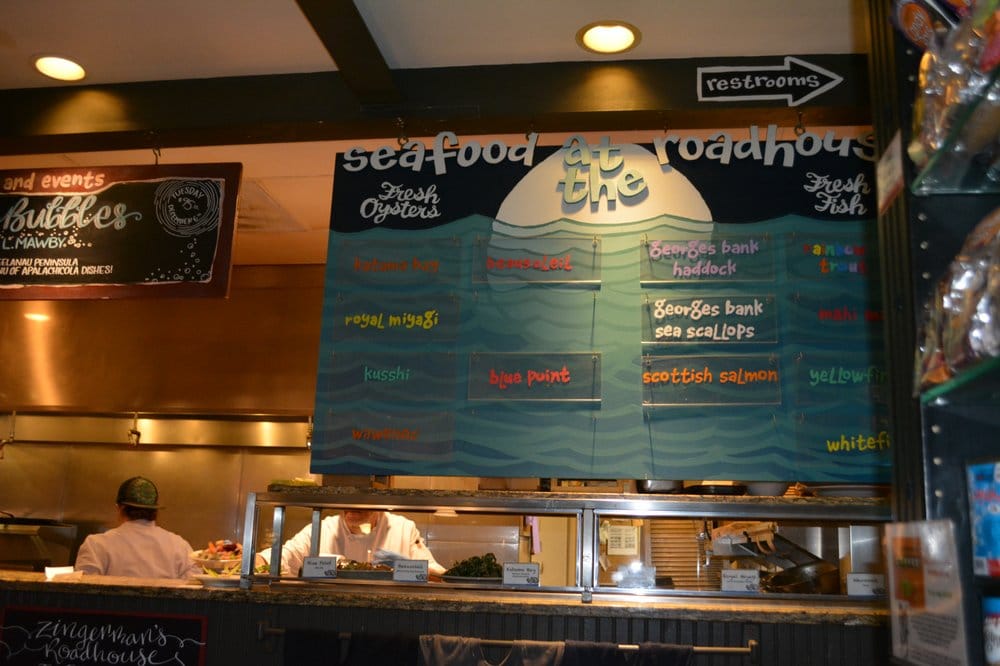 Credit: Yelp
Ever since they opened in 2003, Zingerman's Roadhouse has been serving up amazing eats. Among the dishes offered include incredible grits from South Carolina, meat from Washtenaw County, artisan cheeses, micro-brewed beers, and fine wines from all across the country.
The chefs are having more fun than ever making full-flavored versions of old-time comfort classics like macaroni and cheese, crab cakes made with jumbo lump blue crab, and some really good fried chicken. We don't know about you, but our mouths are watering. Every time we're here, we want to consume as much as we humanly can (even though we probably shouldn't).
As you peruse the menu, don't hesitate to ask the staff about any questions you may have. They've taken the time to develop every recipe. We're sure you'll enjoy your meal just as much as they've enjoyed putting it together for you.
9. Cafe Zola
Credit: Yelp
Mouth watering omelets, crepes, salads, sandwiches and more await you at Cafe Zola. Here, the owners handpick their ingredient selection for a menu that offers nothing but the best. A company in Durham, North Carolina specially and blends and roasts all of the coffee. The owners carefully select tea for various tastes and quality.
Their rotating wine selection has been personally selected from various vineyards by owner Alan Zakalik. Any items not made from scratch are sourced from the finest local bakeries. Brunch here is fantastic; Zola is truly one of the best restaurants in Ann Arbor.
10. The Lunch Room
Credit: Yelp
Two friends who share a love of cooking and serving vegan food dreamed up this cozy little restaurant. They share a philosophy that work should be the pursuit of what you love and reflect your values and passions. Over the years, they've gone from hosting a series of pop-ups to serving from a food cart, and then on to a brick-and-mortar location in 2013. A bar was added just a year later.
In 2015, a second location called the Lunch Room Bakery & Cafe. More locations followed but the quality stayed the same. We really think the Lunch Room is one of the best restaurants in Ann Arbor and we're sure you'll love it too.
Go On A Foodie Tour of the Best Restaurants in Ann Arbor
This city offers some of the most diverse culinary cuisines. From comfort food to old-time classics and exotic food from abroad, this city offers a mix of all things good.
We hope you enjoyed reading through our list of the 10 best restaurants in Ann Arbor, Michigan. Do you have any questions or comments for us? Perhaps you have some personal favorite places to eat in the Ann Arbor area you'd like to share with us. Either way, we'd love to hear them! Let us know your thoughts in the comment section below.
If you're looking for more areas to explore more of the city life in Michigan, click here. For information on a cool island to explore in Michigan, click here.
Related Article: Best Restaurants in Indianapolis: Take Your Pick