Utilize the power of the sun with an ECEEN Solar Panel Backpack
Are you someone who spends their free time doing outdoors activities? Do you also wish your electronics would last longer while travelling outside? Look no further than the ECEEN Solar Panel Backpack. This advanced outdoors product combines sun-powered charging capabilities with the functionality of high-quality travelling gear. If you're looking to combine nature and technology, read further to learn more about this special backpack.
A Little About ECEEN
ECEEN Electronic Limited is an innovative and forward-thinking company, specializing in producing technology that utilizes the powers of the sun. Products created by ECEEN include solar backpacks, solar chargers, solar power supplies, and more. Since 2007, the company has made a name for itself by generating quality, state-of-the-art equipment.
With over 50 employees, cutting-edge development tools and testing facilities, ECEEN represents a leader in the manufacturing of solar energy technology. Above all, the ECEEN brand promises excellent designs and complete satisfaction for every customer.
ECEEN's Solar Panel Backpack Features & Benefits
1. Solar Power Charger
Credit: Amazon
What could make a camping trip in the mountains even more exciting? Getting to utilize your electronic equipment without the need to find an indoor power source. ECEEN's solar panel backpack is supplied with SUNPOWER® solar cells, which generate the power you need to charge technology. A defensive, anti-scratch coating protects the panels from damage. An additional durable PVC fabric encases the cells for safeguarding against the elements. All you have to do is hang the panel on your backpack when you go outside, and you'll be ready to charge in no time.
These solar power devices are unique to other comparable products, as they utilize more sunlight than typical panels, with 22% transfer efficiency. This equates to a greater amount of electricity emitted, so you get long-lasting performance during your outdoor expeditions. You'll be able to spend hours listening to music as you trek through the woods or sit around a campfire.
A 5V USB port, with a Voltage Stability Controller for protection, enables any device to be plugged in and ready for charging. The solar cells are also capable of charging multiple types of electronic equipment, including phones, speakers, music players, and GPS systems. This ensures a greater peace of mind knowing that navigation and communication will be enabled for longer periods of time.
2. Lightweight and Portable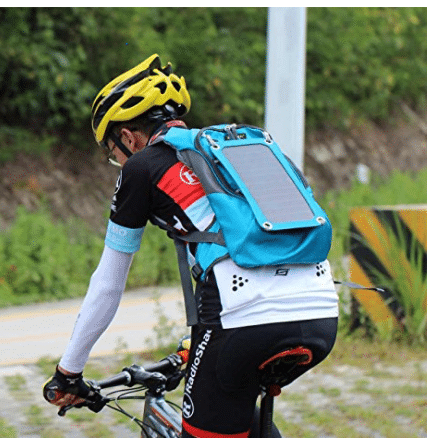 Credit: Amazon
Wearing a heavy backpack while hiking in the woods is never ideal. Hefty equipment puts a strain on your body and slows you down, causing frustrations and keeping you from enjoying the moment. In other cases, your bag might not be able to handle transporting all your items, leading to ripping or dysfunctional straps. You want your outdoors gear to be both functional and easy to carry.
The Solar Panel Backpack contains bar tacking relieves points of stress, so the bag won't rip or tear if you pile a ton of items inside. Additionally, shoulders and back will feel at ease while donning this bag, as the product bears only a minimal amount of weight.
Adjustable straps ensure you can wear the bag over heavier or lighter clothing items. This backpack is so portable, you could even use it for everyday activities like work. Or, place a book inside and you can spend an afternoon reading while your phone battery stays charged.
3. Durable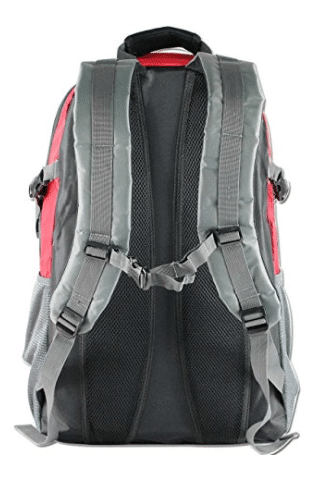 Credit: Amazon
If you spend a lot of time outside, you're bound to experience a few bumps and bruises as you journey through your environment. Your outdoors equipment should be as resilient as you are when partaking in demanding physical activities.
Feel free to trek through the mud or play some extreme sports while wearing this backpack. The ECEEN bag is made of long-lasting, durable material that will survive many battles against the elements. You don't want your personal items falling out due to rips or holes in your gear. With nylon fabric that is tear and water-resistant, you can be assured your backpack will protect your belongings in any type of weather.
4. Storage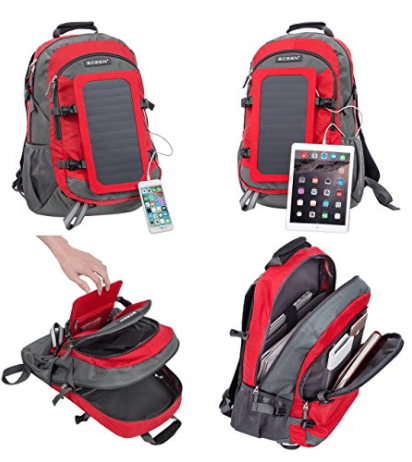 Credit: Amazon
What's the point of a solar panel backpack if it can't carry any of your belongings? Having to choose between bringing necessary items like extra clothing or first aid kits in place of charging your phone is not desirable. The ECEEN bag doesn't just generate its own energy. It also offers tons of space for transporting all your travel gear. Multiple pockets store any kind of item, such as compasses, phones, wallets, and other belongings.
Additional compartments are ideal for keeping maps, travel guides, or notebooks. No need to worry about bringing additional bags to fit your equipment. The ECEEN backpack will ensure everything finds its place when packing for your next journey.
5. Stylish Design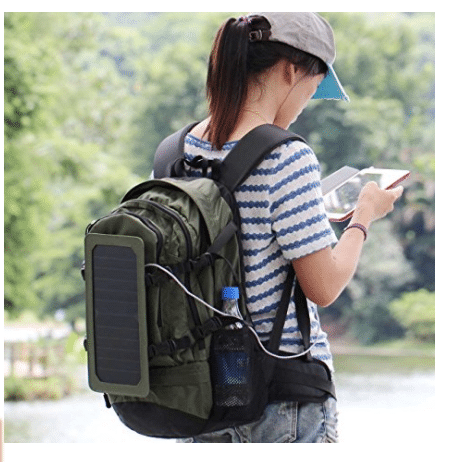 Credit: ​Amazon
When you invest in a quality backpack, you want the product to be practical and suitable for various situations. It's cheaper and more efficient to purchase one bag that fits a variety of your needs and wants. Accordingly, the ECEEN backpack is not just useful for outdoors adventures. It also has a fashionable look that will complement your personal style.
Available in a range of colors, including blue, red, and green, the bag stands out from other plain-looking travel gear. The compact and urban design is both sleek and rugged, making it attractive for both outdoor trips and walking through the city.
What Travelers Are Saying About the ECEEN Solar Panel Backpack
People who purchased the ECEEN Solar Panel Backpack love the product's solar-charging capabilities. Camping and hiking enthusiasts admit that despite their appreciation of nature, they also enjoy being able to use their smartphone wherever they are. Thus, the ECEEN backpack provides a convenient way to satisfy both their desires.
Those who are very active, such as long-distance runners, especially like that they can continue listening to music during extensive periods of exercise. Customers also found the backpack spacious, capable of fitting multiple items like a jacket, wallet, phone, and snacks. Users of the product say it is great for days on the beach, treks through busy cities, or trips into the woods. Additionally, the backpacks are said to be highly comfortable, owing to the adjustable straps and light-weight nature of the bag.
While some relate that cloudy days might result in slower charging time, this is to be expected with a product that relies on sunlight for power. It is also recommended that the backpack be placed under full, direct sun, as this will give the solar panels the ideal positioning for the fastest charge.
Alternative Smart Backpacks
1. Lifepack Backpack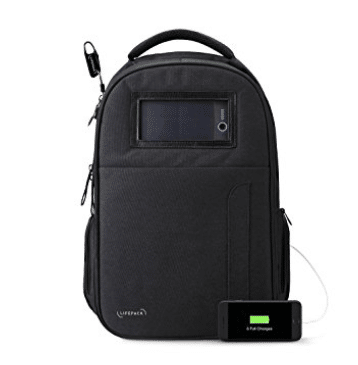 Another option for a solar-powered gear is the Lifepack Backpack. This pack contains a unique, 3-in-1 solar power bank for keeping each of your electronics charged. This power bank carries six smartphone charges. With every four hours of sunlight, you get an additional hour of charge. The backpack also includes Bluetooth speakers, allowing you to listen to music as you hike. Battery power in the speakers lasts up to an astounding 96 hours, which means you can play your tunes all day and night.
2. TRAKK Armor high tech backpack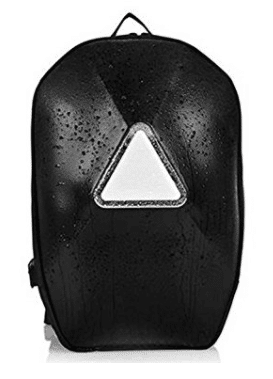 The Trakk state-of-the-art backpack is perfect for the outdoors adventurer. By connecting your phone to an app, you can control colored LED lighting that you will guide your way as you traverse the environment. There's plenty of space in this bag for your supplies. Zip pockets and larger compartments provide areas to keep laptops, phones, headphones, and other items. A USB port on the side of the pack lets you plug in devices and charge with your power bank. The bag is also waterproof and durable, meaning it'll survive multiple journeys through the outdoors.
3. Tortuga Travel Backpack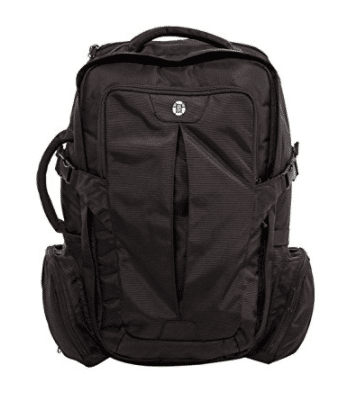 This extra-large backpack provides the space you need for all your travelling gear. Front-loading capabilities make packing items into your bag easy. You'll also feel very comfortable wearing the Tortuga Travel Backpack with its padded hip belt, which takes the strain off your shoulders. Lockable zippers on the backpack's central compartments ensure your items won't be stolen when you're not looking. Additionally, a padded sleeve is perfect for storing laptops or tablets, so they won't get damaged.
Combine the powers of nature and technology with the ECEEN Solar Panel Backpack.
Those who spend a large amount of time outdoors can benefit from a solar charging backpack. Without the need to travel somewhere else to recharge your electronic equipment, you can spend more time outside doing the activities you love. Whether you're spending a few hours hiking the mountains or camping in a forest, a bag like the ECEEN solar panel backpack would be the perfect addition to your trip.
Related Article: Every Smart Traveler Needs A Smart Backpack | Review