Plan the vacation of your dreams with a stay at one of these luxurious Curacao resorts.
Who else wants to visit the Caribbean? This Dutch Caribbean island is known for its beautiful beaches tucked into coves, expansive coral reefs, and diverse marine life. Its capital, Willemstad, offers gorgeous pastel colonial architecture, the floating Queen Emma Bridge, and a captivating 17th-century synagogue. Interspersed throughout it all are the most luxurious Curacao resorts. Whether you are looking to take a dip in refreshing beach lagoons, explore the island, or simply lie poolside and soak up the sun, this list has got you covered. We have included something for every type of traveler.
A Little Bit about Curacao
Curacao is easily one of our favorite tropical vacation destinations. From pure white sand beaches to vibrant turquoise waters, perfect weather, and rich island life, there isn't much more a traveler could ask for. In this article, we will be exploring the best Curacao resorts. Booking a trip here is one of the best ways to make your travel dreams come true. 2019 is your year of adventure.
When it comes to the best Curacao resorts, you have plenty of options you can choose from. The wide range of on-site resorts adds a large degree of luxury to your getaway. The scenery is nothing short of breathtaking. Vibrant blue waves lap against pristine white sand. Travelers flock here from around the world every year.
One of the best ways to explore this land of tropical beauty is through an excursion. There is a range of tours and adventure groups you can book in advance of your arrival. Get up close and personal with nature and marine life in a safe, respectful way. Those who love underwater explorations will fall in love with all that these Curacao resorts have to offer. Throughout the island, you will find plenty of coral reefs to snorkel and swim around.
The attractions are a large part of what makes island life here so very fun. When it comes to a vacation, the Caribbean is the place to be. So go ahead. Bring the whole family, grab your passport and your friends, or pack up with your lover and get ready for the trip of a lifetime.
Here Are Our Picks for the Best Luxurious Curacao Resorts
1. Baoase Luxury Resort
Credit: Baoase Resort
Discover an idyllic, tropical retreat tucked away on the island of Curacao. Set on Mambao Beach, the Baoase Luxury Resort is the epitome of a Caribbean dream destination. Sitting on the south side of the island, it is conveniently located between the capital Willemstad on the UNESCO World Heritage list and the Curacao Sea Aquarium. The twenty-three rooms on-site all feel as spacious as private villas. Exposed wood beam ceilings let in plenty of natural light, highlighting the Balinese decor and plunge pools overlooking the sea.
While you are here, don't miss out on the sunrise yoga sessions. And for those of you looking to boost your health, try out the three-day detox cleanse program. Now that you know about one of the best Curacao resorts, you're one step closer to relaxation, peace of mind, and better health.
2. Santa Barbara Beach & Golf Resort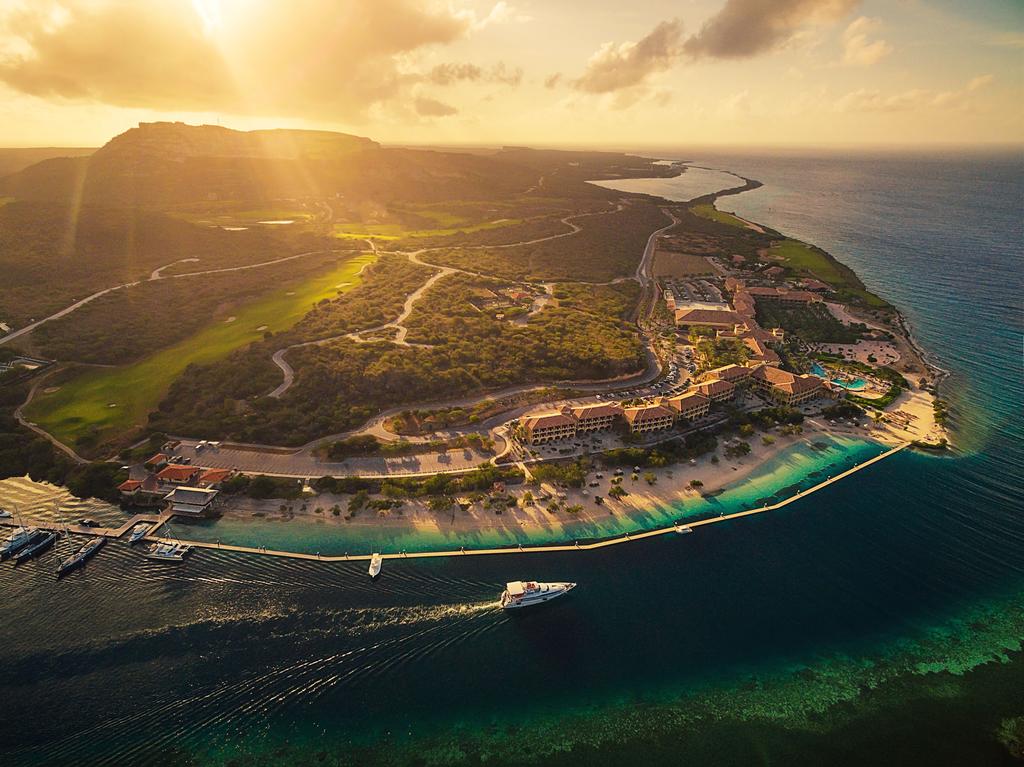 Credit: Santa Barbara Beach & Golf Resort
SoCal residents, try not to get confused. This is one of the best Curacao resorts. While the name might throw you for a loop at first, it's easy to see why the hotel would be named after the sunny California locale. However, this Willemstad stay is better than anything we could have dreamt up. As the sun peaks over the horizon, a bird's eye view reveals the property, perfectly set on the foreground of a lush, green hill. Sparkling pools catch every glimmer of the sun, warming the waters for those ready to take a dip and enjoy the ocean views.
Sure, there's plenty of time for relaxation at the Santa Barbara Beach & Golf Resort. But this is not one of the Curacao resorts that's short in the adventure department. In fact, it's quite to the contrary. For guests looking to do something active, the options never run dry. Play golf on a Pete Dye course, explore the local inlets by way of kayak, or enjoy a spa scrub down with Curacao liqueur and brown sugar. Here's the best part. You can do all of this and more without ever leaving the grounds of the hotel property.
3. Renaissance Curacao Resort & Casino
Credit: Renaissance Curacao Resort & Casino
Yes, this is a Marriott hotel but it's also one of the best Curacao resorts. Located within the technicolor wonder of Willemstad, the interiors are painted to match the blue vibes of the Caribbean. Throughout the lobby, pops of coral and turquoise add fun, punchy tones to an otherwise classic decor. On-site, there are plenty of options to keep guests entertained and happy. Peruse the hotel's many boutiques for souvenirs to bring back for the family, get cocktails at one of the five bars, or try your luck at the casino for a round of poker.
While there are many things we love about the Renaissance Curacao Resort & Casino, we already know what your favorite feature is going to be. Let's just say that the hotel's affinity pool will be the highlight of your stay. Order yourself a fresh fish dinner and a classic mai tai. It's the perfect place to watch the sun tuck behind the horizon.
4. Scuba Lodge & Suites
Credit: Scuba Lodge & Suites
The Scuba Lodge & Suites is consistently ranked among the top Curacao resorts – and with good reason. Offering twenty-eight rooms and eleven apartments in restored historic buildings, this is such a fun place to come and stay. Throughout the grounds, you will pick up on a boutique feel that carries through into every element of your stay. Here, it is the thoughtful little things and fun amenities that make all of the difference. Enjoy towel service at the beautiful infinity pool, get a massage on the beach, and join in on scuba adventure with instructors who have been on more than 8,000 dives.
5. Van der Valk Kontiki Beach Resort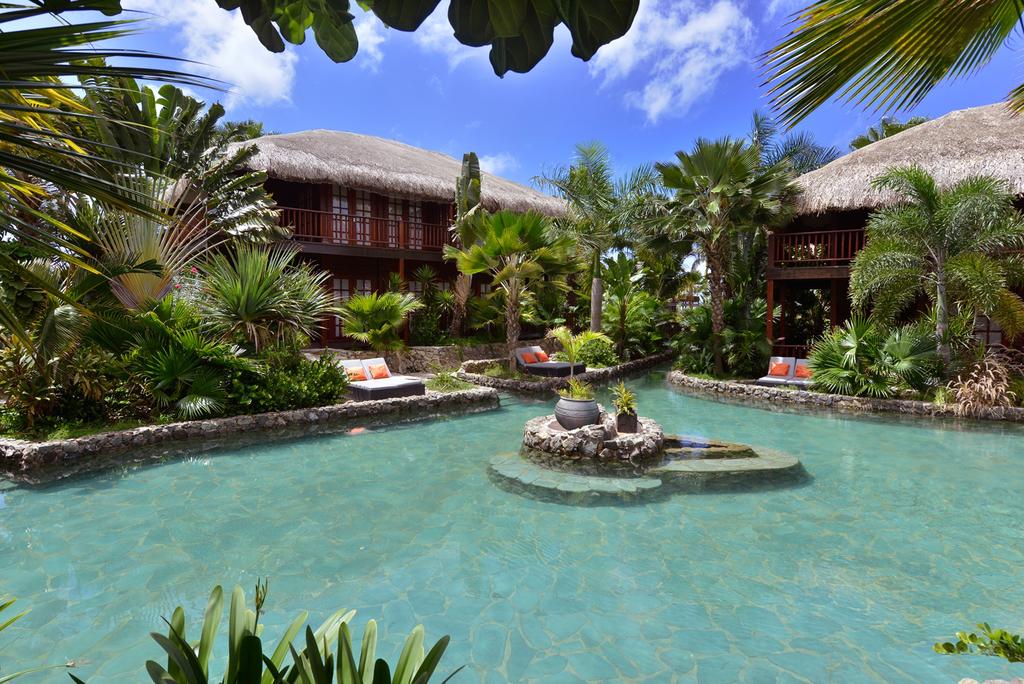 Credit: Van der Valk Kontiki Beach Resort
Think thatched roofs, private balconies, and rain showers. Van der Valk Kontiki Beach Resort has everything you could want and more in a Caribbean stay. For the quintessential experience, we can't think of a better place to go. Whether you would like to have a relaxing holiday or explore the island, there are options here for everyone. For loungers, there is a mani/pedi spa on-site on Cabana Beach as well as beach beds right out on the docks. If you're in the mood to get out and explore, take one of the canoes or loaner water scooters out on the sea.
Book Your Dream Vacation and Stay at One of These Luxurious Curacao Resorts
It's time to escape the hustle and bustle of life at one of the romantic and beautiful beachfront Curacao resorts. This Caribbean island is teeming with beauty and adventure. As you can see, this island offers so many opportunities for those seeking a trip of both relaxation and adventure. These resorts are right in the middle of it all, offering not only a unique place to experience the local wonders but also a home away from home.
We have found that many people think that a vacation here is too expensive. This couldn't be further from the truth. You just have to be smart about it. Planning ahead or booking a trip for the shoulder season and off seasons are good ways to save money. Treat yourself to breakfast on an oceanfront patio, a morning message, and afternoon watersports excursions.
Some of the best beaches in the world are right here. Our choices for the top accommodations offer the best of both worlds – rest and time for exploration. Whatever type of vacation you are seeking, you will find it here. From adults-only resorts all about romance to family fun options, we've helped you narrow down your choices to only the highest caliber places of accommodation.
We hope you enjoyed reading our article on the best Curacao resorts. As you can see, this island is such a unique place to visit, offering some of the most spectacular sights. Whether you're seeking adventure or simply some R&R, this Caribbean locale offers it all and more. Curacao is one of our favorite places to explore and get back to good old nature.
The best Curacao resorts on our list are right in the middle of it all, offering close proximity to activities and cultural attractions. Each resort is truly unique and equipped with luxury amenities, sure to satisfy the needs of any traveler. Do you have any favorite Curacao resorts that were not featured on our list? Perhaps, you have some questions or comments for us.
Related Article: 10 Best Tropical Vacations