Embark on a fun cruise with The Norwegian Jewel
The Norwegian Cruise Line (NCL) offers cruises to an exciting assortment of destinations: Bermuda, the Caribbean, the Panama Canal, Europe, Australia and New Zealand, Alaska, Canada, Hawaii, Mexico, the Pacific Coast, and South America. It's an impressive destinations list, and with the Norwegian Cruise Line, it's not only about the destination; it's also about the journey. On The Norwegian Jewel, you'll get to enjoy a fun vacation on board, both relaxing and thrilling entertainment. And of course, you'll get to voyage to a unique destination, explore the area, and return to your home away from home onboard. Despite complaints about the food and service, we find that the Norwegian Jewel still has some redeeming qualities which make it a good deal for your next cruise vacation.
Onboard experiences and cruise destinations make this Norwegian Jewel review a positive one. Additionally, the Norwegian Cruise Line offers some special deals and tailored packages for families, and couples.
A Little About The Norwegian Jewel Cruise Ship

Credit: NCL
To begin, the Norwegian Jewel is the lead of the collection of ships that the Norwegian Cruise Line offers in its jewel collection. It's large size, with an occupancy of over 2,000 guests and almost a thousand feet long, means that you'll have plenty of options onboard. The Norwegian Jewel was originally built in 2005, but has been refurbished in 2014. There are plenty of entertainment options onboard the Norwegian Jewel, and 16 dining options and 15 bars. Additionally, this particular ship travels to a variety of destinations, all the way from Alaska to Asia to the Atlantic.
Features and Benefits
Accommodations
Penthouses, Suites, and the Totally Luxurious Norwegian Haven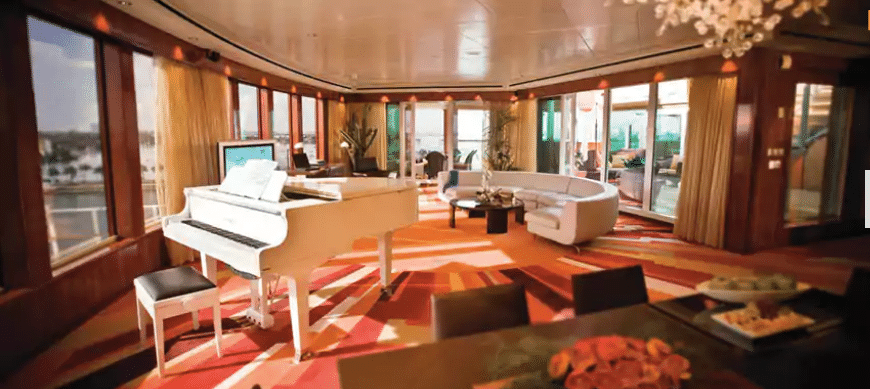 Credit: NCL
A certain luxury awaits those who book the Norwegian Haven, an exclusive enclave at the top of the ship that's incredibly spacious. Plus, you'll have added benefits as an exclusive member of this "haven." Alternatively, the penthouses or suites offer spaciousness that you won't find on many other cruise ships. Of course, it's still a cruise ship, but these penthouses and suites allow you to gather your friends or family into private common areas. Or, these suites allow you and your significant other to escape with balconies, baths, and expansive rooms. Enjoy concierge and butler services, as well as 24-hour room service. You'll find plenty of options within these suites, too, regarding room size, style, and service, to create just the vacation you're after.
Spa Staterooms and Mini-Suites
Credit: NCL
For those looking for the next level of spaciousness and luxury, the Spa Staterooms, and mini-suites offer a nice compromise. While cruise ship rooms are inevitably small, your stay in a mini suite guarantees you just a bit more space. Spa Staterooms set you up for total relaxation. You'll be located close to the spa and fitness center. Additionally, you'll receive complimentary access to the Thermal Spa Suites, to enjoy during their open hours during the day. The mini suites include a private balcony, which is great for soaking up some outdoor quiet time. You can also choose the family balcony rooms, and balcony staterooms that feature comfortable seating areas, and more storage space.
Oceanviews and Insides
Credit: NCL
As expected, these rooms are pretty small. But hey, you're here for all the fun amenities throughout the ship anyway. Therefore, these rooms are a good deal for those looking to relax in spaces around the ship, and then fall asleep in a comfortable bed.
Dining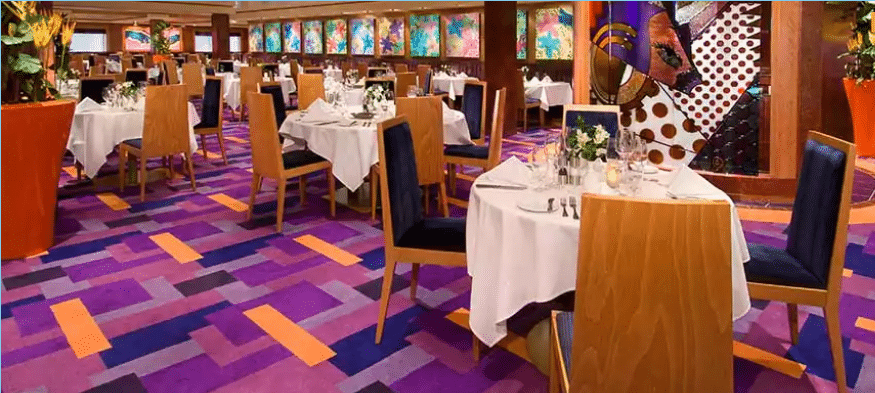 Credit: NCL
All dining on The Norwegian Cruises is freestyle, which means that you're not locked into a time. Therefore, you're free to spend your vacation on "island time," and wander in when you're hungry. The Tsar's Palace Dining Room is one of two main dining rooms and can accommodate over 500 guests. It closes for a few hours between each meal time, but is open for breakfast, lunch and dinner. You'll have a few options on the menu for your various courses at lunch and dinner. These change daily. The second main dining venue, Azura, is a bit smaller and it's only open at dinner time. The menu is the same as the Tsar's Palace.
Specialty Dining

Credit: NCL
For an additional price, you can choose some of the varieties at dining options throughout the ship. Chin Chin for Asian cuisine, Le Bistro for French cuisine, Teppanyaki for Japanese cuisine, Cagney's for steak, Moderno Churrascaria for South American, and Mama's Italian Kitchen are some examples of your dining options that Norwegian considers "select dining options" and charges a cover pay (or per a la carte option). Lastly, The Norwegian Jewel now offers the signature trio, a pass to try out three of the specialty dining options.
For a unique and luxurious dining experience, you can choose to be part of the Chef's Table. You'll get to partake in a nine-course menu with each course accompanied with wine paired by a Master Sommelier. This is not simply a meal, but rather a whole culinary experience, and you'll leave with some new friends with the chef, director, manager and wine steward. Additionally, you'll get a tour of the galley. This is limited to twelve guests and offered only once per cruise. The Norwegian Jewel offers a 24-hour food court style dining option called Blue Lagoon. You'll find breakfast, lunch and dinner options available here, for quick dining. And lastly, there's always the ice cream bar, with soft serve, cones and toppings.
Amenities
Rest and Relaxation
Credit: NCL
The Norwegian Jewel features seven different hot tubs throughout the ship. There's also a sauna and a steam room available for you. The Bora Bora Beauty Salon offers haircuts, manicure and pedicures.
Fun and Action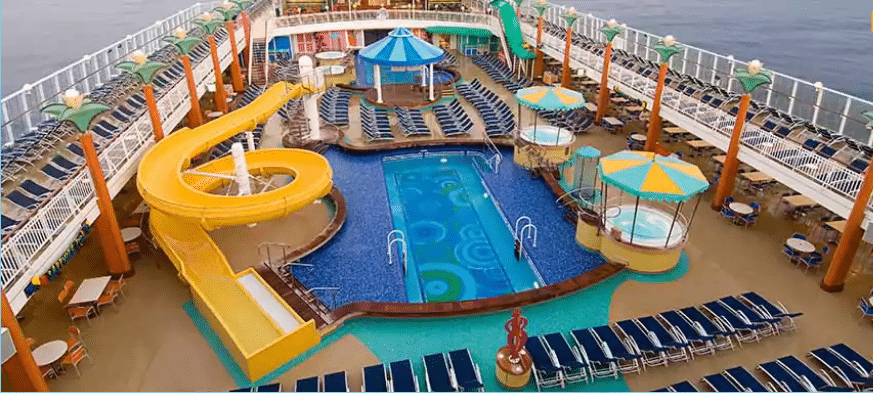 Credit: NCL
The Norwegian Jewel features the Sapphire Pool, which is really two separate pools with four hot tubs, too. Surrounding the pool are many lounge chairs and sun beds. Within this Sapphire Pool area, there's an adults-only pool and a family-friendly pool. The adult pool has a waterfall feature, and the family-friendly pool features a spiraling waterslide. Additionally, the pool area includes a splash area. You can head up to the two golf cages on deck to practice your golf swing. Furthermore, golf professionals are available to give you lessons. The sports court, complete with some bleacher seating, will host basketball, dodgeball, or volleyball tournaments. Play some table tennis, giant outdoor chess, or shuffleboard on the decks, or exercise around the jogging track.
Norwegian Cruise Lines do a great job catering to kids. Programs include the Splashdown Kid's Club, Splash Academy, the kids' pool, two teen clubs and a video arcade.
Entertainment
Credit: NCL
Entertainment on board the Norwegian Jewel happens within the main theater, Stardust Theatre, The FYZZ Cabaret Lounge and Bar, and the Spinnaker Showroom, Performances are held at 7 pm and 9 pm in the Stardust Theatre, and range from a circus-style act to a seventies musical extravaganza to comedy shows. Additionally, there are karaoke rooms, and atrium gathering area, and an art gallery.
What Other Travelers Are Saying About The Norwegian Jewel
For the most part, other travelers also enjoy their time on the Norwegian Jewel. The most consistent complaint, though, is the quality of the food. Many are disappointed with the "fast-food" style of so many courses. Some feel that even the dining room food isn't great quality. Others have found that orders were made incorrectly. As with most cruise ships, you can expect the pool areas to be crowded, and the standard rooms to be small. Many experience a positive time during embarkation, though some have experienced delays. However, the Norwegian Jewel does have great entertainment options for cruising days. Additionally, their cruise destinations are plentiful.
Alternative Cruise Ships
Norwegian Pearl
The Norwegian Pearl, also part of The Norwegian Jewel Class, primarily sails around Alaska, the Panama Canal and the Caribbean. Like the Norwegian Jewel, you'll find about 15 dining options, great entertainment and a spa. You can choose from family balcony suites, penthouse suites, or spacious Garden Villas. The Norwegian Pearl even has a bowling alley!
Norwegian Gem

Credit: NCL
The Norwegian Gem, also part of The Norwegian Jewel Class, primarily leaves from New York and offers itineraries year-round to the Bahamas and Florida, Canada and New England, and the Caribbean. It's practically the same size as the Norwegian Jewel, with plentiful dining options, a pool and hot tubs and other amenities.
Norwegian Jade

Credit: NCL
The Norwegian Jade, also part of The Norwegian Jewel Class, offers itineraries to the Caribbean, Europe, Transatlantic and weekend cruises. Again, it's very similar to the Norwegian Jewel ship. You'll find a selection of accommodation options, depending on the spaciousness and luxury you're looking for. Enjoy plenty of dining options, as well as plenty of amenities to ensure you're having fun while at sea.
Viking Ocean Cruise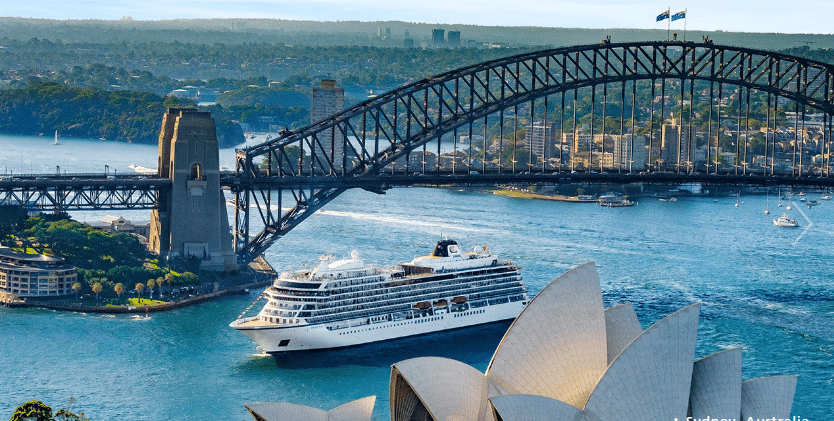 Credit: Viking Ocean Cruise
Here's an alternative to the Norwegian Cruise Line. If you're looking for a fairly-priced cruise that's towards the smaller size, here's your ship! The accommodations options are nice, food is plentiful, and opportunities to relax abounding! And of course, there's a great selection of destinations with unique itineraries.
This Norwegian Cruise Line Offers a Fun Vacation
It's likely that you'll enjoy your vacation on the Norwegian Jewel. In fact, what's not to like about plenty of dining options, a pool and hot tub, spa and nightly entertainment? With so many destination options and packages, it's easy to find a way to vacation on the Norwegian Jewel!
Related Article: ?6 Best Cruises for Couples in Need of a Romantic Getaway???