Home to great museums, scenic parks, & a host of activities, this town is a gem. There are plenty of things to do in Greenville, SC.
Located deep in the heart of the Blue Mountains, Greenville, South Carolina is home to one of the most picturesque towns in all of the south. Just take a look around and you'll find so many things to do in Greenville, SC.
Take a walk through the city center and listen to the soft rumble of the Reedy River flowing through it. Head just a little further and you'll find its dramatic falls tumbling underneath the Liberty Bridge at Falls Park. Downtown Main Street offers so many unique spots. Colorful indie shops lure travelers in from off the streets and there's certainly no shortage of good restaurants and craft pubs.
Here Are Our Picks for the Best Things to Do in Greenville, SC
1. Spend the Afternoon at Falls Park on the Reedy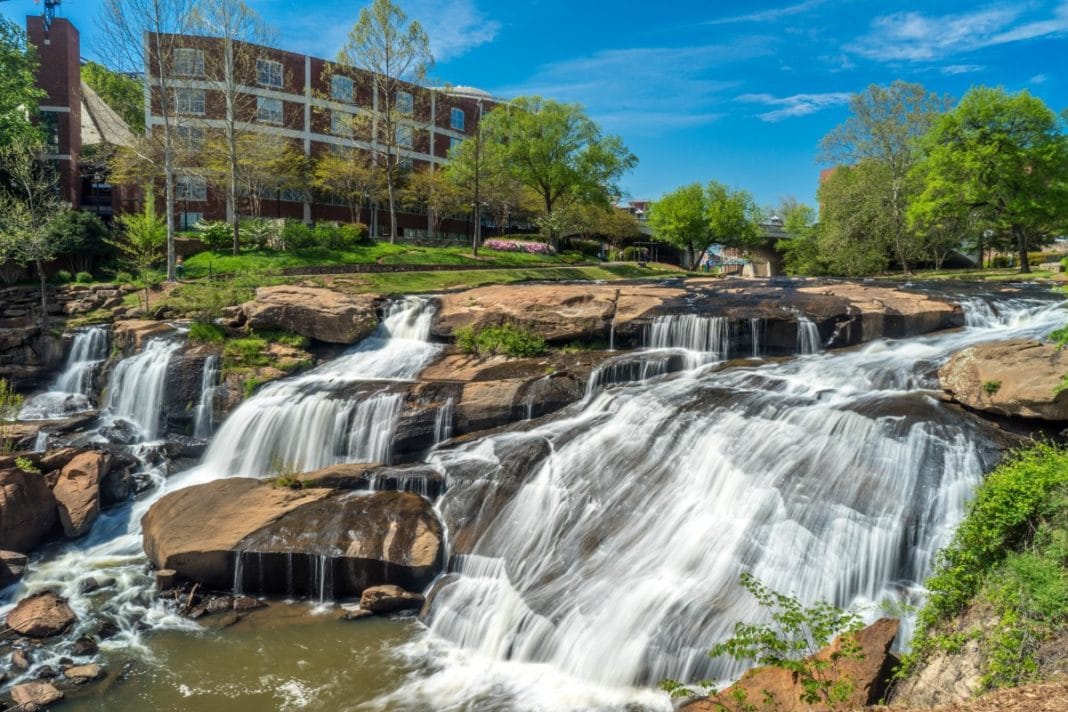 We're going to start you off with one of the most beautiful spots in the city. Of all the things to do in Greenville, SC spending a day here should be at the top of your list. Falls Park on the Reedy is a natural oasis in the midst of downtown's Historic West End. This lovely park offers a space for both locals and visitors alike to enjoy.
It's home to a selection of public art, sculptures, fascinating stonework, and the Liberty Bridge. Enjoy a beautiful walk above the grounds all with splendid park views. Enjoy tours of the park, walk along the Swamp Rabbit Trail leading to Cleveland Park, or simply relax with a picnic basket on the lawns at the covered River Lodge.
2. Visit the Roper Mountain Science Center
Have a free day to spend? Go to the Roper Mountain Science Center. This learning center is dedicated to encouraging an interest in science, from space, to the natural and physical sciences. Home to a host of buildings and exhibits, you'll find a Living History Farm planetarium, butterfly garden, observatory, Starry Nights program, and more.
If you're looking for fun things to do in Greenville, SC with kids, this is it. Follow a mile-long nature trail winding through pine forests in the mountain center. Here, visitors can explore a beautiful butterfly garden as well as a pond filled with aquatic and insect life. There are plenty of spots to enjoy a picnic along the way.
3. Play Tourist for a Day at the Greenville Glides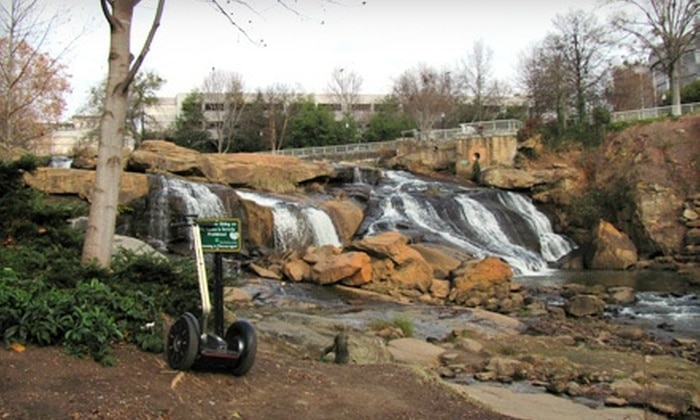 Okay, so we know this is touristy. But who cares, it's fun! Greenville Glides offers a fun way to explore the city. Segway tours are offered year-round seven days a week where you can discover different parts of the city. Taking the Historic West End or Historic Falls Park Tour gives you a glimpse into the bustling excitement of the city as you cruise through downtown. This is one of the best things to do in Greenville, SC.
Here's another option. Opt for the Haunted Segway tour for a more spooky presentation of the city. You'll be taken along the paths of Springwood Haunted Cemetery and get to see some pretty cool buildings, mills, and hotels along the banks of the Reedy River. Greenville Glides also offers bicycles, tours, and rentals you can take too. Just make sure to reserve them in advance.
4. Take A Day Trip to North Myrtle Beach and Surfside Beach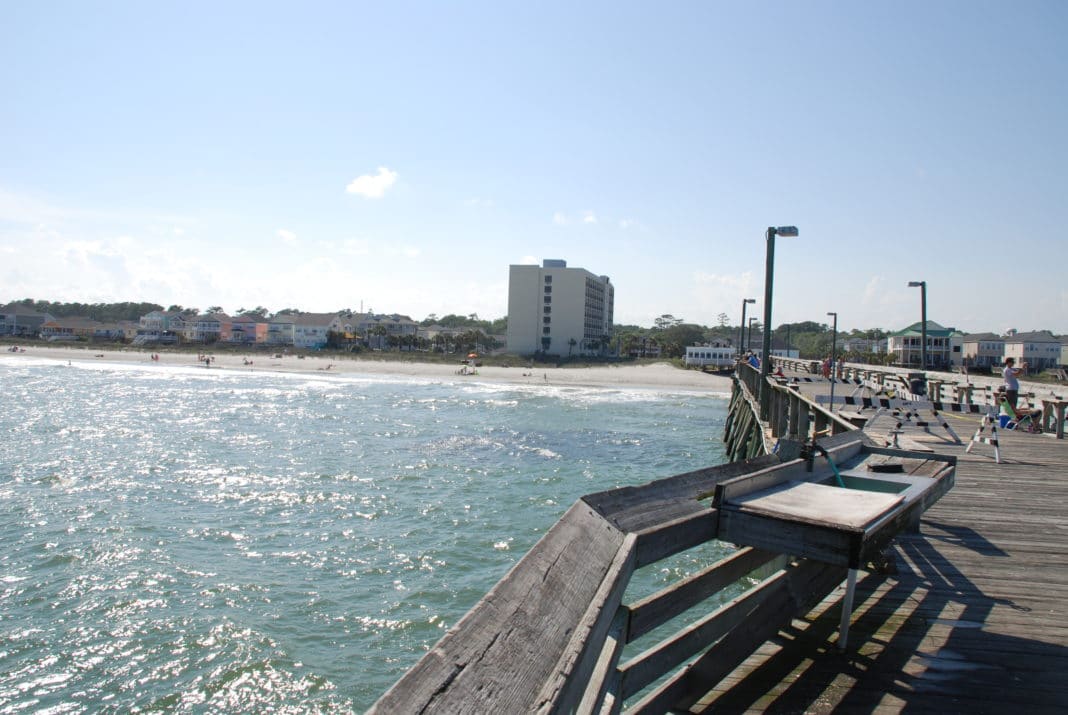 The main part of Myrtle Beach has become far too crowded and touristy. Let's seek something where the beaches are a little cleaner and more under the radar. The Isle of Palms is a secluded paradise just outside the bustling city of Charleston. We absolutely love Front Beach.
It's open to the public for laying out and swimming too. The water is absolutely perfect for taking a dip. Here's the best part. If you look closely, you'll find nesting turtles laying their eggs in the reeds and baby turtles making their way out to the foamy waves.
At the family-friendly Wild Dunes Resort, you'll find idyllic private beach access over at the island's northern tip. Clean beaches, water sports, and plenty of activities abound for the adventurous traveler. You can even play a round of golf or game of tennis if you'd like. It's all right at your fingertips.
Have you been to Surfside Beach? No? Well, you're missing out. It's definitely one of the best South Carolina beaches. Celebrated as a top family vacation spot, you can access Surfside from thirty-six different points around the city. It's definitely one of the most beautiful  beaches in South Carolina.
There are so many opportunities for watersports, fishing, and more. If you're looking for a place to stay, there's no shortage of hotels, resorts, and vacation rentals surrounding the sand either. Entertainment and activities abound in the town of Surfside Beach. It's known for being the most walkable town on the Grand Strand.
That's not all it's known for though. Back in 2016, the Town Council issued a resolution declaring Surfside Beach an Autism Friendly Travel Destination–the first anywhere. In partnership with Champion Autism Network, town staff, first responders, the hotels, several restaurants and Wild, Water & Wheels water park have undergone autism awareness seminars to support families with autism.
5. Catch a Show at Artisphere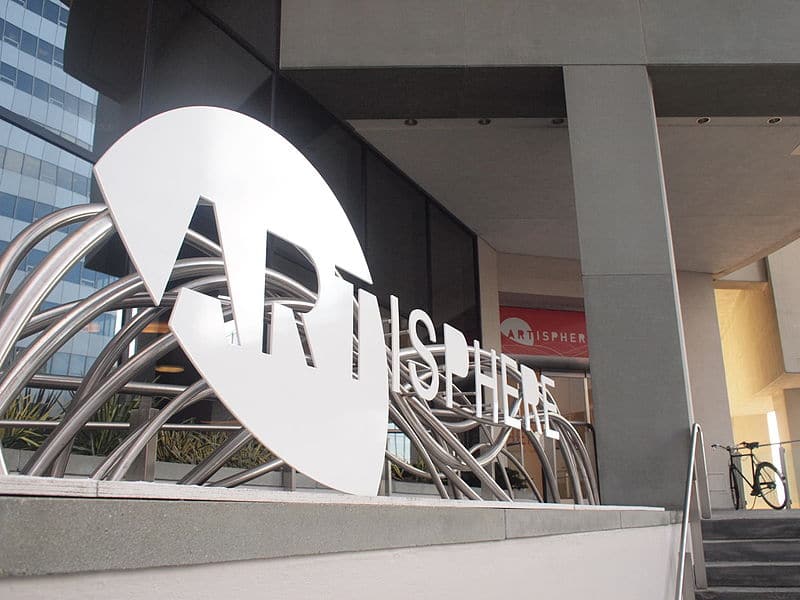 Have you ever heard of Artisphere? Taking in a show at this annual signature event is one of the best things to do in Greenville, SC. Celebrate the arts and the region's rich international and multicultural flair. This event is largely popular among locals and travelers alike for the international talent, range of performances, displays, and exhibits. Thousands of visitors come to see it every year.
The event aims to entertain, inspire, and educate audiences through showcasing the beauty and diversity of both local and international art. The festival features a variety of different attractions. Among them include demonstrations from the local University, craft beer and wine on display, inventions with technology and engineering, culinary demos, art shows, and a special exhibition center for children called Kidsphere.
6. Go Shopping at the TD Saturday Market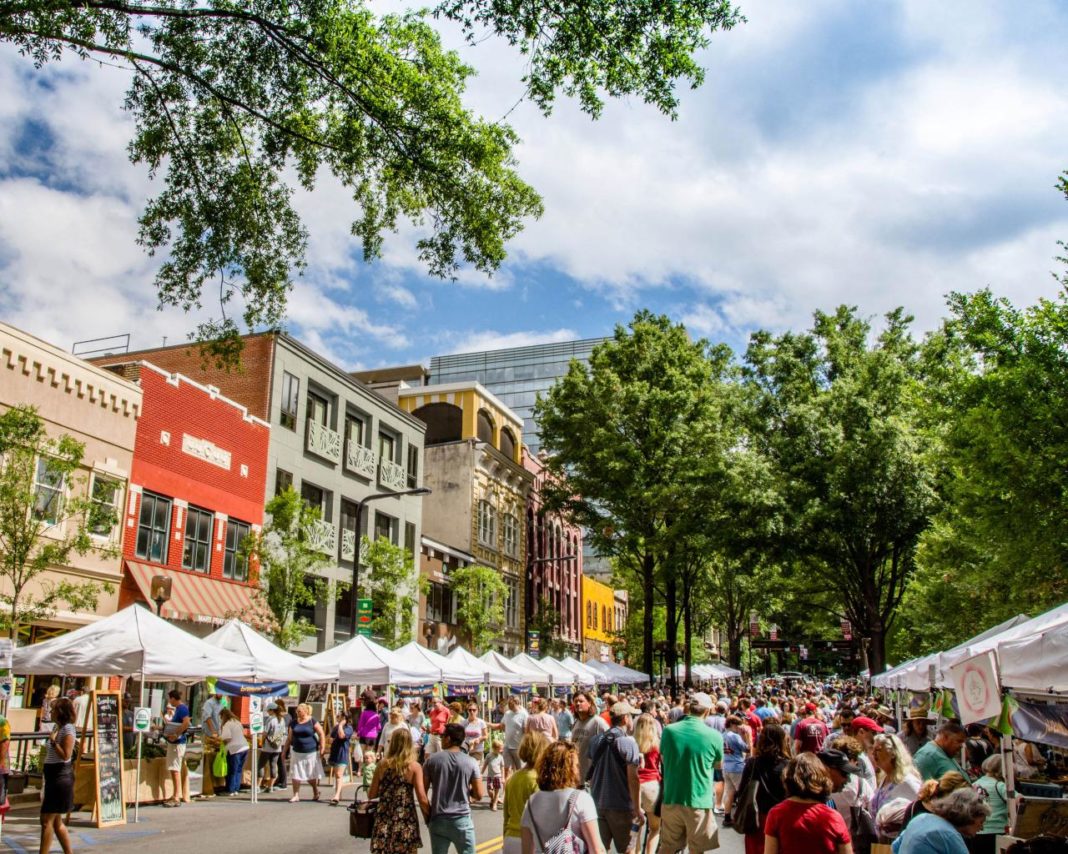 Credit: Visit Greenville
Looking for something fun to do on the weekend? We have just the thing. On Saturday mornings, Main Street is the place to be. Between May and October, you can find the locals pouring into the bustling TD Saturday Market. Over 75 vendors come together, carrying the season's freshest produce.
Rows of colorful fruits and vegetables fill wooden stands, aromatic herbs and spices flow through the air, and handcrafted jewelry sits on a humble display. Walk around and browse through vintage clothing racks, take a look at arts and crafts, and try out some samples. TD Saturday Market prides itself on selling only products local to the Greenville region; authenticity is key.
As you stock up on local goods, you'll enjoy some fun live music, cooking demonstrations and tastings of freshly-prepared dishes and baked goods. Come hungry. You'll find TD Saturday Market open every Saturday from the beginning of May until the end of October. Visiting TD is one of the best things to do in Greenville, SC.
7. Grab a Bite at Soby's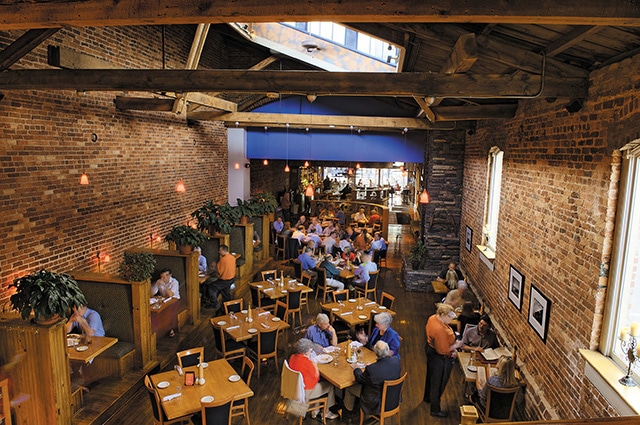 Credit: Soby's
When you're ready for some dinner, head over to Soby's. This cool little eatery is located inside of a renovation 19th-century cotton mill in downtown Greenville. It's clearly a favorite among locals, , whether for a family dinner of an office celebration. Everything about the interior is warm and inviting. Dark brick walls meet gleaming wood, and a beautiful stone fireplace creates a cozy ambiance.
If you'd rather head outdoors, the spacious patio is a great spot for people watching. The menu at Soby's offers New South Cuisine, a creative mix of American traditional cuisine blended with classic Southern ingredients and flavors. While you're here, why not treat yourself to something a little extra?
The award-winning wine list offers a whopping 500 bottles to choose from. Surely, there is something for every taste and pocket. If you're looking for some good prices, swing by on the weekend. Sunday brunch at Soby's is a local tradition, with a large selection of the restaurant's favorites offered buffet style and $3 Bloody Marys and mimosas.
Book Your Vacation and Enjoy the Best Things to Do in Greenville, SC
We hope you enjoyed reading our article on the best things to do in Greenville, SC. This little town is truly a gem of the south. After all, it's one of the most beautiful places in the U.S. Besides offering unique opportunities for art and culture, it retains a charming small-town feel despite having plenty of activities to choose from. It's no wonder Greenville is a popular vacation spot among east coast dwellers.
Questions and Comments
Do you have any questions or comments for us? If so, we would love to hear them. Feel free to leave a message for us below. We will be sure to get back with you soon.
Related Article: 11 Things to Do In North Carolina