The fun never stops with the best things to do in Sarasota. Florida.
Head down to the Gulf Coast where the water is warm and the sun never stops shining. Even in January, you'll be able to lie out on the beaches and work on your tan. Visiting Florida in the winter has so many advantages. Visit the Ringling While you are still able to take advantage of the warmth, the humidity isn't nearly as bad and the tourist scene dies down substantially. Chances are, you will be able to stake out a spot on the sand and have it entirely to yourself. We've even done this in Miami's famous South Beach come winter. In this article, we are taking you to explore the best things to do in Sarasota. No matter what the season, you will be able to enjoy all of these activities. Hop in, buckle up, and let's go exploring.
Here Are Our Picks for the Best Things to Do in Sarasota, Florida
So what are the best things to do in Sarasota, Florida? From museums to lush green gardens, romantic attractions, beautiful outdoor locales, and a thriving restaurant scene, you will have plenty of options. There is something on this list for every type of traveler.
1. Visit the Ringling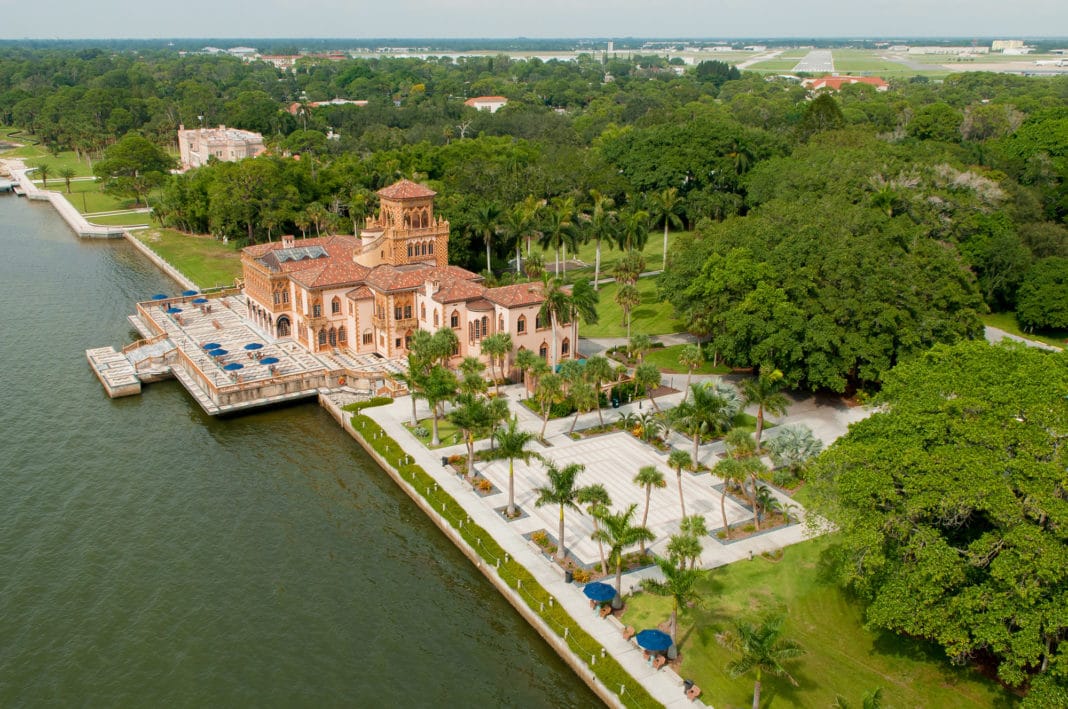 Credit: The Ringling Museum
An art museum located on Bay Shore, the Ringling is one of Sarasota's main attractions. It dates back to 1927, beginning with a collection donated from Mable and John Ringling. Since its founding, it was dedicated as a state museum and maintained by Florida State University. Inside, you will find twenty-one different galleries composed of American, European, Asian, and contemporary art, as well as some ancient artifacts from Cyprus.
Visiting the Ringling will take some planning. It's not something you should just squeeze in for an hour or so. With over 10,000 pieces on exhibition, you could easily make the day of your visit and still leave with plenty more to see for the next time. Before you visit, we recommend going on their website, finding what you want to see, and compiling a list of what stands out to you the most.
It is far too easy to walk into a museum, get overwhelmed, and then miss out on some really cool pieces and artists. To make the most of your time, come prepared and be as informed as you can. It is also really cool to have a little bit of a background of the artists and their pieces. Here, you will find drawing, prints, sketches, sculptures, ranging from times of antiquity to the modern day. The Ringling is known most for its world-class collection of Rubens. This is definitely one of the best things to do in Sarasota, Florida.
2. Walk the Marie Selby Botanical Gardens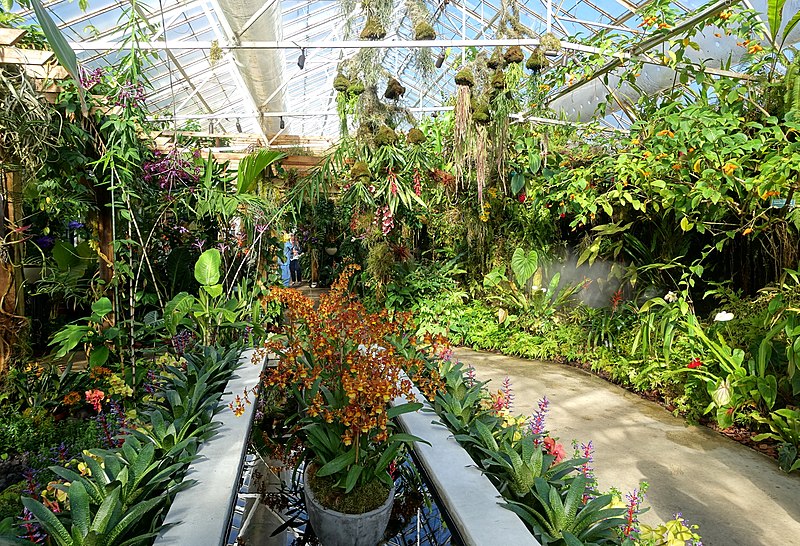 Credit: Wikimedia Commons
Here's a fun activity for your weekend getaway trip. You'll find the Marie Selby Botanical Gardens located on South Palm Avenue near the Sarasota Bay. In fact, it's not too far from the Ringling, so it is possible to hit up both stops in one day. Walking this large botanical garden in the Hudson Bayou neighborhood is one of the best things to do in Sarasota, Florida. Grab a cup of coffee in the morning and prepare to take some photos. Everything here is scenic.
Spanning seven acres, the gardens contain some of the most diverse collections of bromeliads in the world. Can you believe there are more than 20,000 plants here incorporating 6,000 species? It gets even better. There are also twenty different habits. As you wander, the scene transforms from tall stalks of bamboo plants to towering live oaks, vibrant succulents, and more. You'll hardly be able to believe your eyes. On-site, you will find an arboretum, herbarium, greenhouses, research library, and more.
3. Ca d'Zan Mansion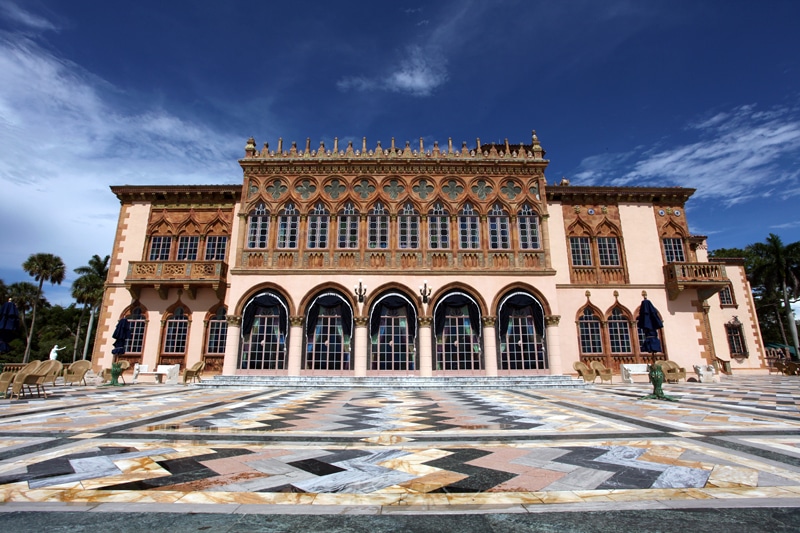 Credit: Flickr
Are you looking for more of the best things to do in Sarasota, Florida? Who doesn't want to tour a mansion when they're on vacation? Just like California's Hearst Castle and Nashville's Belmont Mansion, Sarasota has the Ca d'Zan. Besides the aesthetics, this dreamy locale also has a fascinating backstory. In the 1920s, it was the winter home of the American Circus owner John Ringling and his wife Mable. Since they loved the architectural styles prevalent in Venice, they tried their best to emulate them and incorporate it into this design.
Known as Mediterranean Revival, the house is very much its own and stands out in the area. It's easy to see the influence of the Doge's Palace in Venice. Besides serving as the Ringling's winter place of residence, the Ca d'Zan Mansion also housed their massive collection of artistic works. Today, you can take a tour of the mansion if you are interested. Contact and reservation information can be found here.
4. Mote Marine Library and Aquarium
Credit: Mote Marine Library and Aquarium
Head over to City Island to find this exciting marine research center. This is a great place to take the kids for an afternoon. Not only is it a fun experience but it is also an educational one too. And we all know it's tricky for parents to fit those types of excursions in while you are on vacation.
Ever since its doors opened in 1955, it has been making travelers and locals alike happy. Formerly called the Cape Haze Marine Laboratory, it was renamed in 1967 to honor its benefactors, William M. Mote, and his sister, Betty Mote Rose. A fun fact is that the Laboratory is involved in both marine and estuary research. It opened in 1980 and now contains jellyfish, manatees, rays, seahorses, sea turtles, and more.
Make sure to check out the narrated shark feeding, one of the most popular attractions at the aquarium. Educational programs include school visits, summer camps, and field trips. Trips like this were always the highlight of the school week when we were kids. This is definitely one of the best things to do in Sarasota, Florida.
5. Siesta Key Village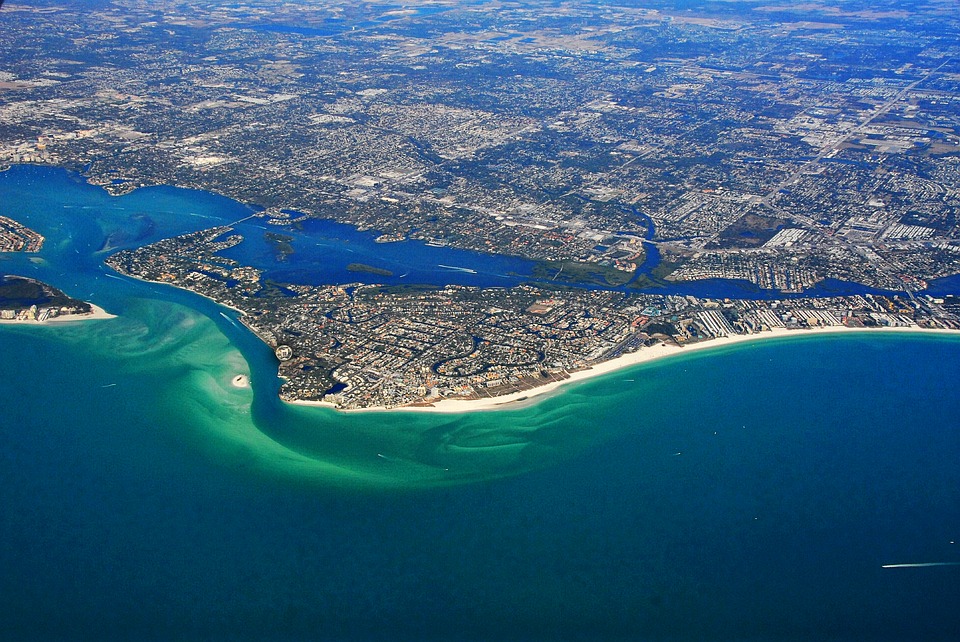 Not too far from Sarasota, you will find the lovely Siesta Key Village. This is one of those must-see places in Florida; you have to add it to your bucket list. As a small island off the Gulf of Mexico, the beaches are beyond perfect and the water is perpetually bathtub-warm. Even in the winter, is still one of our places to escape, relax, and take a dip.
After you've spent a few hours napping and relaxing on the sand, it's time to explore a little bit more. We know you will fall in love with what this quirky town has to offer. Pastel colors pop out every now and then. The streets are lined with lively restaurants, cozy corner cafes, and plenty of cute mom and pop type shops.
It's all about a warm, familial atmosphere here. While you are here, try to see if you can check out the Siesta Fiesta. The nightlife scene here is fun too. You might not expect that for a town that looks sleepy by day but the locals in Siesta Key Village know how to have a good time.
6. Big Cat Habitat and Gulf Coast Sanctuary
Credit: Visit Sarasota
Here is another one of the best things to do in Sarasota, Florida. Have you ever had an encounter with a tiger before? We didn't think so. You'll find this gem of a stop located on Palmer Island, a short drive away from the city. Besides offering a cool stop for travelers to encounter these majestic animals, we love the mission of the Big Cat Habitat and Gulf Coast Sanctuary.
While it was technically founded in 1987, it became a non-profit organization back in 2005. Ever since they began, they have strived to care for various types of exotic animals while educating the public on wildlife. Having respect for wildlife and activating to preserve nature are elements in travel that we cannot overestimate the importance of.
In addition, this animal sanctuary also features three indoor and outdoor pools for guests to relish in. This is always a welcome escape given Florida's wonderful (yet blazing) heat. To fit the natural environment, each pool is framed by plants to help create a more natural type of environment. When you are here, make sure to take in a training demonstration that helps visitors to understand and be more cognizant of conservation and the preservation of habitats.
Book Your Trip and Enjoy the Best Things to Do in Sarasota, Florida
It's time to book your getaway. While Sarasota isn't the typical place you'd think of booking a vacation, that is what makes it so special. Sometimes you just need to escape the bigger cities and get a little bit off the grid. This charming town offers so many fun opportunities for exploration in a charming setting. You won't easily run out of things to do in Sarasota. So come and enjoy all that it has to offer before it lands on the travel radar.
We hope you enjoyed reading our article on these fun activities. You don't have to break the bank to have fun. Some of the favorite memories to be made are the ones that where you immerse yourself among nature. Don't overlook the little things; these spots guarantee a whole lot of fun and sunshine.
Why not travel around since you are here? From the glamour of South Beach to adventures in the Florida Keys and the mellow nature of St. Petersburg, there is something in Florida for every type of traveler. Now, you just need to decide where to go. The options are plentiful. Have you been to any of the places on our list? Let us know your favorite spots in the comment section below.
We would love to hear from you. If you have any suggestions for things to do in Sarasota, Florida that were not on our list or any questions for us, feel free to leave a message in the comment section below.
Related Article: Top Breweries & Best Restaurants in Tampa