Trade your worries in for a pina colada and some palm trees. The best hotels in Tulum offer the perfect place for rest, relaxation, and a little adventure too.
Once a sleepy town, Tulum is now home to exciting new developments like gourmet restaurants, delightful pools with a view, cultural celebrations, and boutique stays. The best hotels in Tulum check all the boxes.
Here Are Our Picks for the Best Hotels in Tulum
1. Casa Malca
Credit: Casa Malca
Get the celebrity treatment with world-class service at Casa Malca. You'll find this lovely boutique stay located in Tulum at the far edge of the Sian Ka'an Reserve. Immerse yourself in a world of art, culture, and luxury. Enjoy the glorious sun, bathe in crystal clear waters, and walk on warm white sand beaches.
After you've spent your day under the sun, make your way up to the rooftop deck where you'll enjoy a sunset like no other. Come for the food and drinks; stay for the laughs, good company, and a star-filled sky. At Casa Malca, it's all about the experience and getting away from it all. Reconnect your senses.
The rooms offer nothing less. Of the 42 rooms and suites available, you'll find spectacular garden and ocean views. These bright, airy stays provide an eclectic mix of color, contour, and luxury. Floor-to-ceiling windows open up to a breathtaking view – and the perfect place to start the morning off right with a hot cup of coffee. Casa Malca is surely one of the best hotels in Tulum.
2. Habitas Tulum
Credit: Habitas Tulum
Located on an unspoiled beach near Mayan ruins, Habitas Tulum aims to be more than just a boutique hotel. It's a place for a unique escape and even a cultural exchange. Dive right into musical performances, mezcal tastings, wellness retreats, and lovely outdoor cinema nights. If you're looking to get away from it all on a beautiful stretch of sand, this is the place to be. Choose from 32 thatched roof rooms with an ocean view that never seems to end. Habitas is definitely one of the best hotels in Tulum.
3. Mukan Resort South of Tulum
Credit: Mukan Resort South of Tulum
Come and experience a place like no other. You'll have all the privacy and seclusion you want amid the Sian Ka'an atmosphere. Mukan Resort offers a new vision of authentic luxury travel experiences. Have you ever pictured what it would have been like to set your eyes on the great walled cities of the Maya centuries ago? A remote civilization set among lush palm trees and white shores, it was all but hidden from the outside world.
Today, there are few places that offer the same promise of privacy and seclusion. However, Mukan Resort has managed to encapsulate the feeling of a civilization long lost. The quiet elegance of paradise is perfectly at one with the land it inhabits. Here, you can enjoy life as it once was – and now is. Nestled away on the Sian Ka'an biosphere coastline, your hotel oasis awaits you in the midst of a UNESCO World Heritage site.
The grounds at Mukan Resort, offer up both a unique identity and influence. With over 200 meters of beachfront, the vast property excites guests, allowing them to surrender to the beauty of the Sian Ka'an biosphere reserve around them. It's no wonder Mukan is often cited as one of the best hotels in Tulum.
While it is incredibly remote, the property is accessible by car, boat and helicopter. Here, you'll find five luxury rooms in the Main Villa, three ocean bungalows and one premium bungalow with a private garden. Each room features elegant amenities in harmony with the stunning landscapes and shared spaces outside. Whether you want to relax with others or seek out some alone time, it's easy to find just the spot to settle down and enjoy.
4. Nomade Tulum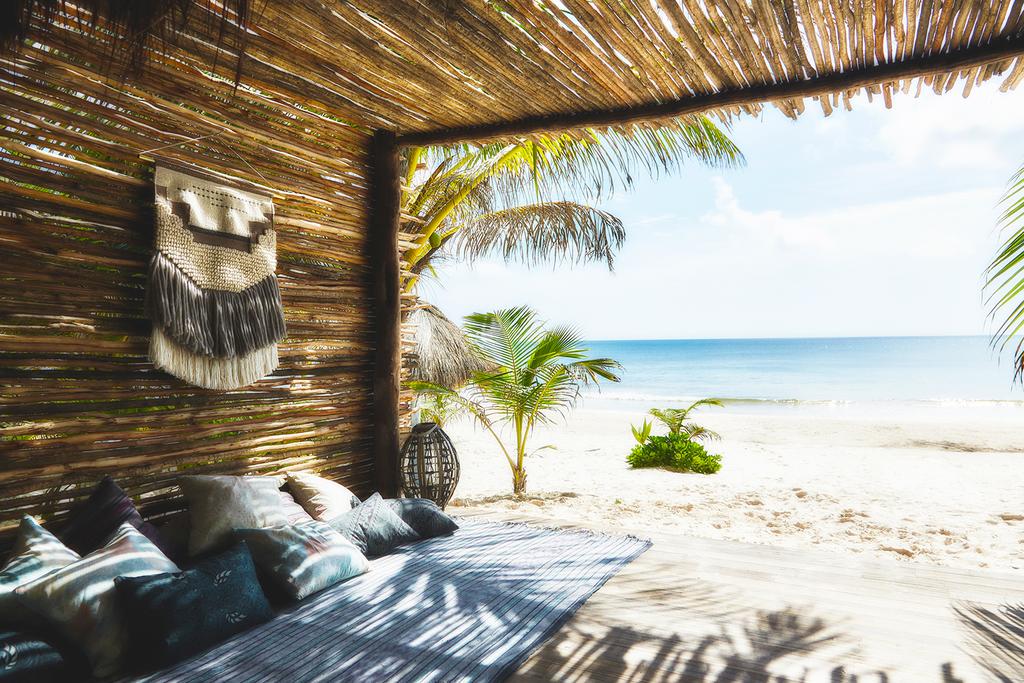 Credit: Nomade Tulum
It's all in the name. Nomade Tulum offers an unparalleled opportunity to experience a habitat for learning, sharing, and simply put, coexisting. The atmosphere and staff all encourage taking time for relaxation, focus, and self-care to awaken the soul and ease the mind. In a space of sacred native land, the emphasis is placed on appreciating the earth and taking time to enjoy one's natural surroundings.
Located on the main beach just steps from the sea, it's easy to see why Nomade Tulum is one of the best hotels in Tulum. The property offers some 32 spacious rooms designed for both comfort and simplicity. Modern amenities and rustic details complement local artisan handicrafts. In addition, 12 luxurious tents offer a charming alternative to a traditional room. Built beneath large canopies, you'll find they're very similar to the glamping experience. Anywhere you turn, beauty follows. We know you'll love this charming boutique stay just as much as we do.
5. Sanara Tulum
Credit: Sanara Tulum
Experience the beauty of nature at Sanara Tulum, one of the best hotels in Tulum.. This luxury eco-boutique stay sits with a backdrop of the world's most stunning waters and popular beaches. Sanana, meaning 'you will heal' in Spanish, features a beach-appointed yoga studio, world-class wellness center, and critically-acclaimed restaurant, the Real Coconut.
The rooms offer nothing short of perfection. All of the rooms, suites, and villas are within just a few feature of the ocean and Tulum's prime beach. The softest white sand will greet your toes as you step out. "Sanará Jungle" has now opened with lovely rooms and apartment suites on the Jungle side of the property. The Tulum beach road, separates the two aspects of Sanara Tulum, and guests are within a few hundred meters from the hub of boutiques and restaurants.
6. Be Tulum Beach & Spa Resort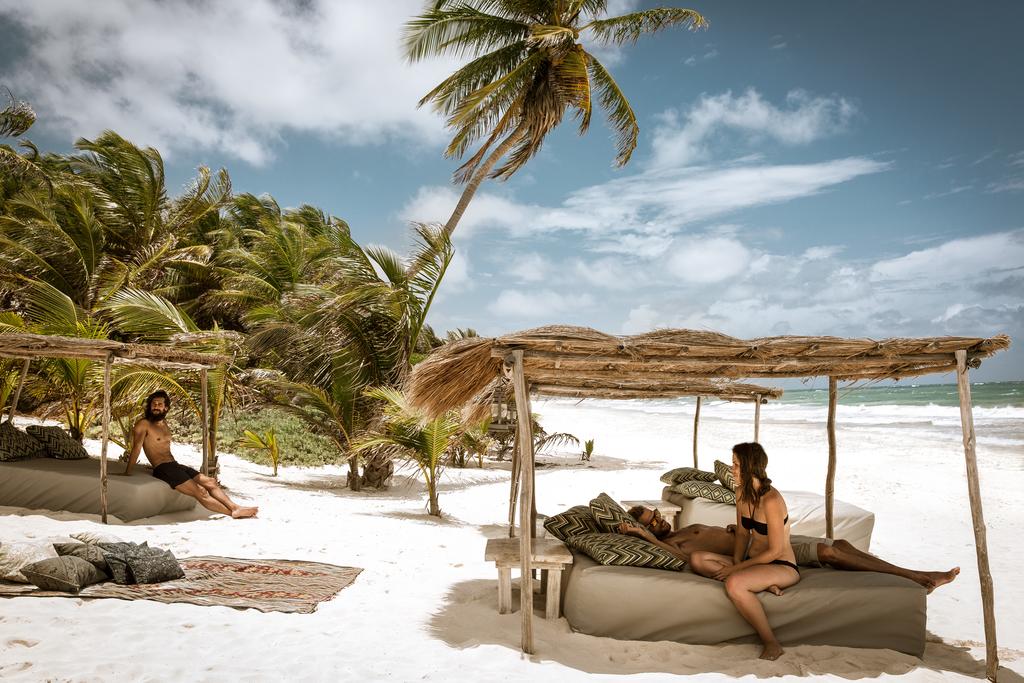 Credit: ​Be Tulum
Being unique – that's what the Be Tulum Beach & Spa Resort is all about. This hip and trendy  luxury lifestyle Hotel Spa & Private Villas is inspired by the rustic charm and raw natural beauty of the Mayan Riviera. Uniquely built by the sea-cliffs, Tulum is located in the Yucatán Península in the state of Quintana Roo, southeastern México, on the northern border of the biosphere reserve of Sian Ka'an.
Designer rooms await you. 64 exclusive suites between the jungle, white sand and the sea. Constructed with native materials, comfortable and sophisticated interior, designer furniture and private pools. Here, wellness is key. The Be Tulum on-site Yäan Wellness Energy Spa is located on the jungle side of Be Tulum hotel and offers healing, rejuvenation and deep transformation in a magical, luxurious and organic setting.
Nestled between the white sand outlining, the pristine beaches of the Caribbean sea and the lush tropical jungle lies a charming town in complete harmony with nature. Here lie the ruins of one of the most beautiful cities of the Mayan culture: Tulum.
You will find many opportunities to get lost in the beauty surrounding Tulum, through snorkeling, diving, biking, horseback riding and exploring. Enjoy this hidden paradise and be one of the first to discover this jewel of the Caribbean.
7. Zamas Hotel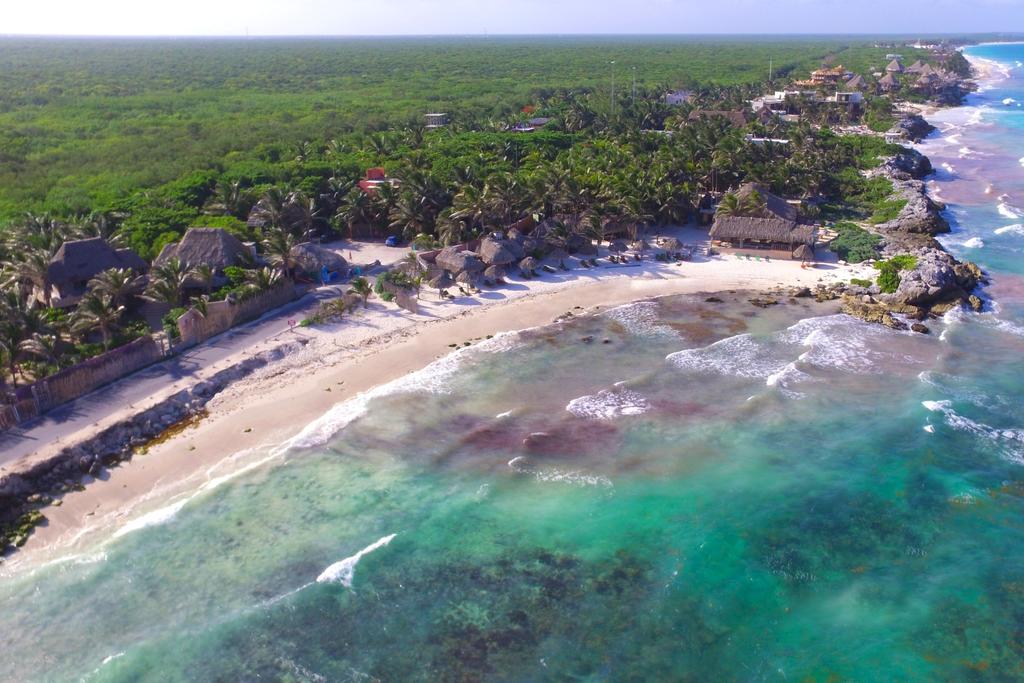 Credit: Zamas Hotel
Naturally beautiful and delightfully laid back, Zamas Hotel's playful design pairs naturally with the elements and two acres of coconut trees, sand, and sea, offering the perfect antidote to the mundane. Whether you decide to post up seaside or poolside, relax in the hammocks or sip a smoothie at the bar, you'll  find your slice of paradise at ZAMAS. Come experience the Tulum the locals know and love.
When it comes to rooms, Zamas offers the perfect combination of colorful and comfortable spaces. Each of their rooms is unique in design and location. Some are individual cabañas situated on the beach side and others are separate suites within larger bungalows, nestled in the jungle.
The accommodations feature dreamy beds, spacious private porches with hammocks, and large windows that open to fresh sea breezes. Embrace the unplugged lifestyle and indulge in massage and spa services in the peaceful seclusion of your room. After a day of relaxation, head over for a bite at the Restaurant at Zamas.
Famous for its beautiful ocean views and fantastic food, the Restaurant at Zamas  creates a beckoning locale in the mode of Tulum as it should be. Executive Chef Bryan Keller and the staff are committed to sourcing local ingredients to compose elegant, innovative, and seasonally driven dishes. Fresh in concept and preparation, the menu's varied flavors appeal to many palates. From the gambas pil pil to the thin crust margherita, from Irma's famous huevos rancheros to the indulgent ricotta doughnuts, a meal at ZAMAS is an experience not to be missed.
8. El Pez a Colibri Boutique Hotel
Credit: El Pez a Colibri
Seagulls, fishing boats, and the Caribbean Sea… Framed by beauty all around, El Pez offers the perfect place to get away. Whether you're taking the family on vacation, spending time with that special someone, or adventuring solo, there's something perfect for you here. Share an entire house filled with thoughtful amenities, or if you're traveling on your own looking for an indulgent hideaway, this "Seaside Chic" boutique hotel has everything you need to feel pampered and serene.
El Pez provides the perfect backdrop for creativity and artistic expression. Listen to the sound of breaking waves and let them lull you to sleep. Take a walk along the cove to find where the turtles lay their eggs. The idyllic location of the hotel makes for the perfect little adventures.
El Pez is one of the very few hotels in Tulum to have all rooms located directly in the front of the sea. Set in a unique and beautiful cove El Pez provides a picture-perfect setting of gentle ocean waves, soft sand, seagulls, pelicans and fishing boats. Our "Seaside Chic" hotel rooms are positioned to allow you to enjoy the spectacular colors of the Caribbean Sea and to be lulled to sleep by the lapping of the waves on the shore. There's no doubt El Pez is one of the best hotels in Tulum.
9. Posada Yum Kin
Credit: Posada Yum Kin
Come and enjoy the beauty of the Posada Yum Kin hotel, a luxurious 13 all-suite hotel. You'll find this eco-friendly stay located in the quaint town of Tulum, Mexico just a little south of Playa del Carmen. Affectionately referred to as 'PYK' by guests and locals, it remains one of the best hotels in Tulum.
Here, you'll find everything that is wonderful about the Mexican Caribbean. White sand beaches, vibrant turquoise seas, relaxing open-air dining, and awe-inspiring ancient Mayan ruins await you. While the town is slowly being discovered, it remains surprisingly quiet. A warm, balmy climate offers just the right conditions for cozy bungalows, and a pristine pool complete with sundeck and jacuzzi.
Here at Posada Yum Kin, you will find a lovely enclosed layout for the most peaceful and restful stay. Don't just take our word for it though. Check out the hotel's complete guest comment section of the many reviews. Reading these reviews will reassure you that Posada Yum Kin is one of the best hotels in Tulum!
Whether you're ready for a cup of coffee, a get-together with friends and family, or an afternoon siesta, you'll find spacious hammock-equipped porches and convenient kitchenettes that meet your every vacation need. Posada Yum Kin is one of the best hotels in Tulum.
10. Nativus Glamping Tulum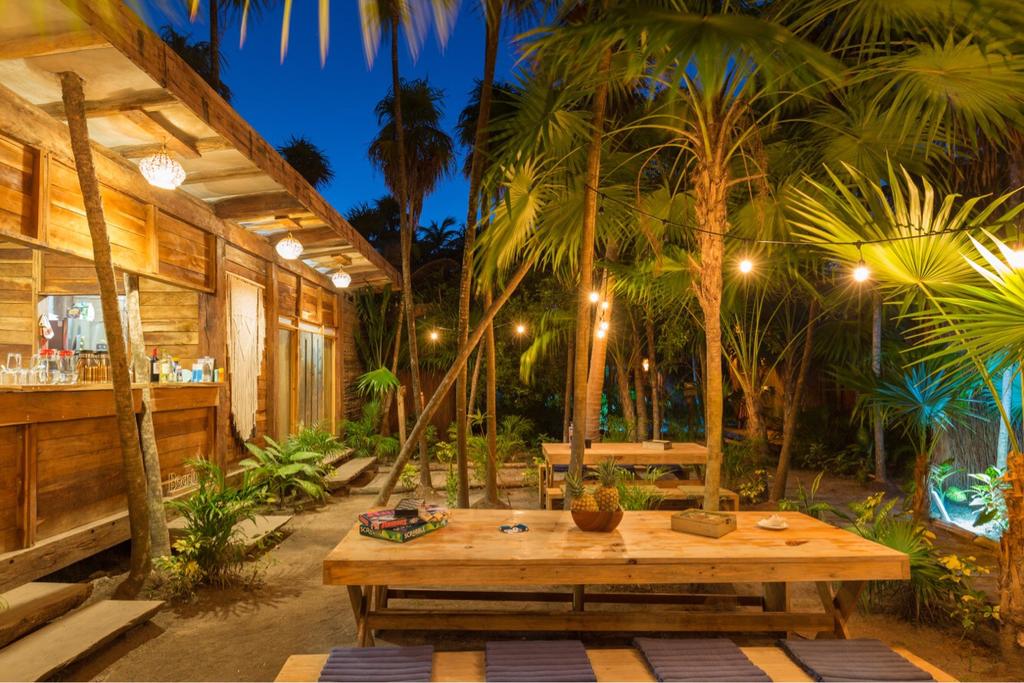 Credit: Nativus Glamping Tulum
Jungle glamping has never been better. All the riches of the Mayan Riviera await you; come celebrate culture and nature in the crystal waters of the centotes. Lose yourself in the magical biosphere that is Siaan Ka'an. But most of all, just lay back and relax! You're on the sands of one of the most gorgeous beaches in the world.
The goal of the folks over at Nativus want to preserve nature. That's why they designed sustainable space with natural materials that blend into the environment. Nativus is just a few steps from the sea and white sand. You'll find your jungle tent nestled in a secluded area of the sunny beach town, set among the lush palms.
Want to know the best part? You're just a short walk away from world-famous white powder sand beaches. In addition, you'll also find the stunning Ka'an Biosphere Reserve just three miles away too. It's home to numerous species of wildlife that live in the wet marshes and deep blue lagoons. Tulum itself is an ancient Mayan city with plenty of ruins to explore. Most guests fly into either the Cozumel or Cancun International Airports, which are just two hours from the property.
You'll soon find that the elegant Nativus camping tents offer all the modern conveniences you'd need from a luxury vacation. Glampers have fresh breakfast delivered straight to their room for a relaxing day. For those hot summer nights, air conditioning ensures you'll get a comfy night's sleep. Guests are also treated to daily housekeeping so you'll have fresh sheets and towels every night.
This property has its own private dock as well as a gorgeous natural cenote. The Nativus on-site sun deck is perfect for basking in the morning sun or to sit under a starry night's sky. Grab a bite to eat at the convenient on-site Mexican restaurant. Those who want to make their own cuisine can snag a spot at a lovely little picnic table. Other modern conveniences include a bathhouse, pool towels, gift shop, and more.
11. Turquoise Petit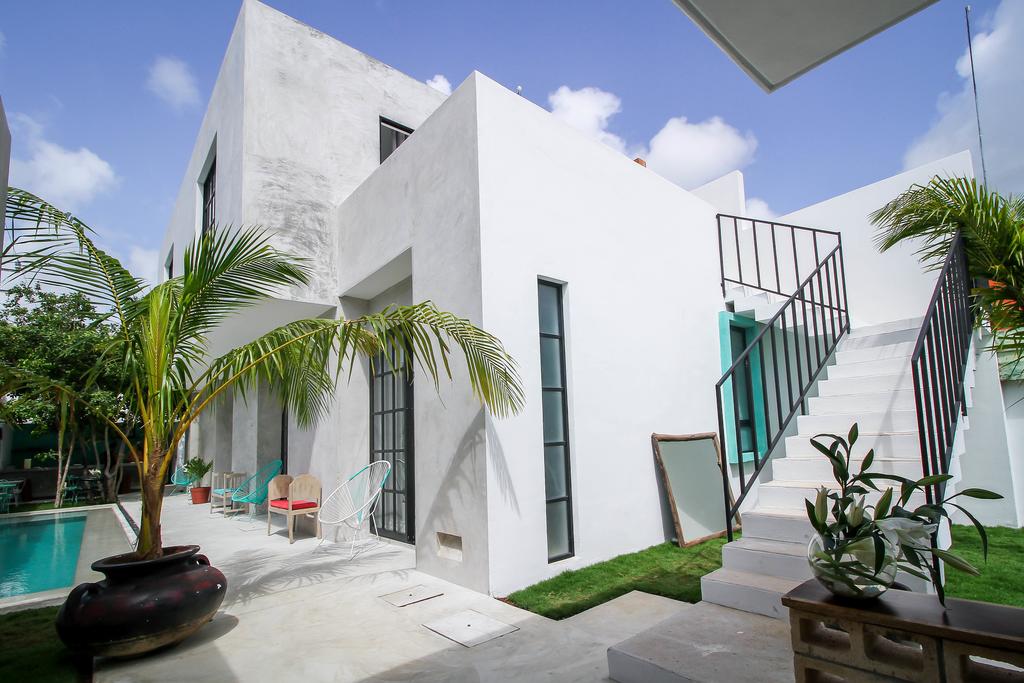 Credit: Turquoise Petit
Take one look and it's easy to see that the Turquoise Petit hotel was created by an artist. Little details coupled with a great vibe are what make the hotel so special. It's not only chic and modern but comfortable too. In total, you'll find six suites. The common area on the ground floor offers a beautiful pool and breakfast area, where fresh food is served daily. All the units have high ceilings, impeccable design, and a cool, spacious feel.
The Turquoise Petit hotel happily offers full concierge services. So whether you need a transfer, dinner reservation, want an in-room massage or tours arranged, you've got it. The experienced staff is here to make your time in Tulum unforgettable.
12. Nueva Vida de Ramiro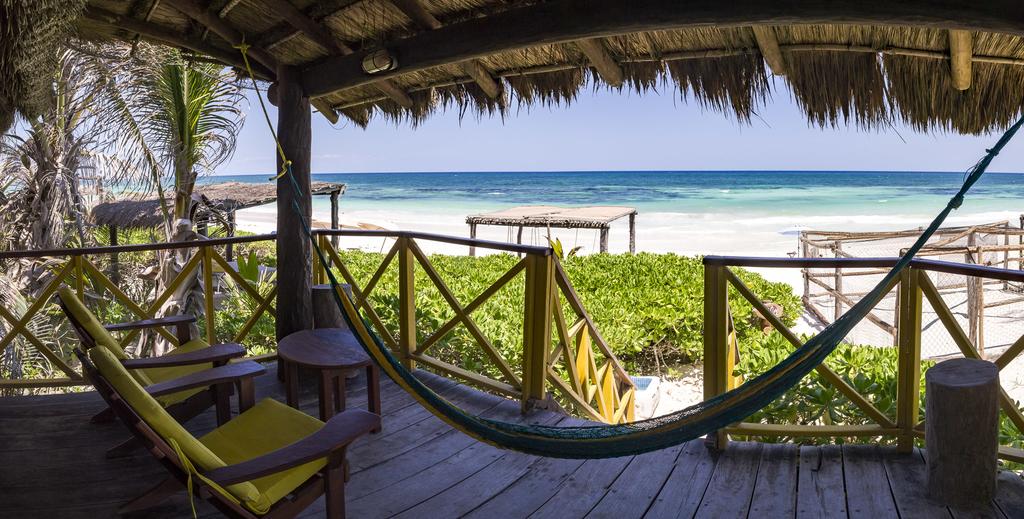 Credit: Nueva Vida di Ramiro
Located in the Mexican Riviera, you'll find Nueva Vida de Ramiro. A wonderful complex of eco-archaeological bungalows, it offers guests a serene experience in the tropical woods on the edge of the Caribbean Sea. Superior facilities offer the perfect entryway to explore natural reefs in crystalline waters, walk on endless white beaches, and forests to roam.
When it comes to rooms, all have different personalities. You'll love that most of them are located right on the white sandy beach and only a few feet from the ocean. We appreciate that the property is designed to generate low environmental impact and operates under ecological and sustainable practices. Thirty-three units are distributed on a preserved property with 154 acres of breathtaking beachfront.
Beach beds and chairs are set every morning and a personalized service brings all the comforts of home. You can even order fresh ceviche and a cold Mexican beer on the beach if you'd like. First time Nueva Vida de Ramiro visitors will love the quality service and ability to dive into local culture. Walk the earth of the ancestral Mayan world with a host of attractions.
Visit the ancestral cities of Tulum, Coba, and Chichen-Itza, some of the biggest ruins of Mayan culture. The Tulum ruins are only 20 minutes away too, Coba 45 minutes, and Chichen-Itza 2 hours. Stand in awe of the Eco-Parks like Xel-Ha. Here, you can enjoy aquariums, dolphins, gourmet restaurants, and much more. Xel-Ha is 25 minutes away and Xcaret 40 minutes.
You also shouldn't miss out on exploring the Sian Ka'an Biosphere Reserve. This is the biggest natural protected area in state of Quintana Roo and also the most important reserve in Mexico. You will be able to observe the abundant flora and fauna as well as several distinct natural ecosystems. The entrance to the biosphere is 5 minutes away!
Be one of the first people in the world to dive the recently discovered largest underwater caverns. Also nearby, you can enjoy picturesque places like Playa del Carmen and Cozumel Island, scuba dive the second largest reef in the world, or maybe stay the whole day at Nueva Vida de Ramiro's wonderful beach drinking a cool beer, margarita or piña colada.
13. Luxury Eco Resort & Spa Central Park Tulum By Los Amigos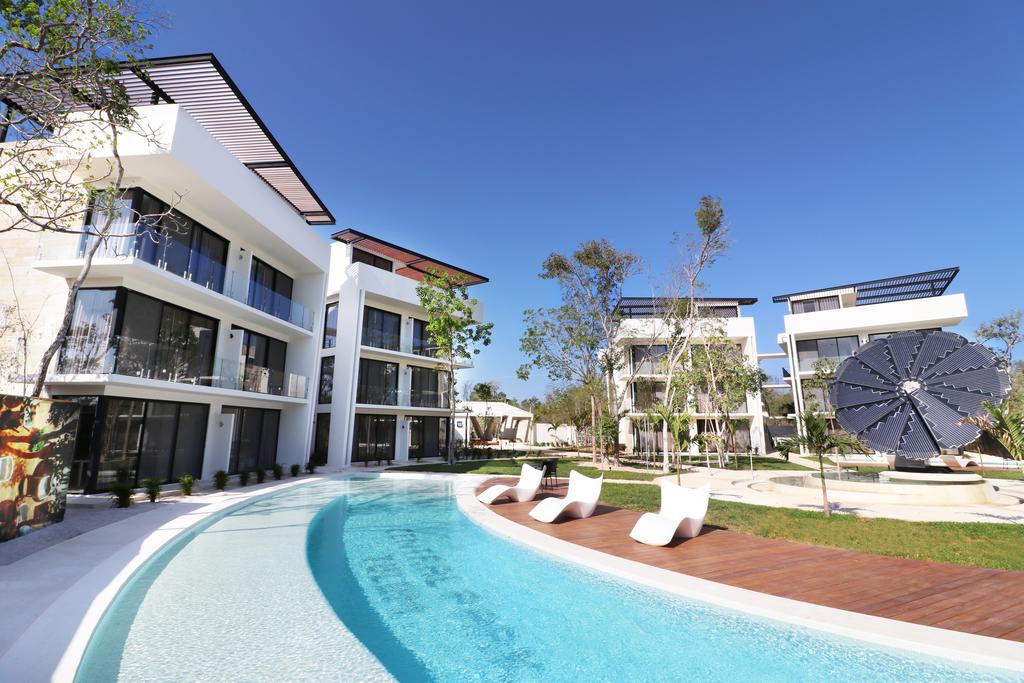 Credit: Luxury Eco Resort & Spa Central Park Tulum By Los Amigos
Enjoy an oasis of comfort and relaxation along with a convenient location just a few minutes away from the downtown area. This is easily one of the best hotels in Tulum. It is located on an area that is almost two and a half acres in size and features studios and suites decorated in a modern style.
All of the accommodations have a kitchenette with a microwave and fridge, making them perfect for an extended stay. The hotel also has a pool, a fitness center and a restaurant that serves breakfast, lunch and dinner. Additional features include free transportation and access to a beach club at the sister hotel, Los Amigos Beach Tulum.
14. Coco Hacienda Tulum
Credit: Coco Hacienda Tulum
Enjoy a relaxing stay at Coco Hacienda Tulum. An intimate pueblo, abundant gardens and airy lounging give away to two swimming pools, beautiful rooms and villas and a discriminating restaurant define the pleasures of tropical luxury and leisure. The sister  of Coco Tulum, Coco Hacienda is one of the best hotels in downtown Tulum. It embraces the aesthetic of the Coco hotel brand: sophisticated design, lush greenery, modern amenities, excellent food and top-notch service. And the space to find your zen.
The Coco Hacienda hotel is also wonderfully suited for groups to celebrate special occasions. The gardens, palapas and pools offer lush spaces for parties, large and small with all the comforts of town.
Head on over to the beach club at Coco Hacienda  in downtown! Upon arrival, you will be greeted with a welcoming drink to a day on the beach 'Coco style'. Relax on a lounge chair or on one of the beach beds and puffs or sit at a table and get into the Coco Caribbean style. Check out the delicious beach bar menu, enjoy a cool glass of rosé, or one of the house signature cocktails. Don't forget to have a swim!
Book Your Stay at One of the Best Hotels in Tulum
We hope you enjoyed reading our article on the best hotels in Tulum. As you can see, this vibrant city offers so many opportunities for those seeking a trip of both relaxation and adventure. Some of the best beaches in Mexico are right here. The cultural history pervades throughout – from natural scenery to Mayan ruins, and exquisite culinary cuisine.
These hotels are right in the middle of it all, offering not only a unique place to experience the local wonders but also a home away from home. Which one of the hotels on our list did you like the most? Let us know in the comment section below.
Questions and Comments
Do you have any questions or comments for us? If so, we would love to hear them. Feel free to leave a message for us in the comment section below. We will be sure to get back with you soon.
Related Article: 10 Best Cozumel All Inclusive Resorts