Get out and hit the trail with the best hiking apps.
Everyone gets cabin fever at one point. There's nothing quite like getting out among nature and going off the grid to cure it. It's time to immerse yourself in the great outdoors and have an adventure. Before you go into the wild and leave the comforts of home at the door, make sure you've downloaded one (or all) of these little travel tools. We've searched the web and tried out the best hiking apps all to make your life a little bit easier.
Here Are Our Picks for the Best Hiking Apps
1. Alltrails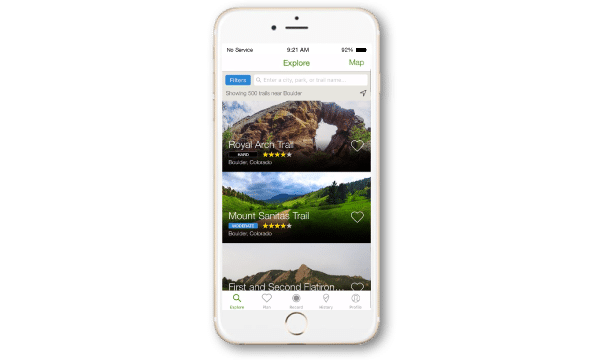 Credit: AllTrails
There's no doubt this is one of the best hiking apps. With more than 50,000 trail guides for all sorts of activities, it's safe to say that Alltrails has got you covered. Search through this extensive trail list, browse locales near you, or trails where you plan on visiting. This awesome little app even allows you to view topographic maps, as well as photos, and reviews.
You can also save a trail for offline use so you can navigate without WiFi. But that's not all. The app also allows you to upload your photos from the trail and create your own tracks with the GPS tracker.
2. Yonder
Want to pick the brain of a fellow nature lover? This app connects you and allows you to easily share your experiences when it comes to activities like hiking, biking, and camping. Just think of it as a social media network for those who love being in nature. This isn't just an Instagram-type app though. You can also explore through it. Look through experiences close to you. Or view shared images when you are looking for something to do.
3. MapMyHike
Credit: MapMyHike
With MapMyHike, there is a map for just about every activity you can dream of. Whether you're looking to simply log your route as you travel or get more detailed information, know that you can. Track your hiking route, count calories, route your own navigation. You can also search and download other routes if you would like. If you'd like a premium subscription, it's just $5.99 a month. With it, you'll unlock other features like audio cues.
4. BackCountry Navigator
Android users, listen up. For $11.99, you can get detailed offroad backcountry maps. This is one of the best hiking apps you can use. It gathers and maps data from a diverse number of free and paid sources. Add or import waypoints from your GPS, look at several map layers and sources. BackCountry Navigator gleans its information from free maps like OpenStreetMap, Open Cycle Map, and various other official mapping agencies.
5. ViewRanger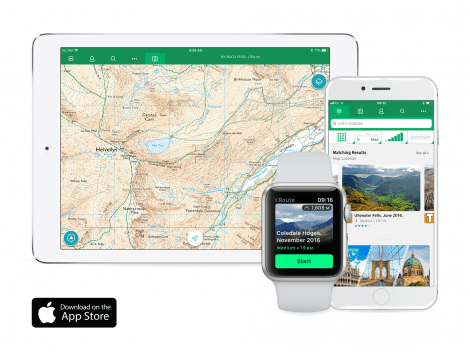 Credit: ViewRanger
This is yet another dynamic GPS trail navigation app. Here, you can get both free and premium content. Users can download both free trails and maps for navigation offline. When you're out and about in the backcountry, this is so useful to have. Did we mention that there is also a premium augmented reality mode. Here, you can flag points of interest that you would like to visit. All in all, ViewRanger includes more than 180,000 trails. Users can print maps, import GPX files, track routes, and view important statistics about their trip.
6. Maps 3D Pro
We know that not everyone has the skill to read a topographic map. With this said, this is where the Maps 3D Pro comes into play. It's one of the best hiking apps out there. If you're planning to plan an outdoor hike in rugged terrain, this is one of the best travel tools that you could have. Like the name suggests, users can easily interpret terrain features like hills, ridges, paths, trails, and more.
When you're using this app, you can plan, save, share, and preload maps all while you're offline. In the event that you are planning to use your iPhone as a navigation tool, make sure your phone is fully charged and you are supplied with power (aka an external battery pack) or have a good backup option. Check out our hiking safety tips for more information. One good practice to be in is to wear a GPS watch.
7. REI – National Parks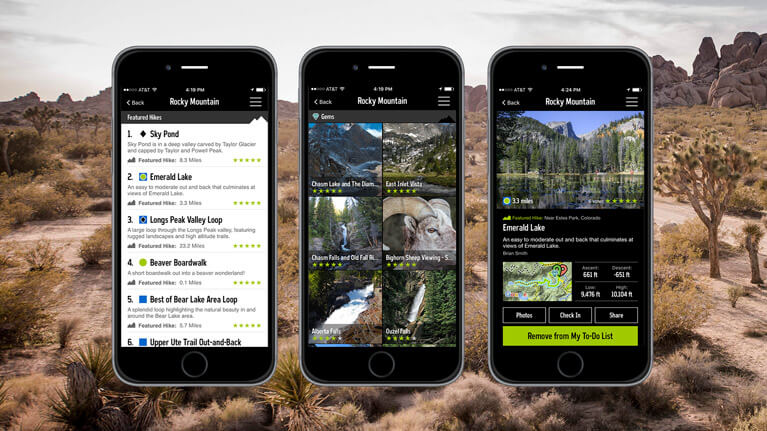 Credit: REI
Did you know that REI has one of the best hiking apps for national parks? This app is compatible with both Androids and iOS, this free handy guide features trails, map guides, and so much more. GPS navigation comes together with a list of featured hikes and write ups as well as difficulty ratings. You will also find family friendly attractions as well as the best scenic attractions on the trail. Each park entry includes detailed information like visitor hours, camping spots, notes on activities, etc.
8. Ramblr
Are you the type of traveler who likes to document your trip as you go along? If so, you're going to love Ramblr. We chose it as one of the best hiking apps since it brings the best of both worlds into play. This mobile journaling app is designed for hikes and backcountry trips. You can chronicle everything from which route you decide to take down to distance traveled, your speed, and the highest point. Last but certainly not least, you can also record your geotagged video, audio, photos, and text. This allows you to share your trips and also figure out where other Ramblr users have gone.
9. Cairn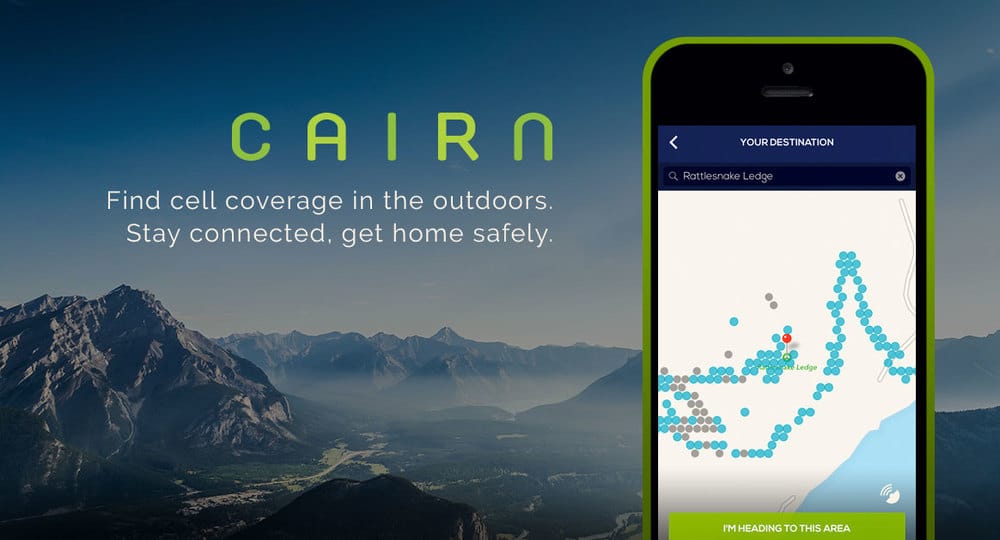 Credit: ​Cairn
This free iOS app makes all the difference when it comes to safety. When you're traveling, make safety your number one priority. This outdoor app does two things. First and foremost, it sources info on where you can receive a signal and stores it in your map and logs your location. Second, you can leave a trip plan with friends. If you're ever late on your return time and date, your friends will be notified and given the map of location data where you can be tracked to. Cairn also lets you plan ahead for areas on the trail that do offer mobile coverage.
10. First Aid by American Red Cross
Let's hope it doesn't come to this point. Because using an app in the event of an emergency seems like something straight out of a comedy scene. But with that said, it can also be surprisingly helpful. The American Red Cross' First Aid app is completely free. Here, you can get information on burns, injuries, and other medical injuries that might arise.
The "learn" mode allows you to read up on various types of first aid treatment, enter into a Q&A session, and get precise first aid instructions on a single page. They are sometimes even accompanied by videos and diagrams. There is even a shortcut to a 911 button if need be (this is only helpful if you have service). Last but not least, internal links lead you to pages where you can sign up for first aid courses, buy first aid kits, and donate or volunteer for the Red Cross.
11. Spyglass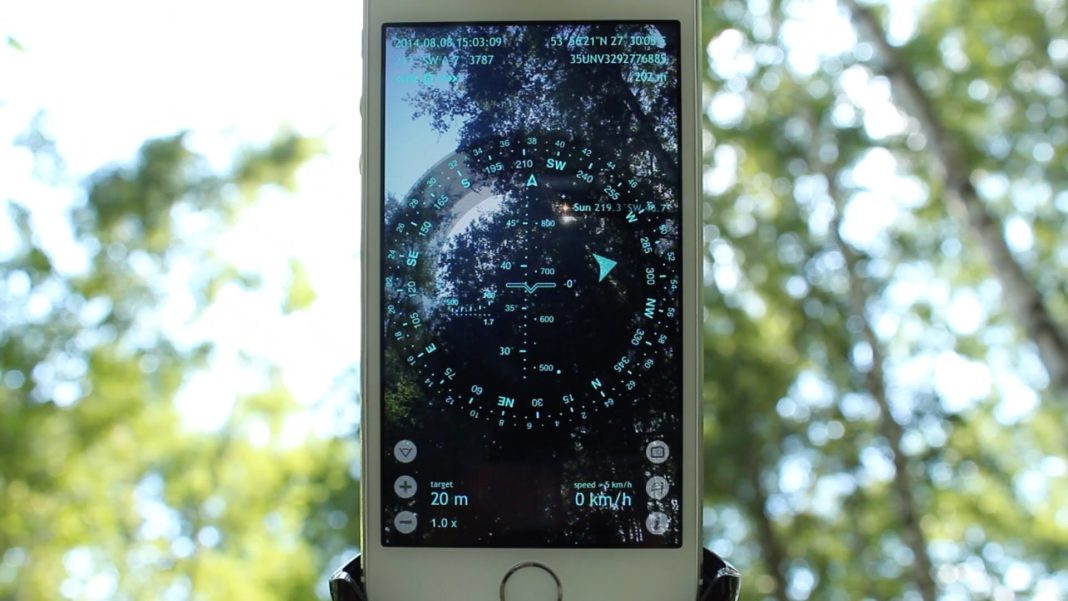 Enjoy the ultimate adventure app. GPS, a compass, and map offer full navigation details. In addition, you will also find a gyrocompass, maps toolkit for memorable hikes, and a built-insta guide so you can navigate the night sky map. This app also serves as binoculars, a GPS receiver, speedometer, and altimeter. You can save routes you would like to take for later, utilize time-augmented reality displays, measure distances and angles, operate in 3D, show your estimated time of arrival, find the heights and distance of objects, etc.
Download The Best Hiking Apps Before Your Next Adventure
When you're going off the grid, you've got to be prepared. Whether you plan on going on a day hike or a long trek in the back country, the best hiking apps are there to help. Plan out your route, track your progress, mileage, and stay safe with GPS navigation. These apps give you the tools you need.
Related Article: The Best Hiking Watch: 6 Top Contenders and How to Pick the Right One