If you've ever wondered 'why use packing cubes?' here's everything you should know.
These little tools have revolutionized the travel industry. Who knew something so simple would make staying organized on the go so easy? So why use packing cubes? They're simple, help you to stay organized like a minimalist, keep your belongings safe and compact. The list goes on. The best part of it all is that they will save you time from digging for that one needed item in the abyss of your travel bag. This article will give you all the information you need on the question of 'why use packing cubes?' You'll also learn how to pack the cubes properly.
What are Packing Cubes?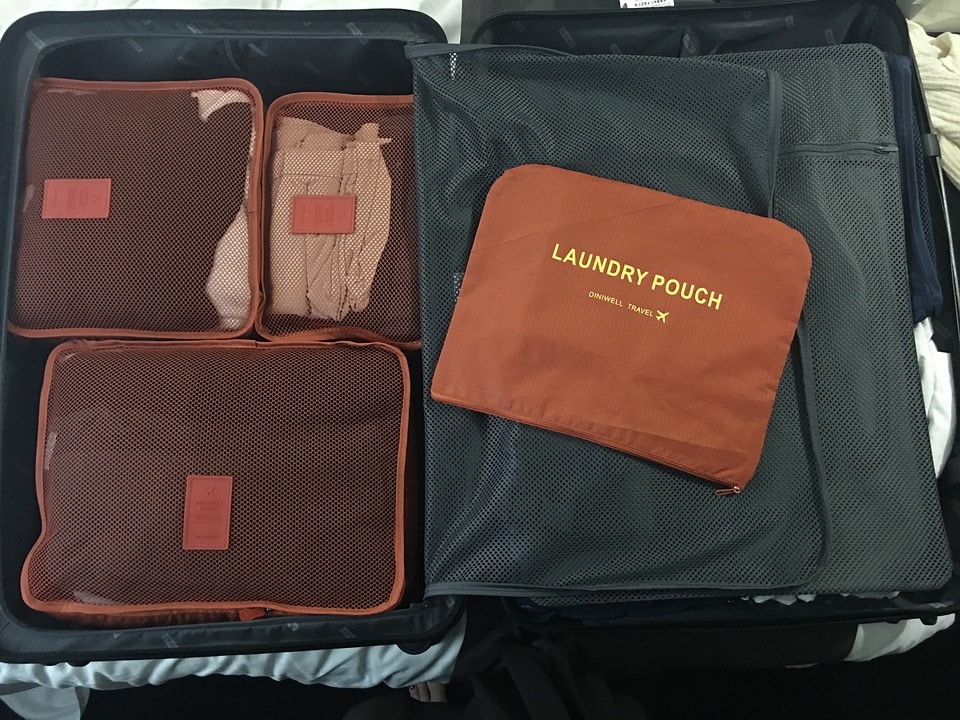 Let's do a quick run through of what they are and what purpose they serve. Packing cubes are small soft-bodied fabric containers. The top is usually made from a mesh fabric and the pack zips shut to contain your items. Packing cubes are small enough for you to fit them into your carry-on luggage and backpack.
With different shapes and sizes available to choose from, it is possible to find the right packing cubes to fit into your luggage. Some come in the shape of squares, rectangles, and long tubes. Others offer compression zipper features to suck as much air out of the pack as possible. Others yet have two sides, so you can separate dirty laundry from the clean ones. Not only do they compress your clothing but they also keep you sane. We swear that once you start using them, you will never go back.
Why Use Packing Cubes: The Perks You Need to Know About
Why use packing cubes? Let's be honest. Unless you're Monica Gellar, packing is the least fun part about travel. The only thing that is worse is the stress of making it to the airport on time and going through a long TSA line. But the good news is that there are tools out there to help you travel as stress-free as possible. And part of that good news is knowing you can have the benefits of packing cubes at your disposal.
When it comes to packing cubes, they have a lot of durability and will last you a long time on your trips. Some of our favorite companies include Eagle Creek and eBags. As we previously mentioned, they come in various shapes and sizes to accommodate your needs too. With packing cubes, you don't have to rummage for things in your hotel room, leaving once neatly folded tops strewn across the floor. The mesh material at the top of the packing cubes is enough to help you spot what you need. Use a matching set or color code for specific items if you'd like. It's all up to you.
Choose Which Sizes You Want and Maximize Space:
Here's the cool thing when it comes to packing cubes. You can pick and choose the ones that will fit in your bag the best. You want to maximize space. Since they vary in length, width, and height, it's easy to do this. Different sizes mean that they can fit in any type of day pack, suitcase, or other luggage that you want to bring.
They Help You to Stay Organized:
Why use packing cubes? They help you to stay organized. Pack like items together. Shirts go with shirts, pants with pants, and so on. Choose how you want to be organized. You can choose different shape packs, different sizes, and even have a colored them if you like. This is the type of thing Friends' Monica would have gone wild for.
Keep Clothes Fresh and Wrinkle Free:
Everyone hates wearing wrinkled clothes. Even if you can't avoid every wrinkle in your clothes but you can sure try. Using packing cubes will prevent your clothes from getting disheveled even when you have to roll them. By filling them to their capacity, the items are kept safe while you are going from point A to point B.
Unpacking and Repacking Has Never Been Easier
Why use packing cubes? It's easier to see how simple unpacking and repacking is. You don't have to dig to find what you need. Just pull out one packing cube if you need to get out your raincoat or grab a clean pair of socks.
Utilize Your Space Well:
Have you been wondering how to use packing cubes? Make the most of them by compressing your clothes. Due to the building block of the cubes, you can fit more into your luggage. They are easy to stack when needed too.
It Makes for a Great Storage Space Between Trips:
There are some items you only use when you travel. Instead of having to pull everything out of your bag, all you have to do is get then out of your packing cube. Now, tell us this isn't a lot easier than tracking all of them down individually.
Why Use Packing Cubes: Different Types for Your Needs
Just take a quick scroll through Amazon and you'll see there are various types of packing sets. When you're wondering which ones to get, this can seem daunting. But don't worry. We will walk you through it. Let's take a quick look at the various types of packing cubes available on the market. From there, you can pick and choose which ones fit your style and needs.
1. Square or Rectangular Shaped Packing Cubes
Most of the packing cubes on the market are square or rectangular in shape. Sure, if you look hard enough, you can find a few circular ones. What makes this the best shape for packing is that you can organize your items better. The square or rectangular body of these packing cubes allows you to keep your items in order. You can also maximize the space in your travel bag.
2. Multi Purpose Packing Cubes
When it comes down to choosing the right packing cubes, multi-purpose ones are a good way to go. They make travel easy. What do they offer? These sets come in a variety of sizes and shapes to accommodate your packing needs. Store your makeup in one set, t-shirt in another, and sweaters in a larger pack.
3. Expandable Packing Cubes
Take efficiency to the next level with expandable packing cubes. They give you that extra boost of space when you need it most. Now, you really do have room for everything that you need.
4. Waterproof Packing Cubes
If you didn't know before, now you know. Why use packing cubes that are waterproof? If you're hiking or backpacking, this is a great option. Packing cubes don't have to be reserved only for that European vacation, you know. For those of you who like to get out on the water, these types of packing cubes can also double as dry bags for your belongings. They are all around useful.
5. Mesh (See Through) Packing Cubes
These are one of the types of packing cubes that we mentioned earlier on. You don't have to dig through your travel bag for that one item anymore. Stay organized and save yourself from stress. With mesh (see through) top packing cubes, it's easy to see what you put where. Take your pick from either mesh packing cubes or see through ones.
Mesh packing cubes are great for quickly locating an article of clothing. In the event that you are packing along smaller items like makeup and toiletries, then you can opt for smaller mesh cubes if you would like. Generally speaking, medium sized ones are good for packing and organizing clothing by style.
6. Structured (Hard Side) Packing Cubes
Since you already know that packing cubes come in a variety of shapes and sizes, it's time to talk about the way that they are built. Why use packing cubes with a hard structure? They fill your bag better and are easier to organize clothing in without the pack becoming lumpy. Plus, even if you do not completely fill your packing cubes, they will not lose their shape.
7. Lightweight Packing Cubes
Like we said, packing can be rough. Make it as easy as possible by choosing lightweight, structured packing cubes. You do not want to add a lot of additional weight to your bag. Lightweight packing cubes will help to keep you organized without weighing you down in life.
Why Use Packing Cubes? Here's a Short Summary.
Alright, let's review. Why use packing cubes? They really do make all of the difference when you travel. Using them the right way can make your trip run so much more smoothly. It's all too easy to get carried away though and bring too many. Remember that less is more. When it comes to choosing how to maximize your space or get organized, always opt for organization.
Although it seems like using the largest packing cube is the best bet, it's not. Using smaller ones to compartmentalize will help you find your needed items much faster. Make sure you don't under or overfill them. You want your items to fit snugly without the pack being lumpy or bulging at the seams. Lightweight, structured packing cubes offer the most bang for your buck. In addition, the mesh top ones are useful, since you can see inside of each cube without having to unpack it. Finding that one item has never been easier. You don't have to dig through your bag anymore.
With this in mind, make sure you are using your pack appropriately by filling it with the right things. Sure, you can use packing cubes for more than just clothing but clothing is generally the best item to pack. Finally, make a checklist and run through it to see if you have everything you need. When you do, it's time to travel!
Related Article: Top 5: The Best Packing Cubes To Help You Stay Organized