Brew Coffee and Brew Tea with the Espro Travel Coffee Press
Don't let the name fool you. The Espro Travel Coffee Press does more than only brew coffee. The Espro travel mug brews coffee, steeps tea, keeps drinks hot, and doesn't leak. What more could you need? Whether you are a coffee addict, a faithful tea drinker, or a lover of both, the Espro Travel Coffee Press is a product to consider. From the mountains to the work office, travelers can make a smooth cup of French-pressed coffee with ease. The travel mug is designed to keep beverages hot for several hours with its vacuum insulated stainless steel walls.
For your morning commute, for vacations with the family, for backpacking expeditions, and for anywhere else you find yourself, think about bringing the Espro along with you. This product will give you fresh, quality coffee on the go. In this review of the Espro Travel Coffee Press we will be discussing the stand-out features and benefits of this product. In addition, we will be recapping what travelers are saying about this product. Stay tuned to hear all about this travel coffee (and tea) mug.
A Little About Espro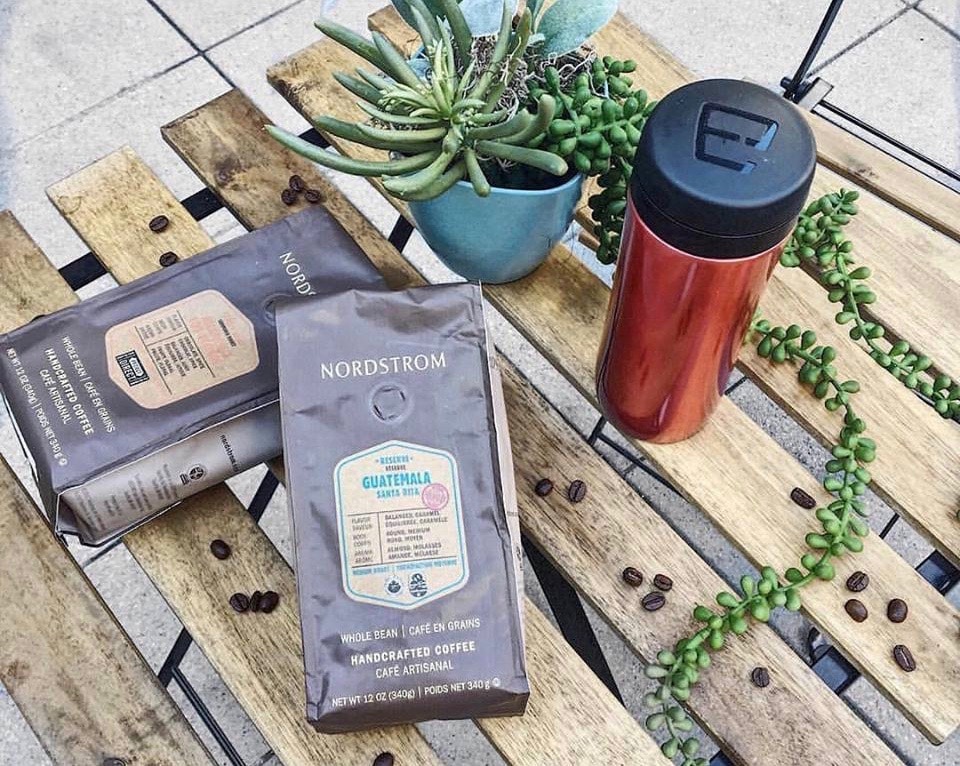 Credit: Facebook
Grits and grinds are nasty, aren't they? Those little specks are rarely preferred in coffee and Espro knows this. The Espro Travel Coffee Press promise is to provide grit and grind-free coffee. And the best news is that this product lives up to its promise. In 3 to 4 minutes, grit and grind-free coffee will be ready to be served. Bring on the flavor and hold back the grits with the Espro Travel Coffee French Press.
Another important aspect of this product is that the filtration system stops extraction as soon as you press the plunger down. This means that your coffee will keep the same flavor no matter how long it sits warmly in the mug. Unlike other travel French Press mugs that slowly make the coffee bitter the longer it sits in the mug, you won't have to worry about this bitter problem with the Espro travel mug. Also, get ready to cheers your coffee mugs because the Espro Travel Coffee Press is guaranteed for life. Espro likes to call is their "Friends for life" warranty.
Additional Espro Products
In addition to the Travel Coffee Press, Espro also produces a number of other coffee and tea-related items. The company also creates espresso machines for use in the home, designing them to appear attractive as well as functional. Their stainless-steel pot will stand as a centerpiece on your counter top, reflecting its surrounding space with a mirror surface. If you enjoy drinking homemade lattes, consider purchasing an Espro Toroid Pitcher. This unique invention froths milk in a few minutes, so you can enjoy a sweet, creamy coffee drink easily. Instead of wasting time with handheld milk frothers, you may whip up your cream hands-free. The Toroid pitcher provides a specially-designed spout for pouring frothy milk into your drink whenever you please.
Those who make coffee daily, or multiple times per day, know the importance of cleaning your equipment. You don't want leftover grinds getting into your drink, or letting oily residue affect the taste of the brew. At the same time, cleaning your coffee-making devices can be tedious, and take a long time to accomplish. Thankfully, Espro has created a product that makes cleaning coffee presses easy and fast. The Deep Clean product was especially designed to give brewing equipment a thorough cleaning without the need for scrubbing. You can have your coffee press looking brand-new after using this washing product.
If you want even greater control over the brewing process, the Espro Calibrated Tamper should be on your must-buy list. The Espro Tamper allows users to create evenly pressed coffee grounds every time they make a brew. Typical espresso tampers don't let you create the ideal resistance for pressing coffee grounds. This tamper ensures the tamping pressure remains consistent with every use, meaning your coffee will always taste perfect.
Espro Travel Coffee Press Features & Benefits
Espro Travel Coffee Press Specifications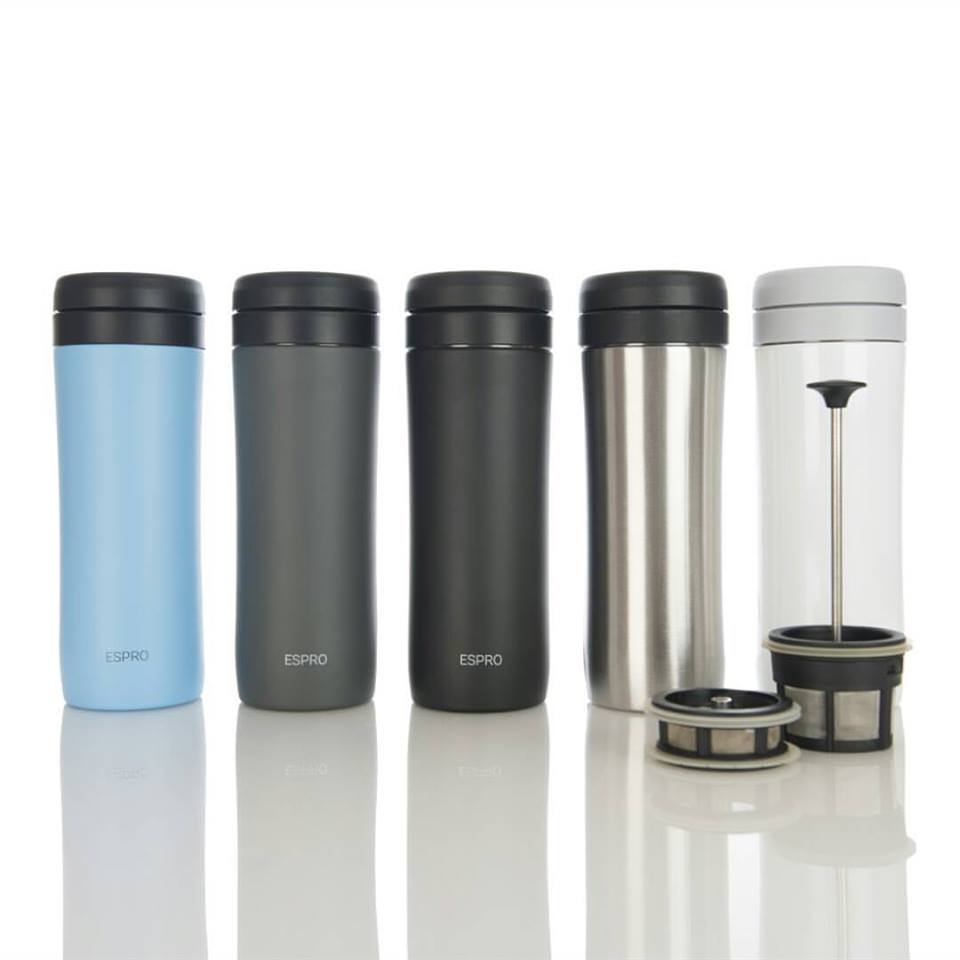 Credit: Facebook
The Espro Travel Coffee Press is 15 ounces, but only brews 10 ounces of coffee. Keep this fact in mind because some customers were unaware when purchasing the product that it only brews 10 ounces of coffee, not 15 ounces. As for tea, the Espro Travel Press makes 12 ounces of tea. The product's weight is 12.2 ounces, so the Espro is very lightweight especially for being a stainless steel bottle. The dimensions of the product are 2.8 x 2.8 x 8.1 inches. The filters are also BPA, BPS, and phthalate free. With a vacuum-insulated, stainless-steel interior, your brews will remain hot for hours, ensuring you can travel without needing a reheat.
For those who like their coffee mugs to match their style, the Espro Press represents the perfect product. The travel mug is available for purchase in several colors. Colors include black, gray, silver, white, and light blue. If you're looking for the classic travel mug shade, the Matte Black choice might be the best option. This specific mug will match every outfit you wear and look clean even after extensive usage. Those who appreciate feeling inspired by their coffee mugs may prefer the blue choice, which looks like an afternoon sky. Or, the polished stainless steel Espro Press could be the outdoors adventurer's favorite, as it will withstand bumps and bruises.
If you're not a coffee lover, but still want to drink something warm on the go, Espro has you covered. Espro's Travel Coffee Press includes a tea press system for brewing loose-leaf tea easily. Tea extraction stops when you press down, while the product microfilters the tea twice. This means you'll have clean tea with the delicious, bold flavors produced by loose-leaf brewing. Tea fans can bring their favorite brews as they travel the outdoors or to and from meetings.
Grit & Grind-Free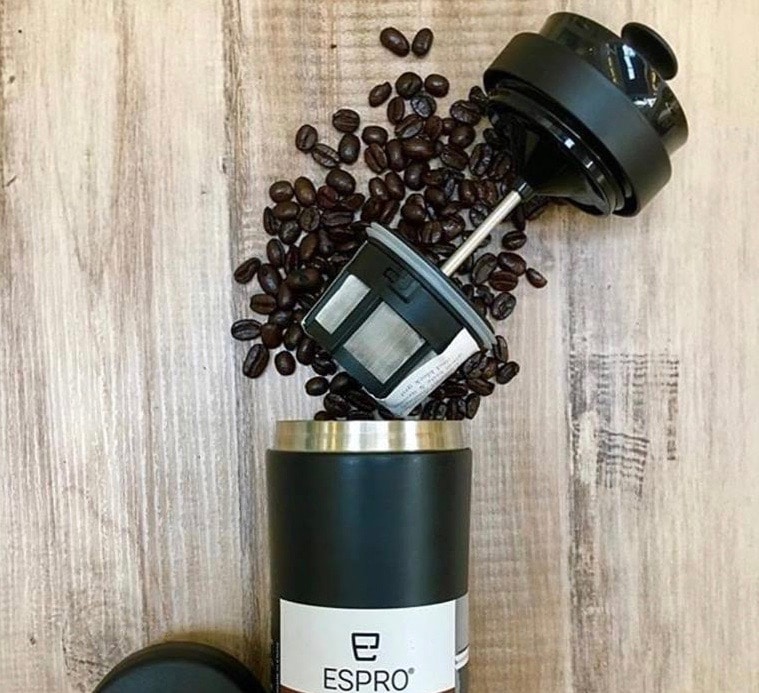 Credit: Facebook
The Espro travel coffee mug filters coffee, not once, but twice. This extra filtration means that all you drink from the Espro Travel Coffee Press will be fine and smooth. If the first filter doesn't catch every grit and grind, then the second filter is sure to do so. In fact, this double micro-filter is a patented design and, therefore, one of a kind. Each filter is 9-12 times finer than the average French Press. Plus, this product only takes 3 to 4 minutes to brew. After 3 to 4 minutes, coffee will be ready to be pressed and sipped. Of course, the amount of time can always be adjusted depending on how strong someone likes their coffee. No more wasting time with faulty coffee grinders that leave you unsatisfied and wishing you had purchased something else. This stainless-steel French Press will provide the perfect cup of coffee to users every time.
Additionally, the Espro Press remains ideal for those who prefer their coffee to be clean and oil-free. The Espro patented system includes a paper filter that fits between the two press filters. This ensures the absorption of oils and other grit, so your coffee remains completely free of unpleasant substances. Other coffee makers don't have these special features, instead using only microfilters, which can lead to grinds in your drink. Thanks to its innovative design, the Espro Coffee Press allows for crystal-clear, delicious coffee wherever you go.
Double-Walled Stainless Steel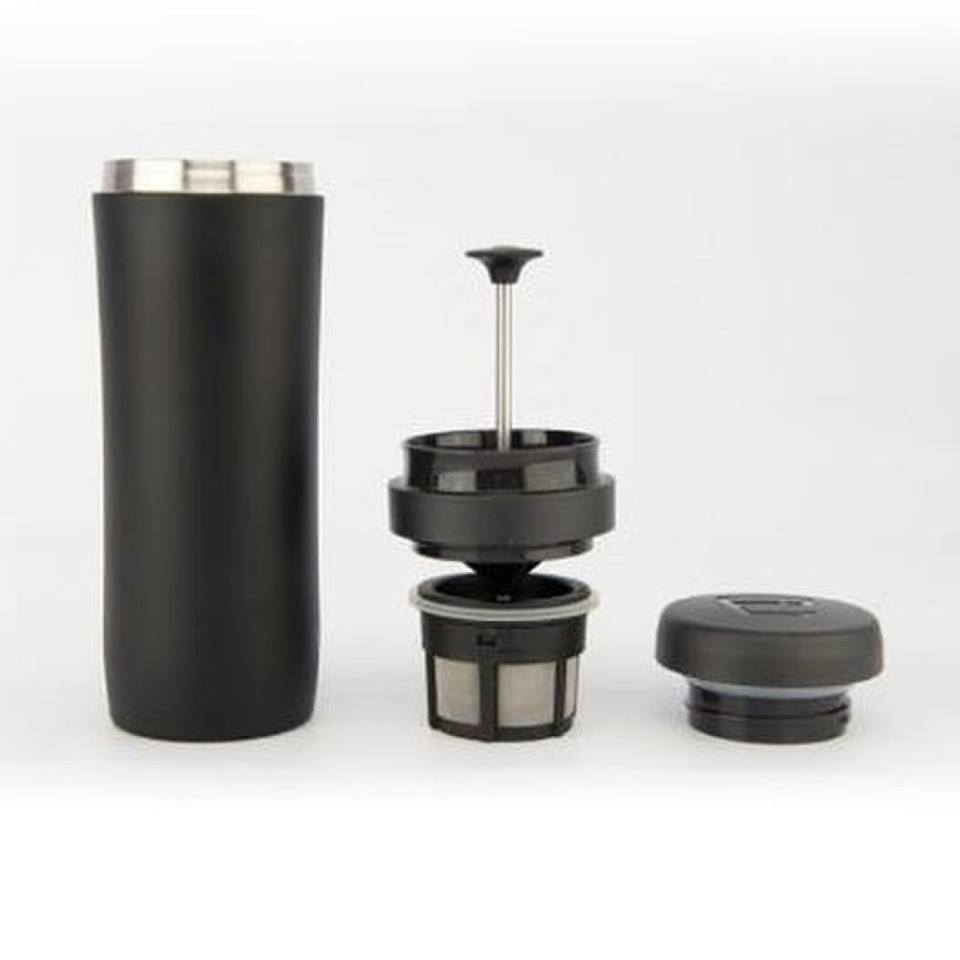 The insulated double-walled stainless steel, unlike glass or plastic travel mugs, will keep your coffee or tea toasty warm. From 4-6 hours, your coffee or tea will remain perfectly hot within the Espro Travel Coffee Press. Stainless steel is great for more reasons than just keeping your coffee or tea hot. Stainless steel is durable. This travel mug will hold up very well over the years. Plus, unlike most stainless steel travel mugs and water bottles that are very heavy, the Espro mug remains fairly lightweight. With design features like these, users can be assured of receiving the ideal coffee press for traveling.
Since this travel mug is made of very high-quality, the product does not leak. Leaky water bottles and travel mugs make horrible travel companions. The last thing you want is for coffee to spill on your clothing or spill inside your backpack. Thankfully, the Espro Travel Coffee Press really does keep its lid on tight so that leaks are avoidable. No longer will spills ruin your day and ruin your travels.
What Travelers Are Saying About Espro Travel Coffee Press
Fellow travelers have reported that the Espro Travel Coffee Press is a travel must-have. This product is highly recommended to those who desire a quality cup of coffee on the go. Also, it is not only the coffee lovers that enjoy this product. Tea lovers are also talking about this travel mug. On top of that, it is not only the travelers who love the Espro. Customers enjoy taking this product to the work office with them too. The Espro Travel Coffee Press would even be an ideal gift for Mother's Day, especially if your mother loves coffee. When you take this travel mug to work with you, you can have access to fresh and smooth coffee instead of the hours-old office coffee. During the warmer months, reviewers even suggested making cold brewed coffee with the Espro Coffee Press. A cold brew can easily be made by pouring freshly-made coffee over mugs filled with ice. This let users have a cooling coffee drink when the weather grew hot.
The only complaint about this product is that some customers wish it was slightly larger. The travel mug holds 10 ounces of coffee and some travelers wish that it could hold more. For that being the only main complaint, we find that the Espro Travel Coffee Press is passing with flying colors. The product is faithful to make grit and ground free coffee for those who are on-the-go. All and all, this is a solid product.
Alternative Travel Brands
Bodum Travel Press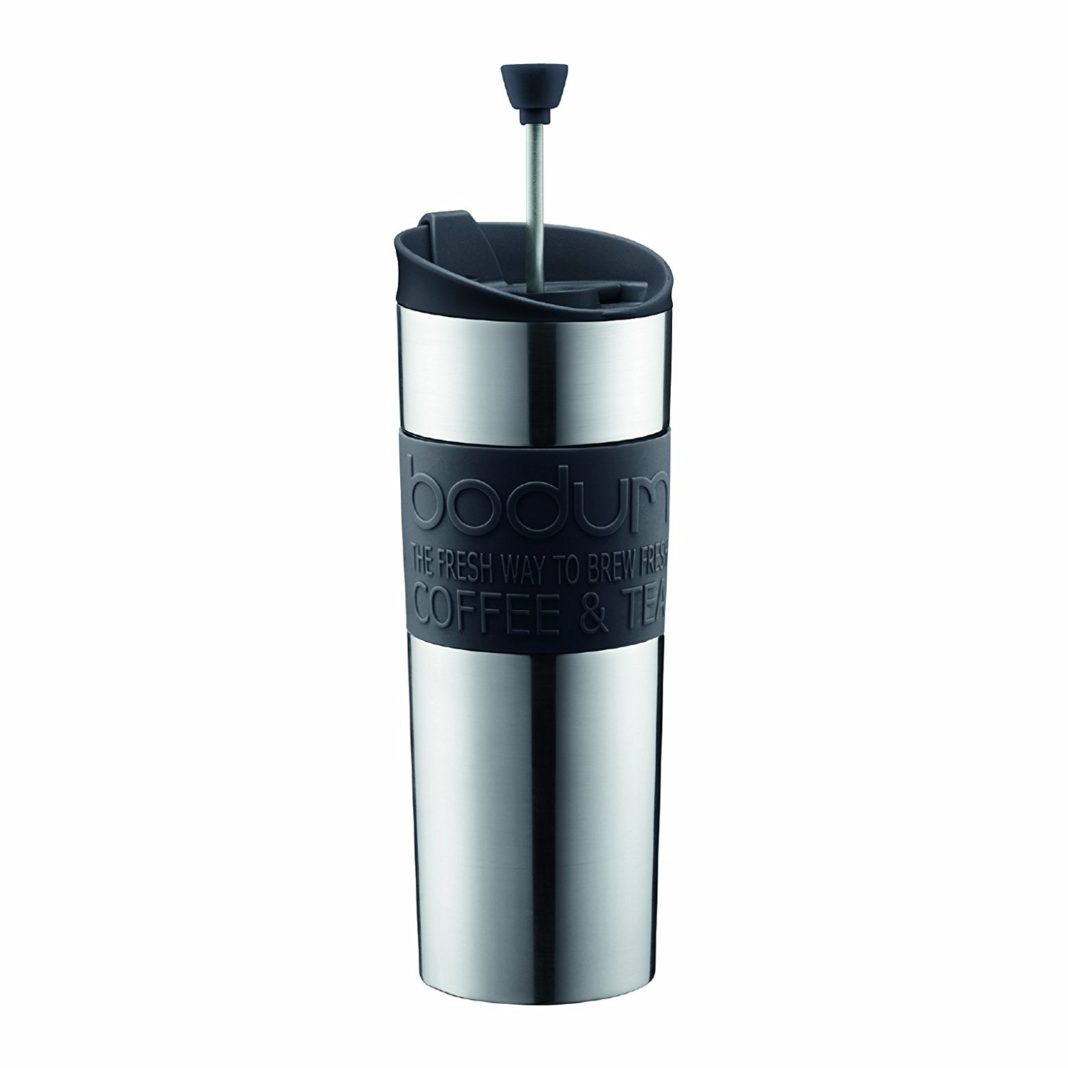 If French Presses are your thing, another travel French Press to consider is the Bodum Travel Press. This product shares many of the same features as the Espro Travel Coffee Press. Both are French Presses, both are insulated stainless steel bottles, and both are easy products to use. These two products are used in the same way. First, you add hot water to the tumbler. Next, you stir the contents, screw back on the lid, and wait patiently for 3-5 minutes. Finally, press the plunger down and you will be ready to drink from the Bodum Travel Press.
The Bodum Travel Press may not have the same patented filtration system as the Espro, but it can brew a decent cup of coffee. There are also a number of size options to choose from when looking into the Bodum Travel Press. If you want a French Press that works very similarly to the Espro Travel Coffee Press, then we recommend considering the Bodum Travel Press.
Presto MyJo Single Coffee Maker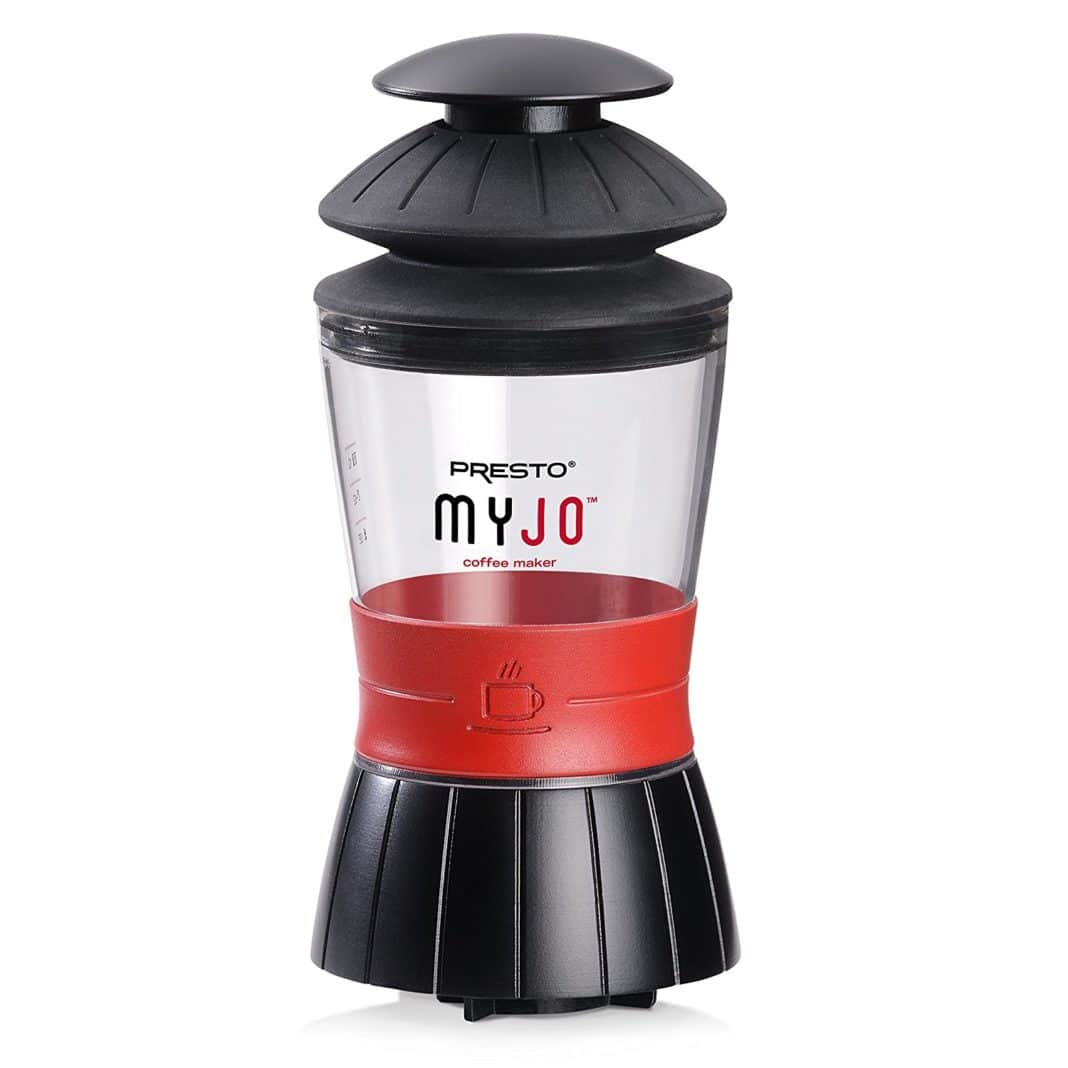 The Presto MyJo Single Coffee Maker may not be a French Press, but it can brew up a good cup of joe while on the go. This travel coffee maker alternative is affordable, easy to clean, k-cup compatible, and microwave-safe. Also, the Presto MyJo works without electricity. All travelers need to do is add hot water, which is very easy since the product is microwave-safe. The Presto MyJo Single Coffee Maker brews a nice size cup of coffee too. If you don't need a French Press travel mug, then consider looking into the Presto MyJo Single Coffee Maker. Those who like their k-cups will be even more in love with the Presto MyJo Single Coffee Maker.
Handpresso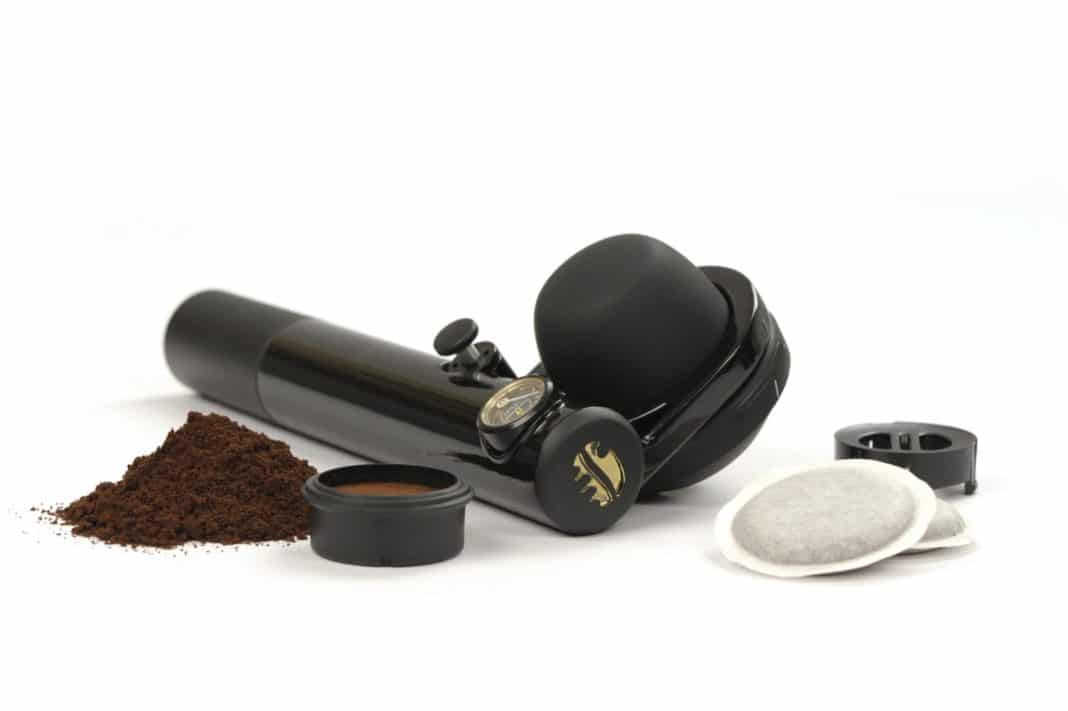 Are you an espresso drinker? The Handpresso is a great and "handy" alternative for those who prefer drinking espresso over a regular cup of coffee. The Handpresso is lightweight, compact, and works similarly to a bicycle pump. There is no other travel espresso maker that is as portable as the Handpresso. The product will take up little room in your purse, backpack, carry-on, or checked luggage piece. What's more is the Handpresso requires no batteries or electricity. As a manual espresso maker, travelers will just need to add hot water to prepare a hot shot of espresso! Campers and hikers have particularly expressed fondness for this hand-held espresso maker. This product also comes in several colors including black, white/blue, and white/pink.
Calling All Coffee and Tea Lovers
Adios, bitter and cold coffee. Adios, bitter and cold tea. The Espro has a patented double filtration system that catches every grit and ground. Also, as soon as the press is pushed down, the product stops extracting flavor. This means no more bitter coffee or tea. The Espro Travel Coffee Press is also made of stainless steel. Insulated stainless steel walls keep your drink toasty warm for hours. This means no more cold coffee or tea. For those who want a quality cup of coffee both on the road and in the office, say hello to the Espro Travel Coffee Press. Happy coffee and tea drinking!
What do you think about the Espro Travel Coffee Press? Pour yourself a cup of coffee and share your thoughts on this product in the comments section below! Or, go on Twitter and tweet about how much you love your Espro Coffee press.
Related Article: ​Travel Coffee Makers For The Traveling Coffee Lovers​​​