Your cruise experience is about to get super-sized.
The cruise experience is one that many travelers enjoy. The fine dining, luxury accommodation, and variety of destinations visited make for a memorable trip overall. With so many cruise lines to choose from, it can be a challenge to narrow down which is best for you and your family. Disney Cruises is ideal for the kids, while Royal Caribbean might be the best choice for a couple's getaway. If the latter sounds like just what you need, you can look forward to their latest cruise ship offering. Royal Caribbean International just announced the launching of the world's largest cruise ship.
Be one of the first to stay on this Royal Caribbean International cruise.
After three years of waiting, Royal Caribbean International has finally announced the launching of their largest cruise ship to date. This massive ship weighs in at over 228,081 tons. With 18 decks and 1,188 feet in length, the space on this cruise liner is unreal. Reportedly, up to 6,680 passengers can ride on the ship. Donned the Symphony of the Seas, this is the place you want to be for your next vacation.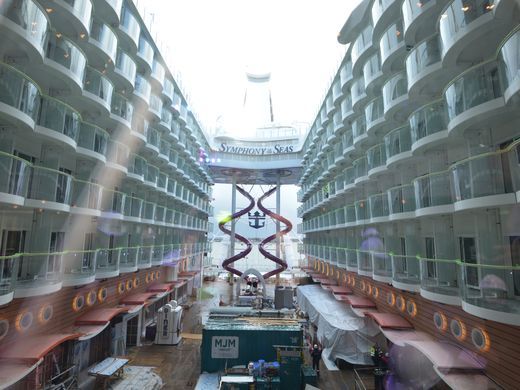 Royal Caribbean CEO and president Michael Bayley stated, "Symphony will take family vacationing to an all new level with energy and options never before found in one place." Bayley wasn't wrong, Symphony of the Seas takes cruise vacationing to the next level. With the mega-resort feel, travelers have endless options from which to choose.
If you are traveling with your family, the never before done two-deck-high family suite might be just what you need. Symphony's boardwalk entertainment area and laser tag are just a couple ways families can enjoy themselves on their cruise. With dozens of top-notch bars, restaurants, and lounges aboard the Symphony of the Seas, you and your family will have a vacation you won't soon forget.
Related Article: Viking Ocean Cruises Review