Is taking a trip to visit Yellowstone on your travel list?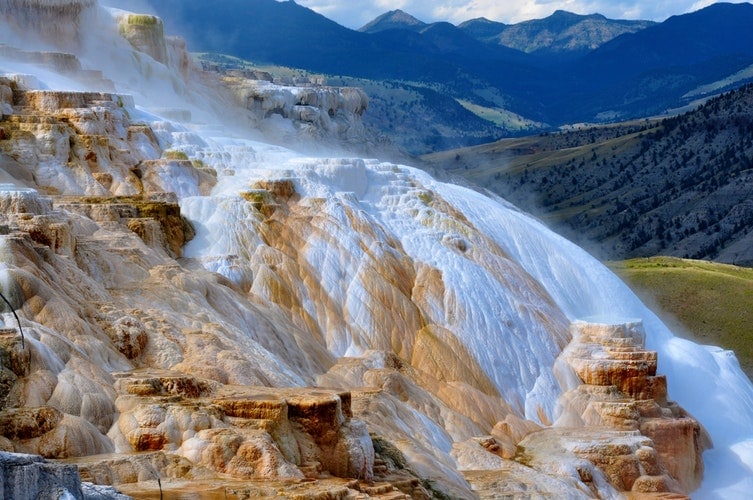 If it's not, it should be. The world's first national park, Yellowstone offers adventurers the opportunity to experience an important piece of history in a stunning natural setting. Each year, more than four million people come from the corners of the globe to hike its mountain ranges and trails and gaze upon the legendary geyser, Old Faithful. Sure, you could visit Yellowstone any time of the year. But that doesn't mean some are better than others. If you've been wondering how to plan your trip to visit Yellowstone, we've got just the tips you need. Let's get rolling.
A Little Bit About Yellowstone National Park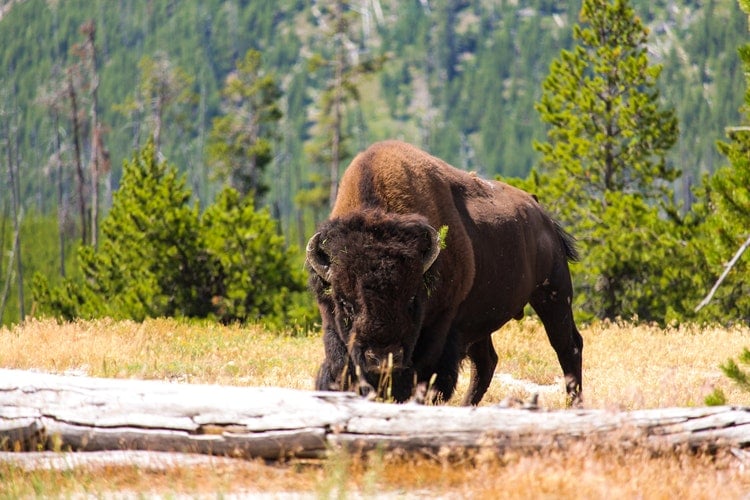 Where better to take a history less than in a region inhabited for more than 11,000 years? Over the course of time, many people have used these grounds as their home, for hunting, and transportation both before and after the arrival of Europeans. The most well-known group to have settled here are the Tukudika (meaning "Sheep Eaters"). Yellowstone became the world's very first national park in 1872. Here, every place and building has a story.
In 1916, the National Parks Service was created when the U.S. Army decided to protect the park from poachers. In 1918, the Army moved out and the NPS has been a custodian of the land ever since. If you've ever spent a decent amount of time here, we're sure you've been blown away by the vastness of its ecological diversity. On your visit, you can expect to see mule deer, bison, elk, bighorn sheep, and black bears. If you get really lucky, maybe you'll spy a grizzly from a distance.
While the fauna population is certainly impressive, it's the geology that really blows our mind. Carved out by glaciers, the Yellowstone region sits on some of the world's largest active volcanoes. Needless to say, it has a massive concentration of thermal features to explore. Walk the grounds and you'll see bubbling mud pits and gorgeous multi-colored thermal pools. Since it's all too easy to get overwhelmed by the magnitude of a place like this, we're going to walk you through the basics.
In this article, we'll show you the places you won't want to miss, tell you what to pack, and go over the best times to visit by season. P.S. Since it never hurts to save a little money on the way, we've got some tricks for your budget too.
How Do You Visit Yellowstone on a Budget?
Here's the golden question. How do you visit Yellowstone on a budget? Unless you live in Wyoming or Montana, taking a trip to Yellowstone National Park is a trek. Whether you're flying into the states or taking a road trip, you're going to be spending a bit. So how do you travel to a place like this without breaking the bank? If you're looking to fly into the major airport of Jackson Hole, flights are cheapest in the shoulder and off seasons, running from October through February.
The sign of prices dropping comes after Labor Day in September when most of the touristy crowds have dwindled and kids are back in school after summer vacation. Road closures due to weather conditions begin in late September and October. So, if you plan on visiting during this time to save some cash, plan accordingly and know which routes you can take in and out of the park.
The Best Time to Visit Yellowstone National Park
Let's face it. We all want to avoid crowds. While many of us can be hesitant to start a trip in the middle of fall or winter, there's something to be said for having a trail all to yourself. Instead of fighting the lines to see Old Faithful or make it to an epic hike, you can just go.
For those of you who are more adventurous, Yellowstone is also home to some of the best backcountry skiing places in the entire country. So bring your cold weather clothes and prepare to hit the slopes. As we mentioned earlier, just make sure to check ahead which roads can be closed. Call the NPS office and see.
Do you want to see some wildlife? Whether you are just a nature lover or seasoned photographer hoping to snag an epic shot, you should know that timing matters here. The months you visit determine which animals you are most likely to see. For example, March and April are the best months to get a chance of seeing a bear.
However, if you are more interested in seeing wolves or bighorn sheep, we suggest you visit Yellowstone in the winter months. During summer (aka the park's busiest season), you will have a good chance of seeing elk, bison, and mountain goats. Come fall, bears and more elk come out. Keep in mind that the park is huge (3,471 square miles to be exact) and there is no guarantee you'll see these animals on your trip. It's worth trying though, right?
The Best Time to Visit Yellowstone for Photography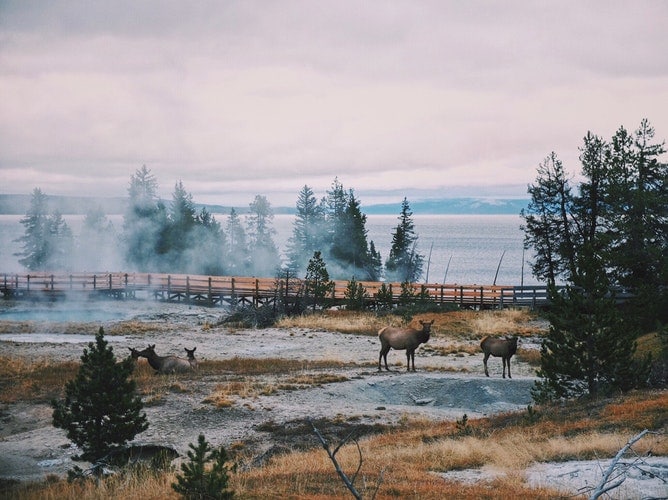 While there's technically no bad time to take a trip to Yellowstone, if you're a photographer, there are some tricks of the trade. Unfortunately, warm weather and perfect skies mean tourists and lots of them. But even if you decide to travel to visit Yellowstone during peak season, there are some things you can do.
First, camping in the park is a great way to ensure you'll be up and at it before the rest of travelers come pouring in. Even if you're not a morning person, getting up to watch the sunrise here is one hundred percent worth it. And getting those golden hour shots is priceless.
With this said, winter is a great time to visit for photographers. The park is much less crowded and we can pretty much guarantee there won't be families crowded around Old Faithful. Plus, your shots will be so much more unique. If you search the location tag on Instagram for Yellowstone, most of the shots are in the spring and summer months. The winter's blanket of white snow and frosted trees will give your photos a different approach. Pair that with the visible steam rising from the geysers and hot springs in the frosty air. You'll have yourself some incredible snaps.
What You Should Know about the Weather When You Visit Yellowstone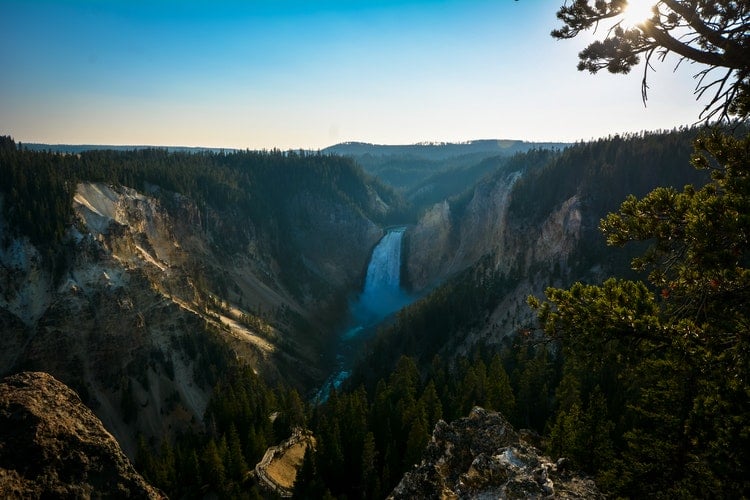 While winter is a great time to visit Yellowstone for the backcountry skiing and photos, it is very cold. Make sure you come prepared. Know which roads and routes will be open and which will be closed. It's also important to gas up your vehicle before entering the park, bring tire chains, and the right clothes and cold weather gear. Let's just say that the highs rarely pass twenty degrees Fahrenheit. This is Europe in winter kind of cold, people.
From November through March, temperatures are in the thirties (Fahrenheit) on average. Just so you know, it's not uncommon to see low numbers – even in the summer months. Bringing an insulating puffy jacket regardless of the season would be smart. The temperature fluctuates greatly throughout the year and Yellowstone has its fair share of seasons. The warmest time to visit Yellowstone is during the late spring and summer months when the weather is in a balmy 60-70 degrees Fahrenheit.
Where to Go When You Visit Yellowstone: Top Spots You Can't Miss
Nothing is worse than traveling to one of the most beautiful places on earth and missing some of the top sights. While this park has enough beauty to make a good visit, you deserve to know the inside scoop. That's why we've rounded up some of our favorite spots in the park that you need to visit.
Lone Star Geyser Trail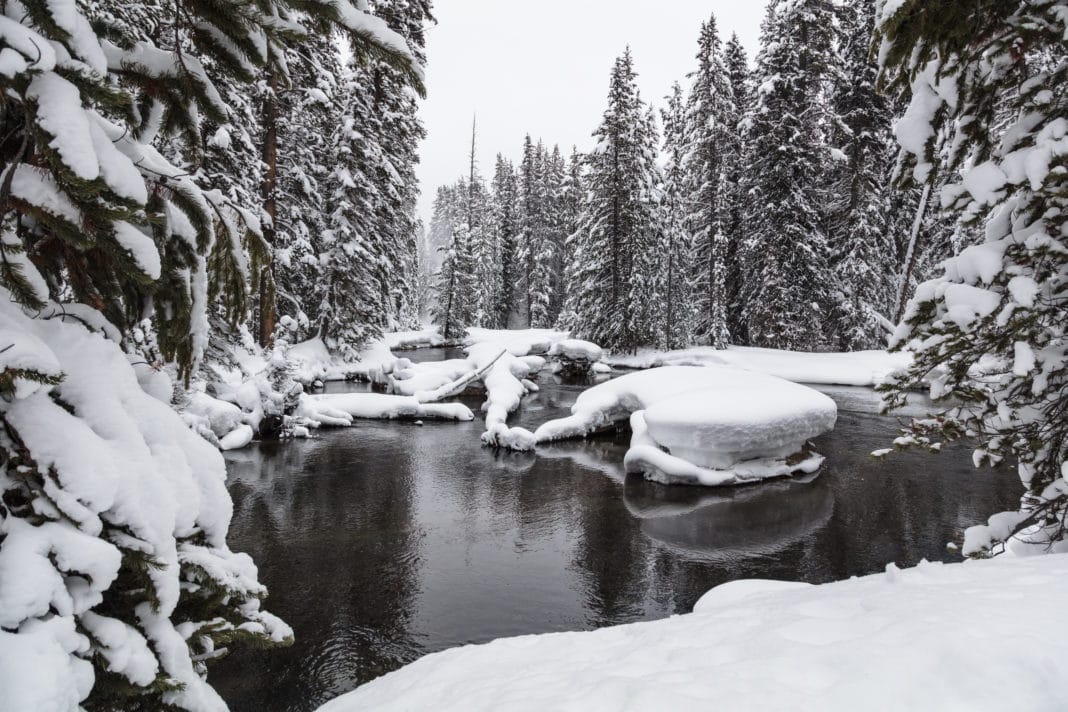 Credit: Yellowstone National Park
If you're looking for an easy hike to take the family on, you're in luck. Lone Star Geyser Trail offers a 4.8-mile loop and is wheelchair accessible. Since the trail is partially paved, it's easy to tread. The Lone Star Geyser erupts every three hours (ask the park rangers ahead of time so you can time it right). Did you know that the water can reach as high as 45 feet? Stand back and have a good travel camera ready. You're not going to want to miss this. After you've rounded out your trip on the 2-3 hour trek, the National Park Service has a logbook where you can record your viewing time.
Trout Lake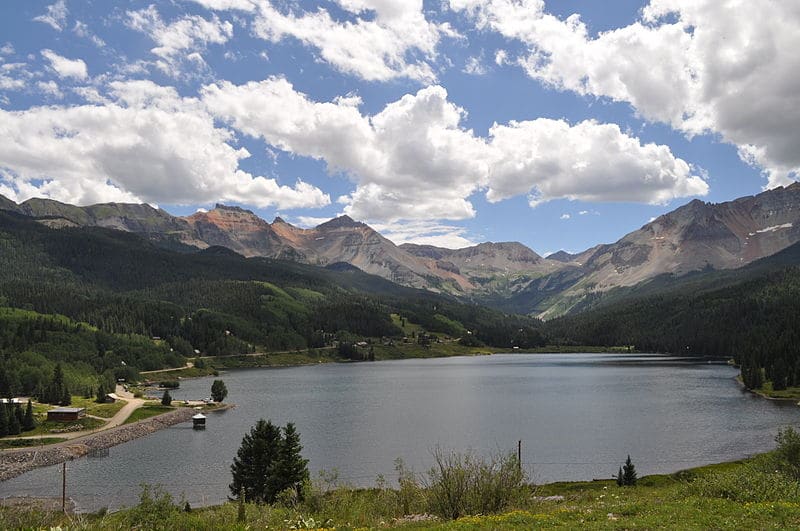 Credit: Wikimedia Commons
This is another good hike for the kids. If you're looking for something shorter, Trout Lake offers a scenic 1.2-mile loop on a steep yet fairly relaxed pathway. Wind through lush green trees, past a small waterfall to the lake. When you're there, keep your eyes out for some Rainbow Cutthroat hybrid trout. On a good day, you might see some otters too.
Lewis River Channel/Dogshead Loop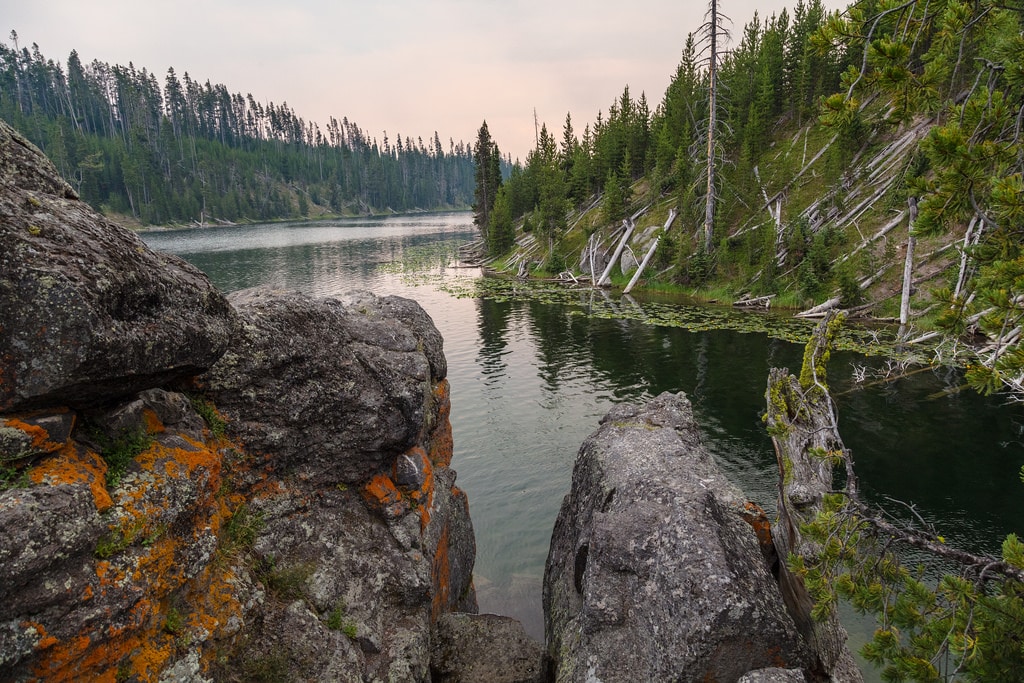 Credit: Yellowstone National Park
Backpackers, this one's for you. Running 10.8 miles, this trail is long and moderately difficult enough to get you a good feel for the backcountry kind of stuff. On one end, you have the beautiful Shoshone Lake. And on the other, you have Lewis Lake. When you are in between, keep your eyes out for eagles and ospreys that frequent the scene.
What to Pack When You Visit Yellowstone National Park
When you visit Yellowstone National Park, keep in mind that it is a high altitude climate. Since it's generally chilly (yes, even in the midst of August), you should bring layers with you. A windproof jacket is a must. If you plan on going on a moderate to difficult hike, make sure to bring a good pair of hiking boots with you. Bring bug spray and sunscreen too, no matter the season.
Here's a pro tip: If you don't already have a reusable water bottle, now is a good time to invest in one. There are free stations where you can refill your bottle and hydrate just about everywhere you go. Plus, you're doing your part to be green and help out the environment too. We all need to cut back on our plastic usage.
Plan Your Vacation to Visit Yellowstone National Park
So when is the best time to visit Yellowstone National Park? The answer depends on your travel preferences. Fortunately, you can visit during any time of the year and still have a good time. This has been an alluring destination ever since 1872. You're sure to be captivated by all of the sights, trails, and stunning wildlife. If you're looking to go camping or backpacking, the summer is your best bet. Make sure to visit Old Faithful. If you plan on coming during the winter, pack smart, get some ski gear, and prepare for the perfect powder. It's time to go see Yellowstone.
Related Article: The Best Time To Visit Yellowstone