Planning a trip on over to Kiwi country? Then you better be sure to hit these great cities in New Zealand while you're there!
When someone mentions New Zealand, what's one of the first things that comes to mind? Probably Hobbiton, if you're a Lord of the Rings fan. In addition to being a gorgeous country, New Zealand is famous for many things, including its Maori origin, food, wine, and other products and people who made a name in the country's history. The two islands of New Zealand is small, made up of approximately 103,483 square miles. But don't let its size fool you; there is still a long list of places and cities in New Zealand for you to explore.
New Zealand has coastal cities, land locked cities, cities with volcanoes scattered throughout, cities with geothermal parks… Familiarizing yourself with the most popular cities in New Zealand will help you understand the country's geography and culture.
Ready? Let's get started on our journey through the most popular and beautiful cities in New Zealand.
1. Auckland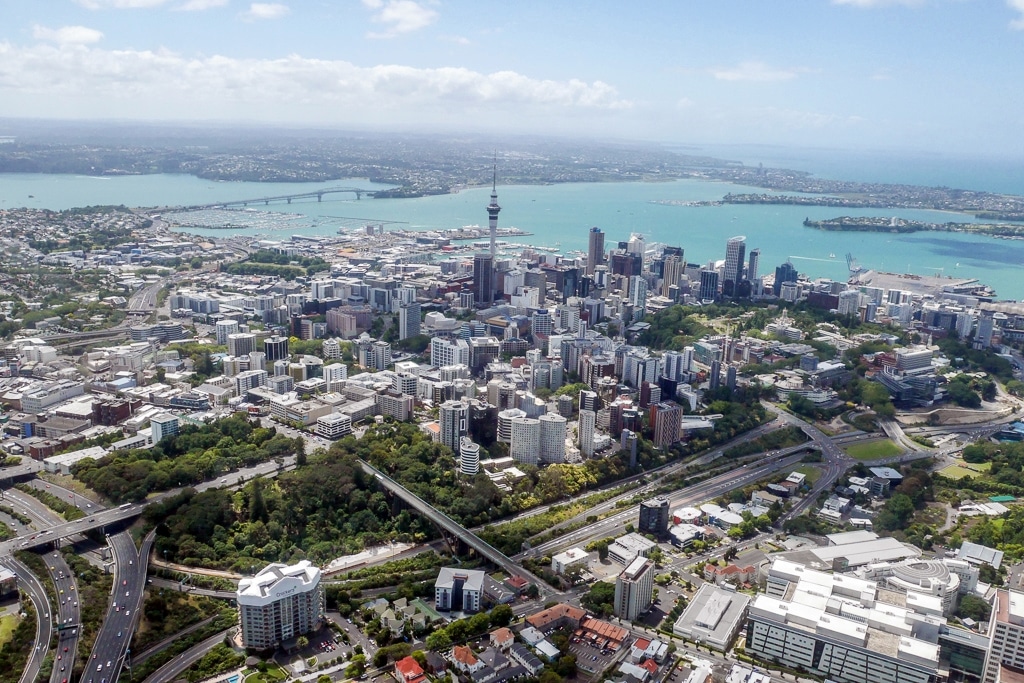 Credit: Craig (Flickr)
Auckland is usually one of the most well known cities in New Zealand, and there are good reasons why. Auckland is the largest city in New Zealand in terms of both population and land mass. Approximately 1.5 million people live in this New Zealand city. In fact, Auckland's population is bigger than the population of the entire South Island! Fun fact: Auckland was built on a volcano field. There are about 50 volcanoes within an area of 1,000 square kilometers underneath the city. This volcano field is what formed the hills, lakes, and basins that make up the geography in Auckland. Don't worry about a volcano erupting while you're there, though. The last volcanic eruption in Auckland happened about 600 years ago. Sure, that's a blink of an eye in geological terms… But don't let that stop you from visiting one of the best cities in New Zealand!
This is one of the best cities in New Zealand for tourists to visit if they want a taste of both city life and be in close proximity to wild regional parks. As with any other big city, there are so many things to do in Auckland. There are fun shopping districts, delicious restaurants, art museums, wine regions, and more. When compiling your list of the cities in New Zealand you want to visit, Auckland should be at the top.
2. Christchurch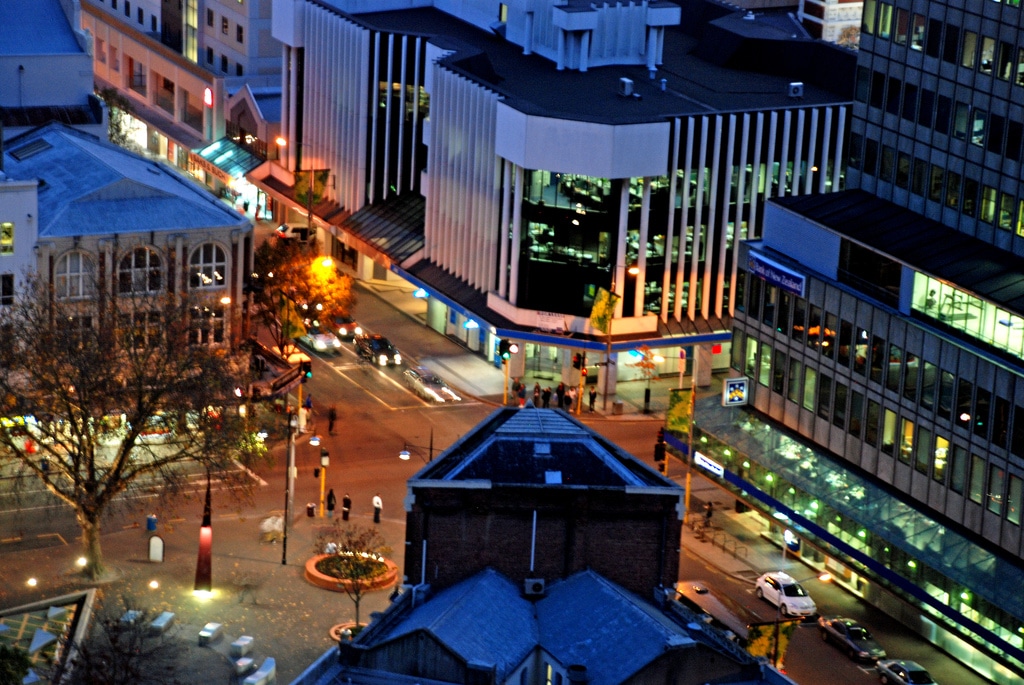 Credit: Phillip Capper
Located in the South Island, Christchurch is a vibrant, energetic New Zealand city that thrives on urban lifestyle. The city is made up by its incredible street art, booming hospitality scene, and incredible architecture that gives Christchurch a very modern but hip feel. The city is currently being rebuilt after earthquakes destroyed many of its building in 2010 and 2011. Still, Christchurch remains to be one of the funnest and funkiest cities in New Zealand!
Christchurch is known as the 'Garden City' because it has many parks, museums, and galleries. Christchurch is also a city on the rise; new buildings and businesses are opening up every day. Christchurch is best known, however, for its English heritage. Today it is home to about 400,500 residents, making it New Zealand's third-most populous city behind Auckland and Wellington. There is a certain unique and artistic flavor to Christchurch that other cities in New Zealand do not have. In our opinion, that makes Christchurch one of the best cities in New Zealand for young travelers and artists to explore.
3. Queenstown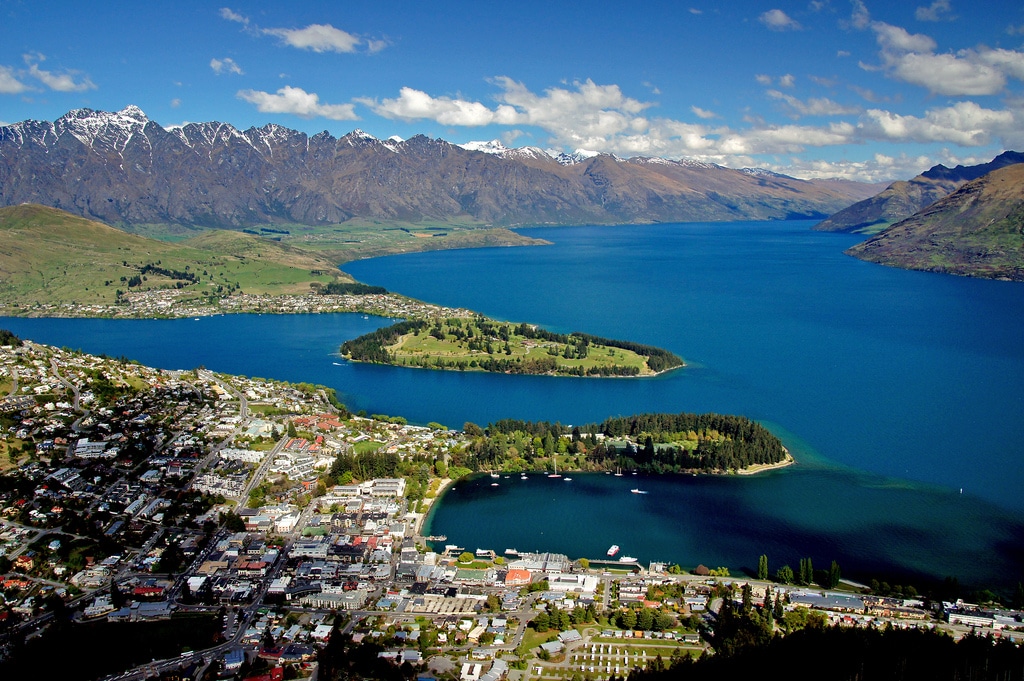 Credit: Bernard Spragg
Queenstown, New Zealand, is often called the "Adventure Capital of the World." With more than 220 thrilling activities to choose from – including skydiving, paragliding, rafting, hang gliding, bungy jumping, canyoning, and horse trekking, to name a few – Queenstown is one of the best cities in New Zealand for thrill-seekers to tour. Mountains surround this beautiful New Zealand city, making it one of the most scenic spots in the country, as well. Additionally, Queenstown has a fantastic arts scene, delicious dining, and 177 vineyards to check out.
The breathtaking natural beauties in Queenstown makes this New Zealand city the perfect place to pack in an adrenaline rush. It is much smaller than Auckland and has a population of only 23,000 people. Despite its smaller size, this city does not feel small. You will never be bored in Queenstown. There are too many sights to see and adventures to seek! Needless to say, this is one of the best cities in New Zealand for active travelers to check out.
4. Wellington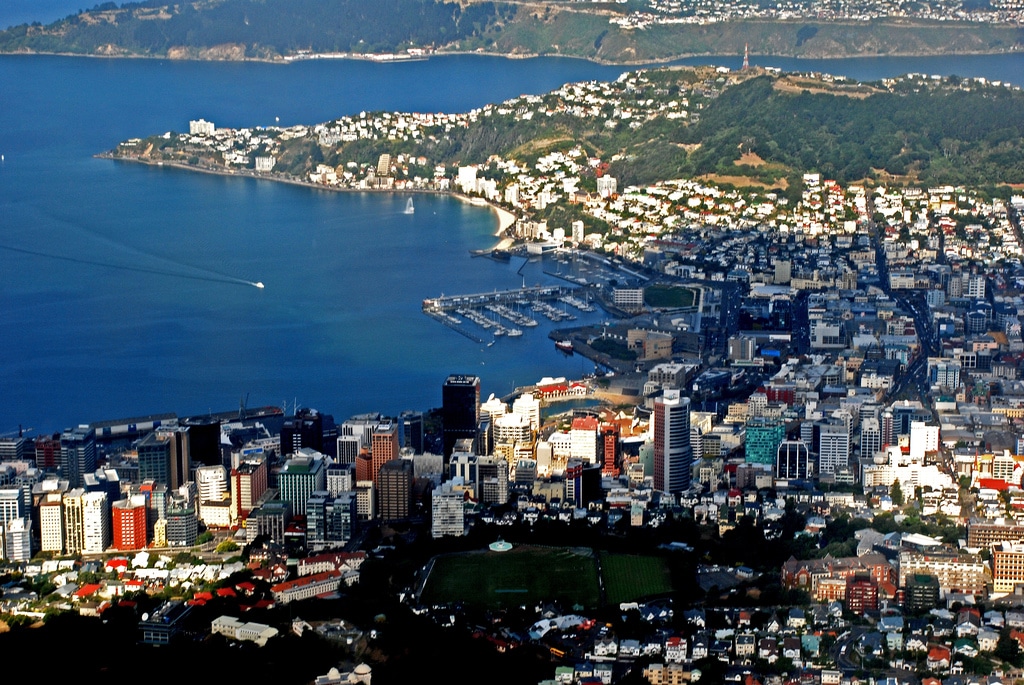 Credit: Phillip Capper
Wellington is the scenic capital of New Zealand. Located on a harbor with mountains surrounding its borders, you will quickly come to find that Wellington lives up to its nickname the "Windy City." Wellington is said to be "surrounded by nature and fueled by creative energy." This is probably due to the fact that the capital city carries a diverse mix of culture, history, nature, and authentic New Zealand cuisine. "Wellingtonians," as residents of this New Zealand city are called, as the kings of casual dining. There are markets, cozy restaurants, and food trucks scattered all throughout the city. Additionally, Wellingtonians love their speciality coffee and craft beer, so be sure to get a hot and cold brew while you're there!
This is one of the best cities in New Zealand for tourists who want a look at the country's city life and natural atmosphere. Wooden buildings and homes have been built down the mountainsides of Wellington, many of which reach the waterfront. We mentioned earlier this is also a city with rich culture. Therefore, there the arts scene is jam-packed with museums, galleries, and theaters. Down at the bottom of the North Island is a nice cafe and brewery scene. The quality of life, restaurant and bar scene, and culture-filled atmosphere makes Wellington one of the most enjoyable cities in New Zealand to visit for any kind of traveler.
5. Rotorua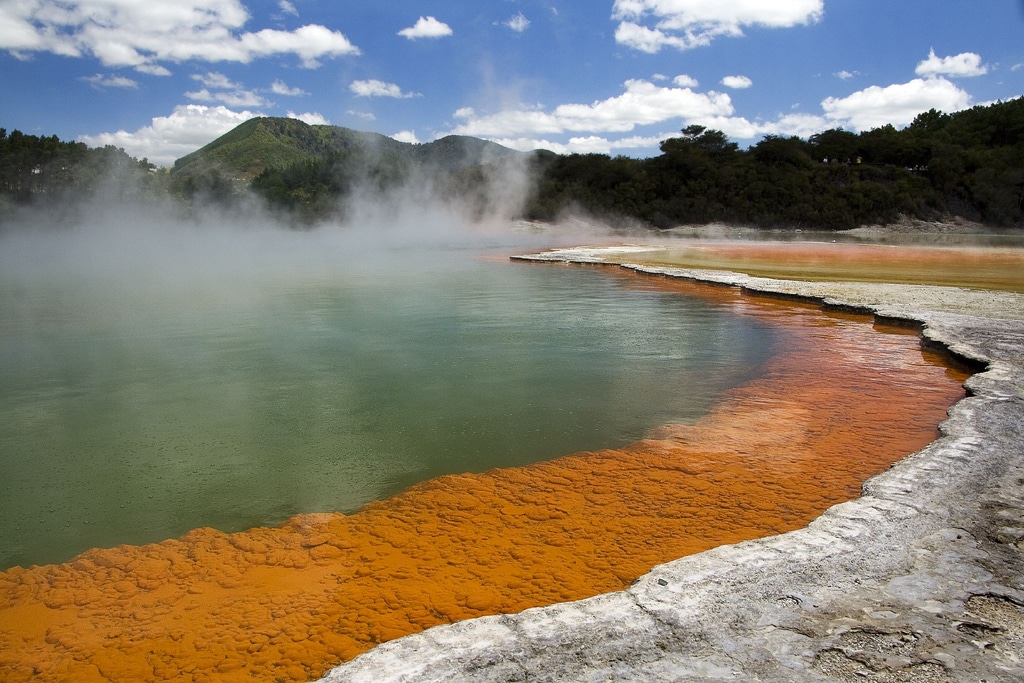 Credit: Matthew Hunt
The next stop on our list offers a truly unique view of New Zealand landscape. Rotorua is best known for its hot springs and geysers that are, well, everywhere. The city is nestled in the heart of the Taupo Volcano Zone and, perhaps unsurprisingly, it is the most popular tourist destination in the North Island. Rotorua is another one of the cities in New Zealand that is great for adventurers and outdoor enthusiasts. In addition to the gorgeous geysers, visitors can explore the city's biking trails, thermal mud pools, hiking areas, and more.
You will see that steam and spray from the geysers are constantly clouding the streets of Rotorua. There's also a consistent scent of sulfur in the air, but you'll get used to that. Another aspect of Rotorua that makes it such an incredibly unique city in New Zealand is its Maori culture. The Maori population in Rotorua makes up most of the town. In fact, this is one of the best cities in New Zealand to visit for tourists who want to be immersed in Maori art, history, and culture. The restaurant and bar scene pale in comparison to other cities like Wellington and Auckland. But you'll find the sights and cultural experiences easily make up for that. Rotorua is a magical place and one of the top cities in New Zealand tourists must visit.
6. Tauranga
Credit: Dan Van Nistelrooy
Tauranga is yet another example of how all the cities in New Zealand show off a different aspect of the country's geography. This harbor-side town is located in the Bay of Plenty region on the North Island. This city is known as a "metropolitan hub surrounded by beautiful coastline." This is one of the better cities in New Zealand to visit if you're a water sports enthusiast! Visitors can go sailing, fishing, dolphin watching, or simply relax on the beach. In fact, there is a bridge that connect Tauranga to Mount Maunganui, a beach town with hot saltwater pools and an extinct namesake volcano with winding walking paths.
One of the most unique things about Tauranga that sets it apart from other cities in New Zealand is that it's a popular fruit picking region. Picking fruit is actually one of the most popular jobs that backpackers in New Zealand pick up. So if you're looking to make some extra money during your stay, Tauranga is among the best cities in New Zealand for you to make your way to. Another unique experience Tauranga has to offer are its glow worn dells and waterfalls in the nearby Kaimai-Mamaku Forest Park. Seeing a forrest lit up by glow worms is an image unlike any other. For a unique look at the country's diverse landscape, Tauranga is one of the best cities in New Zealand to visit.
7. Dunedin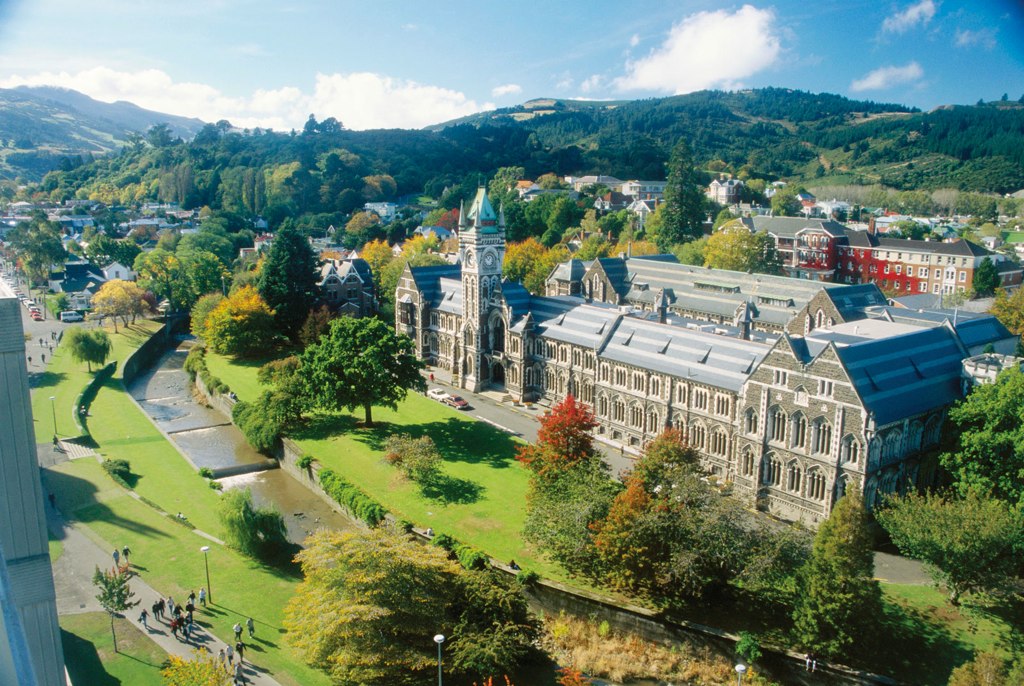 Credit: Ashton 29
Dunedin offers a perfect example of the diverse culture and history in New Zealand. Known as the "Edinburgh of the South," you will immediately notice Dunedin's apparent Scottish heritage. It is considered one of the "best-preserved Victorian and Edwardian cities in the Southern Hemisphere," and it's easy to see why. Upon arrival, you will immediately be greeted by the Victorian railway. There is an array of statues and monuments dedicated to famous Scots. This old, historic tone is balanced out by New Zealand's oldest university, which is also located in Dunedin. This gives the quirky, Scottish city a youthful and energetic balance.
This is one of the best cities in New Zealand to explore for tourists interested in a funky night life. Great bars and welcoming local restaurants are scattered throughout Dunedin. Be sure to also visit the Otago Peninsula while you're there. There you will find gorgeous beaches and rugged hillsides. Additionally, you should make your way to the Royal Albatross Centre. This is the only place in the entire world on the mainland where you can see a Northern Royal Albatross in its natural habitat. Dunedin is yet another example of how the cities in New Zealand have their own set of unique natural views, as well as city life to explore.
8. Napier
Credit: Reginas Photos
Napier is one of the best cities in New Zealand for backpackers to kick back and relax. The city has a bit of a seaside New England vibe that is easy to fall into. Roughly 130,000 people live in Napier, though it never seems to feel hectic and busy like other cities in New Zealand can. Napier is surrounded by vineyards and beautiful beaches to stroll through. It's a perfect city to visit for tourists who want to take it easy. Enjoy a nice, slow day at Napier full of bike rides and walks through the calm ocean town. If you're a backpacker, you'll be happy to know that there is a lot of work offered in Napier to travelers passing through!
Napier's defining characteristic is its architecture. The city was rebuilt after an earthquake in 1931. Today, people travel here to marvel at the gorgeous 1930s styled buildings that are unlike any other structures in New Zealand. This is one of the top cities in New Zealand for travelers interested in a quick, rejuvenating stay.
9. Nelson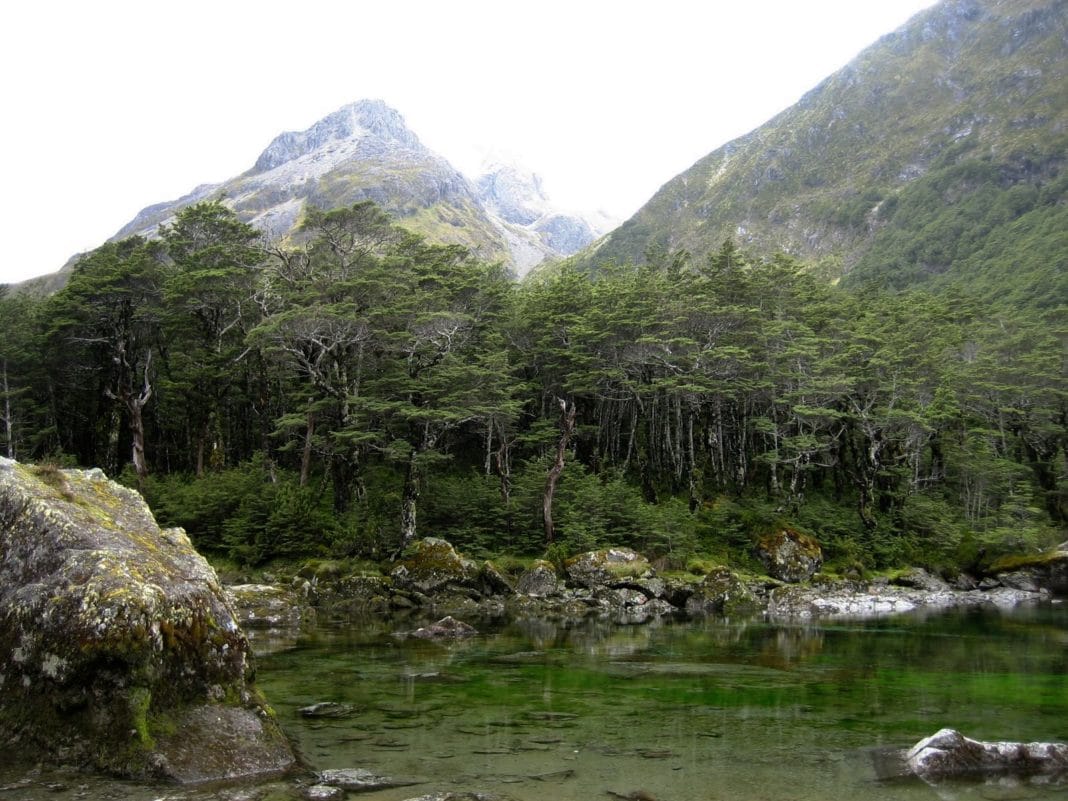 Credit: Mergy
This new New Zealand city is nothing like the last. Nelson is a gorgeous city to both live in and visit. This unique city on the South Island is nestled between two mountain ranges and set up right along Tasman Bay. English settlers founded Nelson in 1841. Today, tourists can visit Founders Heritage Park, a living museum that showcases the city's history. It even has a vintage railway!
Nelson is best known for its local arts and crafts scene. This is hands down one of the hippest cities in New Zealand. Nelson is defined by its arts scene full of craft breweries, boutique shops, and unique restaurants. There are also countless wineries and stunning hiking trails to explore. You will quickly find tat Nelson is one of the most eclectic and memorable cities in New Zealand. In addition to its quirky, artsy vibe, Nelson is a great place for adventurers. It is home to Abel Tasman National Park, which offers some of the best hikes in the country. It also houses great spots for caving.
10. Whangarei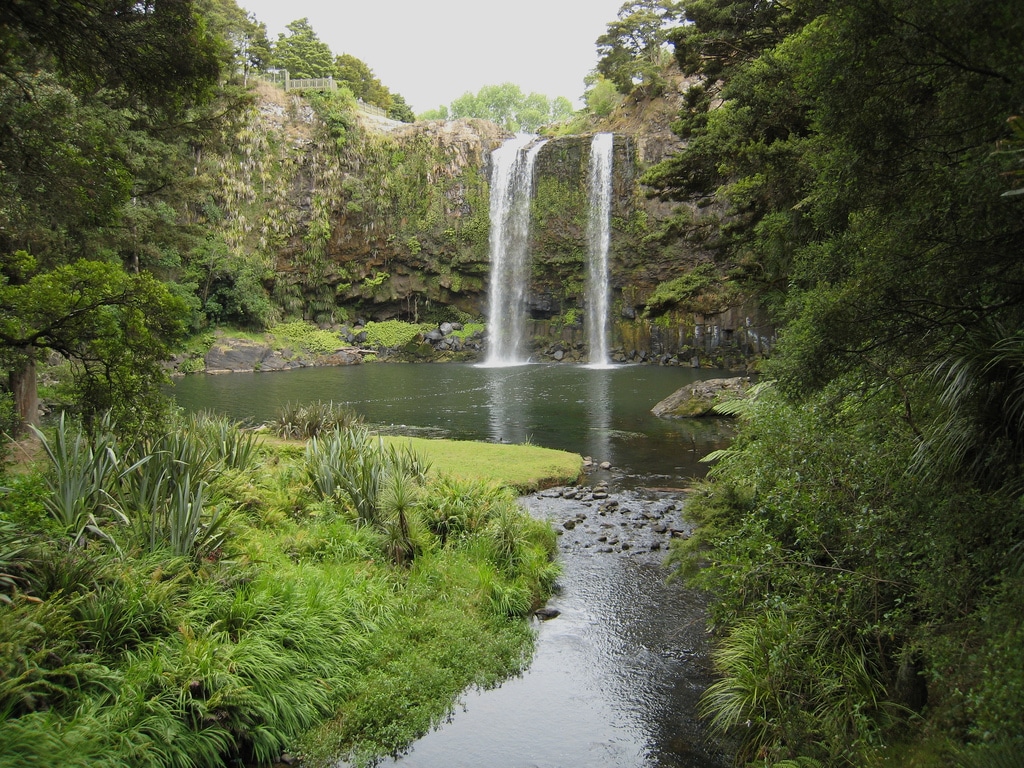 Credit: Andrew Turner
Whangarei is a one-a-kind place and the only city the northernmost area of New Zealand. The scenery in Whangarei is simply beautiful. The city is full of incredible natural wonders, including lush forestry and gorgeous waterfalls. This is one of the best cities in New Zealand to seek out if you want to get lost in the country's wildlife. However, Whangarei is so diverse that it also has a wonderful city life. The town area of Whangarei has a laid back, comfortable vibe. Whangarei certainly does not match the bustling metropolitan feel of Auckland or Wellington, but it has its own small city charm. It's been slowly growing over the years with the addition of an art museum and shopping area. There are also great cafes and bars around town to spend time with friends.
One of the funnest activities to do in Whangarei is to go scuba diving. Visitors can dive deep into the waters along the Poor Knights Islands. This is a fantastic way to see New Zealand wildlife up close. Whangarei is one of the best cities in New Zealand to visit for all kinds of travelers. Whether you're looking to actively explore or relax on the shore, there is something for everyone in Whangarei.
As you can now see, the scenery and culture in all of the cities in New Zealand are unique and special.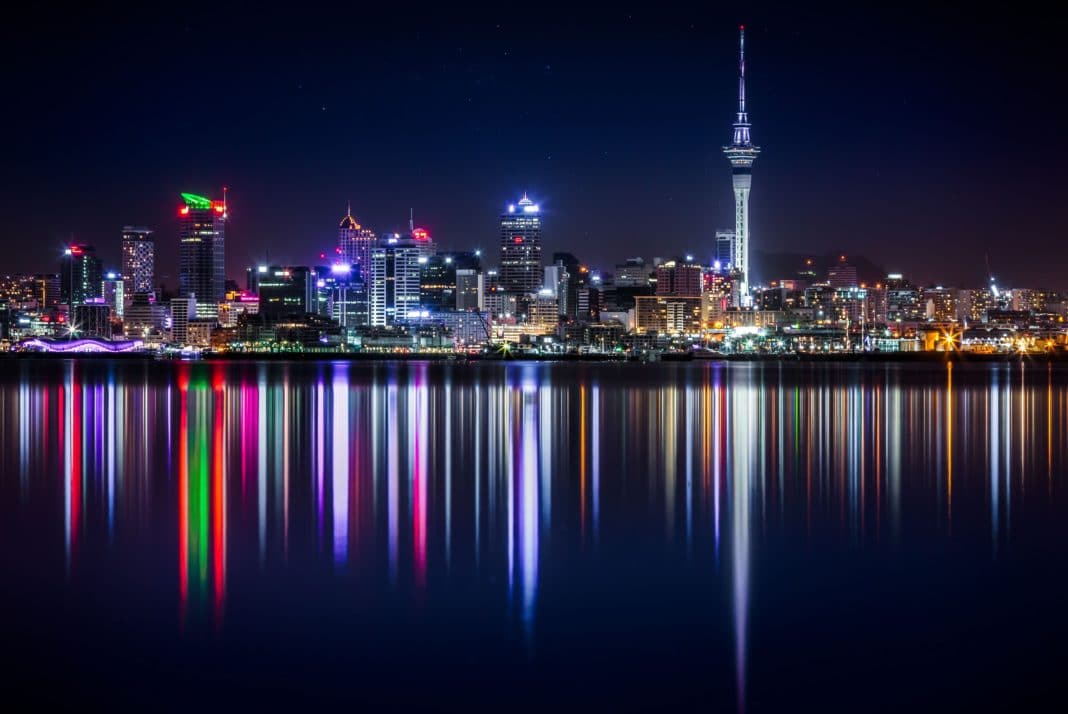 New Zealand really is one of the greatest places in the entire world. And every city in New Zealand seems more gorgeous than the last. This is a truly unique country because every where you go, there is new scenery and culture to explore. The geography and landscape of New Zealand is truly diverse and always beautiful. That's why we suggest visiting as many cities in New Zealand as you possibly can. In our opinion, it's the only way to get a fully rounded out feel for this incredible country.
Whether you're moving to New Zealand or just there to visit, these ten cities in New Zealand are great places to start. But if you have the time and the budget, we suggest visiting even more! It is impossible to have a bad time while touring the cities in New Zealand. This country, its people, and its culture are truly special. Kick back in Kiwi town and enjoy the best cities in New Zealand for tourists to explore.
Do you have a favorite spot in New Zealand that we missed on this list? Let us know! We are always looking for more places to wander to.
Related Article: Best Time to Visit New Zealand: Here's What You Need to Know