A Guide of All Things Related to Transportation, Accommodations, Activities, and Food on the Amalfi Coast
The Amalfi Coast of Italy is nothing short of scenic. With cliffs that line the Mediterranean, cafes and shops that fill the towns, and the pleasant scent of lemon groves all along the coastline, the Amalfi Coast is a top travel destination. Between the history, the arts, the weather, and the overall location, this Italian coastline is a lovely romantic getaway spot. If you like all things quaint and charming, then this is the destination for you. Whether you are planning your honeymoon, an anniversary trip, or simply want to vacation to somewhere beautiful, the Italian coast is a place to consider.
There is a lot that goes into planning a trip. Accommodations need to be booked, transportation needs to be sorted out, an itinerary will have to be made, and you will need to scour for the best things to do and places to dine. Because of all the logistics that go into planning a memorable trip, we wanted to help you with the process. Here is the ultimate guide to the Amalfi Coast.
How to Get Around on the Amalfi Coast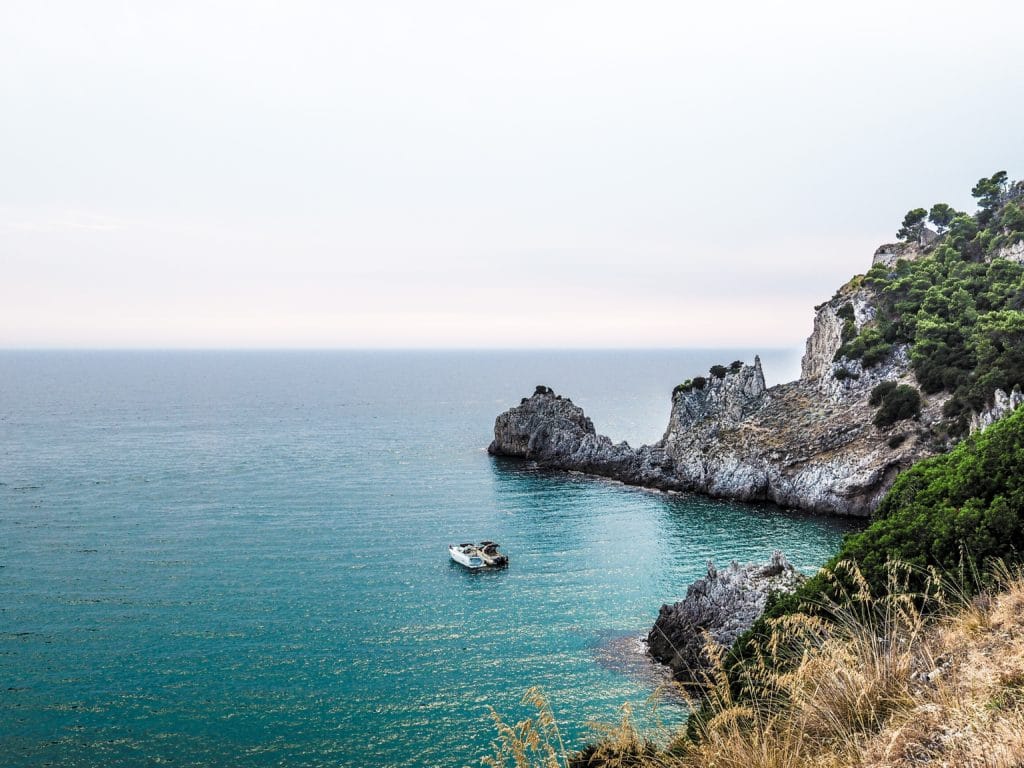 Motorcycle/Moped
Renting a motorcycle or moped is one of the most popular things to do, not just on the Italian coast, but in Europe in general. If travelers want to get around the coast via moped, they can find rentals in most towns on the Amalfi Coast. This transportation option can be the most memorable way to get around. Travelers are not likely to forget the feeling of wind on their face, sun on their skin, and the undiluted views of the sea while riding a moped through the Amalfi Coast.
Even if you decide not to rely on a moped as your primary source of transportation, we do recommend renting a moped for at least one afternoon during your trip. These scooters are very fun to ride. However, we should note that the coastline has many curves. Be confident in your ability to navigate these twists and turns before committing to drive a moped.
Rental Car
Another way to get around the coast is by rental car. Renting a car will provide travelers with the most freedom. Unlike relying on public transportation, having your own car will allow you the ability to drive wherever and whenever you want. Plus, when it rains, you will be protected within your dry car whereas on a moped you will drenched.
The only thing about getting around the coast via car is that there are not many parking spots on the Amalfi Coast. Also, travelers will likely have to pay for parking when they find it. Traffic is another factor to consider. In the summer months when the coast is most busy, there can be very heavy traffic. If you don't mind driving on curvy cliffs and paying for parking, then you may want to rent a car to take you around this Italian coast. Again, this transportation option gives travelers the most freedom to do what they want, when they want, on the Amalfi Coast.
Public Transportation
The coast does provide public transportation that travelers can hop on and off of. Sita is a bus company that runs through the many towns on the Amalfi Coast. To ride the Sita bus, travelers must purchase tickets. These tickets cannot be purchased onboard, but can be bought at numerous locations along the coast. While riding the bus can be the most cost-effective option, we must warn you that buses are often very crowded. Particularly during the summer months, there is a lot of volume of these buses. In addition, buses do not run at night. If you plan on going out in the evenings, remember that you won't be able to rely on public transportation to take you home. A taxi will be required to get you back to your hotel.
Where to Stay on the Amalfi Coast
Le Sirenuse Hotel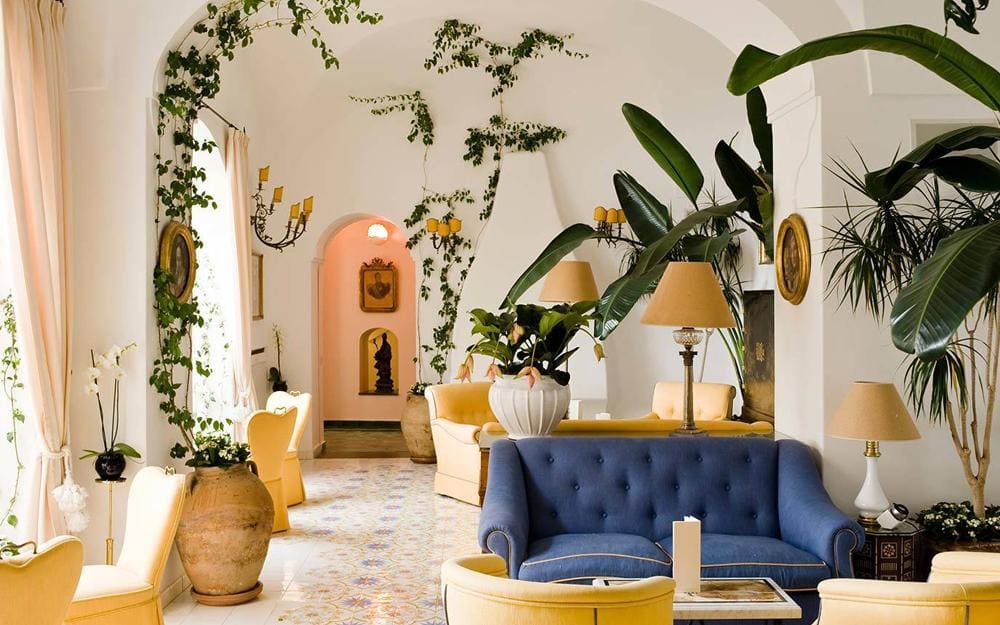 Nothing spells delight like Le Sirenuse Hotel. Le Sirenuse is located in the town of Positano, which is one of the Amalfi Coast's most popular areas. With an array of guestrooms and suites to choose from, travelers will have a simple and comfortable space to retreat to after a day of exploration. With ivy crawling up walls, handmade tile floors, and an overall refreshing ambiance both inside and out, there are good reasons to consider staying at Le Sirenuse. Though the hotel is on the pricey side, travelers have reported over and over again that this hotel is worth every penny. This accommodation also provides free wireless internet connection and complimentary breakfasts for guests. Plus, speaking of food, the quality of meals at Le Sirenuse deserve 5 stars. To read our full review of Le Sirenuse Hotel, click here.
Belmond Hotel Caruso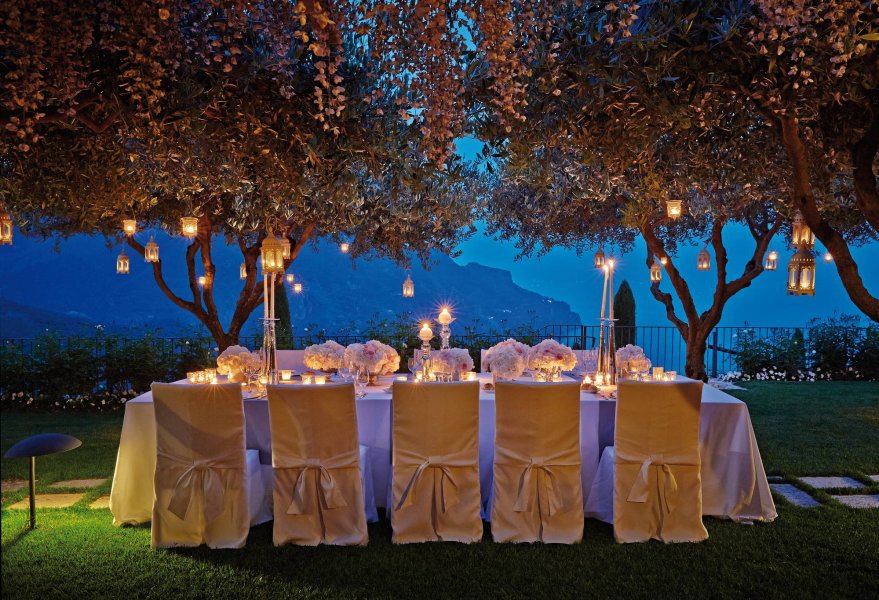 Belmond Hotel Caruso is located in Ravello, Italy. This romantic, intimate, and elegant space is the ideal accommodation for newlyweds. On the property, there is a spa, private garden, infinity pool, and fitness center. In addition, Belmond Hotel Caruso provides many dining options for guests to enjoy. From the pool snack bar to Belvedere Restaurant (the hotel's main restaurant), there are a handful of places for travelers enjoy tasty meals and beautiful views. One of our favorite places to grab drinks and appetizers at this hotel is Bubbles Bar. Bubbles Bar is located outdoors in the private gardens of the hotel. The casual and comfortable ambiance provides a space where guests can relax and meet other travelers.
The Belmond Hotel Caruso is a luxurious hotel both inside and out. Because of this, a stay at the hotel does not come cheap. However, if you are seeking a lavish and enchanting place to honeymoon or celebrate an anniversary with your significant other, then the Belmond Hotel Caruso is a place to consider. If you want more information about this hotel, check out our full review of the Belmond Hotel Caruso.
Grand Hotel Convento di Amalfi
Located in Amalfi, the Grand Hotel Convento di Amalfi serves panoramic views on the outside and a clean and fresh design on the inside. Guestrooms and suites at the Grand Hotel Convento di Amalfi are distinguished by their simplicity and openness. The atmosphere is nothing short of welcoming and relaxing. This hotel also has a spa, fitness center, and infinity pool on the property. Guests can enjoy a host of amenities when they stay at the Grand Hotel Convento di Amalfi. Plus, the hotel loves to host weddings and special events. If you wish to say "I do" on the Amalfi Coast, then this hotel is a scenic spot to do so. Curious about what else the Grand Hotel Convento di Amalfi offers? Read our full review of​​​​​ this coastal hotel.
What to See and Do on the Amalfi Coast
See the Sea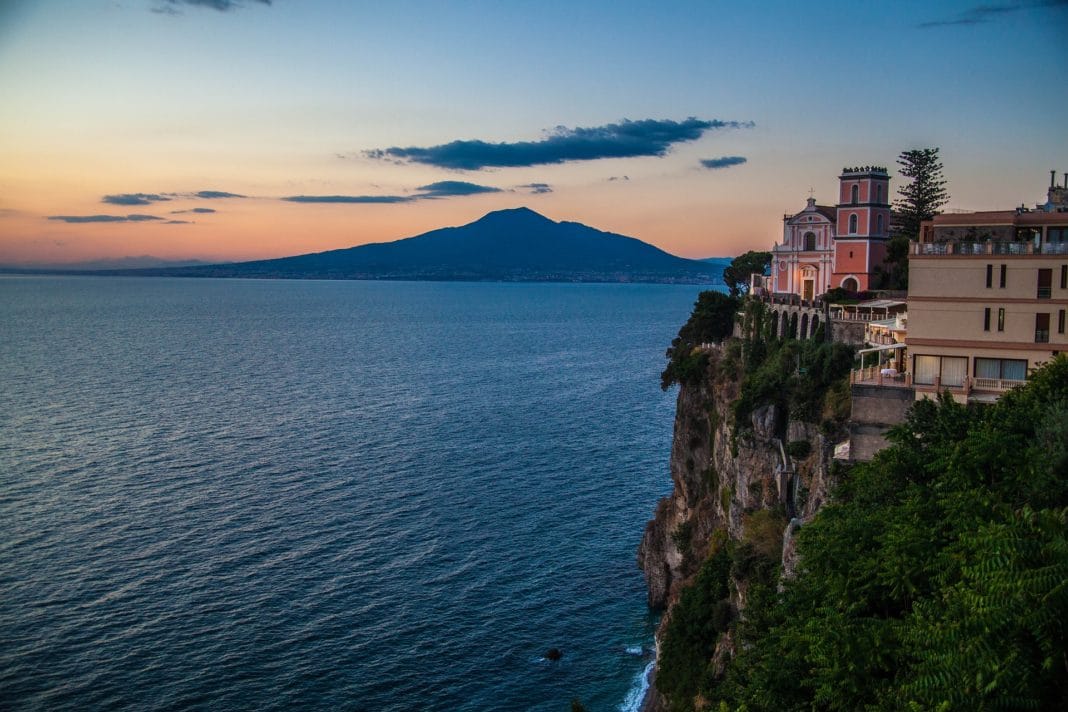 + Go to the Beach
When on the Meditteranean Sea, travelers cannot pass up on visiting the beach. Whether you desire to spend your entire day on the sand, drinking in a heavy dose of Vitamin D and splashing in the water, or you prefer to take a quick evening walk along the shore, you will have to make your way down to the beach during your trip to the Amalfi Coast. This calm, blue sea shimmers with natural beauty. On the beach, travelers can also partake in a wide range of water sports. From standup paddleboarding to kayaking, the beaches on this coastline have it all. Travelers can rent gear and equipment from many towns on the Amalfi Coast.
+ Hop on a Boat
There are countless boat tours offered on the Amalfi Coast. Travelers can choose to go on an elegant sunset dinner cruise, an afternoon sightseeing tour, a full day fishing adventure. There are also boat tours that take you from one town to another. Rather than driving your rental car or moped to a different town, think about taking a boat. Depending on who you are traveling with, you may even want to go out on a private boat tour. Whatever type of boating excursion you choose, we know that you will appreciate the breathtaking coastal views. It is hard to resist the opportunity to get out on the Mediterranean Sea. That is why hopping on a boat will be a must for any traveler visiting the area.
Explore the Arts
Credit: Flickr
+ Visit an Art Gallery
As soon as you arrive on the Amalfi Coast, you will notice the incredible talent, color, and creativity that flood the coast. This is most visible in the architecture and color of homes and buildings on the coast. However, when you begin wandering the streets, you will find that the arts only continue. There are numerous art galleries to explore within the coastal towns. You may even find artists painting various landscapes outdoors while you are traveling up and down the coast. A few of the most notable art galleries that we recommend checking out include Liquid Art System and the Italian Fine Art Gallery. If you are an artist or an appreciator of art, then visiting an art gallery or two must be on your list of things to do on the coast.
+ Shop for Ceramics
When strolling from town to town on the Amalfi Coast, be on the lookout for handpainted ceramics. They won't be difficult to spot–there are many ceramic shops dotting the coastline. These handmade pottery pieces and tiles are some of the biggest treasures on the coast and they tell of Italy's rich art history. Travelers often stock up on ceramic pieces to take home with them as souvenirs. If you are looking for a give to bring home to friends and family members, then do some ceramic shopping when on your trip. The intricate details and vibrant colors of these handpainted pieces are extraordinary.
+ ​​​​​Take All the Photos
Whether you are a professional photographer or someone who simply enjoys capturing beauty with their cell phone camera, the coast provides picturesque landscapes that will need photographing. Every square foot of this 30-mile-long coastline shouts of beauty. Be sure to remember your camera(s) when traveling to the Amalfi Coast. There will be plenty of opportunities to snap postcard-perfect photographs. Have your camera(s) out and ready to capture the colorful coastal homes, the charming architecture, the sparkling sea, and the mouthwatering meals. And, of course, you cannot forget to take photos of yourself and those you are traveling with. Passersby will be happy to snap a few photos of you and those you are traveling with. Or, you can be hip with the times and selfie your way through your trip!
What to Eat on the Amalfi Coast
Italian Cuisine
This is a no-brainer. When in Italy, eat all the authentic Italian food. You will have to taste the magnificence of pastas, pizzas, calzones, salads, and breads that are made from scratch. On the Amalfi Coast, there are too many restaurants and cafes to count. Travelers will have no issues finding dining options when they travel to this Italian coastline. While there are many high-end, luxurious restaurants, there are also countless hole-in-the-wall favorites to discover. The range of options allows for travelers to find authentic Italian food that keeps both their taste buds and wallet satisfied.
Lemons
You are likely to smell lemons in every town on the coast. The citrus fragrance will meet you from the moment you wake to the moment to drift off to sleep. This is because there are lemon groves all over the coastline. While on the Amalfi Coast, enjoy plenty of lemony foods and drinks. On a hot summer day, order a tall glass of refreshing lemonade. For dinner, try a lemon pasta or meal of lemon-glazed fish. Also, if you are already a big lemon fan, consider going on a tour of a local lemon grove. Several tours even offer cooking classes where visitors can whip up their very own fresh lemony dishes. Whatever you do, make sure that your trip to this Italian coast is filled with all things lemon.
Seafood
If you like seafood, then eat as much of it as you can while on the Mediterranean. Since you will be on the sea, restaurants in every town will be serving fresh catches daily. While on the coast, enjoy pasta dishes with shrimp, mussels, fish, octopus, and more! If you are a tuna lover, then we recommend heading to the town of Cetara. This fishing village is known worldwide for its incredible tuna fishing. Anchovies are another big catch in this cozy fishing village. When on the coast, it will be easy to get your fill of seafood.
Sfogliatelle
Sfogliatelle is a traditional Italian pastry that resembles that of a seashell or lobster tail. These croissant-like shells of goodness hold all types of scrumptious fillings. Some of these fillings include whipped cream, ricotta, and almond paste. These hot and fluffy pastries are very popular in Italy. When you visit the Amalfi Coast, find a café that bakes homemade Sfogliatelle. Order one or two that have fillings that sound yummy to you. Trust us, the Sfogliatelle that you find in Italy does not compare to the Sfogliatelle you find outside of Italy. Virtually ever Italian bakery will serve this traditional pastry, so be sure to try out this warm and fresh culinary delight on your trip!
Book Your Flight & Go!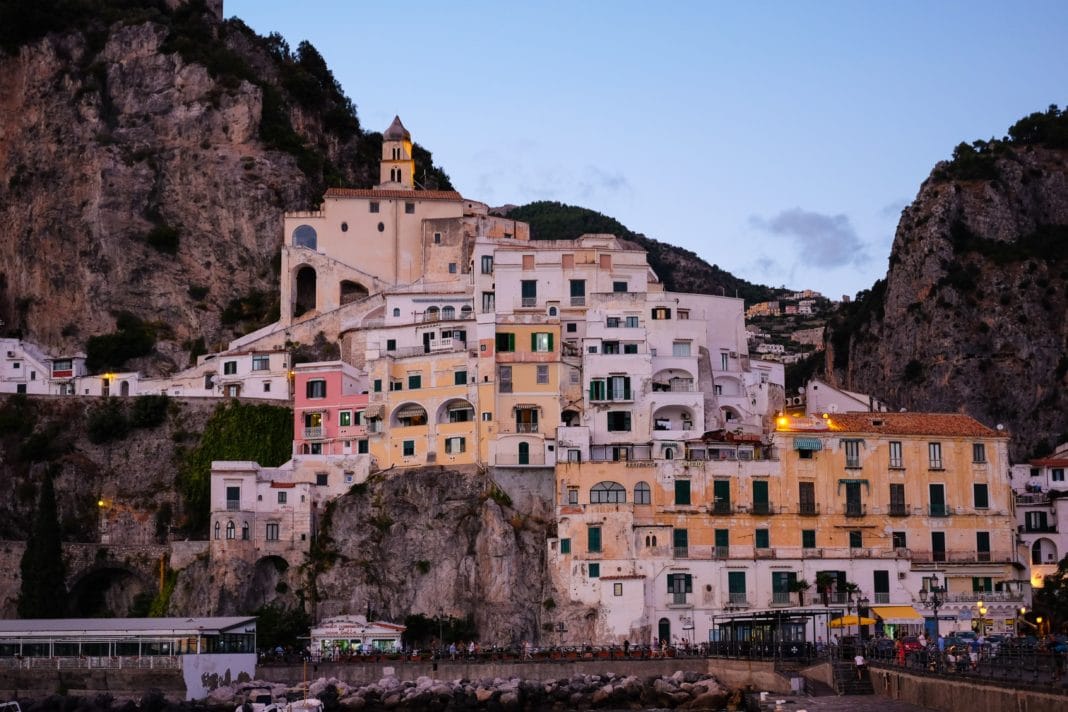 The Amalfi Coast is an ideal destination for honeymooners and anniversary goers. However, just because the coast boasts in romantic vibes doesn't mean that families aren't welcome. Numerous travelers have taken their kids on vacation to the Amalfi Coast and have found things to do that keep the whole family happy. With many places to go, things to eat, and activities to participate in, your vacation to the coast will be unforgettable.
We hope you found our ultimate guide to the Amalfi Coast helpful. Now that we have provided the information, it is time for you to make some decisions. What will you do in terms of transportation and accommodations? What are things on your "must-do" and "must-eat" list? Let us know in the comments section below! Also, if you have traveled to this coastline before, share some of your favorite activities, galleries, cafes, and restaurants with us in the comments section as well.
Related Article: ​Amalfi Coast Hotels: Guide To Finding The Best One​​​